Die Chance auf einen der gefragten Ausbildungsplätze bei Vattenfall in Berlin ist noch gegeben: Ein guter Schulabschluss sowie eine aussagekräftige Bewerbung finden Gehör und können den Weg für eine erfolgreiche Berufskarriere ebnen.
Das neue Ausbildungsjahr beginnt nach den Sommerferien. Es sind nur noch wenige Ausbildungsplätze bei Vattenfall in Berlin frei; in Hamburg sind alle Plätze vergeben. Neun Schulabgänger haben in der Hauptstadt die Chance, ihre Berufskarriere in der Energiebranche ins Rollen zu bringen.
Qualitativ hochwertige Ausbildung
Vattenfall bildet auf hohem Niveau aus. Die Zeit ist durch einen Tarifvertrag geregelt. Es gibt eine überdurchschnittliche Vergütung, Jahresurlaub, diverse Zuschüsse sowie attraktive Möglichkeiten, sich weiterzubilden. Qualifizierte und engagierte Ausbilder unterstützen den Nachwuchs auf ihrem neuen Weg. Eine Lehre bei Vattenfall ergänzt die Theorie in der Berufsschule. Praxisinhalte erlangen die Azubis sowohl in den Ausbildungsstätten als auch in zahlreichen Betriebsstellen des Unternehmens.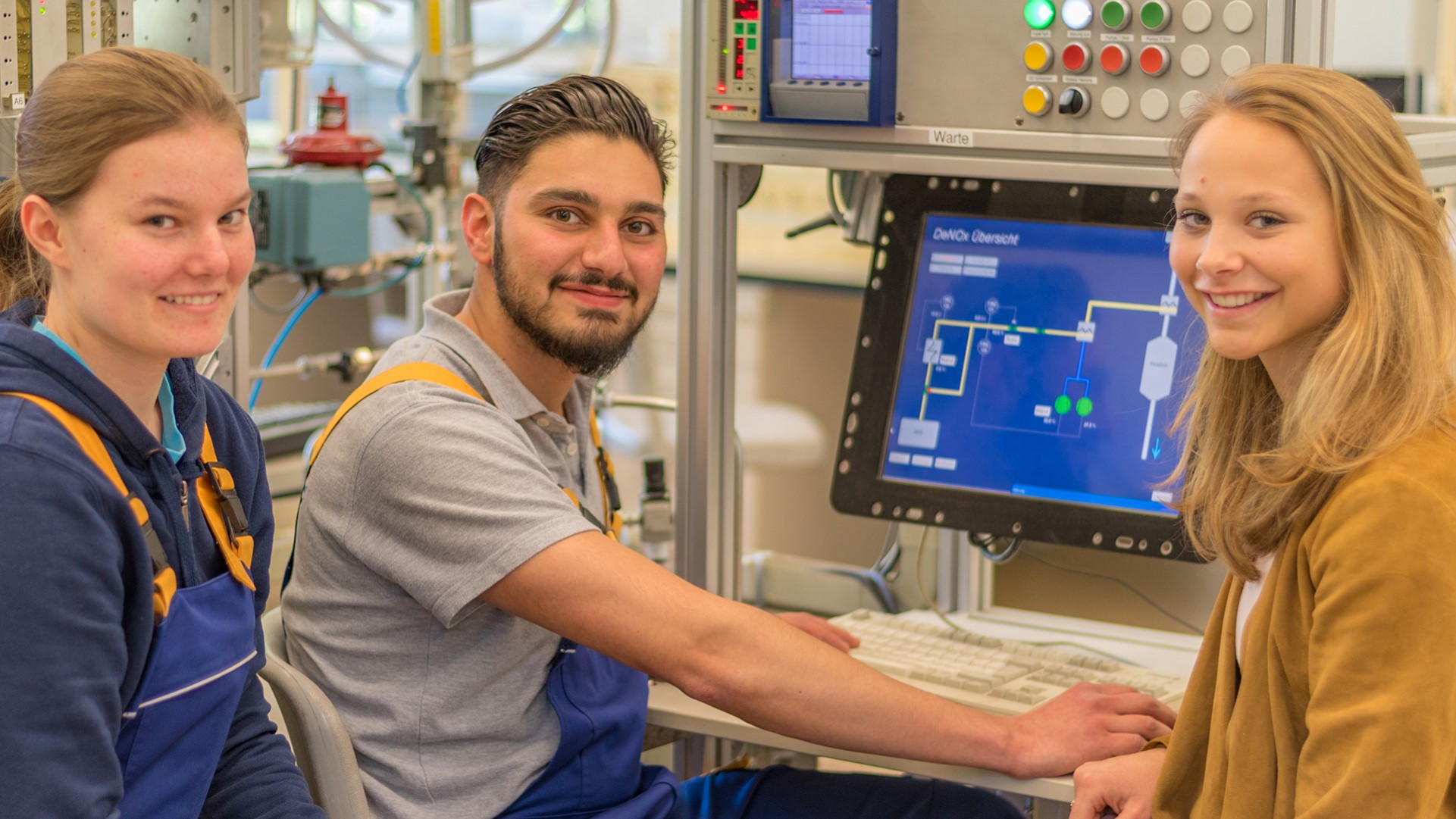 Johanna Laura, Devran und Antonia (v. li.) sind Auszubildende bei Vattenfall, Foto: Vattenfall

Elektroniker/in für Betriebstechnik
Wer den Beruf des Elektronikers für Betriebstechnik erlernt, stellt sich auf eine Ausbildung mit elektronischen und mechanischen Schwerpunkten ein. Dazu gehören die Funktionsweisen komplexer Systeme und Baugruppen; auch elektronische Steuerungen spielen eine Rolle. Die Ausbildung ist praxisnah und fördert selbstständiges Planen und Ausführen von Arbeiten. Mit entsprechender Berufserfahrung können sich Experten dieser Berufsrichtung zum Industriemeister, Techniker für Elektrotechnik oder zum Bachelor of Engineering weiterbilden.
Elektroniker/in für Automatisierungstechnik
Die rasante Entwicklung der Technik macht das Berufsbild des Elektrikers für Automatisierungstechnik interessant und abwechslungsreich. Diese Experten sind für die sichere und kontinuierliche Arbeitsweise komplexer Prozessleittechnik in modernen Produktionsanlagen verantwortlich. Besonderes Augenmerk liegt auf moderner Steuerungs- und Regelungstechnik. Mit etwas Berufserfahrung, können sich Elektroniker für Automatisierungstechnik zum Industriemeister, Techniker oder Bachelor of Engineering qualifizieren.
Duales Studium bei Vattenfall
Darüber hinaus können sich Schülerinnen und Schüler auf duale Studiengänge bewerben. Hierbei wechseln sich spannende Ausbildungswochen mit interessanten Studienphasen ab. Die Ausbildung bei Vattenfall wird mit einem Studium an der Hochschule kombiniert, die den Berufsabschluss bescheinigt. Das im Studium erworbene theoretische Wissen wenden die Dualstudenten unmittelbar in der beruflichen Praxis im Unternehmen an. Sie erhalten finanzielle Unterstützung, schnuppern jede Menge Betriebserfahrung und bauen ihr soziales Netzwerk aus. Freie Plätze gibt es im dualen Studiengang "Bachelor of Science, FR Wirtschaftsinformatik an der Berufsakademie in Bautzen".
Jetzt bei Vattenfall bewerben
Der Übergang ins Zeitalter der erneuerbaren Energien bietet Schulabgängern jede Menge Chancen, ihren Weg ins Berufsleben mit Erfolg zu meistern. Mit erfolgreichem Ausbildungsabschluss bieten sich gute berufliche Perspektiven. Deshalb jetzt noch schnell bei Vattenfall bewerben. Hier startet die Karriere:
Online-Bewerbung für einen Ausbildungsplatz
Mehr zum Thema