Elektrobrandstof voor de luchtvaart
De verschillende mogelijkheden van grootschalige productie van synthetische duurzame vliegtuigbrandstof
VATTENFALL, SAS, SHELL EN LANZATECH onderzoeken de grootschalige productie in Zweden van 's werelds eerste synthetische duurzame vliegtuigbrandstof (SAF – sustainable aviation fuel) aan de hand van de 'Alcohol to Jet'-technologie van LanzaJetTM. In plaats van nieuw fossiel materiaal te gebruiken voor het productieproces, zal de synthetische SAF worden geproduceerd uit fossielvrije elektriciteit en teruggewonnen CO2 uit stadsverwarming.
Doel is om in een nieuwe productiefaciliteit jaarlijks tot 50.000 ton synthetisch SAF te produceren, op voorwaarde dat in een later stadium een investeringsbeslissing wordt genomen. De synthetische SAF, ook wel elektrobrandstof genoemd, zal worden geproduceerd uit fossielvrije elektriciteit en teruggewonnen CO2 aan de hand van de zogenoemde 'Alcohol to Jet'-technologie, ontwikkeld door LanzaTech en het Pacific Northwest National Laboratory (PNNL) van het Amerikaanse ministerie van energie. Draait de productie eenmaal op volle toeren, dan zou SAS in de jaren 2030 kunnen worden voorzien in 25% van haar wereldwijde vraag naar duurzame vliegtuigbrandstof.
Een gezamenlijke studie bracht al veelbelovende projectvoorwaarden aan het licht, en alle partnerbedrijven willen nu diepgaande analyses uitvoeren. Het is de bedoeling om de nieuwe productiefaciliteit, in de buurt van Forsmark aan de oostkust van Zweden, tussen 2026 en 2027 in gebruik te nemen. De faciliteit zou op een locatie naast de kerncentrale van Forsmark komen, omdat er daar netaansluiting met voldoende capaciteit is om fossielvrije elektriciteit uit de Zweedse elektriciteitsmix te halen.
Het reductiepotentieel van elektrobrandstof voor de luchtvaart
Elektrobrandstof wordt gecategoriseerd als een duurzame vliegtuigbrandstof (SAF) omdat er (in tegenstelling tot nieuwe fossiele grondstoffen) enkel fossielvrije elektriciteit, water en gerecycled CO2 nodig is om elektrobrandstof te maken. Elektriciteit wordt voornamelijk gebruikt om via elektrolyse waterstof te verkrijgen, die in combinatie met CO2 kan worden omgezet in ethanol om vervolgens te worden omgezet in elektrobrandstof voor de luchtvaart.
Het gerecyclede CO2 wordt afgevangen uit een stadsverwarmingsinstallatie (in plaats van dat deze vrijkomt) en gebruikt voor de productie van elektrobrandstof, vandaar de naam koolstofafvang en -gebruik (CCU – carbon capture usage). Wanneer vliegtuigmotoren de elektrobrandstof dan verbranden, komt het afgevangen CO2, na een tweede keer te zijn gebruikt, vrij in de atmosfeer.
De grondstoffen die men van plan is te gebruiken zijn fossielvrije elektriciteit van het Zweedse elektriciteitsnet en kooldioxide die wordt opgevangen in de warmtekrachtcentrale van Vattenfall in Uppsala, waar ongeveer 200.000 ton kooldioxide per jaar kan worden teruggewonnen. In tegenstelling tot bij de conventionele productie van vliegtuigbrandstoffen in raffinaderijen voor fossiele olie of aardgas, blijven de fossiele grondstoffen nu in de bodem en wordt er bijna geen nieuwe fossiele CO2 in de atmosfeer uitgestoten.
De huidige vliegtuigen zijn gecertificeerd om te vliegen met maximaal 50% SAF, waarvan elektrobrandstof een voorbeeld is, en voor de rest met traditionele vliegtuigbrandstof. De jaarlijkse geplande SAF-productie van 50.000 ton is goed voor ongeveer 5% van de totale Zweedse vraag naar vliegtuigbrandstof vandaag en voor 20% van de Zweedse SAF-behoefte in 2030. Hoewel het duidelijk is dat er een enorme vermindering van de CO2-uitstoot is wanneer elektrobrandstof wordt gebruikt voor een vliegtuig (synthetische vliegtuigbrandstof) in vergelijking met fossiele brandstoffen, is er momenteel geen exact reductiepercentage gekend.
Ook interessant
We voorzien bedrijven en particulieren van laadpunten en zijn marktleider in Nederland.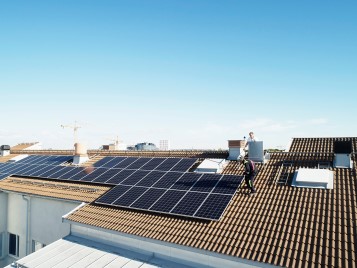 We bieden klanten oplossingen voor duurzame energieproductie en efficiënt energieverbruik.