Zonnepark Hoofddorp A5
In het buitengebied bij Hoofddorp wil Vattenfall een zonnepark tussen de Kagertocht en de A5 ontwikkelen. Gebouwd met oog voor het landschap en voordelen voor de omgeving.
Ruimte voor recreatie en educatie
Zonnepark Hoofddorp A5 zal 37 hectare in beslag nemen, waarvan we 27 hectare benutten met zonnepanelen. De overige ruimte (10 hectare) gebruiken we voor recreatieve, educatieve doeleinden en/of landschappelijke inpassing. Het verwachtte opgesteld vermogen van de panelen is 38,5 MWp.
Zonnepanelen tussen de landingsbanen
Dit nieuwe zonnepark ligt binnen het zogenaamde 'zonnecarré'. Door zonneparken dichtbij de landingsbanen van luchthaven Schiphol te plaatsen, kan de groene ruimte in de rest van de gemeente open blijven. Vattenfall wil dit zonnepark qua materiaal en uitstraling laten aansluiten op de andere zonneparken in de omgeving.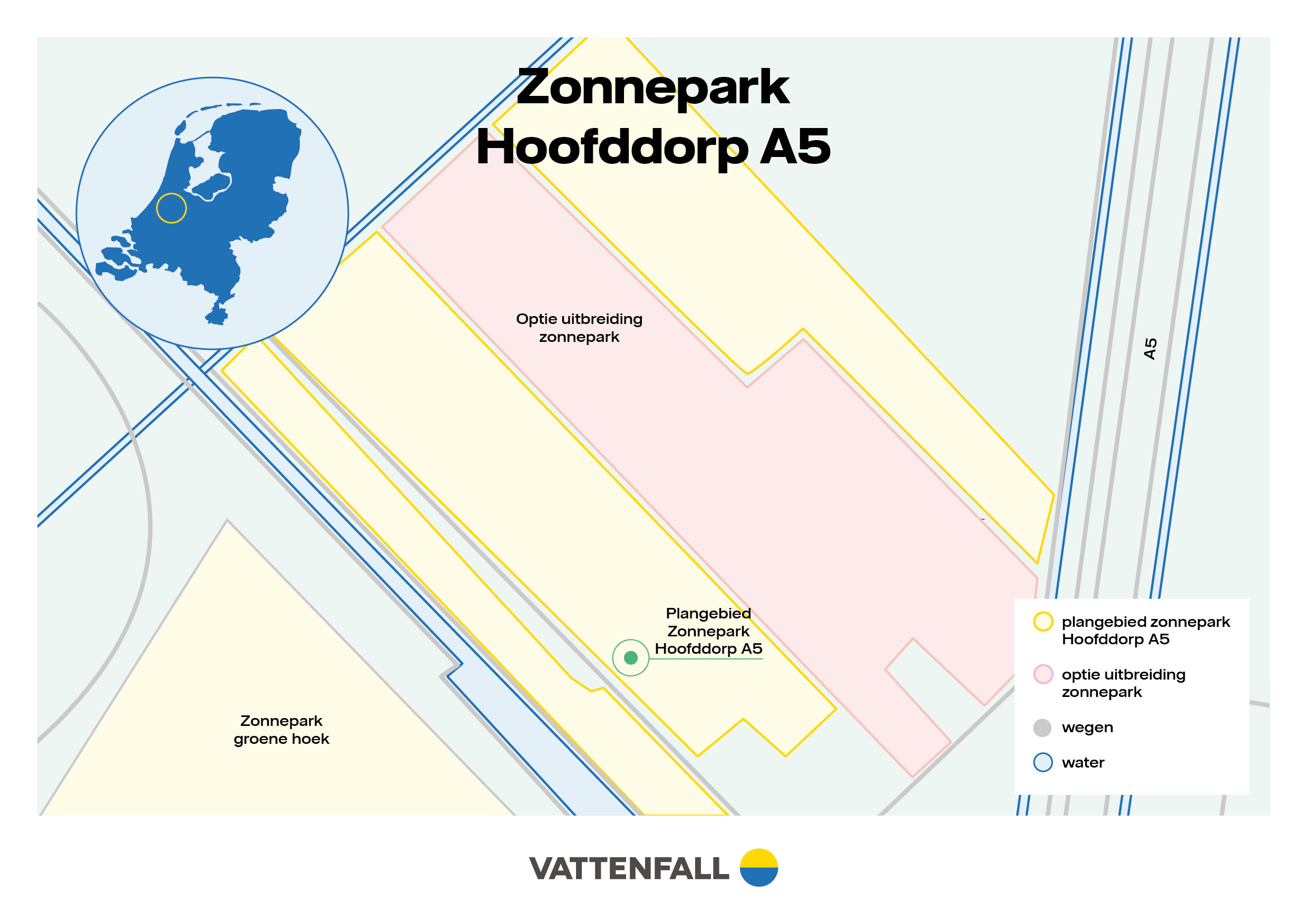 Landschappelijke inpassing
Vanuit de gemeente Haarlemmermeer gelden voor landschappelijke inpassing van zonneparken ook richtlijnen. Samen met jou willen we een zonnepark ontwikkelen dat ook een bijdrage levert aan het landschap. Daarom vragen we omwonenden en belanghebbenden om hier met ons over mee te denken.
Daarnaast maken we, waar mogelijk, gebruik natuurlijke afbakening van het park, zoals het water van de Kagertocht, in plaats van hekwerk. De panelen worden gebouwd in lijn met de huidige kavels, zo blijft de structuur van het landschap behouden. Tussen de zonnepanelen leggen we een bloemenweide aan, die de biodiversiteit in het gebied vergroot.
Planning zonnepark nabij Hoofddorp
2021: Omgevingsvergunning
In het eerste halfjaar van 2021 dienen we een vergunningsaanvraag bij de gemeente Haarlemmermeer. Bij een positieve beoordeling van de vergunningaanvraag volgt een ontwerpbesluit. Het ontwerpbesluit van de vergunning ligt voor de periode van zes weken ter inzage. Gedurende die periode kan iedereen op het plan reageren en eventueel een zienswijze indienen.
2022: Afronding aanbesteding en start bouw
In het voorjaar van 2022 verwachten we de aanbesteding af te ronden en hebben we geschikte partners geselecteerd om mee samen te werken. Eind 2022 starten we met de bouw van het zonnepark.
2023: Zonnepark operationeel
In de loop van 2023 zal het zonnepark naar verwachting de eerste groene elektriciteit leveren aan het net.
| | |
| --- | --- |
| Locatie | Ten noordoosten van Hoofddorp, tussen de Kagertocht, de A5 en zonnepark De Groene Hoek. |
| Vermogen | 38,5 MWp |
| Hoogte | Maximaal twee meter |
| Huishoudens | De elektriciteitsproductie komt overeen met het gemiddeld jaarlijkse verbruik van 12.000 huishoudens. |
| Start bouw | 2022 |
| Operationeel | 2023 |
Procesparticipatie
Bij de ontwikkeling en bouw van een zonnepark willen we omwonenden en direct betrokkenen meenemen in het proces:
Kennismaking en informeren belanghebbenden: we nodigen belanghebbenden per brief uit om kennis te maken, denk aan vertegenwoordigers van de directe omwonenden, omliggende bedrijven en verschillende instanties.
Informatiedagen: met behulp van de informatie uit gesprekken met belanghebbenden maken we een eerste ontwerp voor het zonnepark. Tijdens twee informatiedagen willen we het ontwerp van het zonnepark toetsen, waarbij we open staan voor wijzigingen en aanvullingen op het ontwerp. Na de eerste informatiedag bekijken we of alle ideeën en wensen haalbaar en inpasbaar zijn én voldoen aan wettelijke kaders. Op de tweede informatiedag zullen we het definitieve ontwerp toelichten.
Betrekken overige belanghebbenden: omwonenden die niet kunnen of willen deelnemen aan informatieavonden, kunnen via de website of de nieuwsbrief op de hoogte blijven van ontwikkelingen.
Terugblik kennismakingsavond
Op dinsdagavond 6 april vond de kennismakingsavond van Zonnepark Hoofddorp A5 plaats. Tijdens de digitale informatiebijeenkomst deelde het projectteam van Vattenfall het schetsontwerp en het proces tot nu toe. Er was voldoende ruimte voor vragen van aanwezigen. Denk aan vragen over biodiversiteit, landschappelijke inpassing, participatie, recreatiemogelijkheden en meer.
Meedelen in de opbrengst
Vattenfall vindt het belangrijk dat je als inwoner van de gemeente Haarlemmermeer voordeel hebt van het zonnepark. Wij geloven in duurzame relaties met de omgeving en we willen een goede buur voor je zijn. Zo kunnen we samen fossielvrij leven binnen een generatie mogelijk maken. Tijdens informatieavonden en gesprekken met de omgeving kijken we waar de gemeenschap behoefte aan heeft. Voorbeelden van lokale voordelen uit vergelijkbare projecten zijn:
Lokaal eigenaarschap door direct mee te investeren via een coöperatie, consortium, lokale partner of indirect via een obligatieregeling.
Korting op producten en diensten: zelf verduurzamen
Afname van lokale groene stroom: groene stroom uit de gemeente Haarlemmermeer
Duurzaamheidsfonds
Lokaal eigenaarschap
Acht veelgestelde vragen over het zonnepark
Waarom is dit een geschikte locatie voor het zonnepark?
De beoogde locatie van dit zonnepark heeft relatief veel zonne-uren. Bovendien valt het oostelijk deel van de locatie binnen het zonnecarré rondom luchthaven Schiphol. Door het plaatsen van zonnepanelen, zullen ganzen deze locaties vermijden. Dat leidt tot minder aanvaringen met ganzen en vliegtuigen in de buurt van Schiphol.
Zijn de zonnepanelen zichtbaar vanaf de weg?
Automobilisten zullen de zonnepanelen vanaf de A5 wel zien staan. Daarom worden de zonnepanelen zo geïnstalleerd dat automobilisten geen last hebben van schittering.
Wat is de levensduur van het zonnepark?
Zonnepark Hoofddorp A5 gaat ongeveer 25 mee. Om ervoor te zorgen dat het zonnepark zo lang mogelijk meegaat, voeren we regelmatig onderhoud uit.
Waarom bouwt Vattenfall dit zonnepark?
Onze missie is: binnen één generatie fossielvrij leven mogelijk maken. Een van de manieren is door meer duurzame energie op te wekken. Daarom investeren we fors in zonne-energie. De afgelopen jaren zijn de kosten van zonnepanelen aanzienlijk gedaald, waardoor zonne-energie tot de goedkoopste vormen van duurzame elektriciteitsopwekking behoort.
Heeft Vattenfall ervaring met het bouwen van zonneparken?
In de afgelopen jaren installeerden we in ons land duizenden zonnepanelen. We bouwen grootschalige zonneparken, bieden zonnepanelen aan particulieren en zorgen voor decentrale oplossingen voor zonne-energie. Dit doen we in Nederland en de rest van Europa.
Op welke manier houdt Vattenfall rekening met de omgeving?
Voldoende draagvlak is voor ons essentieel. Daarom betrekken we de omgeving in een vroeg stadium bij onze plannen en passen waar nodig onze plannen aan. Tevens ontwikkelen we volgens de gedragscode Zon op Land van brancheorganisatie Holland Solar.
Wanneer start de bouw en hoe lang gaat dat duren?
In 2022 willen we starten met de bouw van de zonnepanelen, dan is het zonnepark in 2023 operationeel.
Op welke manier profiteert de omgeving van het zonnepark?
Vattenfall vindt het belangrijk dat je als inwoner van de gemeente Haarlemmermeer kan meedelen in de opbrengst van een zonnepark. Dat betekent dat inwoners en bedrijven rondom het project profiteren van de komst van een zonneakker, dit kan op verschillende manieren. Tijdens de procesparticipatie kijken we waar het meest behoefte aan is vanuit de gemeenschap. We geven ons exacte aanbod dus vorm in overleg met de doelgroep.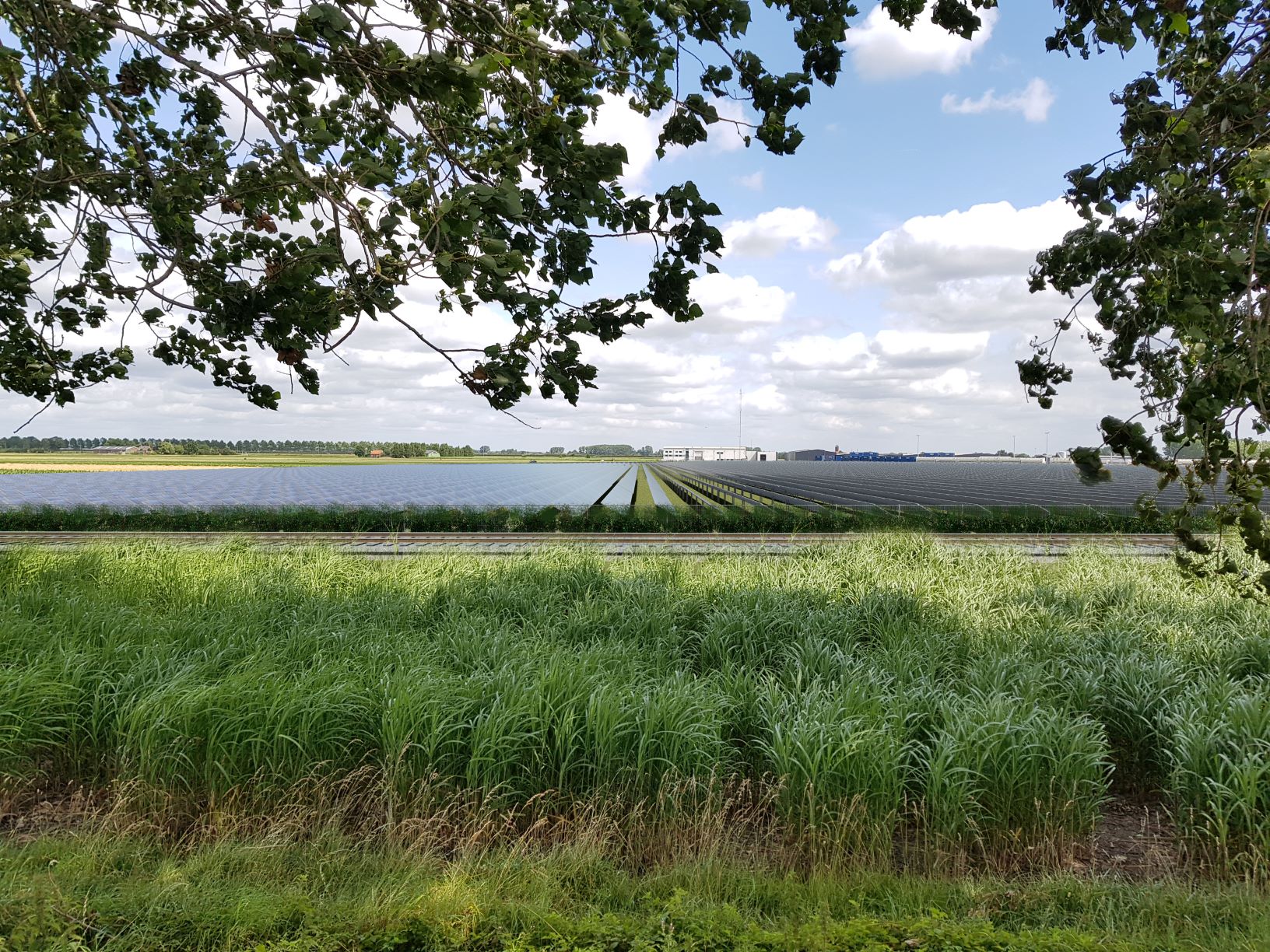 Blijf op de hoogte van Zonnepark Hoofddorp A5
Blijf op de hoogte van Zonnepark Hoofddorp A5 en schrijf u in op de nieuwsbrief. U ontvangt zo'n vier keer per jaar een update.
Ook interessant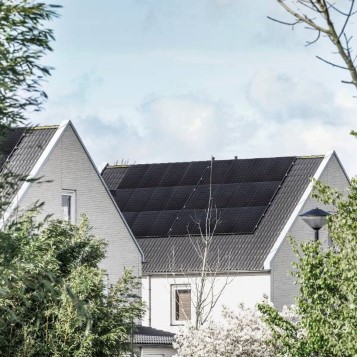 Zonne-energie is een essentieel onderdeel van een duurzaam en fossielvrij energiesysteem.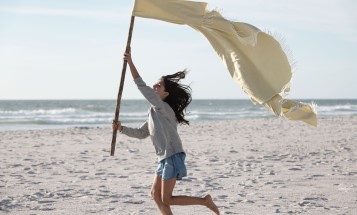 Elektriciteit is altijd al een belangrijke factor voor sociale en economische vooruitgang....