Zonneweide Goirle
Jaarlijks zo'n 3.000 huishoudens van groene energie voorzien: dat kan met Zonneweide Goirle. Vattenfall heeft het initiatief genomen voor de ontwikkeling van een zonnepark tussen het Gorps Baantje, de fruitkwekerij 'De Braacken' en het bos.
Goede samenwerking met omgeving
In nauwe afstemming met belanghebbenden, ondernemers in het gebied en het biodiversiteitsteam van Goirle is dit zonnepark ontworpen. Inwoners van Goirle kunnen straks voordelig groene stroom van de zonnepanelen afnemen. En over 25 jaar verkrijgt de grond weer haar agrarische functie.
Aansluiting op doelen gemeente Goirle
Gemeente Goirle wil in 2050 een CO2-arme gemeente zijn met 80% minder CO2-uitstoot dan in 2014. Om dit doel te behalen, wil de gemeente meer groene stroom opwekken via zonne- en windenergie. Dit zonnepark met een vermogen van 13 MW draagt daaraan bij.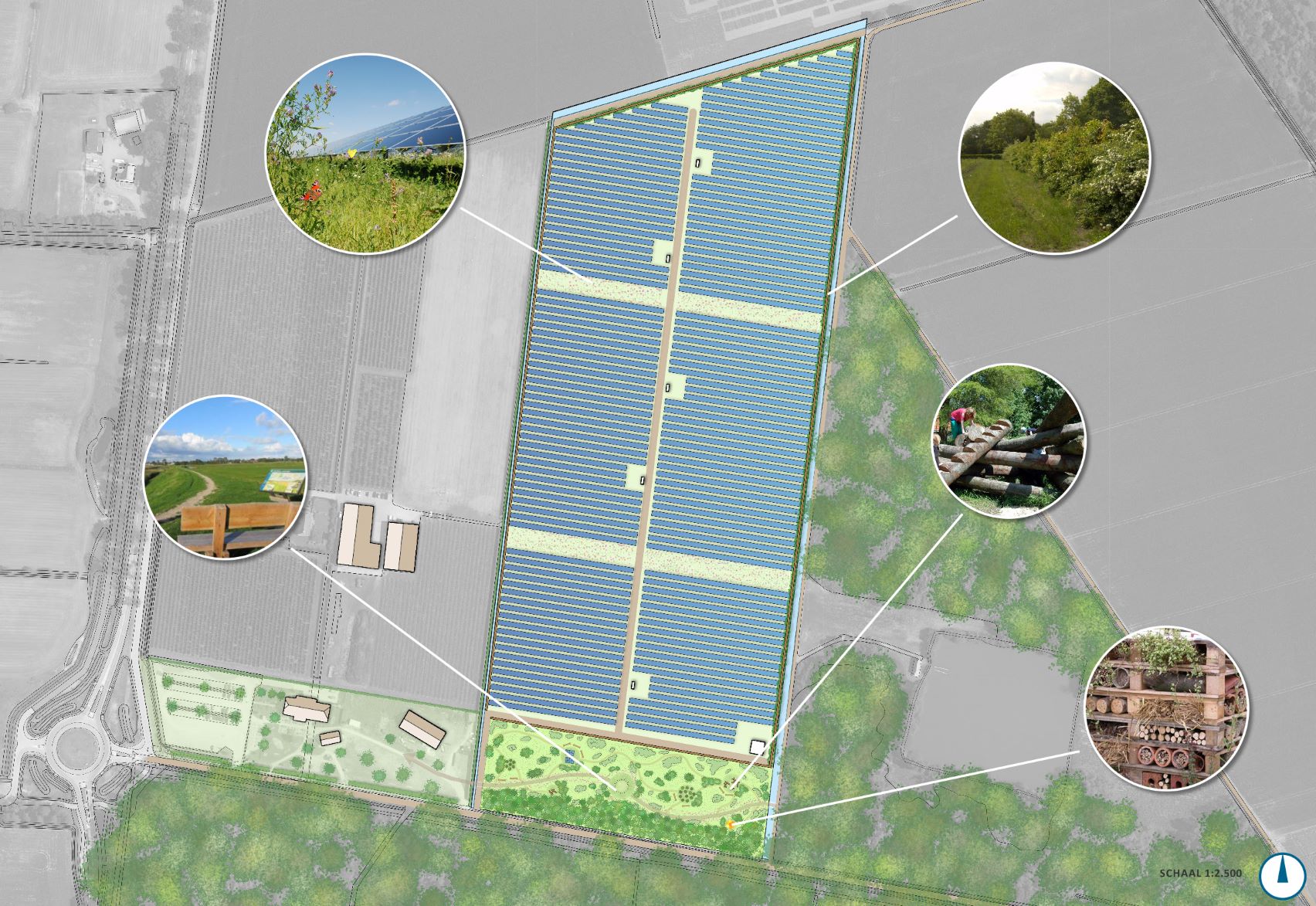 Educatief en openbaar toegankelijk
Straks is het zonnepark openbaar toegankelijk voor bezoekers en zijn er meerdere educatieve én recreatieve doeleinden mogelijk. Het ontwerp is tot stand gekomen samen met Natuurpoort de Roovertse Leij, Biodiversiteitsteam Goirle, Rocks & Rivers, Fruitkwekerij De Braacken en de grondeigenaar.
Planning zonnepark in Goirle
2018 – 2020: Verkenning
In deze fase voeren we verkennende gespreken met de gemeente, landeigenaar en directe buren. Samen met alle belanghebbenden maakten we al een eerste versie van het ontwerp. Tijdens de bewonersavond op maandag 27 januari 2020 hebben we dit ontwerp voorgelegd aan inwoners van Goirle.
2020: Aanvraag vergunning en SDE+
Medio 2020 dienen we een vergunningsaanvraag in bij de gemeente. In het derde kwartaal van 2020 tekenen we de offerte voor de netaansluiting van Enexis Tilburg Zuid. En in het najaar van 2020 doen we een aanvraag voor de subsidie Stimulering Duurzame Energieproductie (SDE+).
2022: Start bouw zonneweide
In 2021 ronden we de aanbesteding af en hebben we geschikte lokale partners geselecteerd om mee samen te werken. En in januari of februari 2022 start de bouw van het zonnepark. In januari of februari 2022 start de bouw van het zonnepark. In het najaar van 2022 zal het zonnepark operationeel zijn.
| | |
| --- | --- |
| Locatie | Natuurpoort Roovertsche Leij in Goirle, naast het Gorps Baantje |
| Vermogen | 13 megawatt |
| Hoogte | Maximaal twee meter |
| Huishoudens | Groene energie voor ongeveer 3.000 huishoudens |
| Oppervlakte | 6 hectare |
| Start bouw | Januari/februari 2022 |
| Operationeel | Najaar 2022 |
Voordeel voor inwoners Goirle
Meedelen in de opbrengst van een zonnepark: dat vinden we belangrijk. Zo kunnen we samen een fossielvrij leven binnen één generatie mogelijk maken. Er zijn verschillende mogelijkheden:
Het wordt mogelijk om financieel te participeren door mee te investeren via een obligatieregeling.
Door klant te worden van Vattenfall kun je als inwoner voordelig groene stroom afnemen van de zonnepanelen.
Vattenfall draagt een deel van de opbrengst van de zonnepanelen af aan een fonds voor de gemeenschap.
Korting op producten en diensten van Vattenfall.
Acht veelgestelde vragen over het zonnepark
Waarom is dit een geschikte locatie voor het zonnepark?
Aan de voorkant van het zonnepark, langs het Gorps Baantje, leggen we een park aan over een strook van zo'n 70 meter. Zo versterken we bestaande natuur. Daarnaast heeft het zonnepark educatief doel: we leggen en heuvel aan waar scholieren informatie krijgen over het gebied en het opwekken van groene energie.
Zijn de zonnepanelen zichtbaar vanaf de weg?
De zonnepanelen zijn mooi ingepast in het landschap en zullen niet of nauwelijks zichtbaar zijn.
Wat is de levensduur van het zonnepark?
Zonneweide Goirle gaat 25 jaar mee. Om ervoor te zorgen dat de zonnepanelen zo lang mogelijk meegaan, voeren we regelmatig onderhoud uit. Na deze periode van 25 jaar krijgt deze locatie weer een agrarische functie. Als we het zonnepark in de toekomst moeten afbreken, dan willen we de materialen zoveel mogelijk recyclen.
Waarom bouwt Vattenfall dit zonnepark?
Onze missie is: fossielvrij leven mogelijk maken binnen één generatie. Dit doen we onder andere door meer duurzame energie op te wekken. Daarom investeren we fors in zonne-energie. De afgelopen jaren zijn de kosten van zonnepanelen aanzienlijk gedaald, waardoor zonne-energie tot de goedkoopste vormen van duurzame elektriciteitsopwekking behoort.
Heeft Vattenfall ervaring met het bouwen van zonneparken?
In de afgelopen jaren installeerden we in ons land duizenden zonnepanelen. We bouwen grootschalige zonneparken, bieden zonnepanelen aan particulieren en zorgen voor decentrale oplossingen voor zonne-energie. Dit doen we in Nederland en de rest van Europa.
Op welke manier houdt Vattenfall rekening met de omgeving?
Voldoende draagvlak is voor ons belangrijk. Daarom is het ontwerp samen met Natuurpoort de Roovertse Leij, Biodiversiteitsteam Goirle, Rocks & Rivers, Brabants Landschap, Fruitkwekerij De Braacken en de grondeigenaar tot stand gekomen. Op 27 januari 2020 organiseerden we een bewonersavond waar geïnteresseerden hun vragen konden stellen en ideeën deelden.
Wanneer start de bouw en hoe lang gaat dat duren?
De voorlopige planning is om in januari/februari 2022 te starten met de bouw van het zonnepark. In de zomer van 2022 (juli/augustus) zal het park operationeel zijn.
Op welke manier profiteert de omgeving van het zonnepark?
Vattenfall vindt het belangrijk dat je als inwoner van Goirle kan meedelen in de opbrengst van een zonnepark. Daarom stellen we verschillende lokale voordelen beschikbaar. Meer informatie daarover volgt.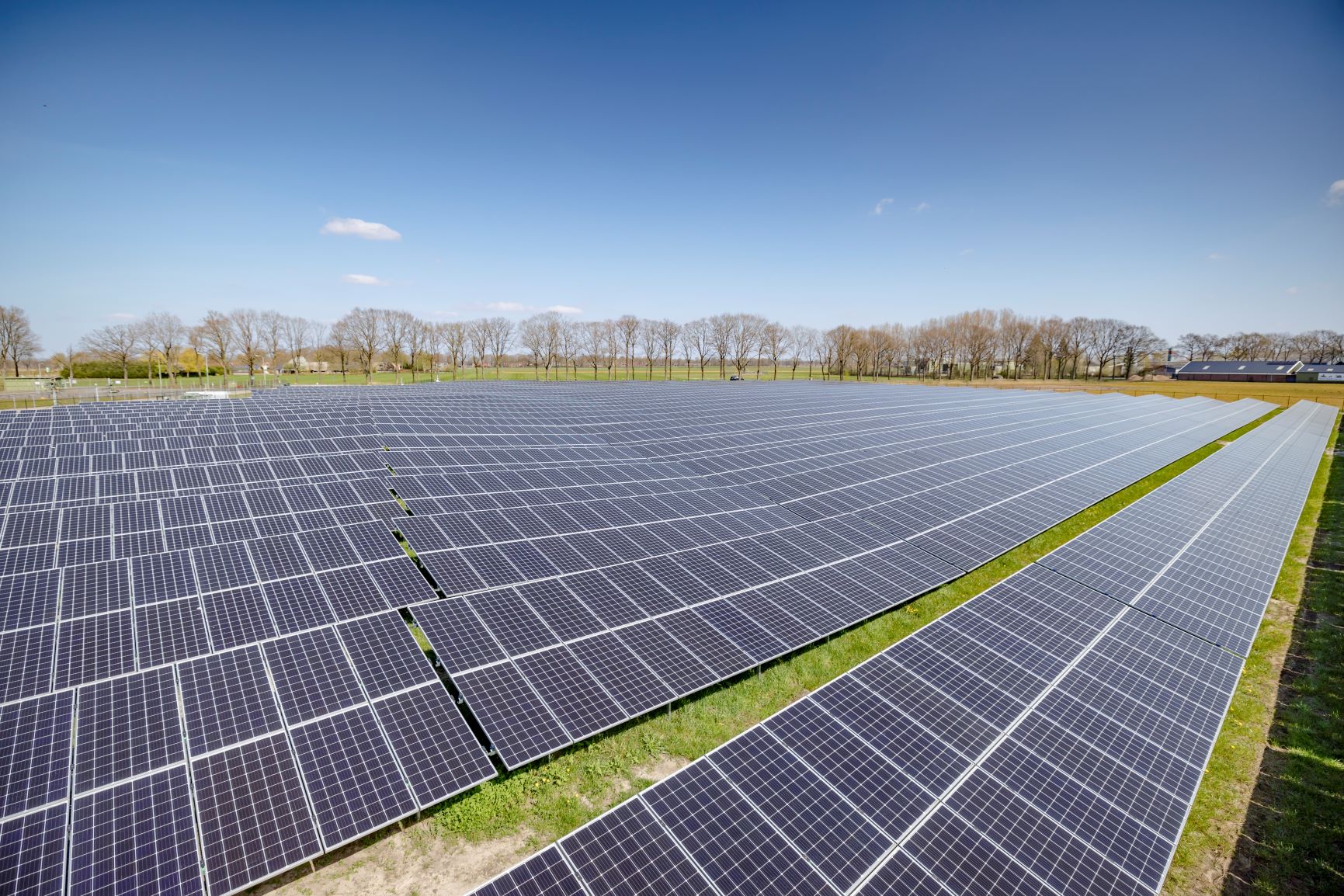 Blijf op de hoogte van Zonneweide Goirle
Blijf op de hoogte van Zonneweide Goirle en schrijf u in op de nieuwsbrief. U ontvangt zo'n vier keer per jaar een update.
Meer informatie
Ook interessant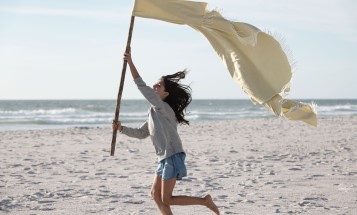 Elektriciteit is altijd al een belangrijke factor voor sociale en economische vooruitgang....