Zonneweide Spoorstraat (Echteld)
In Echteld (Neder-Betuwe) ontwikkelt Vattenfall een zonnepark dat jaarlijks zo'n 3.000 huishoudens van energie kan voorzien. Inwoners van Echteld zien de zonnepanelen niet vanuit hun woning, maar kunnen er wel van profiteren. Zij kunnen zich namelijk als eerst inschrijven voor verschillende mogelijkheden en meedelen in de opbrengst van het zonnepark. Daarna is het de beurt aan overige inwoners van de gemeente Neder-Betuwe en daarbuiten.
Lokale voordelen voor Echteld
Een deel van de grond langs de A15 behoudt haar agrarische functie. We zijn in gesprek met lokale partijen om schapen onder de panelen te laten grazen. Daarnaast vinden we het belangrijk de lokale economie te steunen en daarom streven we ernaar lokale grondverzetbedrijven en hoveniers in te zetten. Met Zonneweide Spoorstraat kan Vattenfall alle huishoudens in Echteld en een deel van de bedrijven voorzien van groene stroom.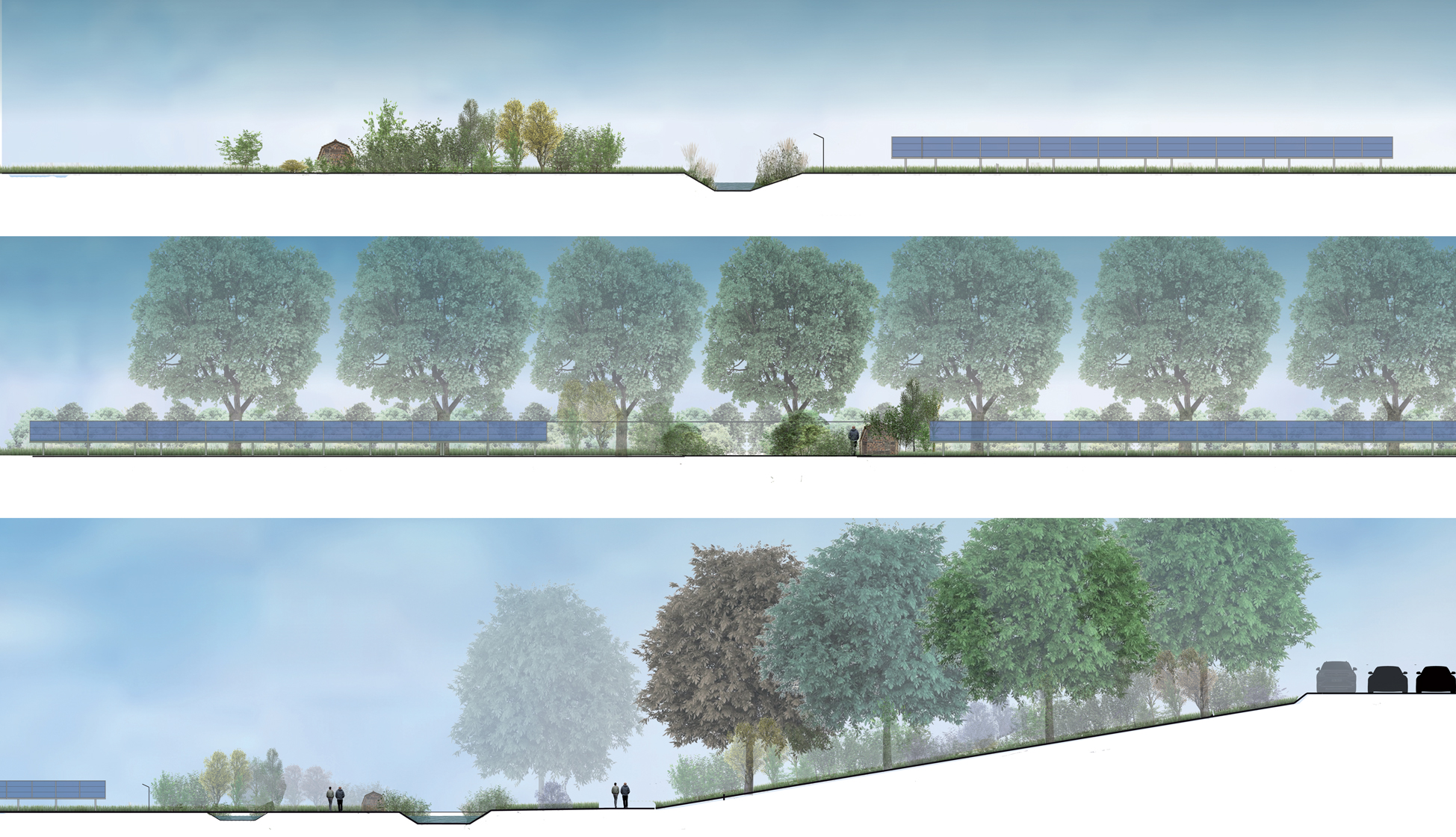 Zo komt het zonnepark er straks uit te zien
We planten bomen en struiken waardoor de panelen vrijwel niet zichtbaar zijn. Zo verwachten we een positieve bijdrage te leveren aan het versterken van de lokale ecologie en biodiversiteit.
Planning zonnepark bij Echteld
2020: Vergunningsverlening
In maart 2020 dienden we een vergunningsaanvraag in voor het zonnepark. In augustus wordt de ontwerp-beschikking zes weken ter inzage gelegd. Daarna passen we het plan waar nodig aan op basis van zienswijzen.
2020 - 2021: Start en afronding aanbesteding
Wanneer de vergunning is verleend, breekt een nieuwe fase aan. We gaan de aanbesteding voorbereiden en vinden het daarbij belangrijk om ook te investeren in de lokale economie. Daarom willen we waar mogelijk lokale bedrijven inzetten voor de werkzaamheden. Meer informatie daarover volgt in de nieuwsbrieven.
2022/2023: Start bouw zonneweide
In 2023 start de bouw van de zonneweide. Wanneer de aanbesteding is afgerond, passen we deze planning verder aan.
2022/2023: Zonneweide operationeel
Wanneer alle zonnepanelen geïnstalleerd zijn, kan het zonnepark daadwerkelijk groene stroom leveren aan het netwerk. Een feestelijk moment. Te zijner tijd zullen we een officiële opening organiseren voor de gemeenschap van Echteld.
| | |
| --- | --- |
| Locatie | Aan de Spoorstraat en langs de A15 in Echteld (Gelderland) |
| Vermogen | 11,5 megawatt |
| Hoogte | Maximaal twee meter |
| Huishoudens | Groene energie voor ongeveer 3.000 huishoudens |
| Oppervlakte | 8 hectare voor zonnepanelen, 3 hectare voor biodiversiteit en meervoudig landgebruik |
| Start bouw | 2022 |
| Operationeel | 2023 |
Meedelen in de opbrengst
Vattenfall vindt het belangrijk dat je als inwoner van Echteld kunt profiteren van de opbrengst van een zonnepark. Zo maken we samen een fossielvrij leven mogelijk binnen één generatie. Er zijn vier manieren voor lokaal voordeel:
Je kunt mee-investeren via obligaties van de zonneweide. Dat kan voor 250 euro per obligatie. Je ontvangt een vast rendement voor de periode van vijf jaar. Na de vergunningsverlening wordt het rendement vastgesteld.
Door klant te worden van Vattenfall kun je als inwoner meedelen in de opbrengst. Dat kan via lokale stroomafname of korting op de energierekening. We stellen 50% van de opgewekte stroom van de zonneparken in Echteld beschikbaar aan de inwoners van Echteld.
Vattenfall draagt 0,50 cent per MWh bij aan het duurzaamheidsfonds van de gemeente Neder-Betuwe. Het exacte totaalbedrag hangt af van de energieproductie als het park operationeel is.
Korting op producten en diensten van Vattenfall. Meer informatie hierover volgt eind 2021.
Acht veelgestelde vragen over het zonnepark
Waarom is dit een geschikte locatie voor het zonnepark?
In het gemeentelijk beleid vormt het opwekken van zonne-energie langs infrastructuur, zoals de locatie aan de Spoorstraat bij de A15, een belangrijk uitgangspunt. Mede door de vorm en ligging van het perceel – de grond ligt ingesloten tussen de Spoorstraat, het viaduct en de A15 – is het gebied niet optimaal in te zetten voor efficiënt agrarisch ondernemen. Bovendien ligt de locatie niet ver van Vattenfalls bestaande windmolens; het zonnepark kan dus eventueel gebruikmaken van dezelfde netaansluiting. Door gebruik te maken van dezelfde netaansluiting zijn de (maatschappelijke) kosten zo laag mogelijk.
Zijn de zonnepanelen zichtbaar vanaf de (snel)weg?
Automobilisten zien de zonnepanelen van Zonneweide Spoorstraat vanaf de snelweg wel staan. We gaan de panelen zo installeren dat ze gericht zijn op het zuiden en automobilisten dus geen last hebben van schittering van de zon.
Wat is de levensduur van het zonnepark?
Zonneweide Spoorstraat gaat 25 tot 30 jaar mee. Om ervoor te zorgen dat het zonnepark zo lang mogelijk meegaat, voeren we regelmatig onderhoud uit. Als we het zonnepark in de toekomst moeten afbreken, wil Vattenfall zoveel mogelijk materialen recyclen. Wij zijn zelf verantwoordelijk voor het opruimen van de installatie.
Waarom bouwt Vattenfall dit zonnepark?
Onze missie is: binnen één generatie een fossielvrij leven mogelijk maken. Eén van de manieren om dit te bereiken is meer duurzame energie opwekken. Daarom investeren we fors in zonne-energie. De afgelopen jaren zijn de kosten van zonnepanelen aanzienlijk gedaald. Zonne-energie behoort tot de goedkoopste vormen van duurzame elektriciteitsopwekking.
Heeft Vattenfall ervaring met het bouwen van zonneparken?
In de afgelopen jaren installeerden we in ons land duizenden zonnepanelen. We bouwen grootschalige zonneparken, bieden zonnepanelen voor particulieren en zorgen voor decentrale oplossingen voor zonne-energie. In Nederland en heel Europa. Bekijk hier welke zonneparken we in Nederland hebben geïnstalleerd.
Op welke manier houdt Vattenfall rekening met de omgeving?
Voldoende draagvlak is belangrijk voor ons. Daarom betrekken we de omgeving in een vroeg stadium bij onze plannen en passen we waar nodig onze plannen aan.
Voor Zonnepark Spoorstraat hebben we op 18 februari 2020 een bewonersavond georganiseerd. Daarnaast hebben we een vast contactpersoon: Puck Sanders (omgevingsmanager). Heb je een vraag of suggestie? Neem dan contact met hem op. Gedurende de bouw is er een site manager tijdens werkuren aanwezig om je vragen te beantwoorden. Daarnaast houden we je via de nieuwsbrief, de webpagina en in sommige gevallen per brief op de hoogte van het project.
Wanneer start de bouw en hoe lang gaat dat duren?
In de eerste helft van 2022 starten we met de bouw van het zonnepark. Als alles volgens planning verloopt, verwachten we dat het zonnepark in de zomer van 2023 operationeel zal zijn.
Op welke manier profiteert de omgeving van het zonnepark?
Vattenfall vindt het belangrijk dat je als inwoner van Echteld kan meedelen in de opbrengst van een zonnepark. Daarom stellen we verschillende lokale voordelen beschikbaar. Bekijk ook deze presentatie. Meer informatie volgt in de nieuwsbrief.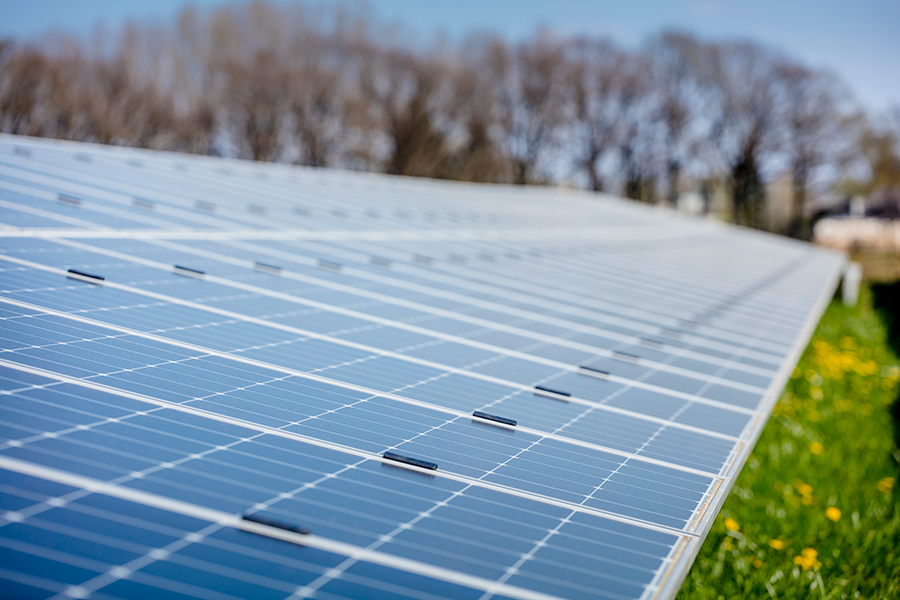 Blijf op de hoogte van Zonneweide Spoorstraat
Blijf op de hoogte van Zonneweide Spoorstraat en schrijf u in op de nieuwsbrief. U ontvangt zo'n vier keer per jaar een update.
Ook interessant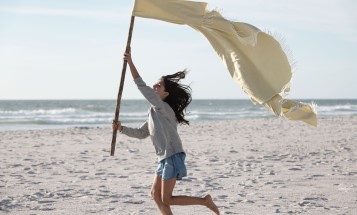 Elektriciteit is altijd al een belangrijke factor voor sociale en economische vooruitgang....