Thanet Extension Offshore Wind Farm
Development consent refused for Thanet Extension Offshore Wind Farm
The Secretary of State for Business, Energy, and Industrial Strategy refused development consent for Vattenfall's application to build the Thanet Extension Offshore Wind Farm. See further information about the decision here.
Vattenfall continues to believe Thanet Extension would be an asset to the Kent area, an opportunity for both renewable expansion and local skills development. However as a result of current economic circumstances Vattenfall has taken the decision to hold further development of the project until mid-2021. Vattenfall will maintain existing project agreements and informal stakeholder dialogue, but no activities to inform a new application for Development Consent Order will be initiated until the picture becomes clearer.

Our considerations of the decision
Having carefully considered the Secretary of State's refusal of the Thanet Extension consent, Vattenfall has chosen to not challenge the decision. We would like to thank all of our stakeholders and the public for their engagement on the project, and to extend thanks to all those who have contributed to its development.
Over the course of the project we have acquired a significant amount of data and knowledge about the area and we will now be assessing how best to make use of this going forward.
Further information will be posted on this website as soon as it is available.
Why extend Thanet Offshore Wind Farm?
We know that extension projects can deliver many benefits:
They can deliver lower cost renewable energy because we can benefit from:
shared operations and maintenance approaches,
our knowledge of constructing and operating in the area,
the latest turbine technology.
They allow us to build on our existing investment – in the local community and in a local workforce
Did you know?
With less than half the number of turbines, the extension could more than double the electricity coming from the existing Thanet Offshore Wind Farm.
Project in numbers
| | |
| --- | --- |
| First power expected | Mid 2020s |
| Installed capacity | 340MW |
| Homes powered equivalent per annum | 307,500* |
| Amount of C02 saved | 595,000 tonnes* |
| Equivalent cars removed | 297,000 |
| Geographical scale of offshore site area | 68.779km2 |
| Distance of the nearest turbine from the shore | 8km |
| Landfall location | Pegwell Bay |
| Length of cabling onshore | 2.5km |
| Length of cabling offshore | 28km |
| Number of turbines | Up to 34 |
| Height of turbines to tip | Up to 250m |
| Individual turbine capacity | Dependent on technology choice |
| Jobs created | Our operational projects currently employ around 70 people. These positions will be sustained and increased to support Thanet Extension. |
| Comparison to other large infrastructure | Thanet Extension will generate more power than the existing wind farm with one third of the turbines. |
See also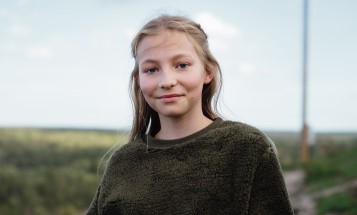 We have decided to make the biggest leap yet to reduce the impact of climate change.