Building the workforce for a climate smarter future
Community involvement is important at all stages of our projects. During the development phase it is a chance for communities to get involved with the design of the project, to understand the proposed infrastructure and to influence it before a final proposal is put forward.
During construction we often offer communities the chance to get involved by visiting the site, getting involved with bespoke projects, or even working on the main project if they have the appropriate skills and experience.
Once in operation, our work continues through community funding, longer term initiatives, school visits, education programmes and supporting community initiatives. To register for the Norfolk Projects e-newsletter please follow this link .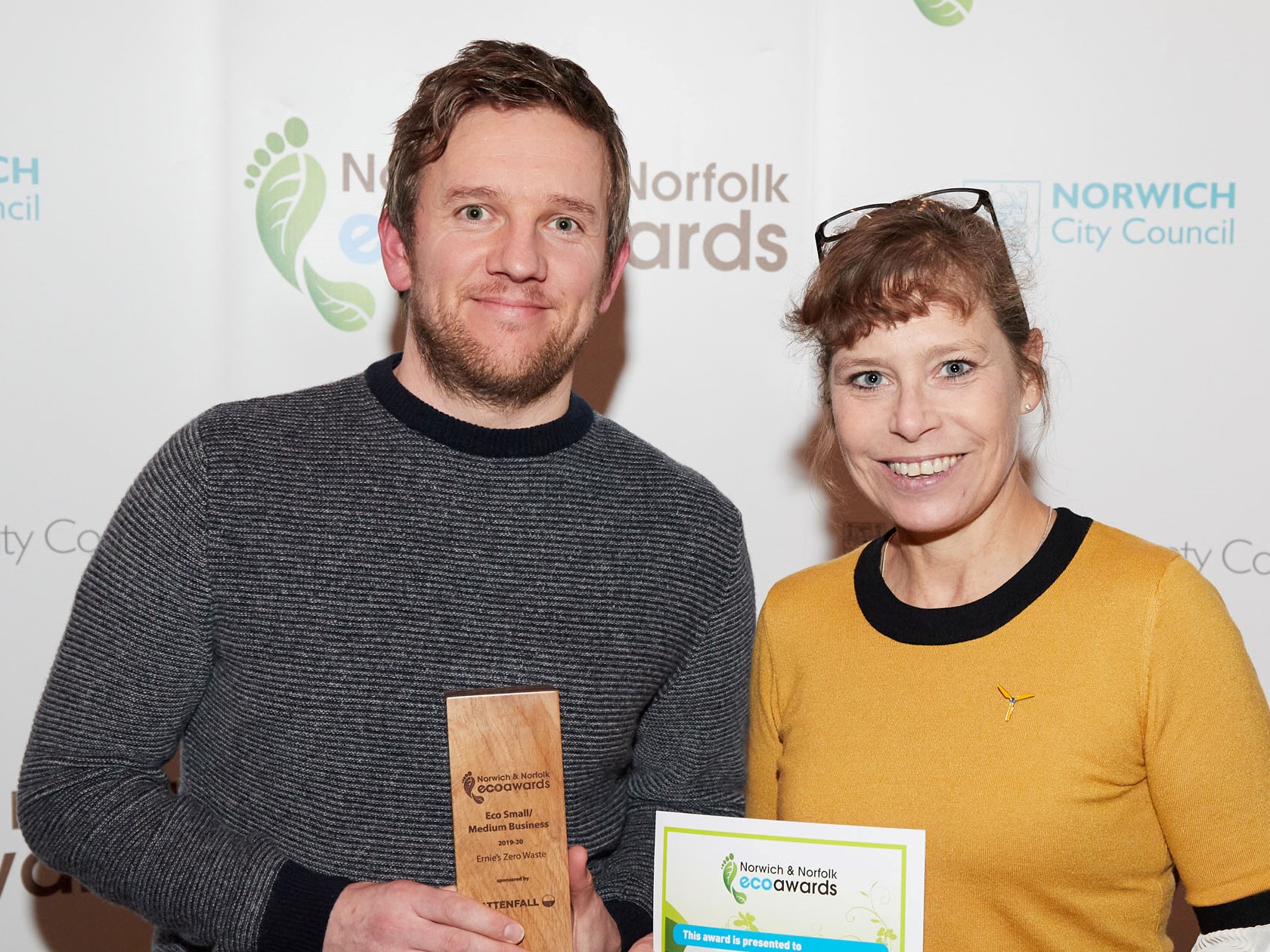 Celebrating climate smarter people
Vattenfall is proud to be one of the sponsors of Norwich & Norfolk Eco Awards for the third year running. Congratulations to Small/Medium Eco Business Award winner Ernie's Zero Waste Shop and all of the other winners and nominees. Thank you for inspiring us all to lead climate smarter lives. Image courtesy of Norfolk County Council.
Q&A: UEA Year In Industry student Angus on his Vattenfall experience
After collaborating with the Norfolk team on various education & skill initiatives in 2018 & 2019, UEA student Angus Binnian began a Year in Industry placement in our London office last September. We had a quick chat to find out how he's getting on at this halfway point.
Meet Joanna
We know that the climate smarter solutions of tomorrow will be shaped by the bright minds of today. Our journey to engage with Norfolk's future workforce is actively underway. This is UTCN student Joanna's story.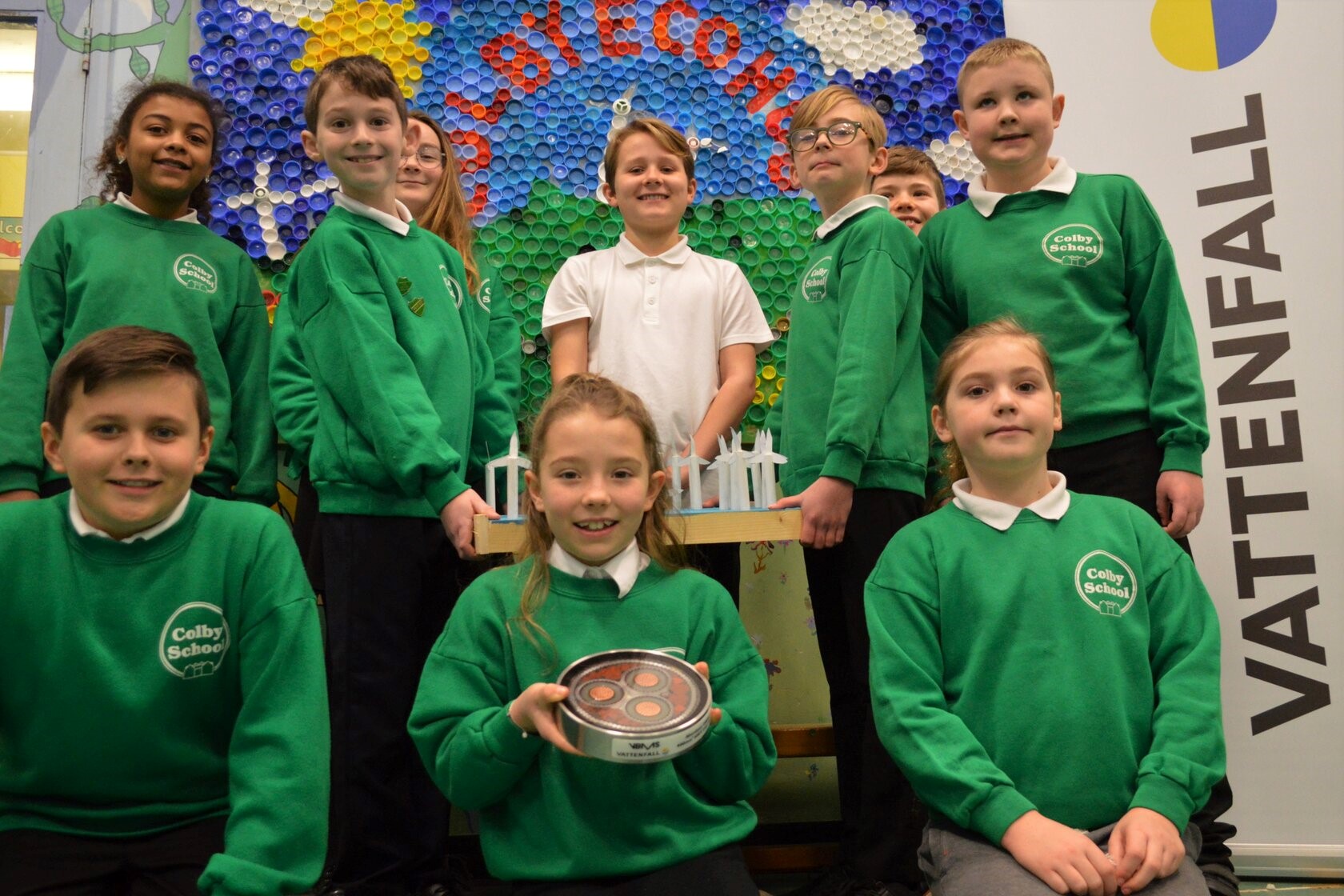 Colby School's Energy Outreach Programme powering Norfolk alliances
Colby School's Energy Outreach Programme goes from strength to strength, and this week they welcomed pupils from Necton Primary for another hugely successful collaborative energy workshop. Headteacher Christine Mead told us: "Colby children are extremely excited to have the opportunity to lead their peers in such a crucial and innovative project. They hope this collaborative approach can promote renewable energy and publicise the importance, throughout their communities, of taking care of the environment."
Students present on intern experience at Offshore Wind Week
Our team enjoyed a very busy Offshore Wind Week schedule which culminated in highlight of presentations before an industry audience from two of our summer interns, Jovita and Sharna, and UEA 'Year in Industry' student Angus Binnian. Jovita and Sharna shared their experiences from a summer month spent working with Vattenfall and partners 3DW and Purple Tuesday. Angus is mid-way through his year with Vattenfall's engineering team, and is currently based in London.
Lowestoft supply chain workshop
During Offshore Wind Week, Vattenfall brought together nearly 100 people at the new £11.7m Energy Skills Centre in Lowestoft to explore how procurement could work better for all levels of the supply chain. Tier 1 suppliers including MHI Vestas, GE and ABB met with SMEs to develop ideas for removing barriers in procurement, opening engagement and ensuring transparency. Businesses described the approach as "ground-breaking" and removing the "gatekeepers" of procurement. Vattenfall will now compile the 'wish list' ideas to share with all levels in the supply chain and parties in the Offshore Wind Sector Deal. Keep an eye out for a link on the wind supply chain pages of our website.
Norwich Science Festival
A team of young wind energy ambassadors from UTCN, East Norfolk Sixth form and UEA joined Vattenfall at the 2019 Norwich Science Festival to demonstrate some of the digital tools we use to help educate, inspire and provide offshore experiences to those stuck on land! The 6-strong team introduced the festival's young visitors to an offshore wind turbine technician experience, an augmented reality cables challenge and an 'introduction to wind' website created by the students as part of their summer internships. One of the visitors, Rachael, of Norwich, said: "This is a great careers tool, especially for children because it's fun and informative. It is good that children can grow up finding out about more careers than the fire, police and doctor-type jobs that they see."
Local students working to make a difference
Vattenfall's young 'consultants' - A level students at the University Technical College Norfolk (UTCN) - will deliver the company's first international skills 'export' sessions to 50 students at two specialist technical colleges offering detailed insights into the roles and skills it takes to build a wind farm. 
Engaging local supply chain
At the start of May, Vattenfall launched its UK offshore wind pipeline Supply Chain engagement programme with a major interactive event in Norwich. Participants representing more than 200 companies came along to listen to speakers from across the UK and beyond to hear about UK and European opportunities, and to tell us how we can assist them in capitalising on the opportunities that Vattenfall projects present. More information and a registration link available on the supply chain page of the website.
International Women's Day 2019
Climate smarter living is powered by diversity. Vattenfall is committed to enhancing opportunities for all, and to developing a more inclusive and diverse workforce. For this reason, we were honoured to participate in Norfolk Business Sector's celebration of International Women's Day and share a platform with some amazing role models. We also invited students from University Technical College Norfolk (UTCN), The Nicholas Hamond Academy and East Norfolk 6th Form to participate in the event and a team building and leadership workshop.
Sea Change Arts
Also in June, Vattenfall worked with the world-celebrated Sea Change Arts to deliver a 'wind powered art' project as part of 'Festa Fiesta'. It proved to be a fun way of starting to talk about the very many roles required to successfully develop, construct and operate a best in class wind farm. After adding to the canvas, citizen artists reviewed a varied and long list of jobs to put their name to. We hope some of the young people, and parents too, might in the coming years fulfil their ambitions to take up those roles in the industry in the future. Canvases produced on the day now grace the walls of the Drillhouse, Great Yarmouth, the brand new Energy and Engineering Centre at East Coast College, Lowestoft, and Vattenfall's London office.
Norwich & Norfolk Eco Awards
Vattenfall sponsored Norfolk County Council and Norwich City Council's Norwich and Norfolk Eco Hero Award this spring. While all three shortlisted candidates have superb eco credentials, teacher Matt Willer won the online public vote and took home the Eco Hero Award for his work on Reepham High School's Allotment Project. The Eco Awards panel said: "Matt's energy and commitment to sustainability and teaching is inspiring. The best sustainability leaders give others space to innovate." Congratulations to all nominees; thank you for inspiring us all to live climate smarter lives.
Summer Internships 2019
"More than just 20 days..." A second year of successful association with The Ogden Trust resulted in two new groups of student interns working with Vattenfall and partners 3DW and Purple Tuesday in the month of August. One project centred on development and prototype creation of an eco-friendly event guide, and the second project focused on designing a prototype wind energy info website designed specifically with a young audience in mind. Both groups took on the challenges with huge enthusiasm and participated in all stages, from breaking down brief spec to creative workshops and then prototype build.
Older news from our team on the ground in Norfolk:
Supply Chain Workshop - December 2018
On 5th December 2018 we were delighted to host local agencies, Tier 1 companies and SMEs for a supply chain workshop at The Nest venue in Horsford. Around 50 participants came together to hear from Vattenfall about onshore works required to deliver the proposed Norfolk Vanguard and Norfolk Boreas offshore wind farm projects, and to explore their role in delivering these next-generation, clean energy projects. Presentations were also delivered by Tier 1 companies, by Norfolk County Council, The Chamber of Commerce, New Anglia LEP and EEGR.
Colby School Green Energy Outreach Programme
In 2018 Vattenfall became sponsors of Colby School's Energy Outreach Programme, an educational initiative for primary age children to explore renewables through hands-on activities, and forming part of the school's award-winning Eco Hub project. With funding for equipment and support from Vattenfall, Colby School pupils developed a workshop which they later went on to deliver to other schools in the surrounding area.
Vattenfall supports Happisburgh Time and Tide Bell project
The passion of residents and visitors for the beach and coastline has been notable from our earliest visits to Happisburgh in 2016 to consult on our plans for the Norfolk Vanguard and Norfolk Boreas Offshore Wind Farm projects. This passion, for some, is all the more poignant because of the sea's erosive action on the cliffs, particularly during storms.
When our Norfolk project team met Happisburgh Time & Tide Bell Group, they told us of their plans to use an art installation to draw further contemplation of the coastline's perpetual embattlement with the sea over the area's long history of human habitation.
The Time and Tide Bell sound sculpture is a unique concept and once installed on the beach in the 'surf line', waves will stimulate the hanging clapper and produce a gentle musical ringing sound from the bell, twice in every 24 hour period during high tide.
See also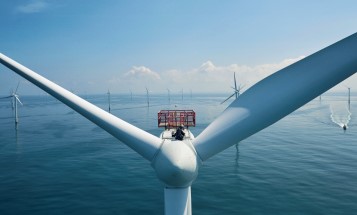 Vattenfall awaits a consent decision for the 1.8GW Norfolk Boreas Offshore Wind Farm.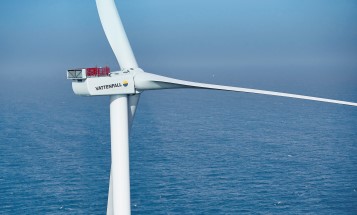 Norfolk Vanguard is currently subject to redetermination by the Secretary of State.