About Horns Rev 3
Horns Rev 3's 49 wind turbines have a total installed capacity of 407 MW, making it Denmark's and Vattenfall's largest wind farm.
It is expected that Horns Rev 3, which is located 25 to 40 km off the west coast of Jutland, will generate around 1,700 GWh annually, thereby increasing Danish electricity generation from wind by around 12 per cent. This is enough to cover the annual consumption of around 425,000 Danish households.
One turbine rotation
1,317
charged smartphones
The establishment of Horns Rev 3 was decided by the Danish Parliament in 2012 and plays an important role in realising the ambition of supplying half of all Danish electricity via wind power by 2020.
In 2015, Vattenfall won the right to erect Horns Rev 3 with a bid of 77 øre per kWh, which was historically low compared to previous Danish offshore wind farms and really triggered a reduction in the price of energy from offshore wind for the benefit of electricity consumers. In 2016, Vattenfall won the tender on Kriegers Flak in the Baltic Sea with a bid of 37.2 øre per kWh, and Vattenfall is presently constructing offshore wind farms without subsidies in the Netherlands.
The first foundation for Horns Rev 3 was embedded in the seabed in October 2017 and the installation of the turbines themselves began in summer 2018. The first turbines began supplying Danish consumers with electricity on 23 December of the same year. The last turbine was installed in January 2019, and the turbines have been gradually started up until the present.
Behind the scenes
Meet Maria
Meet Maria – Civil Design Manager at Vattenfall.
Meet Morten
Meet Morten - Commissioning Manager at Vattenfall
Meet Leo
Meet Leo – a service technician at Vattenfall.
Monitoring of the wind turbines is done from Vattenfall's surveillance centre in Esbjerg together with around 1,300 other Vattenfall wind turbines across all of Northern Europe.
The wind turbines are designed for 25 years of operation and, from 2024, they will be serviced and maintained from the Port of Hvide Sande on the west coast of Jutland, where Vattenfall will establish its own facilities. Until then, Vattenfall will service the turbines from Esbjerg in cooperation with the turbine supplier Vestas MHI.
Facts

Number of wind turbines
49
Total capacity
406.7 MW
Expected annual production/households' consumption
1,700,000 MWh/425,000
Total height including blades
187 m
Blade length/blade diameter (rotor)
80 m/164 m
Sea depth
11–19 m
Turbine type
MHI Vestas V164-8.0 MW
Total weight per turbine
1,184–1,470 tonnes
News and press releases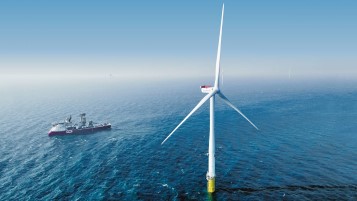 Today, 22 August 2019, HRH Crown Prince of Denmark accompanied by Danish Prime Minister Mette Frederiksen and the Minister of Climate, Energy and Utilities Dan Jørgensen officially opened De...
Read the full article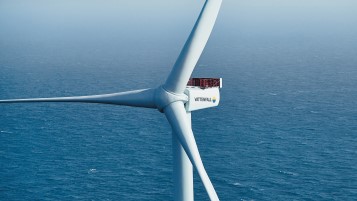 On 22 August, His Royal Highness the Crown Prince of Denmark will inaugurate Vattenfall's next and largest offshore wind farm, Horns Rev 3, in the North Sea.
Read the full article