Helping our buildings break free from fossil fuels
Our buildings are trapped in an addiction to fossil fuels. Discover how we're helping them break free by developing fossil free steel with the help of HYBRIT and fossil free hydrogen.
One of the biggest changes in steel production in over 1,000 years
HYBRIT stands for Hydrogen Breakthrough Ironmaking Technology. It's a joint partnership where fossil free steel is being produced using fossil free electricity and hydrogen with the goal of fully eliminating carbon emissions throughout the value chain from mining to steel production.
We launched the initiative in 2016 together with our partners LKAB and SSAB with the aim to develop a technology for fossil free iron and steel-making.  
Our cities and societies are constructed with steel, but thanks to HYBRIT we're now one step closer to helping our cities break free from fossil fuels.
The HYBRIT project is a lighthouse initiative for us that will also strengthen the competitiveness of all the partners in the initiative. The transition is already in the making.
A metal that can reduce global carbon emission by 7%
Steel is essential for all our lives, but steel production accounts for 7% of global greenhouse gas emissions. Fossil free steel provides us with the real possibility of dramatically reducing those emissions and helping us achieve our goal of fossil freedom.
It will also help us meet UN Sustainable Development Goals 11 (Sustainable cities and communities), 12 (Responsible consumption and production), 9 (Industry, innovation and infrastructure) and 17 (Partnerships).
Our societies need steel. Our societies are built with it. But there is one problem. Today, our industry accounts for approximately 7% of all the CO2 emissions in the world. Our plan is to have the first of our steel mills without CO2 emissions by 2025. We will then be able to deliver fossil free steel to the market.
Get to know fossil free hydrogen
To remove fossil fuels and cut carbon emissions from all parts of society, we need solutions like fossil free hydrogen. Fossil free hydrogen has the capability to power entire industries. It can also store and carry energy. And it's a key part of the process of producing fossil free steel. It's produced by splitting water molecules into hydrogen and oxygen, a process that requires a lot of energy. If this energy comes from fossil free sources such as hydro, wind or solar power you end up with fossil free hydrogen.

But that's not all. Fossil free hydrogen emits oxygen instead of carbon dioxide when produced and water when used as a fuel in industrial processes. This means it has the potential to dramatically reduce carbon emissions in industries such as refining, petrochemicals, steel and fertilisers, as well as transportation and of course – steel.
See also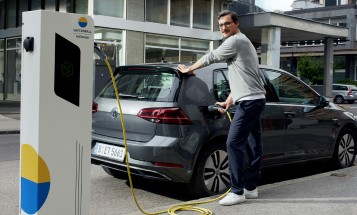 We're installing fast-charging points at thousands of public places, shops and workplaces.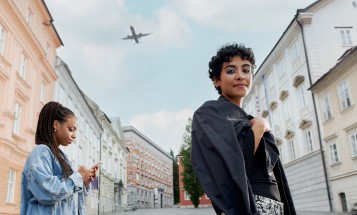 We're exploring electrofuel, produced with fossil free electricity and fossil free hydroge...