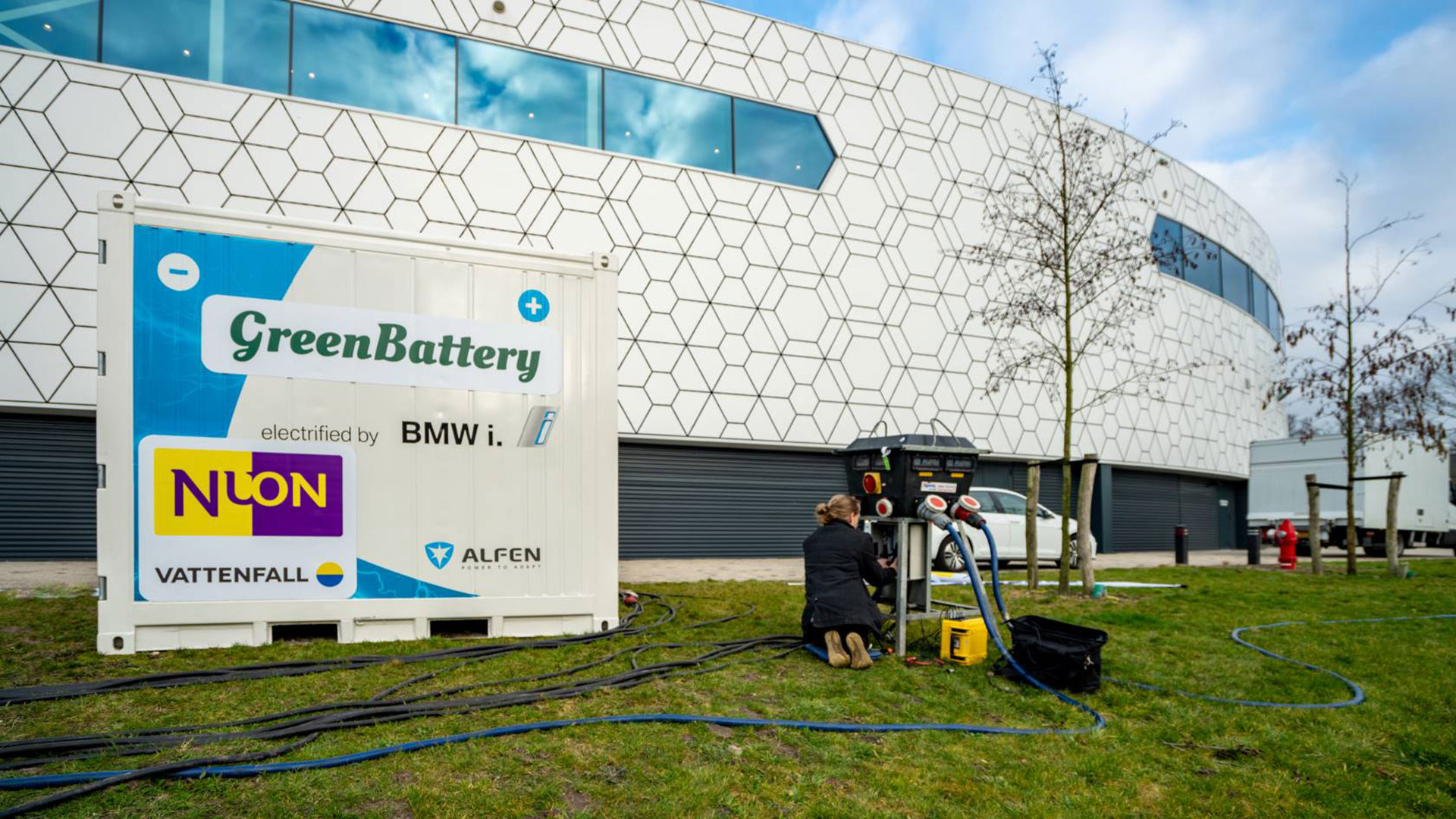 Vattenfall's battery solution reduced climate impact at skating championships
Another major sports event make use of Vattenfall's expertise in energy storage and other climate-smart solutions.
Major sports events put extra demands on power supply and network connections. As an alternative to using diesel generators to cover for the peak loads, Vattenfall has developed a mobile battery solution.
In early February Vattenfall helped the FIS Alpine World Ski Championships in Åre Sweden to become the first climate neutral championships of its kind.
On 23–24 February Vattenfall supported another major event, the ISU World Sprint Speed Skating Championships in the Thialf stadium in Dutch Heerenveen. An energy storage from GreenBattery containing ten electric car batteries of the same type as BMW uses in its i3-model, was connected to the stadium. The energy storage was calculated to save about 400 liters of diesel and 1,000 kg of carbon dioxide during the event.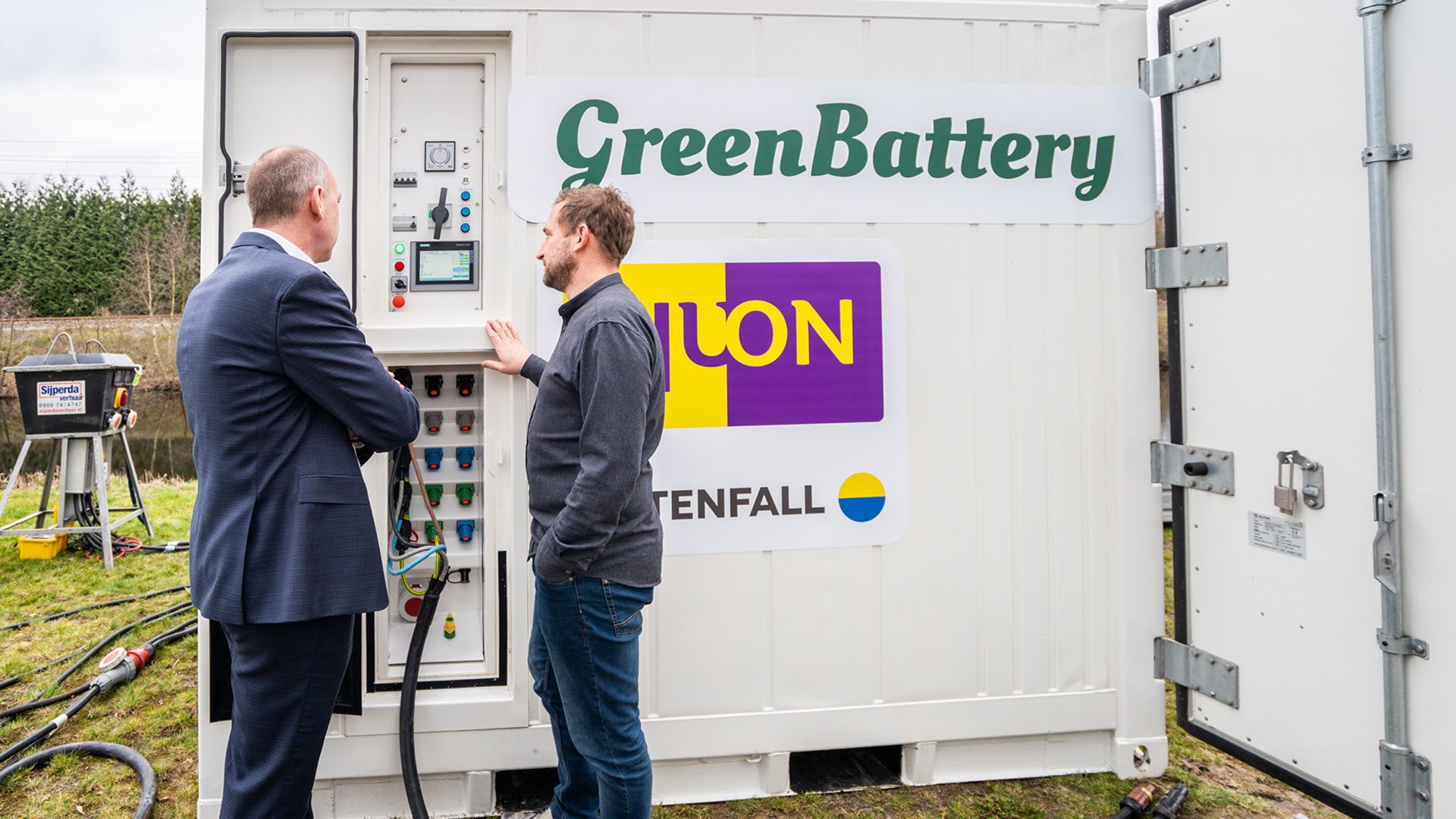 Marc Winters and Boudewijn Tjeertes Vattenfall GreenBattery.
Sustainable stadium gets even more sustainable
Marc Winters, director of Thialf, is particularly proud of the green stadium and the sustainable solutions for athletes and visitors.
"We opened the new Thialf in 2017 and since then we have been working hard to become fully carbon neutral by 2020. At large events, such as the World Sprint World Cup this weekend, we used to be forced to use diesel generators to meet the peak demand. With the GreenBattery, our energy partner Vattenfall offers a sustainable solution that generates no emissions, noises or odors. "
Solar powered building
The Tialf stadium is the Netherlands most important skating track and is also one of the fastest tracks in the world. In 2017 Vattenfall fitted the stadium with more than 5000 solar cells which provides the building with a quarter of its annual power needs.
Han Huiskamp of GreenBattery says:
"In the future we would like to create a sustainable energy hub for the northern provinces together with Thialf, where GreenBatteries can be recharged for other events in the region with the sunroof of Thialf. Similarly, other events with no or too few grid connections can still use really sustainable energy. At the same time, by working from Heerenveen, we limit the transport of the systems. "
Peter Smink, director of Vattenfall Netherlands, says:
"Vattenfall wants to make it possible to live, work and travel fossil-free within one generation. We do this by offering permanent solutions with wind and solar parks and, for example, charging stations for electric transport. And together with GreenBattery we also offer a flexible solution to make festivals, events and construction sites more sustainable. We are therefore very proud of this exclusive collaboration. "
Electric car rally coming up
The next event takes place on 28 February when Vattenfall's energy storage will provide charging power for the world's northernmost electric car rally between Luleå and Jokkmokk in Lapland, Sweden.
GreenBattery at Thialf
This GreenBattery delivers 250 kVA, 420 kWh and weighs approximately 7,500 kg.
The dimensions are 3 meters long, 2.5 meters wide and 2.5 meters high.