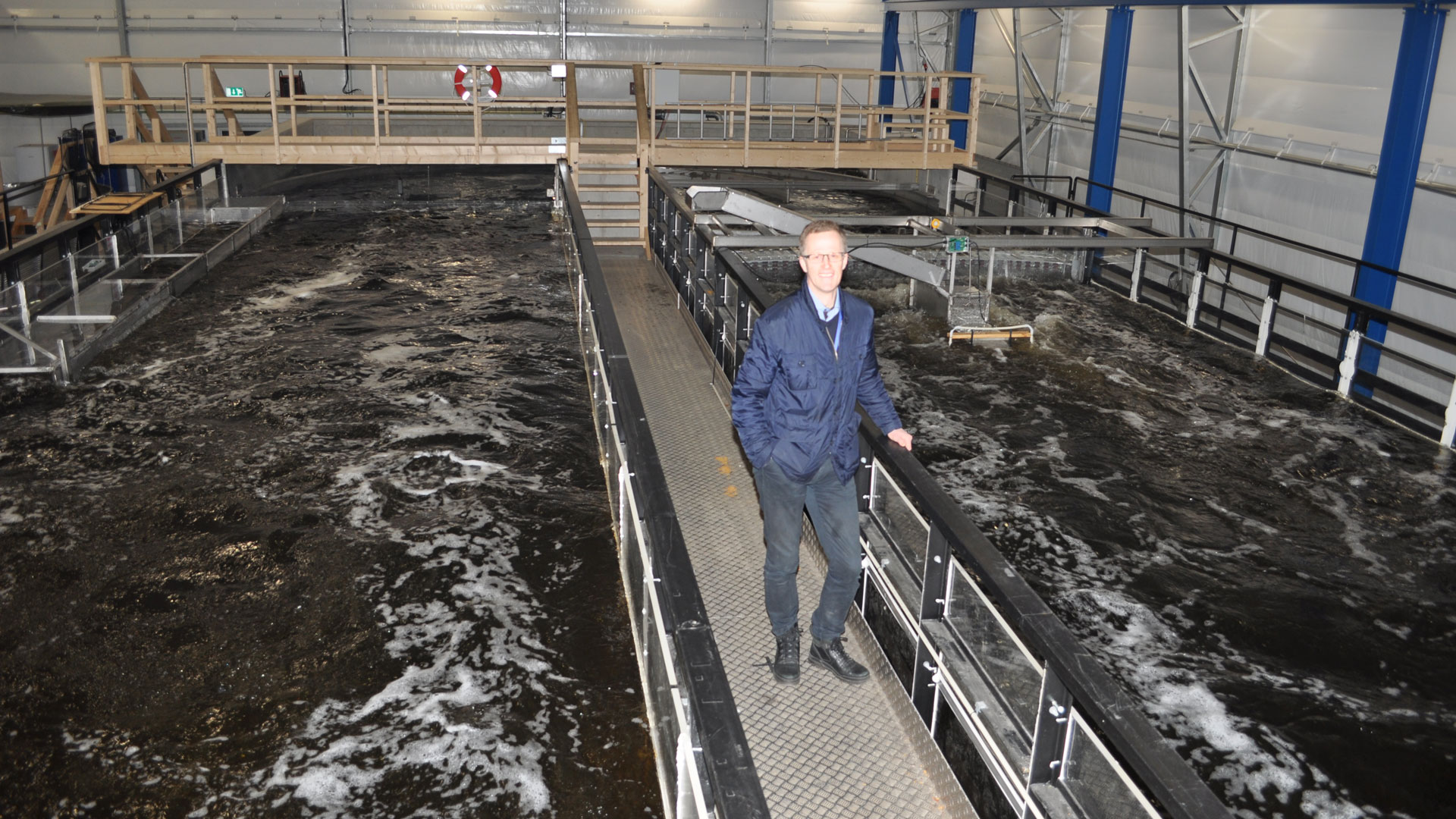 New test facility increases fish migration past hydro power plants
A unique test facility for studying the behaviour of fish in running water and around power plants has now been inaugurated at the Vattenfall R&D Centre in Älvkarleby. The facility, called the Laxelerator, will help develop efficient methods for increasing the number of fish that migrate past hydro power plants using fish ladders and bypass channels.
Work on the new trial fish facility commenced at the end of 2015. The facility is housed in a large building on the premises of Vattenfall's research centre in Älvkarleby, 140 km north of Stockholm. The building, situated right on the Dalälven River, is home to a nearly 30 metre long, 10 metre wide pool of flowing water.
"The Laxelerator will increase our understanding of how fish behave in these kinds of water environments. This knowledge is important if Vattenfall is to live up to the EU Water Framework Directive and provide existing hydro power plants with modern environmental conditions," says Christer Ljunggren, Head of Vattenfall's Nordic hydro power operations.
Various kinds of flowing water environments can be simulated in the Laxelerator pool, in that way the behaviour of fish can be studied in different flow conditions and water velocities.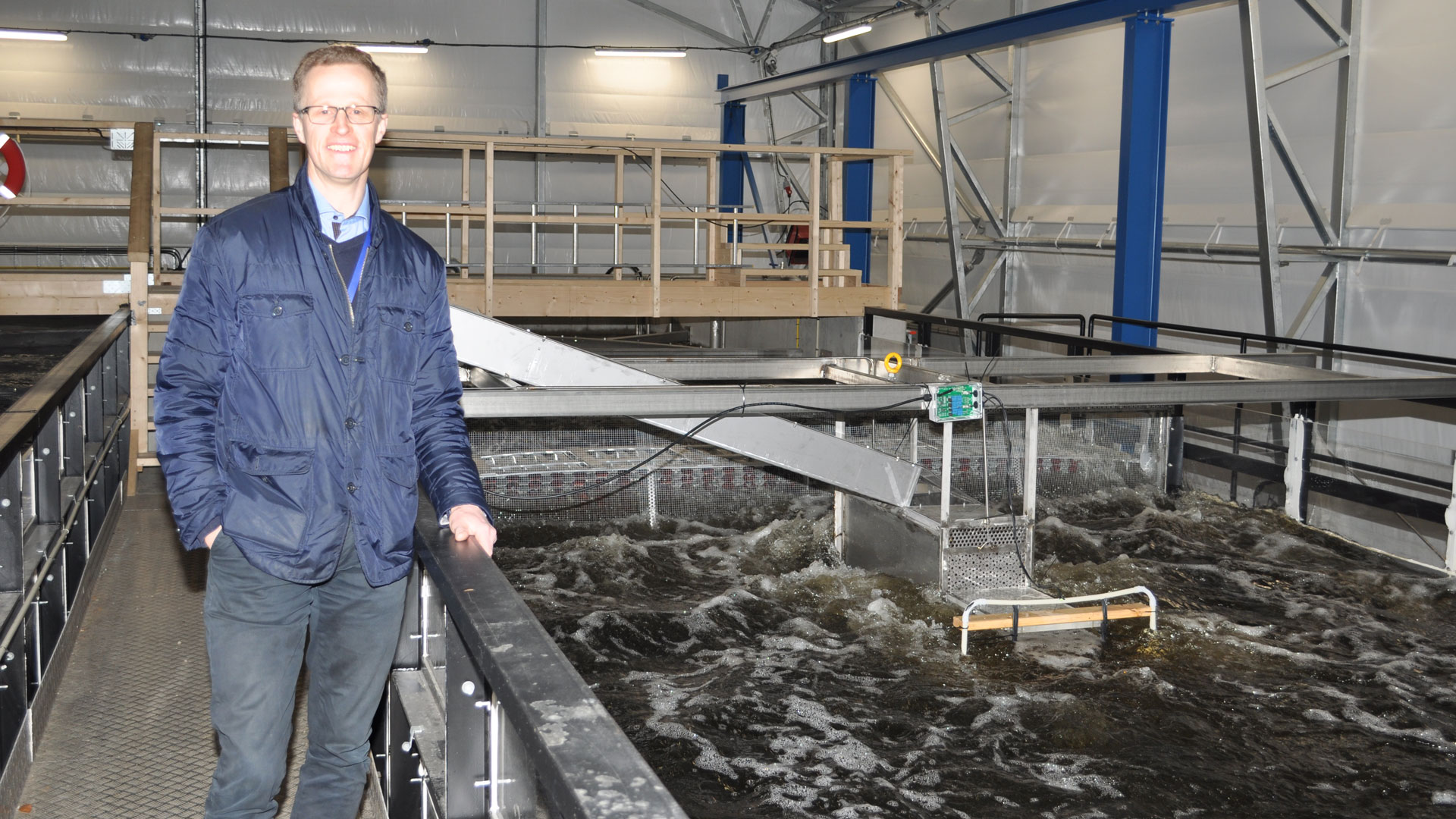 Mats Billstein, in charge of research of hydro power issues at Vattenfall.
"The test facility makes it possible to emulate different kinds of flowing water environments in a controlled environment. Tests can be repeated and series of tests can be compared. We can test a number of directive obstacles, such as a wall of air bubbles. This provides us with valuable scientific facts on how fish behave in flowing water and how they can be "taught" to find their way to fishway entrances for upstream migration and diversionary constructions for downstream migration," says Mats Billstein, in charge of research of hydro power issues at Vattenfall.
International interest
Universities and colleges are showing great interest in the Laxelerator, not only in Sweden, but internationally. County administrations and authorities that are tasked with monitoring compliance with the EU Water Framework Directive are also greatly interested in seeing how the results from the Laxelerator can lead to measures that fortify the environment, without impacting hydro power generation.
"Vattenfall is Sweden's largest owner and operator of hydro power plants. As such, we will naturally conduct our own research and development, though we also strive to cooperate with Swedish and international universities and colleges. We have already reached agreements with four Swedish universities that will utilise the facility for a number of projects, including the study of migratory fish," says Billstein.
Erik Sparrevik, environment expert at Vattenfall Vattenkraft says:
"There are great expectations on Vattenfall to build fishways for upstream and downstream migration. However, in order to come up with sustainable solutions and to avoid generation loss, it is important that this is done in the right way."
Facts
The Laxelerator consists of a pool with a channel made up of two test sections, each 24 metres long, 2 metres deep and 4 metres wide. The facility can be used by all migratory fish, but primarily by salmon and eel.
Four pumps control water velocity to enable the study of fish behaviour in varying flow velocities and obstacles that salmon and other fish encounter during their runs.
The pool water is taken from the adjacent Dalälven River and one of Vattenfall's oldest hydro power stations, located downstream in Älvkarleby. The water temperature can be regulated to emulate seasonal conditions.
Vattenfall owns and operates more than 100 hydro power plants, most of which are located in Sweden with a number in Finland and Germany. Hydro power makes up approximately 30 per cent of Vattenfall's electricity generation in Sweden. Therefore, it is vital to meet current and future environmental requirements.
See also
Vattenfall's hydro power plants
Our hydro power operations, including CSR reporting and biodiversity initiatives (in Swedish)