Helping our energy system break free from fossil fuels
Our homes are trapped in an addiction to fossil fuels. Discover how we're helping them break free by using wind power.
Wind power – a core ingredient for decarbonisation
We aim to help society break free from fossil fuels. To reach this target, we need to dramatically increase the generation capacity of our renewable energy sources. Among these, wind power plays a critical role in reaching the ambitious European and national climate targets, as well as our own targets. In September 2021, we decided to make our emission reduction targets even bolder to help keep global warming at a maximum of 1.5 degrees Celsius. With this in mind, we're aiming to quadruple our production of wind and solar power by 2030.
Today, wind power alone provides 17% of Europe's electricity consumption with a capacity of 255 GW. To meet the rapidly growing demand, the EU aims to triple this capacity by 2030. As the leading wind energy company in our core markets with more than 1,200 turbines in operation, Vattenfall contributes strongly to this growth, for example with Scandinavia's largest offshore wind farm Kriegers Flak. Inaugurated in 2021, Kriegers Flak increased the Danish wind power production by 16% and has a capacity corresponding to the annual consumption of 600,000 Danish households.
Another example is our largest onshore wind farm in Sweden, Blakliden Fäbodberget, which was inaugurated in 2022. The wind farm with its 84 turbines has a total output of 353 MW and can deliver fossil-free electricity corresponding to the need of 220,000 Swedish homes.
To achieve our goal of helping society break free from fossil fuels, we're also collaborating with a wide range of partners and large industrial consumers. One of these partnerships has resulted in the co-development of the wind farm Hollandse Kust Zuid together with our partner BASF. Inaugurated in September 2023, Hollandse Kust Zuid is the world's largest subsidy-free offshore wind farm.
But that's not all. In the summer of 2023, the construction of Bruzaholm wind farm, located near the city of Eksjö in southern Sweden, started. The wind farm will be ready for commission during the autumn of 2025 and as soon as it is ready, Vattenfall will sell 50 percent of the electricity produced at Bruzaholm wind farm to Volvo over a 10-year period.
"This partnership marks an additional step in continuously reducing the environmental impact from our own industrial activities. The agreement signals our commitment to prioritise low-carbon investments, source renewable energy, and take climate action across everything we do." says Martin Lundstedt, President and CEO of Volvo Group.
Finland's first large offshore wind farm
One way we're helping society break free from fossil fuels in Finland is by developing Finland's first major offshore wind farm together with Metsähallitus (Finnish steward of state-owned land and water areas). Once up and running it'll have the capacity to supply more than 2 million Finnish apartment homes with fossil free electricity.
Finland has set the very ambitious goal reaching net zero emissions by the year 2035, and the new offshore wind farm will be a major stepping stone on the road to reaching that goal.
"Vattenfall is a leading offshore wind developer in Europe. We are very honoured to have been selected to develop Finland's first large scale offshore wind farm. We are looking forward to bringing our broad experience to the Korsnäs project, supporting Finland to reach their ambitious climate targets," says Helene Biström, Head of Wind at Vattenfall.
Wind power is in it for the long run
Wind power is not only one of the cheapest forms of new energy generation, but it also has a very low carbon footprint. Modern wind farms compensate for their own CO2 footprint after just one year of their 25 years in operation.
In addition, we're focused on reducing any further environmental impact and have set tough targets for how to deal with wind turbines at the end of life: we're aiming to recycle the turbine blades 100% by 2030.
Floating wind farms – the next big innovation
One of the next big developments in wind power is floating wind farms. As the name suggests, these are wind turbines whose foundations aren't fixed to the seabed.
We're exploring this innovative technology in Scotland to unlock deep waters for renewable electricity production.
Nordlicht wind farms to be developed in the German North Sea
In the coming years, Vattenfall intends to build two state-of-the-art offshore wind farms around 85 kilometres North of the German island of Borkum called Nordlicht I and Nordlicht II (Northern Light I and II) without government subsidies. Both wind farms combined will have an installed capacity of about 1.6 gigawatts and can then, in continuous operation, produce enough electricity corresponding to the yearly consumption of more than 1.7 million German households.
Following a final investment decision by Vattenfall, Nordlicht I can be connected to the German electricity grid sometime in 2027 and Nordlicht II in 2028.
"These projects are milestones on the path to enable fossil freedom. They will lead to a permanent reduction in Germany's dependence on fossil fuels. In addition, offshore wind energy can make an important contribution to the conversion to a more climate-friendly production in some key industries. Within the framework of partnerships, we want to support that conversion, says Helene Biström, Head of Wind at Vattenfall.
See also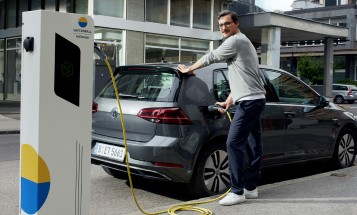 We're installing fast-charging points at thousands of public places, shops and workplaces.