Highlights auf dem Weg der Berliner Wärmewende
Die CO2-Emissionen in der Hauptstadt deutlich verringern und die Energiewende in Gang setzen. Das waren die wesentlichen Ziele einer freiwilligen Selbstverpflichtung, die Vattenfall bereits 2009 in einer Klimaschutzvereinbarung mit dem Land Berlin vereinbart hat. Darin festgeschrieben, dass Vattenfall seinen CO2-Ausstoß in der Stadt bis 2020 gegenüber 1990 halbiert.
Wir haben Wort gehalten und das ambitionierte Ziel erreicht. Ein Blick auf zehn wesentliche Highlights aus der Umsetzung der Klimaschutzvereinbarung.
1. Emissionen runter, Klimaschutz rauf
2. Die Wärme wird grüner
3. Strom und Wärme vom Acker
4. Ausbau der Stadtwärme – weil es so naheliegend ist
5. Historisch für Berlin – die Braunkohle ist Geschichte
6. Im Süden was Neues
7. Im Jubiläumsjahr kommt der Ruhestand
8. Sonne sorgt für warme Duschen
9. Brückenschlag in die Zukunft
10. Noch eins drauf – Power to Heat
1. Emissionen runter, Klimaschutz rauf
Gemessen am Basisjahr 1990 hat Vattenfall bereits bis 2017 seine CO2-Emissionen in Berlin von 13,34 auf 6,27 Millionen Tonnen reduziert. Zusätzlich zu dieser versprochenen Halbierung minimiert das Unternehmen seine Emissionen weiter. Bis zum Abschluss der Klimaschutzvereinbarung Ende 2020 wird die Zahl auf unter 6 Millionen Tonnen CO2 sinken!
Pressemitteilung vom 25.09.2018
Vattenfall erreicht CO2-Halbierungsziel drei Jahre früher als vereinbart
2. Die Wärme wird grüner
Biomasse ist der neue, grüne Brennstoff. Mit der Inbetriebnahme einer hochmodernen Biomasse-Anlage im Märkischen Viertel geht Vattenfall in der Wärmeerzeugung neue Wege. 2014 wurde das Heizkraftwerk, das ausschließlich den nachhaltigen Rohstoff für die Energieerzeugung nutzt, eingeweiht. Der Einsatz von 70.000 Tonnen Holzhackschnitzel jährlich vermeidet so 68.000 Tonnen CO2 und versorgt 30.000 Wohnungen, Industriebetriebe und öffentliche Einrichtungen mit grüner Wärme.
3. Strom und Wärme vom Acker
Den Anteil von Biomasse in der Berliner Energieerzeugung spürbar erhöhen und gleichzeitig den Nachschub des regenerativen Brennstoffs sichern – dafür sorgt seit 2010 die Vattenfall Tochter "Energy Crops". Auf rund 2.000 Hektar Ackerfläche betreibt das Unternehmen Energieholzanbau mit schnell wachsenden heimischen Pappeln. Das daraus gewonnene Holz wird in Berlin zu Strom und Wärme.
Video vom März 2017
KUP-Ernte und Einsatz von Biomasse im BHKW Märkisches Viertel
4. Ausbau der Stadtwärme – weil es so naheliegend ist
Unsere Wärme wird zu 100 Prozent vor Ort produziert und unmittelbar zu den Berliner Kunden transportiert – nicht irgendwo in der Ferne, sondern hier in dieser Stadt. Und weil das so naheliegend ist, sprechen wir lieber von "Stadtwärme" als von "Fernwärme". Rund 1.3 Millionen Wohneinheiten profitieren heute von der Stadtwärme. Im letzten Jahrzehnt sind rund 25.000 neue Wohneinheiten jährlich dazu gekommen. Jede davon spart eine Tonne CO2 pro Jahr mit dieser umweltfreundlichen Heizart gegenüber einer Gas- oder Ölheizung ein.
5. Historisch für Berlin – die Braunkohle ist Geschichte
Der 24. Mai 2017 ist für Vattenfall und das Land Berlin ein historisches Datum. Er markiert das Ende der Braunkohlenutzung im Heizkraftwerk Klingenberg und damit das Ende der Braunkohlenutzung in der Hauptstadt. Als erstes von insgesamt sieben deutschen Bundesländern, die Braunkohle als Energieträger einsetzten, hat Berlin den Ausstieg vollzogen. Umfangreiche Investitionen in die Kraftwerksanlage ermöglichen seitdem den alleinigen Einsatz von Erdgas für die Strom- und Wärmeversorgung.
Pressemitteilung vom 24.05.2017
Historischer Tag für Berlin: Braunkohle ab heute Geschichte, 24.05.2017
Video vom 24.05.2017
Historischer Tag für Berlin - Braunkohle für die Fernwärme-Erzeugung ist ab heute Geschichte
6. Im Süden was Neues
2019 startete das neue Power-Paket in den Dauerbetrieb. Für rund 500 Millionen Euro hat Vattenfall am Standort des alten Heizkraftwerks Lichterfelde eine neue hochmoderne Gas- und Dampfturbinenanlage (GuD) errichtet. Im gekoppelten Prozess der gleichzeitigen Strom- und Wärmeerzeugung gewährleistet HKW Lichterfelde neu die Versorgungssicherheit im Berliner Süden und spart jährlich rund 100.000 Tonnen CO2 im Vergleich zum alten Kraftwerk.
Pressemitteilung vom 30.11.2019
Das neue Heizkraftwerk Lichterfelde startet in den Dauerbetrieb
7. Im Jubiläumsjahr kommt der Ruhestand
Der Block hat Historisches geleistet. 50 Jahre lang arbeitete "Reuter C" für die Versorgungssicherheit dieser Stadt, insbesondere für West-Berlin während der "Insellage". Bei seiner Inbetriebnahme am 01.12.1969 war der "Riesengenerator" mit 132 Megawatt elektrischer Leistung der bis dato größte Berliner Kraftwerksblock. Fünf Jahrzehnte später, am 1.10.2019, geht der berühmte Kraftwerksblock mit Steinkohlefeuerung in den Ruhestand – er räumt das Feld für nachhaltigere Energieerzeugungs-Generationen.
Pressemitteilung vom 01.10.2019
Rente mit 50: Ein Stück Berliner Energiegeschichte geht in Ruhestand
8. Sonne sorgt für warme Duschen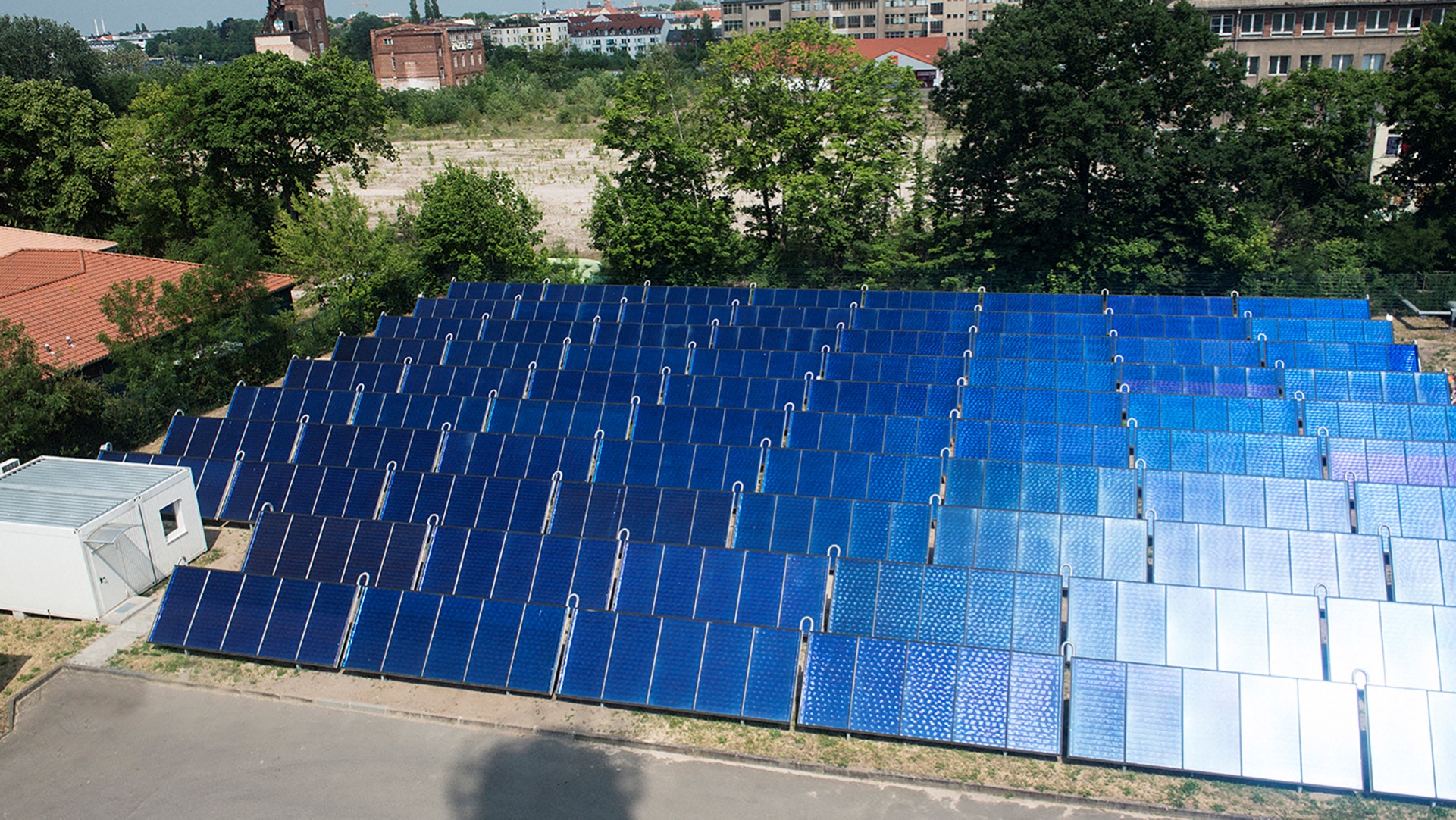 Seit Mai 2018 nutzt Vattenfall Wärme Berlin Solarenergie zur Fernwärmeerzeugung. Am "Energiestandort Wendenschloß" in Berlin-Köpenick ist eine große Solarthermie-Anlage entstanden. Mit rund 1.000 Quadratmetern Kollektorfläche trägt die Sonne hier zur Fernwärmeversorgung von rund 10.000 Haushalten bei. Die Anlage hat bisher alle Erwartungen übertroffen. Allein im ersten Betriebsjahr wurden statt der geplanten 440 Megawattstunden (MWh) Wärme sogar 520 MWh erreicht – das entspricht etwa 16.500 CO2-freien warmen Duschen.
Pressemitteilung vom 24.07.2019
Sonnige Aussichten: Ein Jahr Bilanz - Köpenicker Solarthermie-Anlage übertrifft die Erwartungen
Video vom Mai 2018
Solarthermieanlage Berlin Köpenick
9. Brückenschlag in die Zukunft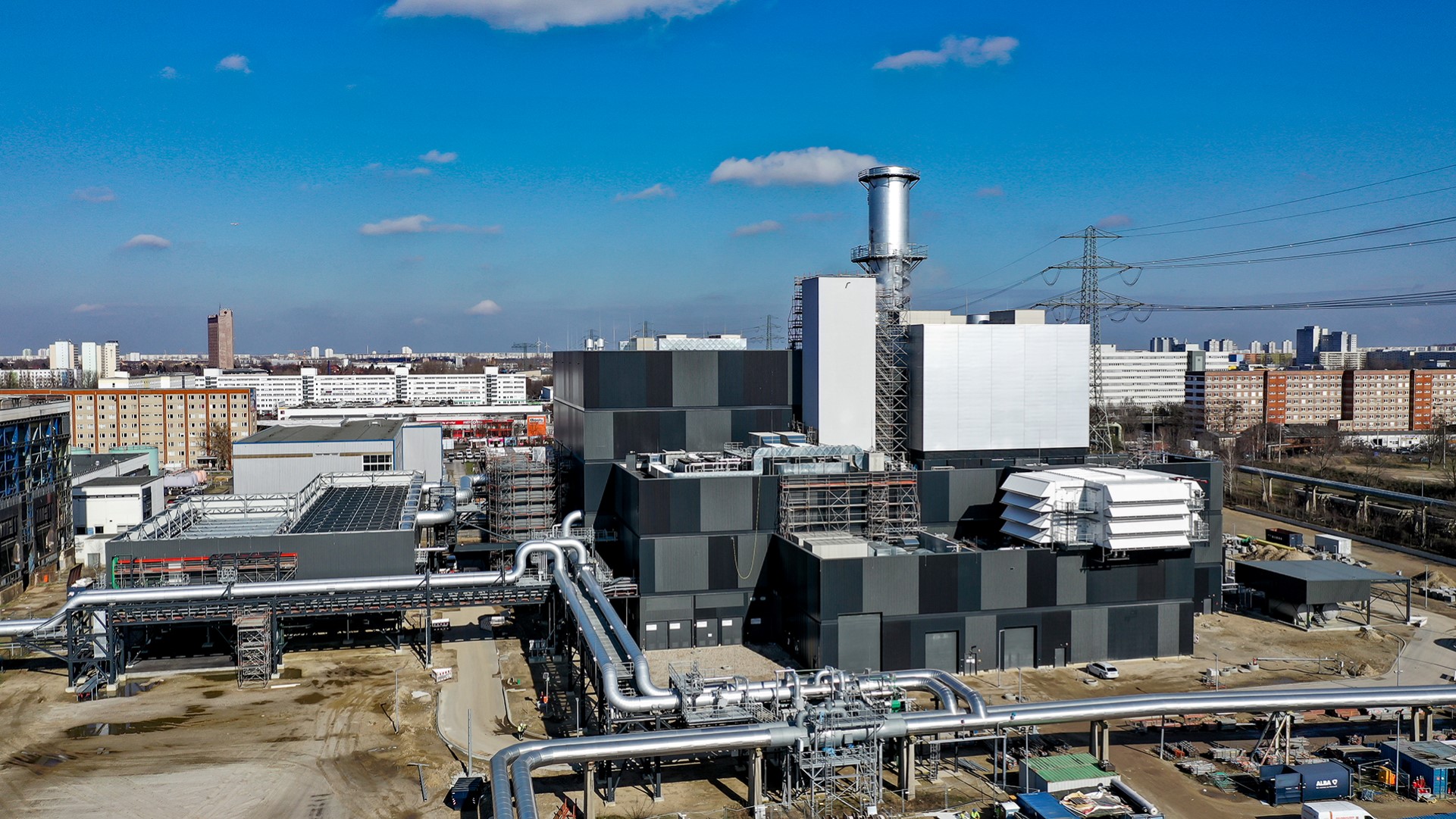 Am 3. Juni 2020 wurde das Heizkraftwerk Marzahn offiziell in Betrieb genommen
Weniger als drei Jahre nach der Grundsteinlegung am 11.10.2017 ist das neue Heizkraftwerk Marzahn fertig. Nach Investitionen von 325 Millionen Euro geht HKW Marzahn im Juni 2020 in den Dauerbetrieb. Die hochmoderne Gas- und Dampfturbinen-Anlage gilt als Brücke in die Zukunft der Energieversorgung. In ihr wird jetzt der Einsatz von Wasserstoff als nachhaltiger Brennstoff für die Energieerzeugung vorbereitet.

Pressemitteilung vom 03.06.2020
Die Hauptstadt macht Tempo beim Klimaschutz
Video vom 16.06.2020
Energie für die Zukunft Berlins - Neues Heizkraftwerk nimmt Betrieb auf
10. Noch eins drauf – Power to Heat
Neukölln 2013, Buch 2017, Spandau 2019 – so liest sich zusammengefasst die Geburtsstunde von "Power to Heat" in Berlin. Mit dieser Technologie soll regenerativ erzeugter Strom in die Wärmeversorgung integriert werden. Nach den kleineren Anlagen in Buch und Neukölln hat Vattenfall in Spandau Europas größte Anlage dieser Art installiert. Mit 120 Megawatt Wärmeleistung können selbst an sehr kalten Wintertagen 36.000 Haushalte beheizt werden. Eigentlich nicht Bestandteil der ohnehin schon erfüllten Klimaschutzvereinbarung, hat Vattenfall mit Power to Heat noch was draufgesetzt.
Pressemitteilung vom 18.09.2019
Europas größter Wasserkocher ist am Netz
Video vom 26.09.2019
Inbetriebnahme Power-to-Heat-Anlage - ein wichtiger Baustein der Berliner Wärmewende
Wie geht es weiter?
Die Klimaschutzvereinbarung mit dem Land Berlin ist erfüllt. Doch Vattenfall macht weiter auf seinem Weg, innerhalb einer Generation ein komplett fossilfreies Leben zu ermöglichen. Nächster Zwischenhalt für Berlin ist der "Kohleausstieg 2030". Dann werden wir hier die CO2-Emissionen um 70 Prozent gegenüber 1990 gesenkt haben!