Annika Viklund, Senior Vice President and Head of Business Area Distribution has won the Power Woman of the Year award in competition with 61 nominated women from the energy industry in Sweden.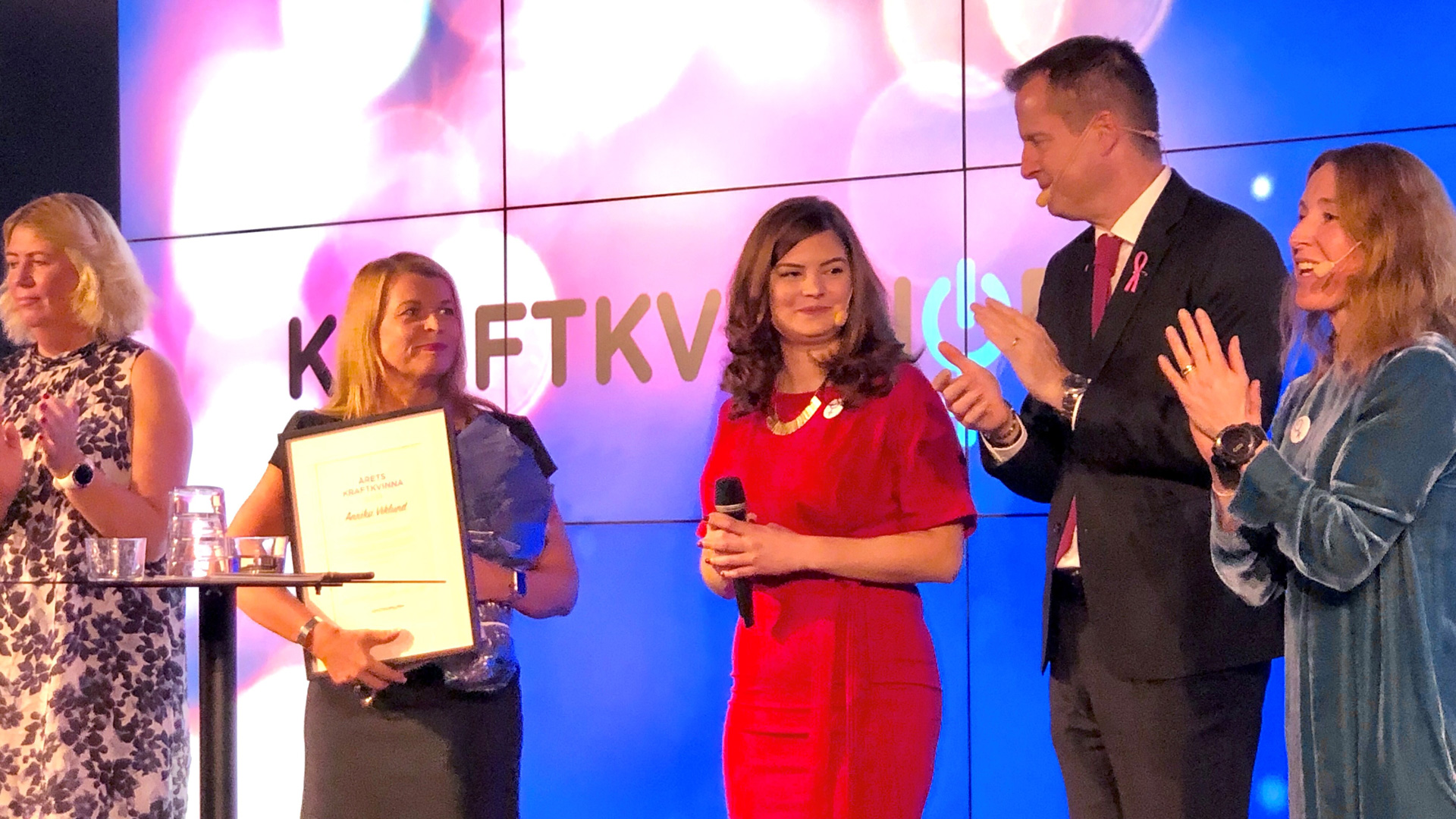 Annika Viklund, SVP and Head of Business Area Distribution received the Power Woman of the year award in Stockholm. The price was awarded by the Swedish Minister for Energy , Anders Ygeman.
Congratulations to the Power Woman of the Year award Annika Viklund!
– Thank you! I am humbly proud and happy. It feels fantastic to receive the award from Kraftkvinnorna, the Swedish association for women in the Swedish power industry, and Minister for Energy Anders Ygeman after many years of systematic equality and diversity work here at Vattenfall. I was surprised but I am very happy and will do my utmost to continue the fine work of former Power Women on this issue.
What is the purpose of this award? Why is it important?
– The award highlights the importance of equality and diversity in the industry. I also believe it is important with role models in order to drive gender equality work forward in our industry. This way the award fulfils an important purpose. And getting the prize among 61 nominees is very humbling to me. There are a great many qualified women –there were even eight more who were nominated from Vattenfall!
You are the third Power Woman from Vattenfall: Jenny Larsson, former Head of Vattenfall Heat Sweden, was awarded the first price in 2016. In addition, Saira Alladin, now Director Asset Operation & Maintenance in Vattenfall Distribution Sweden, received the award 2018.
Is it that Vattenfall stands out in this area?
– Yes I am very proud that I am the third the Power Woman of the year to receive this award at Vattenfall. We work actively with gender equality and diversity within Vattenfall - and I am very proud that competent men and women choose to work for us! The fact that we have a specific target for equality on Vattenfall's scorecard at group level shows the high ambition we have, Viklund says.
The Power Woman of the Year Award was instituted to make visible and to lift women in the Swedish energy sector, to broaden the recruitment base and attract more women to the industry. This year, 61 women from the entire energy industry in Sweden were nominated, nine of whom were from Vattenfall.
Behind the prize is the association Kraftkvinnorna, Power Women, formed in 2015 with the aim of, among other things, highlighting and lifting competent women in the Swedish energy industry.
As head of Business area Distribution, Annika Viklund has for a long time highlighted issues about diversity, both within her own organization and previously as Vattenfall's first Diversity & Inclusion Officer. The assignment as Diversity & Inclusion Officer is currently held by Torbjörn Wahlborg, Head of Business Area Generation.
Read more about Vattenfall's current Diversity & Inclusion officer