Ray Wind Farm
Ray Wind Farm is an onshore project situated on the Ray Estate near Kirkwhelpington in Northumberland.
The wind farm has been in operation since 2015.
Ray Wind Farm is our largest onshore project in England, which we expect to provide enough electricity to over 30,000 homes annually.*
* based on most recent statistics from the Department for Business, Energy and Industrial Strategy showing that annual UK average domestic household consumption is 4,192kWh.
Key facts
| | |
| --- | --- |
| No of Turbines | 16 |
| Wind turbine capacity | 3.4 MW |
| Total installed capacity | 54.4 MW |
| Average annual homes equivalent | Over 30,000* |
| Estimated operational life | 25 years |
| Hub height | 73m |
| Rotor diameter | 104m |
| Site and access roads | 11.2km |
| Grid connection | 24.5km from Ray to Fourstones |
Investing in the Community
Following an extensive consultation, in which the local community within 10km of the wind farm shared their views on the fund, Vattenfall appointed a Steering Group of local representatives, tasked with ensuring that the fund is used to provide the greatest possible benefit for local people.
The findings were published in the Ray Wind Farm Community Fund Community Profile Report. A review of the findings has set the priorities for the Fund, these are:
The Ray Wind Farm Small Grants programme - this fund is now open the Programme, is being managed on Vattenfall's behalf by the Community Foundation Tyne and Wear and Northumberland, and a panel made up of members of the local community will recommend the grant awards.
The improvement of infrastructure to support the social and economic sustainability of the area, such as internet, mobile phone coverage and community transport. A separate £172,000 annual fund is to be managed by a local Community Interest Company which hopes to be up and running later this year.
A legacy fund to maintain the benefit to the area long after the support from the Wind Farm operator has ceased.
See also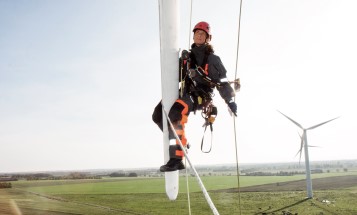 A regional approach focused on communities, opportunities and a fossil fuel-free future.