Exploring the opportunities of large-scale production of synthetic sustainable aviation fuel
Vattenfall, SAS, Shell and LanzaTech investigate the production of the world's first synthetic sustainable aviation fuel (SAF) using the LanzaJetTM "Alcohol to Jet" technology on a large scale in Sweden. Instead of using virgin fossil material in the production process, the synthetic SAF will be produced from fossil free electricity and recycled carbon dioxide from district heating.
The goal is that a new production facility will produce up to 50,000 tonnes of synthetic SAF annually, provided that an investment decision is made at a later stage. The synthetic SAF, also known as electrofuel will be produced from fossil free electricity and recovered carbon dioxide using the so called "Alcohol to Jet" technology developed by LanzaTech and the U.S Department of Energy's Pacific Northwest National Laboratory (PNNL). When full production is up and running it could provide SAS with up to 25% of its global demand for sustainable aviation fuel in the 2030s.
A joint study has shown promising conditions for the project, and all partner companies now want to carry out in-depth analyses. The ambition is to commission the new production facility sometime between 2026 and 2027 near Forsmark on Sweden's east coast. The facility is planned to be on a site adjacent to the Forsmark nuclear power plant since there is a grid connection with sufficient capacity to get fossil free electricity from the Swedish electricity mix.
The reduction potential of aviation electrofuel
Electrofuel is categorized as a sustainable aviation fuel (SAF) since the only inputs to the process of making electrofuel are fossil free electricity, water and recycled carbon dioxide (in contrast to virgin fossil feedstock). Electricity will be mainly used to make hydrogen via electrolysis which together with carbon dioxide can be converted into ethanol and next converted to aviation electrofuel.
The recycled carbon dioxide is captured from a district heating facility (instead of being released) and used for electrofuel production, which is why this is called carbon capture usage (CCU). Then when electrofuel is combusted by aircraft engines, the harnessed carbon dioxide is released into the atmosphere after being utilized a second time.
The raw materials planned to be used are fossil free electricity from the Swedish electricity grid and carbon dioxide collected from Vattenfall's combined heat and power plant in Uppsala, where approximately 200,000 tonnes of carbon dioxide can be recovered per year. In contrast to conventional aviation fuel production in fossil oil or natural gas refineries, fossil raw materials will remain in the soil and virtually no new fossil carbon dioxide will be emitted into the atmosphere.
Today´s aircrafts are certified to fly with a maximum of 50% SAF, of which electrofuel is an example, and the remainder with traditional aviation fuel. The annual planned SAF output of 50,000 ton is approximately 5% of the Swedish total jet fuel demand today and 20% of the Swedish SAF need in 2030. While it is clear that there is a huge reduction in carbon dioxide emissions when electrofuel is used for an aircraft (synthetic aviation fuel) compared to fossil fuel, there is currently no exact reduction percentage available.
Related content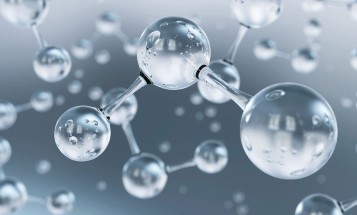 We are developing solutions to decarbonise industry through fossil-free hydrogen.