Framgång för ekologisk hudvård från Jokkmokk
Sedan 2008 driver syskonen Anna-Lena Wiklund Rippert och Johan Wiklund naturkosmetikaföretaget Care of Gerd i Jokkmokk. Företaget har expanderat kraftigt under de senaste åren, både inom Sverige och i Europa.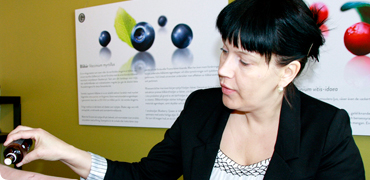 – Produkter som vi förskönar oss med är samma produkter som smutsar ner och belastar naturen. Bland annat finns ämnet acrylamide i många skönhetsprodukter idag, ett ämne som är både cancerframkallande och farligt för naturen, säger Anna-Lena Wiklund Rippert.
Anna-Lena och Johan fick idén till företaget hemma vid köksbordet i barndomshemmet i Jokkmokk. Båda var helt inställda på att göra något ihop och efter många diskussioner föll allt på plats.
– Namnet kommer från vår mamma som heter Gerd och företaget genomsyras av samma kärnvärden som hon står för: Värnande om människan och miljön, trygghet och det rena. Senare fick vi veta att Gerd betyder norrsken och skönhet vilket är ett bra namn för företaget, säger Anna-Lena Wiklund Rippert.
Både Anna-Lena och Johan har en lång bakgrund inom skönhetsindustrin.
– Min bror har jobbat mycket i Stockholm med smink och hår. Jag har min bakgrund inom naturkosmetiken. Att det blev just Jokkmokk var en självklarhet för oss, det är ju här vi har vårt hjärta. Hela vår filosofi bygger på Norrlands renhet och äkthet, säger Anna-Lena Wiklund Rippert.
Att skapa välgörande och helande dekokt är något Anna-Lena lärt sig från sin mor och förfäder.
– Jag har varit nyfiken och öppen för att lära. När jag jobbade som etnolog sög jag åt mig kunskap om hur man framställer växter och örter. Det finns så mycket välgörande i naturen. Visste du att hjortron, lingon och blåbär är fullproppade av näringsämnen som gör stor skillnad för din hud?, säger hon.
Råvarorna till Care of Gerds produkter odlas och plockas i närheten av Jokkmokk och fjällen. Bland annat odlas ringblomma som ingår i flera produkter. Björklöv plockas och torkas i moderns lada och är en av huvudingredienserna i storsäljaren bastuskrubb.
– Bärfröoljan från lingon innehåller stora mängder antiseptiska ämnen och är mycket verkningsfullt mot acneproblem. Det här ska inte göras någon annanstans än här, där alla skönhetsvärden finns; rent vatten och ren luft, säger hon.
Korta kommunikationsvägar
Anna-Lena Wiklund Rippert ser många fördelar med att starta företag i Jokkmokk.
– Jag blir rörd av bemötandet. Vi har verkligen blivit tagna på allvar och fått hjälp hela vägen. Kommunikationen med utvecklingsbolag som Strukturum, Vattenfall Inlandskraft, banken, kommunen och andra aktörer har varit oersättlig, säger hon.
Stora ytor och långa sträckor mellan bebyggelser gör att EU räknar Jokkmokk som en stad utan befolkning (0,28 invånare/kvadratmeter).
– Ja, vi finns inte på kartan. Visst är det märkligt? Här är kommunikationsvägarna väldigt korta. Det är enkelt att knyta kontakter, man möts överallt. Jag har till och med bokat affärsmöten i kön på ICA och vi knyter nya kontakter med företag i vår närhet, säger hon.
Bastusalt till Dubai
Anna-Lena betonar vikten av att som ny företagare få vrida och vända på sina idéer, att få snabb hjälp och stöttning av människor med stor erfarenhet. Här har Vattenfall Inlandskraft och Strukturum varit ett ovärderligt stöd.
– Uppstartsprocessen gick otroligt snabbt för oss och det nätverk vi fått ta del av genom Vattenfall har gett positiva ringar på vattnet. Vi har fått pröva vår affärsplan, omarbeta den och hela tiden har vi haft stöd i ryggen.
I dag säljs Care of Gerds ekologiska hudvårdsprodukter över stora delar av Europa och Sverige. Dels via den egna butiken i Jokkmokk och via webbshopen, dels till länder som Dubai, Australien och Brasilien. Care of Gerd har även ett samarbete med SAS Eurobonus och Förenade Arabemiratens flygbolag Etihad.
– Sverige är huvudfokus, men vi har överraskande sålt stora kvantiteter av vårt bastusalt till Dubai, säger hon.
Varför går det så bra för just er?
– Vi har tagit fram bra produkter som är skapade med en massa kärlek. Det kanske låter som en klyscha, men jag tror att kunden märker den skillnaden.