Hallå där Anna Niesporek, Head of Procurement Distribution Sverige. Chefsorganisationen Ledarna har dig på listan över landets 75 främsta unga kvinnliga chefer som gör skillnad och visar på värdet av ett bra ledarskap.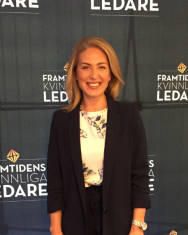 Anna Niesporek
Head of Procurement Distribution Sverige
Ledarna, Sveriges chefsorganisation, listar för elfte året i rad framtidens främsta unga kvinnliga ledare.
Cheferna bedöms utifrån kriterierna kompetens, resultat och potential.
Syftet med utmärkelsen är att:
Skapa en mötesplats för unga chefer som är kvinnor att inspirera och stötta varandra
Belysa vikten av en jämställd chefsmarknad
Lyfta fram framstående unga kvinnliga chefer som förebilder
Tydliggöra behovet av ett modernt ledarskap och av unga kvinnor på ledande befattningar.
Grattis! Vad betyder utmärkelsen för dig?
– Tack! Jag ser utmärkelsen som en bekräftelse på och uppskattning för mitt ledarskap och ett erkännande för mitt arbete, vilket gör mig glad, stolt och tacksam. Det gläder mig om jag kan vara en förebild och bidra till utvecklingen mot en mer jämställd chefsmarknad. Annars hoppas jag att mitt ledarskap inspirerar andra i stort, oavsett vem.
Hur kommer det sig att du vill vara chef?
– Grunden ligger i att jag alltid hyst ett genuint intresse för människor och ur det har intresset för ledarskap sakta vuxit fram. Jag kom till Vattenfall som trainee 2006, och kom så småningom att ingå i ett inköpsteam inom vindkraft. Det fascinerade mig att se vad det är som får team att fungera. Vad det är som föder framgång och vad som får människor att växa.
Vad är det då som gör ett bra chefskap?
– Chefskap är en roll i mina ögon - ledarskap är något helt annat. Att vara en bra ledare kräver i grunden att man är tydlig, har god självkännedom och viktigast av allt, vågar vara sig själv. Ledarskapet är en utmaning och ett väldigt roligt arbete. Man har möjlighet att påverka, att göra skillnad. Jag brinner för att främja resultat och ta fram mina medarbetares fulla potential genom att ge medarbetarna rätt förutsättningar för att de ska kunna göra ett bra jobb.
Så vad är roligast med ledarskapsrollen?
– Att engagera, utveckla och inspirera människor - helt enkelt öppna de dörrar som behövs för att var och en av medarbetarna ska kunna växa i sina respektive roller och bidra till en ständigt lärande organisation. För det är inte jag som är specialisten, styrkan ligger i gruppens samlade kunskap, erfarenheter och samarbetsförmåga.
Chefsyrken betyder ständiga krav. Hur tacklar du det?
– Chefsjobb är fyllda av utmaningar och jag har själv erfarenhet av att ta på mig för mycket arbete. Då fick jag dra i handbromsen och ta en tillfällig time-out. Att lära sig sätta gränser och hitta balans är en viktig del av sin egen självkännedom. Erfarenheter som fått mig att reflektera kring arbetsförutsättningar och vikten av återhämtning, och som jag tar med mig.