"I dag är hållbarhet big business – inte bara goodwill"
Hallå där Annika Ramsköld, Vattenfalls hållbarhetschef, som varit i New York, Donald Trumps hemstad, för att diskutera hållbarhetfrågor under World Economic Forum med några av världens mäktigaste beslutsfattare inom politik och näringsliv.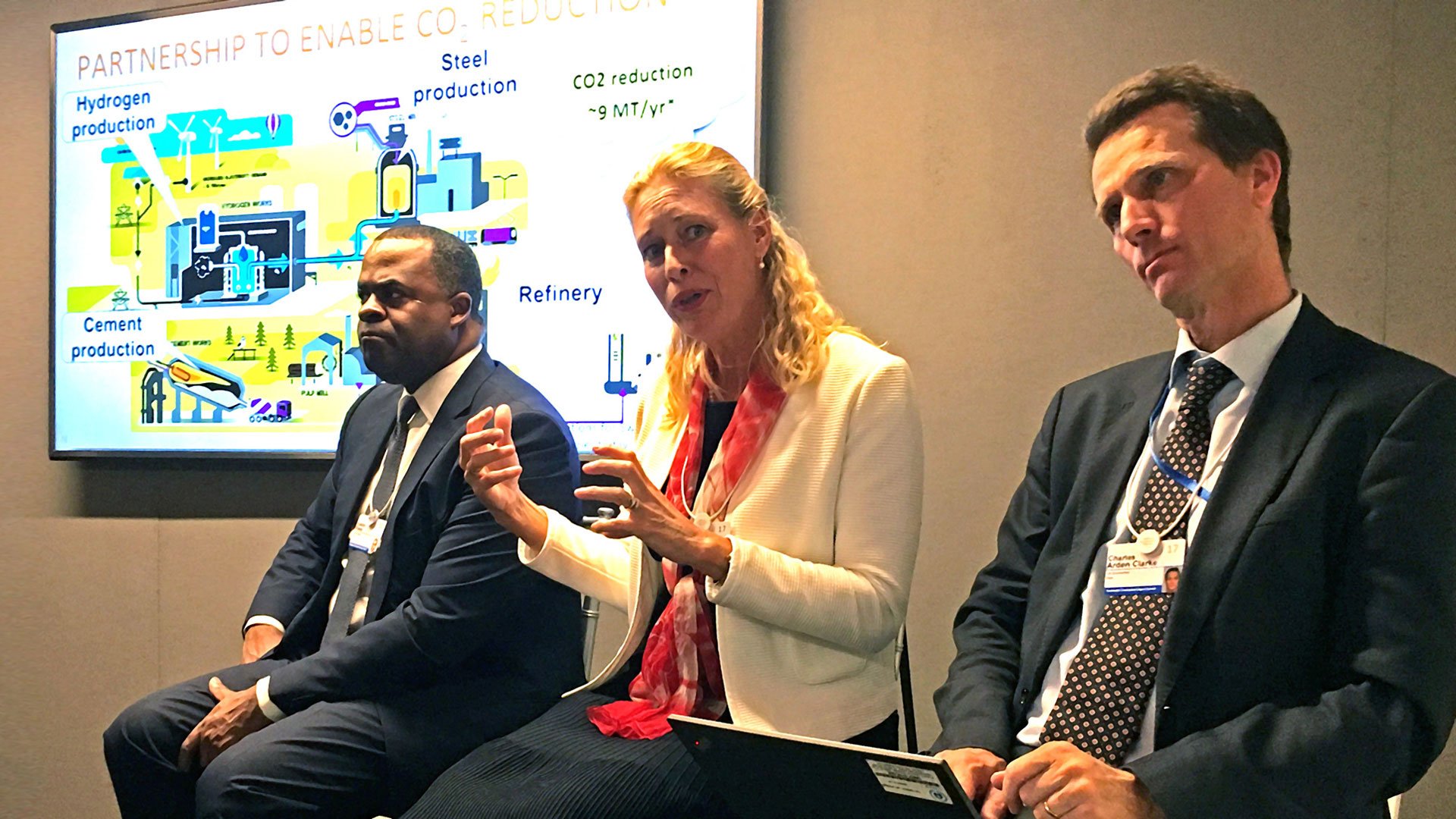 Annika Ramsköld, Vattenfalls chef för Sustainability, på World Economic Forum i New York 2017 tillsammans med Atlantas borgmästare Kasim Reed och Charles Arden-Clarke, FN:s hållbarhetschef.
Hur färgades konferensen av att USA styrs av Donald Trump, som förnekar att klimatkrisen är ett problem och tycker att den är en "icke-fråga"?
– Kampviljan stärktes och det var påfallande hur ofta amerikanska deltagare – trots Trumps politik – sa att "we are going to win the battle". Den typen av uttalanden kom bland annat från guvernörerna i Kalifornien, Washington och en rad andra stater, liksom från en rad amerikanska borgmästare. De stöder fullt ut det gällande klimatavtalet och är fast beslutna att fullfölja det, oavsett Trump och Washington-administrationen.
– Det var positivt att höra deltagare från all världens hörn ha inställningen att "med gemensamma krafter jobbar vi för att lösa klimatproblemen". För att få riktig fart på utvecklingen och få den att accelerera i rätt riktning krävs ännu fler samarbeten mellan företag och ännu mer stöd från myndigheter och regeringar. Kring det rådde stor enighet.
Annika Ramsköld deltog vid två seminarier "Accelerating clean energy" och "Accelerating sustainable production" där hon var både moderator och huvudtalare.
Vad är den stora skillnaden nu mot tidigare?
– För några år sedan handlade hållbarhetsfrågor ofta om goodwill, något som ägnades intresse för den goda sakens skull. I dag anser alla – med vissa undantag – att klimat- och hållbarhetsfrågor innebär riktiga affärscase, att det är "big business". Intresset var stort kring Vattenfalls olika affärssammarbeten kring att få bort koldioxidutsläpp från industriprocesser med hjälp av el, (t ex cement- och stålindustrin) och kring Vattenfalls olika satsningar och initiativ för att elektrifiera transportsektorn.
– Påfallande många deltagare lyfte fram den pågående övergången till elbilar som sitt lands eller bolags konkreta bidrag till klimatet.
Vilka frågor var "hetast" under World Economic Forum?
– Återkommande talades om den "fjärde industrirevolutionen" och hur användningen av IT kommer att förändra maktbalansen i världen. Den industrialiserade västvärlden är förvånandsvärt långsam i den omställningen och en av deltagarna, afrikanska Marianne Eve Jamme, konstaterade att "The western world is illiterate in IT".
– Medan utvecklingsländerna kliver rakt in i den nya teknologin så bromsas västvärldens utveckling eftersom vi tar hänsyn till de system vi redan har.
– Med ny teknik och solel kommer till exempel många afrikanska länder att elektrifieras på ett helt annat sätt än idag, vilket ger dem totalt förändrade möjligheter att bygga välstånd och affärer.
Utbyte av tankar sker på sådana här möten, men leder pratet till några konkreta affärer?
– Mötena går ju ut på att hitta gemensamma projekt att utveckla tillsammans, och på så sätt jobba vidare för att uppnå FN:s klimatmål – med så breda, gränsöverskridande konstellationer av samarbete som möjligt.
– Många olika initiativ tas, och jag fick en hel del kontakter vad gäller klimatåtgärder som skulle kunna leda till stora förändringar inom till exempel jordbrukssektorn både i Nederländerna och spännande plattformslösningar kring recirkulering av avfall.
Den 8 oktober åker du till Ukrainas huvudstad Kiev. Vad ska du göra där?
– Jag kommer att berätta om Vattenfalls satsningar på klimatsmarta lösningar, ungefär som jag gjorde i New York. Intresset är stort världen över för den här typen av hållbarhetsbaserade affärscase.