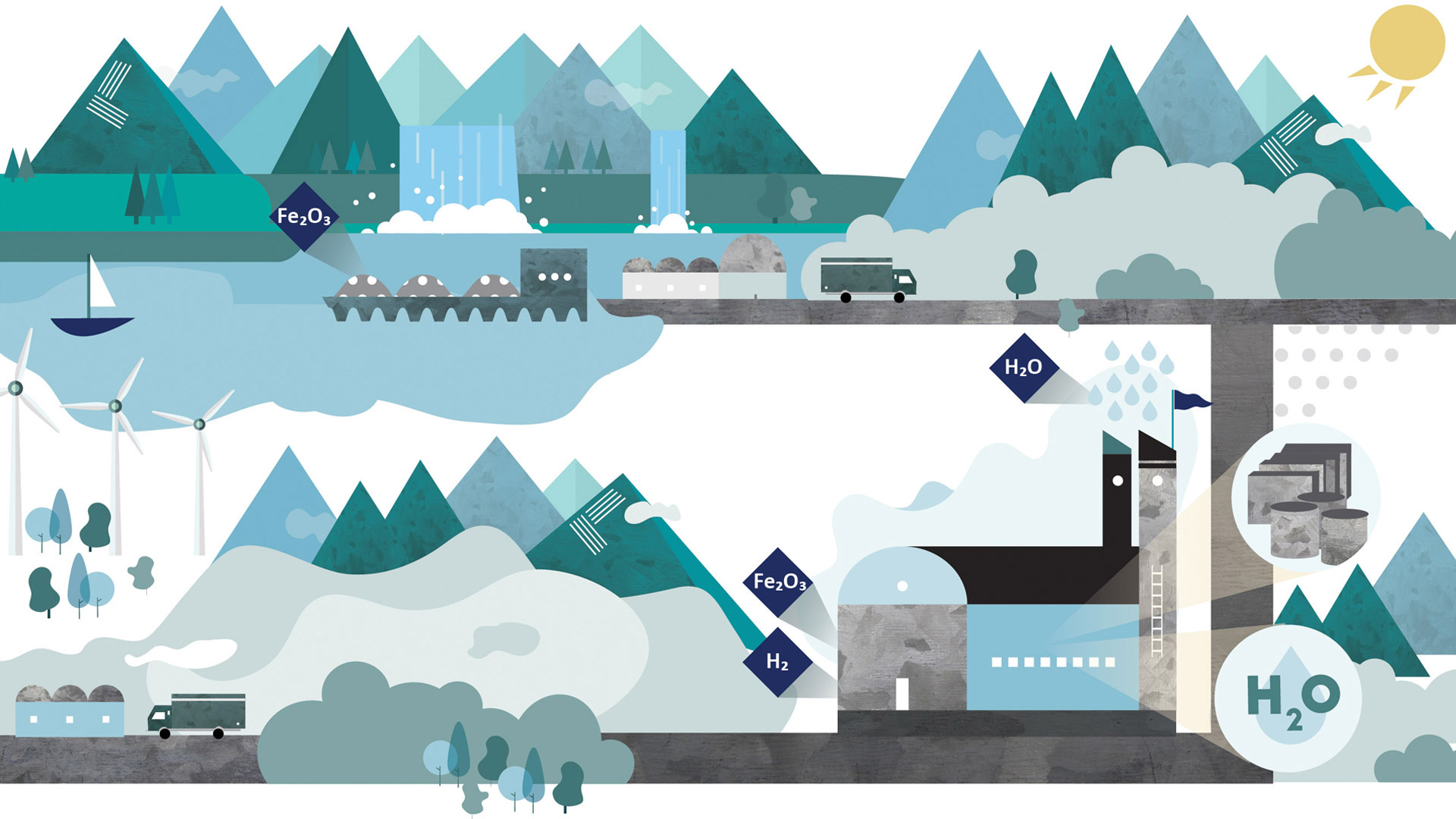 Europeiskt intresse för fossilfritt stål
Vattenfall, SSAB och LKAB utvecklar tillsammans ett helt nytt sätt att tillverka stål, ett historiskt teknikskifte som inte bara anpassar svenskt stål för en hållbar framtid utan också är en angelägenhet för Europa och världen. EU ser det som ett viktigt projekt för framtiden.
Möjligheterna för fossilfritt stål, HYBRIT, för Sverige och Europa diskuterades på Nordic Clean Energy Week i Malmö. Potentialen med HYBRIT för ett hållbart samhälle är hög; idag används kol och koks som fraktas till Sverige från bland annat Australien för att reducera järnmalm till järn. Idén med HYBRIT är att istället använda vätgas som har producerats av el från svenska fossilfria källor. Restprodukten blir då vanligt vatten.
Utmaningarna och möjligheterna för HYBRIT är flera; bland annat hur kan man ställa om en hel global industri till fossilfri produktion? Vilka slags finansieringsmöjligheter behövs för att underlätta den typ av teknikförändringar som HYBRIT representerar?
EU ser positivt på HYBRIT
Alejandro Gonzalez, Program officer, DG Research and Innovation, Coal and Steel unit, EU-kommissionen, sade att EU ser positivt på den här typen av industriprojekt och att det är viktigt att det går framåt med utvecklingen av en fossilfri industri. Han tillade att det finns fonder för den här typen av industriprojekt som eventuellt kan bli aktuella då det redan nu finns liknande projekt som får stöd från EU. Samtidigt är det viktigt att frågan hålls högt på agendan och att företagen kommunicerar och informerar medborgarna om fördelarna för samhället med den här typen av projekt.
HYBRIT-initiativet kom till 2016 och är ett samriskbolag ägt av SSAB, LKAB och Vattenfall. HYBRIT har potentialen att minska Sveriges totala koldioxidutsläpp med tio procent och Finlands med sju procent och har beskrivits som avgörande för att Sverige ska kunna möta målen i Parisavtalet.
Fossilfri process 2035
Målsättningen är att ha en helt fossilfri process för ståltillverkning framme 2035 och förstudien gav grönt ljus för projektet att gå vidare. Slutsatsen var att fossilfritt stål kommer att kunna konkurrera med traditionellt stål på marknaden i framtiden.
Faustine Delasalle, Project manager, Energy Transitions Commission, sade att det är möjligt att nå målet med HYBRIT, trots höga initiala kostnader är det ändå en låg andel av länders totala bruttonationalprodukt. Men det krävs också att en industrigren börjar att efterfråga produkten för att få igång processen. Hon poängterade att projektet har framtiden för sig från ett kundperspektiv; även om fossilfritt stål är dyrare [20 till 30 procent, reds. anm.] spelar det inte så stor roll för de flesta kunder om det kostar till exempel hundra euro mer när de till köper en ny bil.
Mikael Nordlander, Head of Industry Decarbonization R&D Portfolio Vattenfall, lade till att det ökade priset inte slår igenom fullt ut på produkten eftersom stål inte utgör den största andelen av de flesta slutprodukter.
Mårten Görnerup, VD HYBRIT AB, underströk vikten av så mycket stöd från samhället som möjligt. Han lyfte också frågan om att stålet eller järnet bör produceras där det finns bästa förutsättningar med konkurrenskraftig fossilfri el och sedan transporteras till stålverken. HYBRIT bör få stöd under omställningen och sedan står industrin redo med en helt ny produktionsprocess och tillade att statlig inblandning bör vara teknikneutral.
Stål viktig del av samhället
Emelie James, Supplier Sustainability business developer, Scania kommenterade kundperspektivet och sade att Scania vill bli ledande med hållbarhetsarbetet och är intresserat av fossilfritt stål till framtida produkter. Hon tillade att Scania graderar inköp för att maximera de hållbara inköpen och sade att det finns en stor potential i att arbeta med leverantörssidan. Scania rekommenderar till exempel alla sina leverantörer att använda fossilfri el.
Stål är en väsentlig del av det moderna samhället och den globala efterfrågan på stål förväntas öka i takt med att jordens befolkning växer och urbaniseringen ökar. Hittas inte en ny process för malmbaserad ståltillverkning kommer koldioxidutsläppen från stålindustrin i världen att öka med upp mot 25 procent till 2050.
Sverige och Finland har en unik möjlighet genom god tillgång på klimatsmart och fossilfri elkraft, Europas mest högkvalitativa järnmalm och en specialiserad och innovativ stålindustri.
För att projektet ska kunna genomföras krävs dock fortsatta betydande nationella insatser från staten, forskningsinstitut och högskolor. Det handlar om fortsatt god tillgång på fossilfri el, förbättrad infrastruktur och snabb utbyggnad av högspänningselnät, kompetensförsörjning och medel till forskning inom de berörda kunskapsområdena, snabbare processer för miljötillstånd, regeringens aktiva stöd för pilot- och demonstrationsanläggningar samt stöd för att skapa långsiktiga förutsättningar för initiativet på EU-nivå.