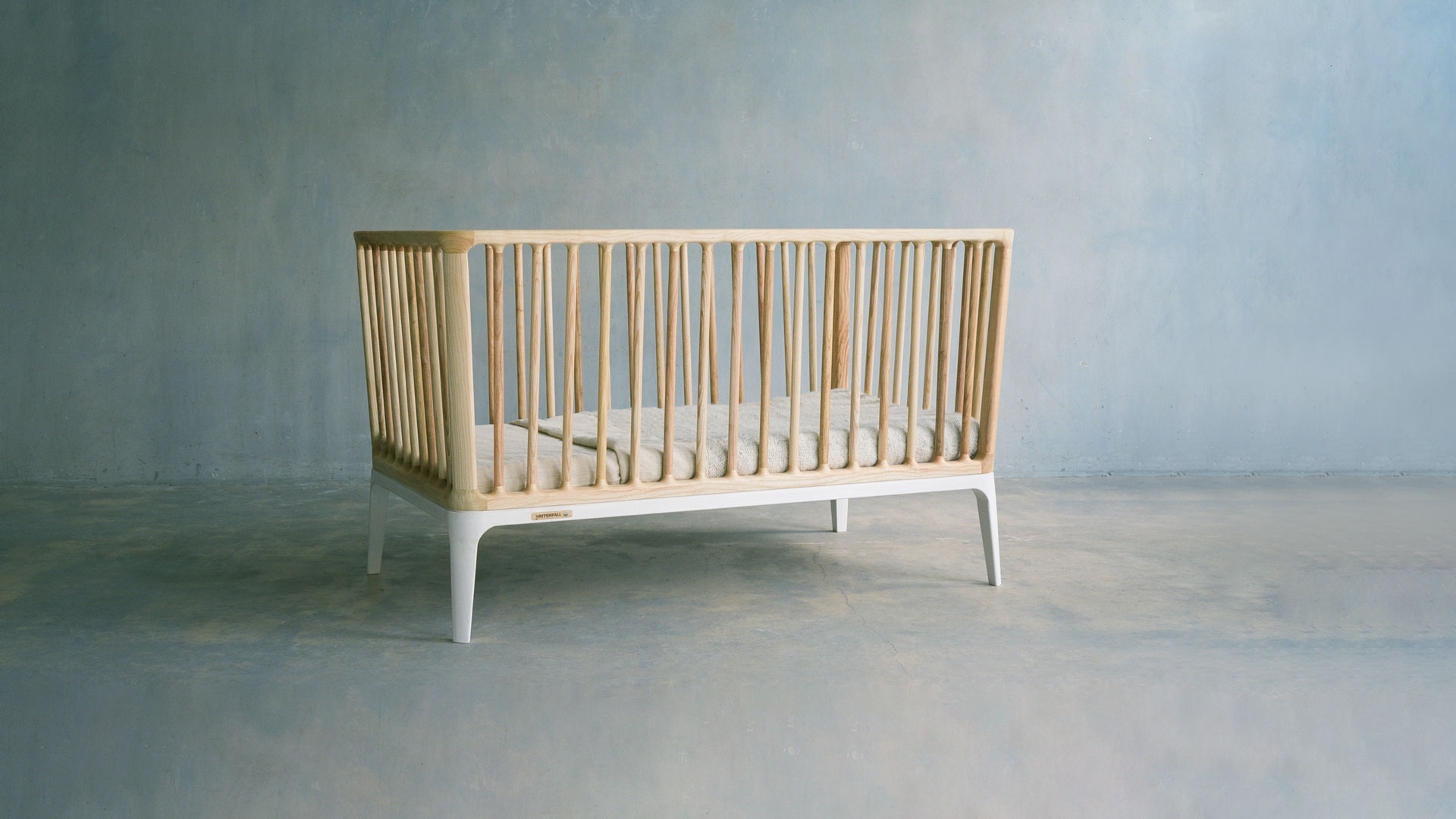 Vattenfall visar upp den första fossilfria spjälsängen
Kan ett vardagligt föremål som en spjälsäng bli fossilfritt till nästa generation? Vattenfall i Nederländerna lyckades – men det krävde en hel del arbete.
Under eventet "Makers of the Future", som ägde rum i Amsterdam den 13 februari, visade Vattenfall upp en fossilfri spjälsäng, tillverkad utan vare sig olja, gas eller kol. Något som är nästan omöjligt i dag, eftersom vi använder fossila bränslen i nästan all tillverkning.
En symbol för nästa generation
Cindy Kroon, Director Customers vid Vattenfall i Nederländerna, invigde "Makers of the Future" med ett hoppfullt budskap.
– Vi vill göra det möjligt att leva fossilfritt inom en generation. Industrin är en oumbärlig faktor för att vi ska kunna nå det målet. Därför har vi undersökt i vilken utsträckning det skulle vara möjligt att tillverka en helt fossilfri produkt år 2020, utan några relaterade koldioxidutsläpp. Spjälsängen – en symbol för nästa generation – är en vardaglig produkt som innehåller en mängd olika material, något som gjorde utmaningen större och också ganska så dyr. Men det är möjligt, och spjälsängen är ett fysiskt, symboliskt objekt som gör det enklare för oss att diskutera de här frågorna med varandra.
Som leverantör och samarbetspartner för industrin måste Vattenfall spela en viktig roll i samhällsomställningen. Så här säger Cindy Kroon:
– När det gäller stora frågor som koldioxidminskning tenderar många att tänka på stora lösningar som till exempel havsbaserade vindkraftparker eller motorvägar fulla av elbilar. Men det sätt på vilket industrin tillverkar de saker man använder och håller i händerna till vardags spelar också en avgörande roll. Stolen du sitter på eller pyjamasen du klär ditt barn i: skulle de kunna tillverkas utan fossila bränslen?
Logotyp av fossilfritt stål
Den fossilfria spjälsängen består av olika delar som var och en för sig har tillverkats, bearbetats och transporterats utan användning av några fossila bränslen så som kol, gas eller olja. Eftersom en rad industrier redan har lämnat Europa nästan helt har Vattenfall i vissa fall behövt ta till hantverk som har överförts från generation till generation och som löper risk att försvinna helt och hållet. Till exempel är sängkläderna handvävda, och texelullen till madrassen levererades med segelbåt.
Träet i spjälsängen kommer från ett träd som har fällts, sågats itu och torkats enbart med hjälp av förnybar el. Till och med logotypen är tillverkad av det första stålet i världen som har tillverkats med väte i stället för koks, och som kommer från testversionen av HYBRIT, det stålverk som Vattenfall håller på att utveckla i Sverige tillsammans med ståltillverkaren SSAB och gruvbolaget LKAB. Stålet levererades med elbil från Sverige till Nederländerna enbart för spjälsängen.
– Det spjälsängen visar är vilken utmaning som väntar under de kommande åren när det gäller att göra de här processerna skalbara och prisvärda. Och att ni måste göra det tillsammans. Vi är förstås ett energiföretag och inte möbeltillverkare, men vi vill bredda vårt synsätt och leta efter samarbeten som kan hjälpa branschen och transportsektorn att bli fossilfria, sa Cindy Kroon.
Att Vattenfall tar det här målet på stort allvar framgår tydligt, utöver HYBRIT, av de olika samarbeten som redan bedrivs med exempelvis cementbranschen, programvaruföretag som Microsoft och biobränsleproducenter som Preem. I Nederländerna stängde Vattenfall sitt enda kolkraftverk i landet i slutet av 2019 och håller på att bygga världens första subventionsfria havsbaserade vindkraftpark, Hollandse Kust Zuid.