Nyhet
3 augusti 2015
4 min
Internationella WNU Summer Institute besökte Ringhals
Cirka 80 kursdeltagare, mentorer och arrangörer från den internationella sommarskolan WNU Summer Institute var den 21 juli på studiebesök på Ringhals. De bjöds på en heldag med bland annat flera föreläsningar om större projekt på Ringhals.
WNU Summer Institute är en sex veckor lång intensiv sommarskola som arrangeras årligen av World Nuclear University (WNU). WNU är en del av World Nuclear Association (WNA) som grundats av WANO, IAEA, WNA och NEA. I år arrangeras sommarskolan i Uppsala genom ett samarbete med Uppsala universitet. Sverige är ett lämpligt land för utbildningen eftersom det finns kärntekniska anläggningar som spänner över större delen av kärnbränslecykeln här.
– Utbildningen är en intressant internationell smältdegel, säger Michael Österlund, föreståndare på avdelningen för tillämpad kärnfysik vid Uppsala universitet. Nu kan vi visa att Sverige har kunskap om vilken utbildning och kompetens som behövs i branschen och landet kan utgöra ett gott exempel på hur ett kärnkraftssystem kan fungera.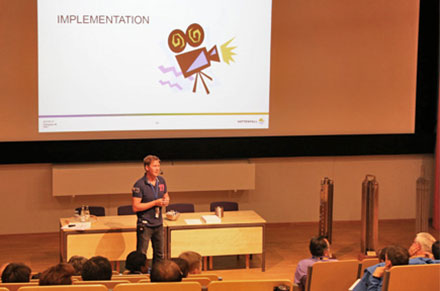 Ringhalsaren Fredrik Bengtsson fick svara på många intresserade frågor i samband med föreläsningen om TWICE-projektet, den stora moderniseringen som gjorts på Ringhals 2.
Uppskattar Ringhals öppenhet
Under en vecka var kursdeltagarna, som kommer från 35 olika länder, på en teknisk rundtur i Sverige och ett av stoppen var alltså Ringhals. I studiebesöket ingick föreläsningar om flera stora tekniska projekt, besök i en av kontrollrumssimulatorerna, en guidad tågtur inne på området samt en case-övning om kultur- och beteendeförändringar på Ringhals.

Efter den guidade tågturen kommenterade flera deltagare hur tillgängliga anläggningarna är för allmänheten. En av dem var Khaled Al Ameri som arbetar på tillsynsmyndigheten för kärnkraft i Förenade Arabemiraten.
– I Förenade Arabemiraten håller man just nu på att bygga upp landets första kärnkraftverk och det är en mer stängd, nästan militär känsla över anläggningarna. Här i Sverige är det mycket mer öppet, säger han.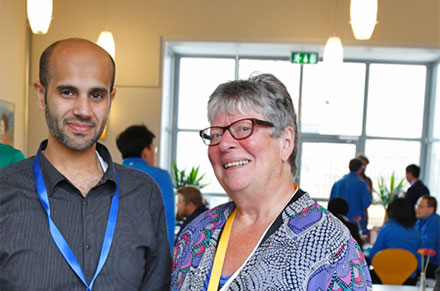 Deltagaren Khaled Al Ameri från Förenade Arabemiraten tillsammans med mentorn Jenny Clarke från SF Works, Storbritannien. Jenny uppskattar utbildningens atmosfär och att spendera tid med de relativt unga deltagarna. I år är hon mentor för sjätte gången.

Deltagaren Vivek Maradia från Atmiya Institute of Technology & Science i Indien menar att det kan vara gynnsamt att öppna upp kärnkraftsindustrin mer.
– Det har varit kul och intressant att som utomstående kunna besöka Ringhals anläggningar. Jag tror att just interaktionen med omvärlden kommer bli allt mer betydelsefull för kärnkraftsindustrin i framtiden, säger han och får medhåll av Bernice Agyeman från Ghanas atomenergikommission.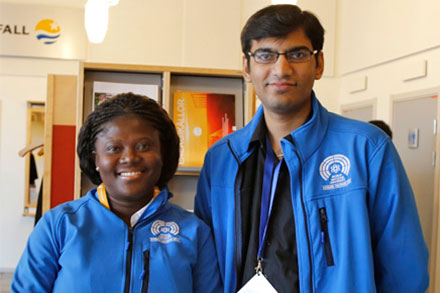 Bernice Agyeman från Ghana och Vivek Maradia från Indien är nöjda med studiebesöket. Vivek tyckte att det var extra intressant att lära om Ringhals kokvattenreaktor, en reaktortyp som han inte var så bekant med innan.
Kunskapsgap och generationsväxling inom kärnkraftsindustrin
Gemensamt för deltagarna är att de arbetar inom eller i anknytning till kärnkraftbranschen och har identifierats som framtida ledare. Utbildningen syftar till att utveckla deras ledarskapsförmåga och skapa en förståelse för kärnkraftbranschen som helhet.

– Det finns ett ledarskapsgap inom branschen och ett behov av att träna upp nya ledare. Det är viktigt att framtidens ledare kan kommunicera på rätt sätt oavsett vad som händer och för att kunna göra det måste de få en ökad kunskapsbredd. Därför syftar utbildningen även till att lära deltagarna om andra delar av industrin än den egna, säger Lylah Davies, projektledare på WNU.
Karin Persson, projektledare på Nordic Academy for Nuclear Safety and Security (NANSS) vid Uppsala Universitet, håller med:
– Det är viktigt att känna till hela branschen och hela kedjan. Därför är det även av betydelse att skapa ett nätverk av ledare och WNU och sommarskolan bidrar till det.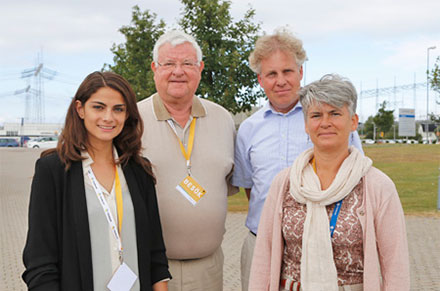 Lylah Davies, projektledare på WNU, Per Brunzell, mentor samt Michael Österlund och Karin Persson, Uppsala universitet är överens om att kärnkraftbranschens framtida ledare måste kunna kommunicera rätt och ha breda kunskaper om branschen.
Sommarskolan handlar om kompetensöverföring mellan deltagarna men också från personer som har längre erfarenhet från branschen. En av dem är Per Brunzell, kärnkraftsveteran och tidigare Sverige- och Europachef för Westinghouse som har levererat Ringhals tre tryckvattenreaktorer. Han är en av tio mentorer som stöttar deltagarna under gruppövningar och delar med sig av sina viktiga kunskaper.
– Det pågår en generationsväxling inom kärnkraften. På grund av en låg personalomsättning börjar det nu skapas en kunskapslucka när den äldre generationen lämnar branschen. Därför är det angeläget att så mycket kunskap som möjligt överförs till framtidens ledare, säger Per.
Ringhalsare bland utbildningens alumner
Under åren har även Ringhals skickat anställda till WNU Summer Institute. En av dem är Johanna Fröjd som deltog i sommarskolan i Oxford 2013 och hälsade årets deltagare välkomna till Ringhals.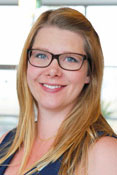 – Under utbildningen fick jag utveckla min ledarskapsförmåga men den bidrog också till en personlig utveckling, ett ökat självförtroende och nya perspektiv. Jag fick en bredare förståelse för andra kulturer och länder när det gäller kärnkraft och en framtidstro om branschen, berättar Johanna som dessutom fick vänner för livet under utbildningen.