Hjemmeloddende ph.d.-studerende vandt opfinderprisen
Mens Fredrik loddede, simulerede og programmerede, fandt hans kæreste Vattenfall Innovation Award på Facebook. I går modtog han så en check på 100.000 svenske kroner , da han vandt førstepræmien. "Det er virkelig fedt at have vundet. Pengene vil jeg nok bruge på en prototype. Eller i det mindste en halv," siger Fredrik Häggström, opfinder og ph.d.-studerende på Luleå Tekniska Universitet.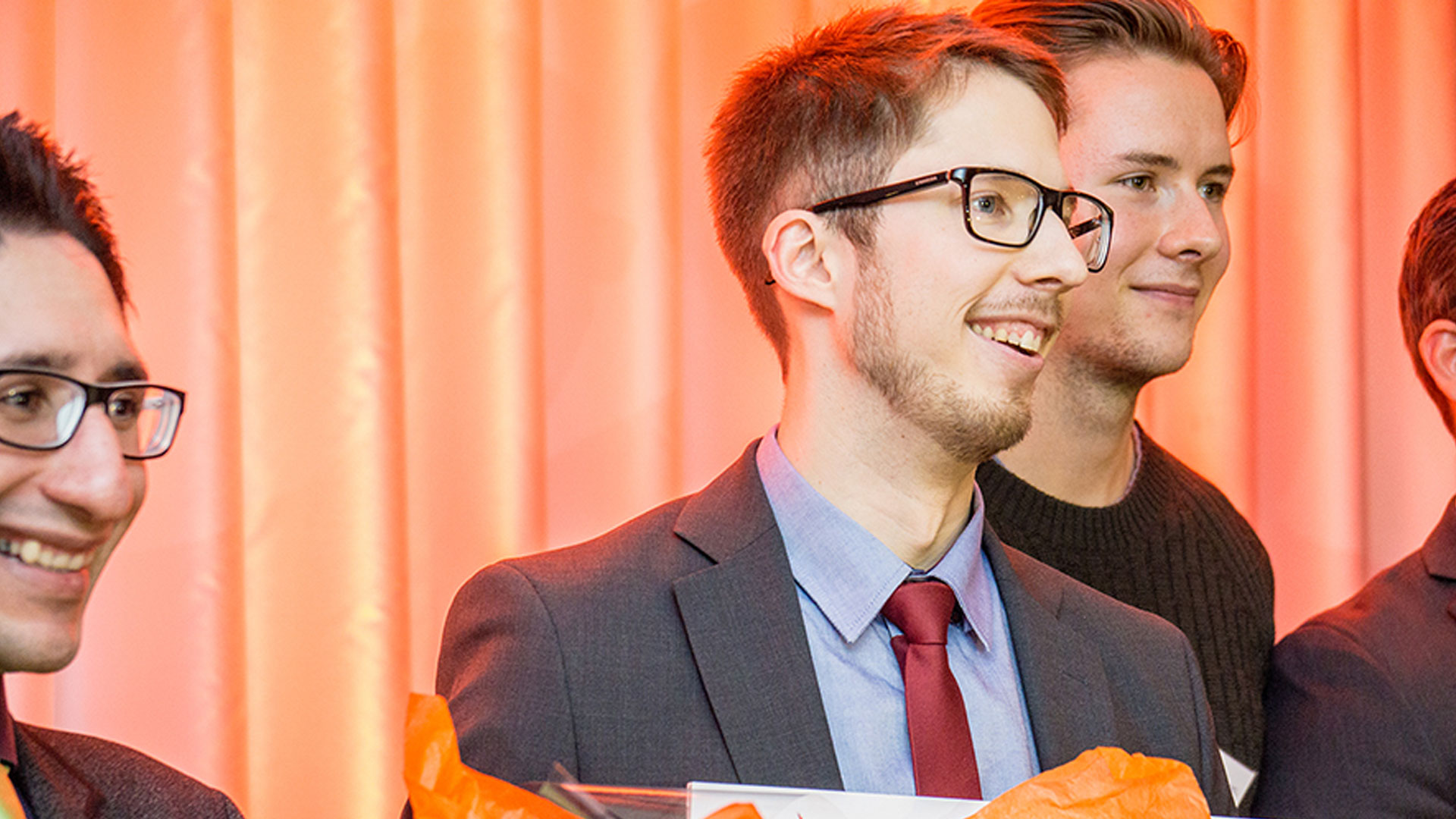 Det var da Fredrik og hans kæreste skulle bygge deres eget hus, samtidig med at de ville producere hjemmelavet el, at behovet – og problemet – opstod.
"At producere hjemmelavet el gør mennesker mere selvstændige. Men jeg synes, at der manglede et godt produkt på markedet for at kunne håndtere produktionen og forbruget i huset. Så jeg måtte løse problemet selv. At bygge og teste ting er min fritidsinteresse," siger Fredrik Häggström, som ligeledes i sit arbejde som ph.d.-studerende på Luleå Tekniska Universitet konstruerer, tænker og simulerer.
"En rigtig god idé"
Innovation Award er en konkurrence, hvor Vattenfall inviterer innovatører, studerende og iværksættere til en innovationskonkurrence inden for områderne intelligente hjem, elektrisk dreven transport, energieffektivitet og mikroproduktion. Prisuddeleren var Karl Bergman, Head of R&D hos Vattenfall.
"Fredriks bidrag er en rigtig god idé inden for et særdeles interessant område. Fredriks evne til at lytte til feedback og få noget kreativt ud af den spillede også en stor rolle i juryens beslutning," siger han.
Vinderopfindelsen er foreløbig omgærdet af stort hemmelighedskræmmeri, eftersom Fredrik Häggström er ved at undersøge, hvilke dele af den, der kan patenteres.
"Men jeg kan godt afsløre, at det er en fysisk enhed, der skal sidde i et enfamiliehus. Og at den muliggør intelligent produktion og forbrug af hjemmelavet el. Jeg håber, at den kan købes i butikkerne om to år – selv om det måske bliver lidt presset," siger han.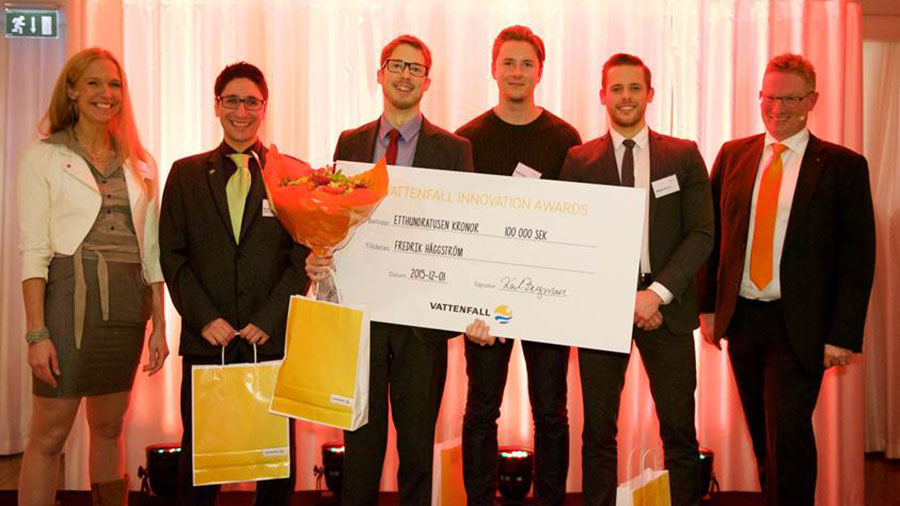 Vinderen med de øvrige finalister, Karl Bergman ses yderst til højre.
Nye måder at samarbejde på
Karl Bergman mener, at Vattenfall har brug for hjælp fra personer udefra i forbindelse med den store omstilling, som virksomheden gennemgår i øjeblikket. Samtidig er der mange af disse personer, som ikke ser sig selv arbejde i en stor virksomhed.
"Men så må vi finde andre måder at samarbejde på, og Innovation Award er et eksempel på dette. Flere af finalebidragene er højst interessante, og vi vil fortsætte vores dialog med disse finalister," siger han.
Efter prisoverrækkelsen lykkedes det Fredrik Häggström at få sendt én sms om, at han har vundet, og derefter ringer hans telefon konstant. Han værdsætter initiativet og mener, at små aktører og privatpersoner kan have svært ved at gå hele vejen selv med deres idéer.
"Det er super, at Vattenfall arrangerer sådan en konkurrence. Som teknisk minded person har jeg virkelig haft stor gavn af mentorernes hjælp og feedbacken," siger han, inden han går videre for at tage imod lykønskningerne.