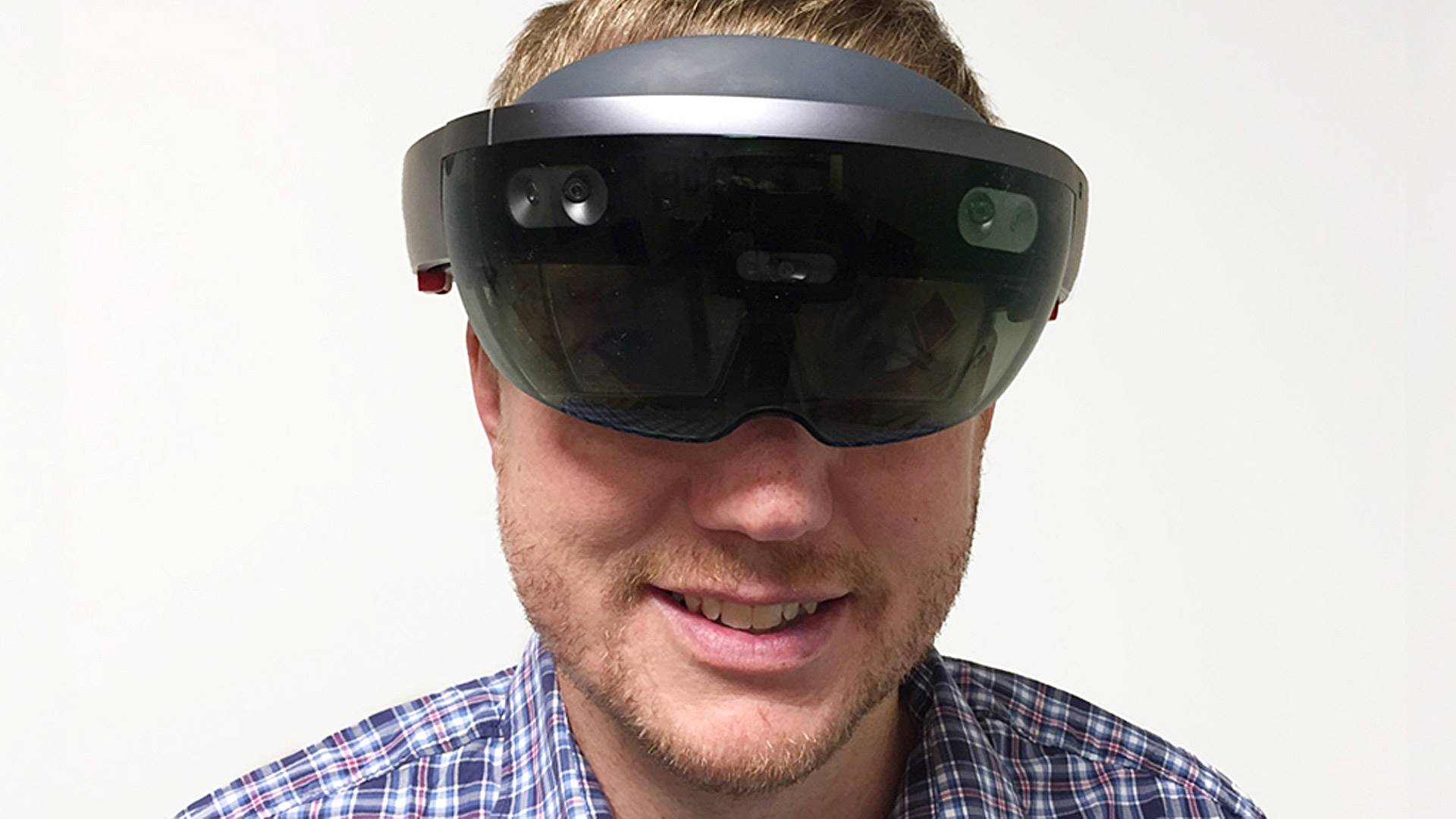 Forstærket virkelighed tager arbejdet til en ny dimension
Ved hjælp af særlige computerbriller ser du virkeligheden omkring dig samtidig med, at virtuelle objekter tilføjes og supplerer billederne. Er det fremtidens måde at arbejde på?
I Vattenfalls forskningslaboratorium i Älvkarleby giver Magnus Strömbrink, forskningsingeniør i Research & Development, en forsmag på fremtiden.
"Teknikken kaldes "Augmented Reality", forstærket virkelighed, og kan ændre måden at arbejde på, bl.a. for serviceteknikere", siger han.
Hologrambilleder sætter kulør på virkeligheden
Da mobiltelefonspillet Pokémon Go slog igennem, fik millioner af mennesker øjnene op for Augmented Reality (AR). Den, der spiller Pokémon, ser virkeligheden omkring sig i sin smartphone, men med nye objekter tilføjet. Tilføjelsen er computergenererede Pokémon-figurer, som dukker op i omgivelserne.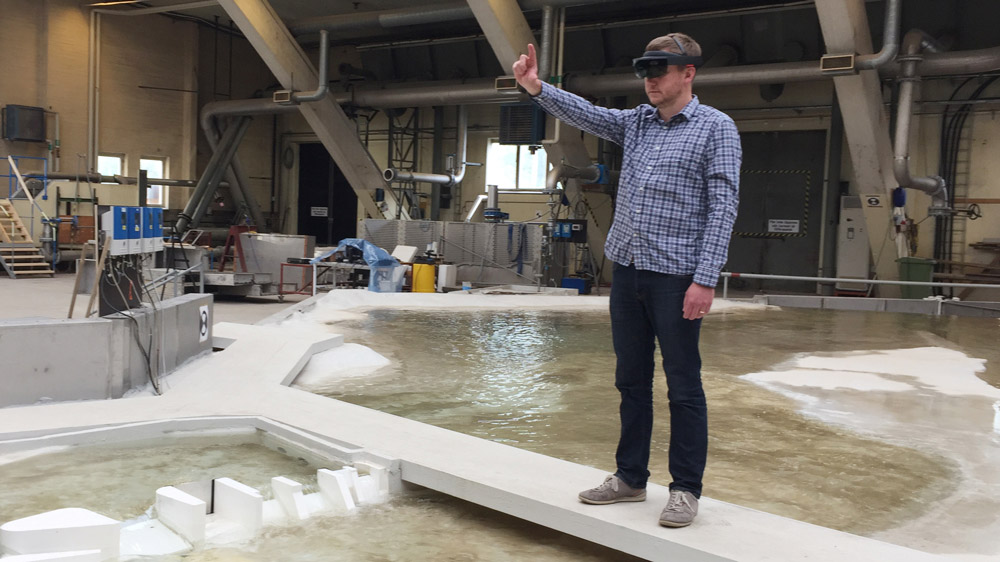 Modellen over Lilla Edets kraftværk suppleres med virtuelle oplysninger, som vises, når Magnus Strömbrink har computerbrillerne på.
Princippet er det samme for de briller, som Magnus Strömbrink og hans kolleger anvender i deres pilotprojekt. Forskerteamet har bygget en demonstrationsplatform, der tager udgangspunkt i den fysiske model af vandkraftværket Lilla Edet, og som er opstillet i laboratoriet i Älvkarleby. Når iagttageren kigger på modellen igennem brillerne, føjes der hologrambilleder som et supplement til billederne.
"Selv om man bevæger sig rundt i rummet, står de computergenererede objekter helt stille. Man kan gå rundt og kigge på dem fra forskellige vinkler", siger Magnus Strömbrink.
Med teknikken kan man f.eks. visualisere broer eller andre bygninger, som ikke er bygget, og se, hvordan de vil komme til at se ud i virkeligheden.
Manualer bliver overflødige
Teknikken kan også anvendes til at få oplysninger om det, brugeren kigger på.
"Det kunne være en servicetekniker, der bærer denne type briller og retter blikket mod den pumpe, han skal undersøge. Så ville der eksempelvis dukke oplysninger op i brillerne om pumpens ydeevne, konstruktion, servicestatus osv.", siger Magnus Strömbrink.
Brillerne forstærker virkeligheden med både billeder og information og giver en uddybende forståelse for, hvordan ting og sager fungerer, eller hvordan en tænkt bygning kommer til at se ud i virkeligheden.
"Eller måske en eksplosionstegning, som viser pumpens konstruktion i 3D. Hvis serviceteknikeren er usikker på, hvordan han skal gribe serviceopgaven an, kan han koble sig op til kolleger, som også kan se det samme billede og give råd og vejledning. Teknikeren kan have begge hænder frie under arbejdet", siger Magnus og spår, at det bliver manualens død.
Indtil videre er hverken teknikken eller grafikken dog perfekt.
"Jeg kan imidlertid garantere, at teknikken bliver billigere, bedre og lettere, hvilket åbner op for en helt anden realisme – og sikkert nye anvendelsesområder", siger Magnus Strömbrink.
---
Således kan AR, forstærket virkelighed, ændre arbejdet
Uddannelse
Giver en uddybende forståelse, idet komplicerede forløb og sammenhænge kan beskrives på en enklere måde ved at påvirke flere sanser hos deltagerne.
Reparation og vedligeholdelse
I stedet for at være henvist til tegninger kan reparatøren få relevante oplysninger præsenteret samtidig med, at arbejdet udføres.
Detailhandelen
Giver kunden en opfattelse af, hvordan et produkt fungerer i virkeligheden.
Sådan fungerer Microsoft Hololens
AR-brillerne Microsoft Hololens er egentlig en computer, der ved hjælp af fire kameraer kortlægger området omkring sig og forvandler omgivelserne til en 3D-model, som computerens software kan forstå. Under kameraerne er der to skærme foran øjnene, som bruges til at se de forskellige virtuelle, computerskabte objekter.
Prisen for et par briller er ca. 30.000 svenske kroner.