Vattenfall investerer næsten 100 millioner euro i topmoderne teknologi.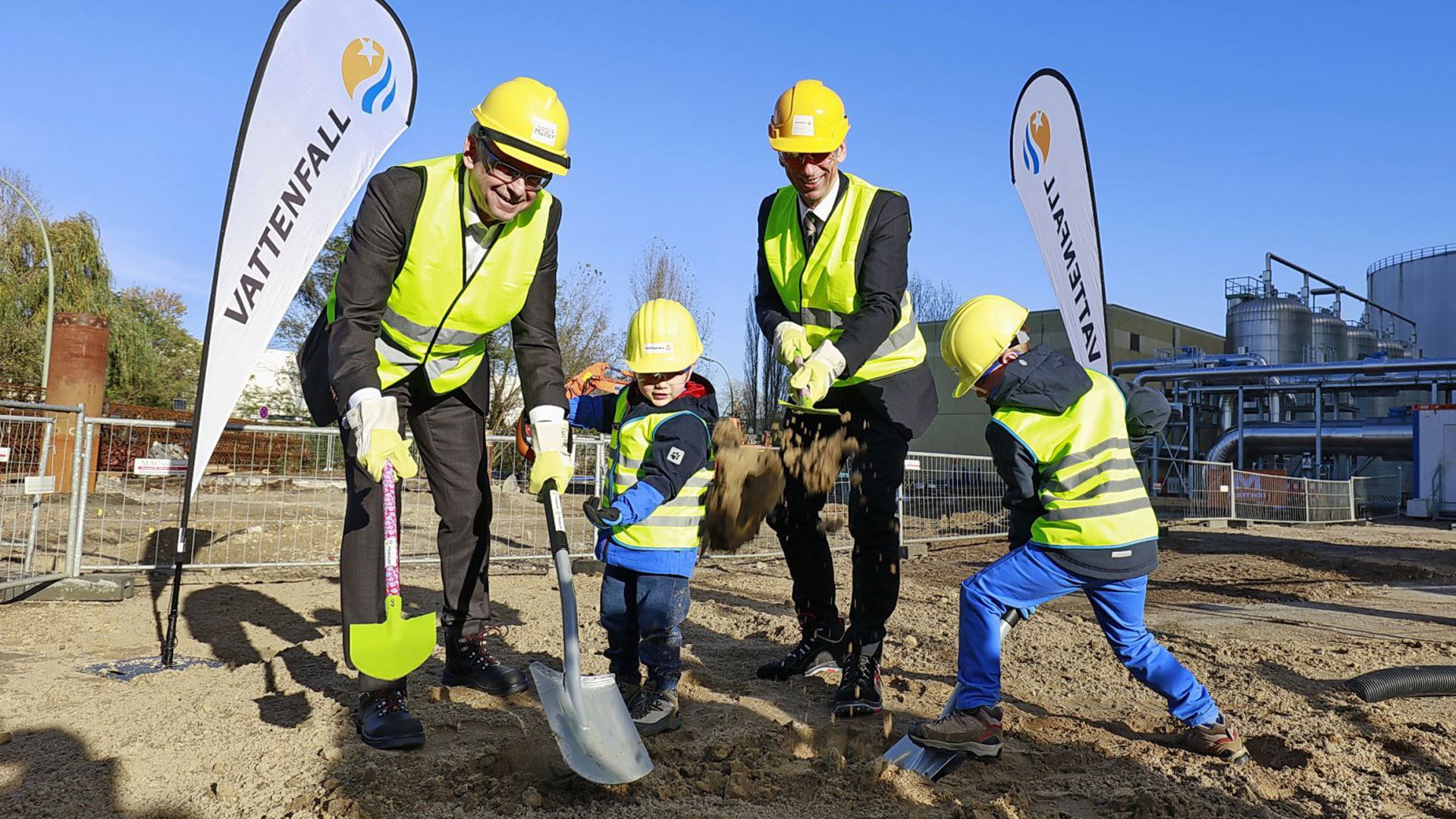 Det næste vigtige skridt frem mod klimaneutralitet er taget: Vattenfall udskifter den stenkulsfyrede blok på kraftvarmeværket Reuter i Berlin-distriktet Spandau med Europas største "power to heat-anlæg", der får en kapacitet på 120 MWh. Det kommer til at producere fjernvarme på basis af el. Byggearbejdet blev påbegyndt omkring klokken 12:00 i dag, da Stefan Tidow, den tyske minister for miljø og klimabeskyttelse, og Gunther Müller, bestyrelsesformanden for Vattenfall Wärme Berlin, tog det symbolske første spadestik.
Det nye anlæg fungerer efter dypkoger-princippet. Det har en kapacitet, der svarer til omkring 60.000 almindelige elkedler. Fra og med 2020 skal anlægget producere fjernvarme på basis af el til op mod 30.000 husstande, hvilket gør det til en afgørende vigtig del af Berlins varmeomlægning. Vattenfall Wärme Berlin kommer til at investere næsten 100 millioner euro i projektet i løbet af de næste to år. Når alle kedlerne, der kun skal producere varme, er blevet idriftsat, kan blok C på det stenkulfyrede kraftvarmeværk Reuter blive taget af forsyningsnettet som planlagt efter den kolde årstid i 2019/2020.
Gunther Müller, bestyrelsesformand for Vattenfall Wärme Berlin, forklarer: "Med opførelsen af dette power-to-heat-anlæg er Vattenfall banebrydende inden for ny teknologi i Europa. Berlin får en vigtig fordel i integrationen af vedvarende energiformer. Hvis der er overskud af vedvarende energi i elnettet, vil anlægget bruge det til at producere fjernvarme med lav miljøbelastning. Den vedvarende energi, vi producerer til formålet, vil svare til 10 % af Berlins samlede energiforbrug om sommeren – eller output fra 750.000 køleskabe. Takket være det nye power-to-heat-anlæg vil det ikke være nødvendigt at skrue ned for produktionen fra helt så mange vindmøller og solcelleanlæg."
Stefan Tidow, den tyske minister for miljø og klimabeskyttelse, tilføjer: "Berlin skal være klimaneutral inden 2050. Projekter såsom opførelse og idriftsættelse af et power-to-heat-plant er afgørende for at opnå det mål. Fremtiden inden for energi er vedvarende energi. Det gælder ikke kun for elproduktion, men også for varme og i sidste ende også for transportsektoren. Vi er nødt til at fokusere på systematisk integration af disse områder for at sikre, at solenergi og vindkraft kan bruges intelligent og effektivt. Det første spadestik i dag på det her store projekt er et vigtigt skridt frem mod et klimaneutralt Berlin."
Med dette projekt fortsætter Vattenfall systematisk sin strategi om fuld udfasning af kul i den tyske hovedstad inden 2030, samtidig med at virksomheden opfylder endnu et kriterium i klimabeskyttelsesaftalen med forbundsstaten Berlin. Brunkul blev allerede udfaset på Klingenberg i maj i år – tre år tidligere end oprindeligt planlagt.
Projektet investerer også i hydraulisk og elektrisk infrastruktur og i gasfyrede kedler, der kun skal producere varme, som skal dække forbrugsudsving i fjernvarmesystemet og bidrage til forsyningssikkerheden. Vattenfall forventer inden 2030 at kunne udvide power-to-heat-løsningerne til forsyning af fjernvarme til 300 megawatt.
Investeringen er et af projekterne under paraplyen WindNODE, som er den nordøsttyske modelregion for intelligent energi. Inden for rammerne af SINTEG-programmet (Schaufenster intelligente Energie) støtter det tyske energi- og økonomiministerium i alt fem modelregioner i Tyskland – hvor der udvikles løsninger til en fremtidig intelligent energiforsyning – med en stadigt voksende andel af vedvarende energi.