Vattenfall rykker otte pladser frem i rapporten over Sveriges grønneste brands.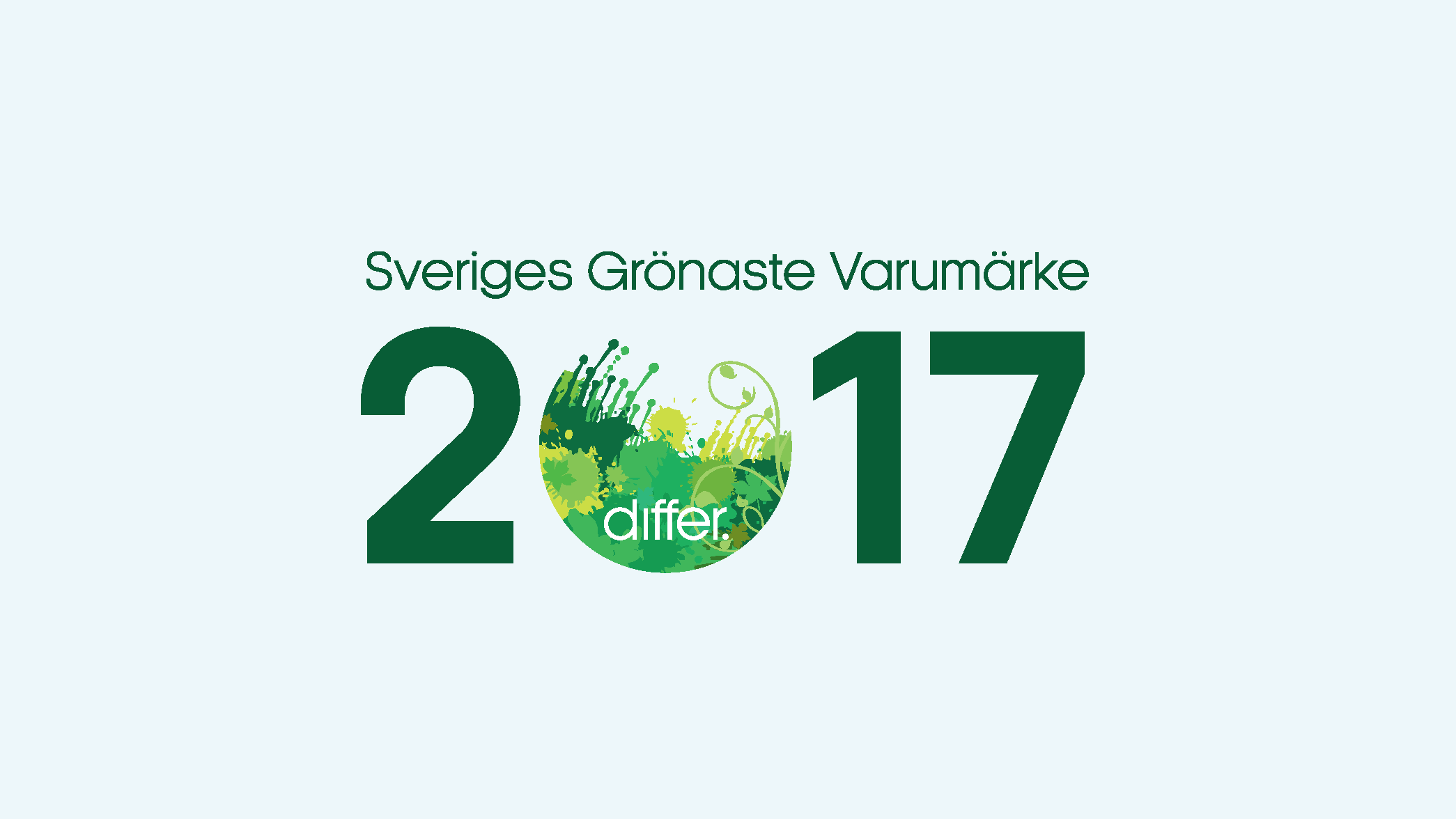 Sveriges grønneste brand 2017.
I en rapport, der er udarbejdet af det svenske konsulentfirma Differ, rykkede Vattenfall fra en 12.-plads i 2016 til en 4.-plads i 2017 blandt de svenske energiselskaber i evalueringen af, hvor grønne (miljøvenlige), respondenterne mener, at de forskellige brands er. Energibrand nr. 1 er "GodEl", en forhandler, som kun leverer vedvarende elektricitet med et miljømærke (Bra Miljöval).
Ifølge rapporten har salget af kulaktiviteterne i Tyskland sandsynligvis bidraget stærkt til Vattenfalls fremgang på listen.
Ser man på placeringen blandt alle de 85 virksomheder fra alle sektorer, lander Vattenfall på plads nr. 13 i undersøgelsen.
Sveriges grønneste brand er en tilbagevendende undersøgelse, der gennemføres af Differ, og hvor mere end 1.000 svenske respondenter i alderen 15 til 75 år har deltaget. Tallene for 2017 er blevet indsamlet i december.
"Når det drejer sig om miljømæssige emner, kan vi se, at Vattenfall nu i stigende grad omtales som et af de gode eksempler. Det ser ud til, at vores engagerede miljøarbejde – ikke kun internt i virksomheden, men også at vi hjælper andre sektorer med at blive fossilfrie – har skabt opmærksomhed. Derfor kan den hurtige stigning i placeringen i rapporten, i mine øjne, primært tilskrives vores samarbejde i det grønne stålpartnerskab Hybrit, e-mobilitet og InHouse-programmet, hvor vi hjælper husejere med at bidrage til et bedre klima", siger Vattenfalls Head of Environment, Helle Herk-Hansen.
Svenske energiselskaber
Vattenfall er rykket otte pladser frem sammenlignet med sidste år.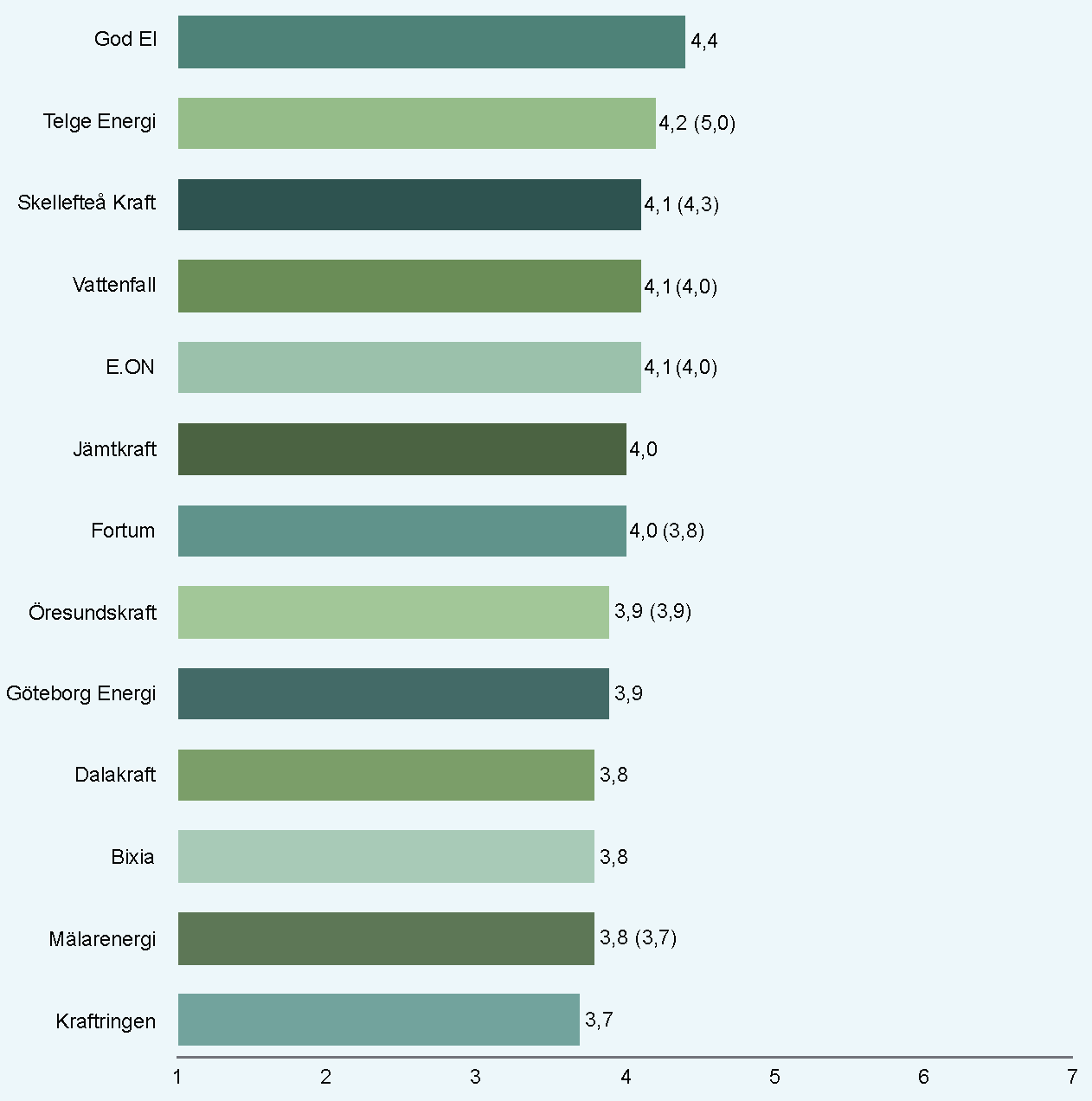 1 = Overhovedet ikke grøn, 4 = Hverken eller 7 = Meget grøn,
*Tallene i parentes angiver resultatet i 2008 de steder, hvor der findes sammenlignelige data. Illustration: Differ.
Miljøvenlige elprodukter er populære
Differ-rapporten angiver, at det at være grøn er en afgørende faktor, som i høj grad påvirker forbrugernes beslutning om at købe et produkt. Energibranchen er der, hvor det er mest relevant at være grøn, og det er også den branche, hvor flest personer – hele 44 % af respondenterne – diskvalificerer brands, der ikke opfattes som værende grønne.
Ifølge Helle Herk-Hansen har Vattenfall i Sverige fra 2016 til 2017 oplevet en stigning på 17 % i B2B-efterspørgslen på produkter med miljømæssig værdi, eksempelvis Guarantee of Origin (oprindelsesgaranti), EPD (miljøvaredeklaration) og Bra Miljöval.
"Virksomheder ønsker i stigende grad at blive forbundet med en grøn profil, og energiforsyning er ofte et vigtigt miljømæssigt aspekt for mange virksomheder. Vores evne til at imødekomme kundernes miljøkrav er derfor vigtigere end nogensinde før. Hvis vi skal fremstå som troværdige, skal vi være åbne om, hvordan elektricitet kan reducere vores kunders miljømæssige fodaftryk, og vi skal også bevise, at vi selv gør vores yderste for at reducere vores eget fodaftryk", forklarer Helle Herk-Hansen.
Ifølge hendes erfaring er miljøet faktisk blevet en forudsætning, når man indgår i partnerskaber og andre typer samarbejde. Det gælder ikke kun i Sverige. I Holland har Vattenfall eksempelvis indgået Power Purchase Agreements (aftaler om køb af el) med Microsoft, hvor de indgår i langsigtede aftaler om levering af vindkraft fra Vattenfall.
Samlede placeringer og point for alle virksomheder i undersøgelsen
Illustration: Differ.