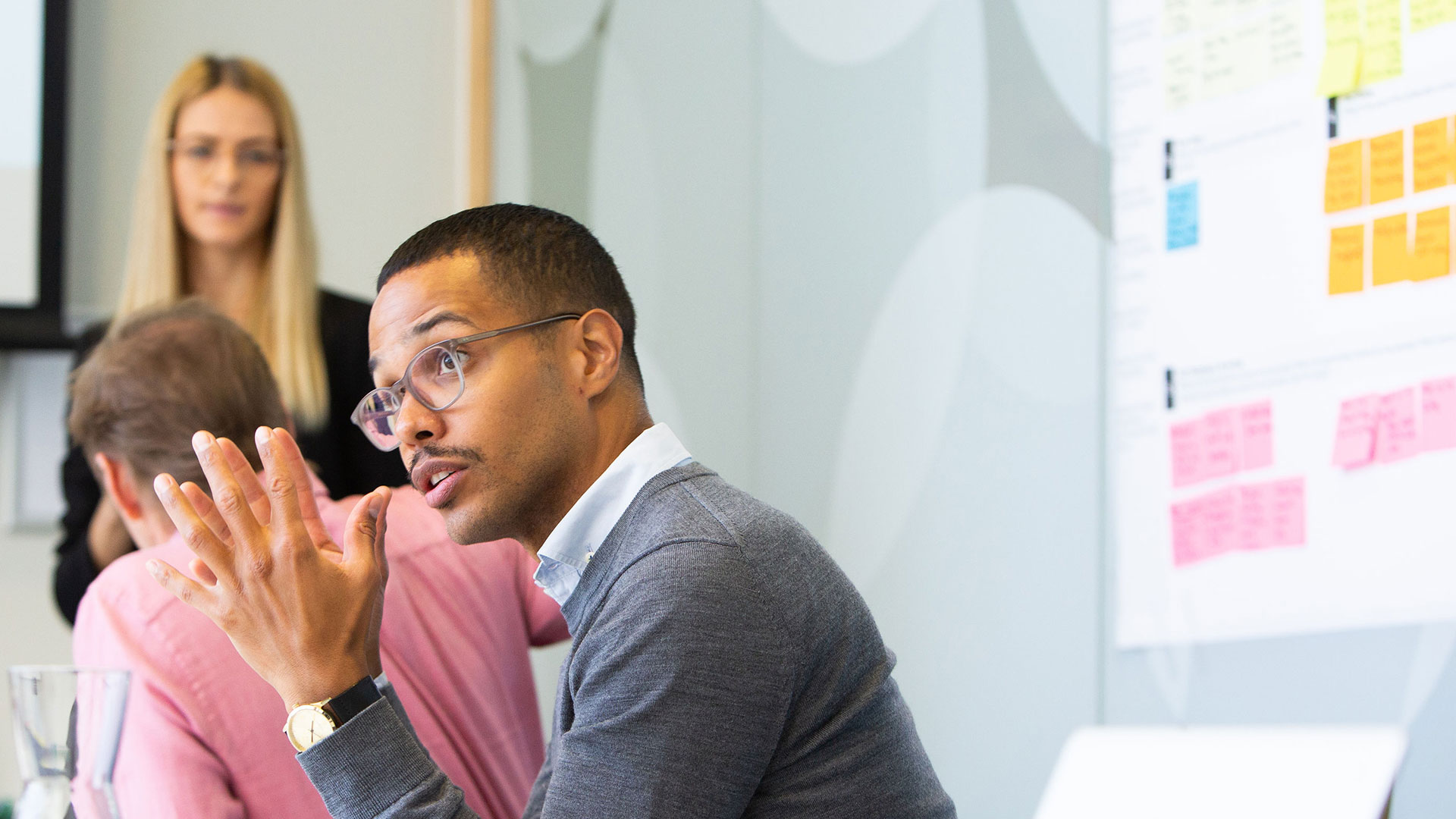 Innovative samarbejder fremskynder rejsen mod et fossilfrit liv
Flydende solcelleparker, vedligeholdelsesrobotter til vindmøller og løsninger til brintproduktion. Det er nogle af de områder, Vattenfall ønsker at gå sammen med partnere om at udvikle.
Green:field er Vattenfalls åbne innovationsplatform, der fungerer som bindeled mellem Vattenfalls nuværende kerneforretning og nye, dynamiske forretningsmuligheder. For at opnå det slår green:field sig sammen med nystartede virksomheder i den senere fase (later-stage startups), vækstvirksomheder (scale-ups) samt innovationsvirksomheder, hvor de arbejder med centrale temaer inden for innovation og inden for Vattenfalls strategi.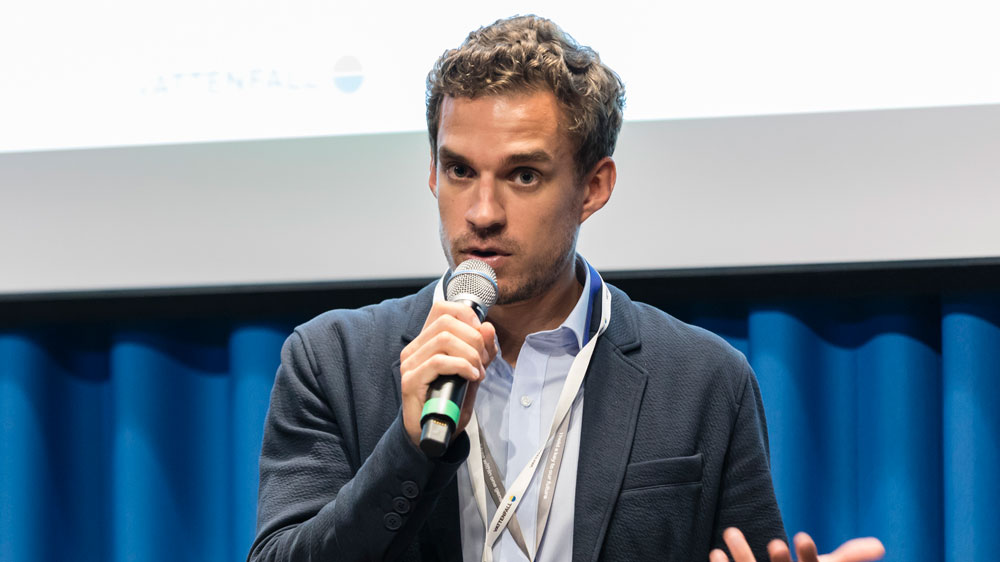 Florian Grossmann, Innovation Partnership Lead i green:field (Vattenfall)
"Vi tror på at opbygge partnerskaber i vores økosystem for i sidste ende at fremskynde vores rejse mod et fossilfrit liv," siger Florian Grossmann, Innovation Partnership Lead i green:field i BA Wind.
I starten af juni inviterede green:field 18 innovationsvirksomheder til en todages event om innovation via samarbejde på Vattenfalls hovedkontor i Solna, Sverige.
Eventen var en opfølgning på en omfattende undersøgelsesproces for at finde innovationspartnere inden for seks strategiske søgefelter (se herunder), som kan bidrage til Vattenfalls mål om at muliggøre et fossilfrit liv inden for én generation. De inviterede virksomheder er blevet valgt efter flere udvælgelsesrunder og ud fra en lang liste med mere end 240 potentielle partnere.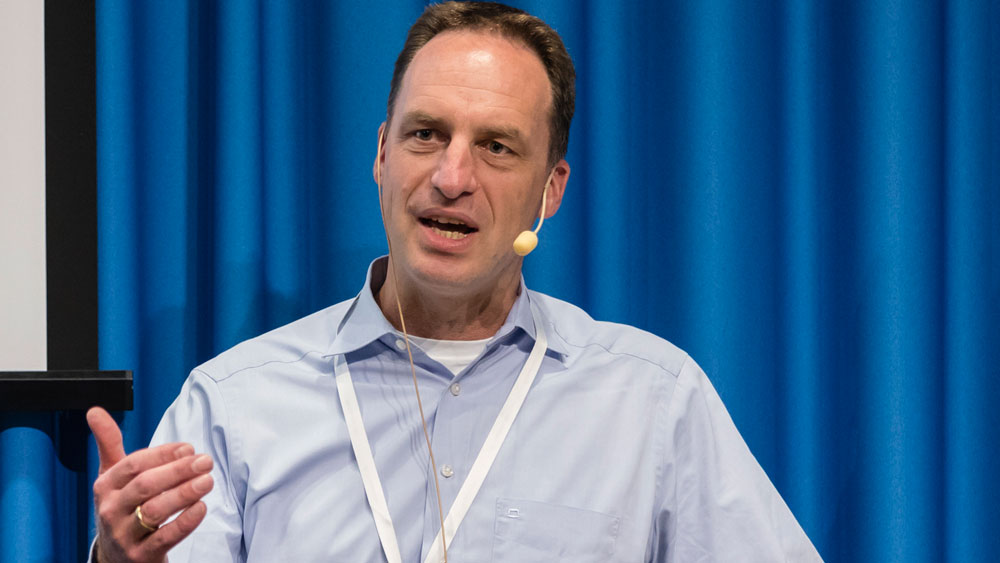 Billedtekst: Alfred Hoffman, Vice President Portfolio & Business Development, BA Wind (Vattenfall)
"Vi er aktive på de fleste europæiske markeder, så hvis der er et godt produkt fra et opstartsperspektiv, som vil kunne anvendes i stort set alle lande i Europa, så er det selvfølgelig en stor mulighed," siger Alfred Hoffman, Vice President Portfolio & Business Development, BA Wind.
I år har green:field været på udkig efter virksomheder, som kan hjælpe Vattenfall med at udvikle løsninger på disse hovedområder:
Flydende solcellesystemer på søer, floder og på havet
Robotteknologi til drift og vedligehold af havbaserede vindmøller
Softwareløsninger til optimering af brintproduktion fra vedvarende elproduktion
Intelligente termostater, der bidrager til, at private husholdninger kan spare energi og udgifter
Løsninger, der forlænger levetiden på den smøreolie, der bruges i gearkassen på havvindmøller • Måder at reducere CO2-fodaftrykket i forbindelse med møder og konferencer.
Interessante præsentationer
På førstedagen den 3. juni gav alle virksomheder en kort præsentation af deres løsninger. Det gav Vattenfalls medarbejdere mulighed for at blive klogere ved at møde stifterne og repræsentanter fra virksomhederne.
Workshops om innovation via samarbejde
På andendagen den 4. juni havde virksomhederne dybtgående drøftelser med Vattenfalls eksperter inden for hvert af de respektive emner. Målet var at beslutte, hvilke virksomheder der ville være egnet til og ville indgå aftale om et fælles Proof of Concept (PoC) i årets anden halvdel.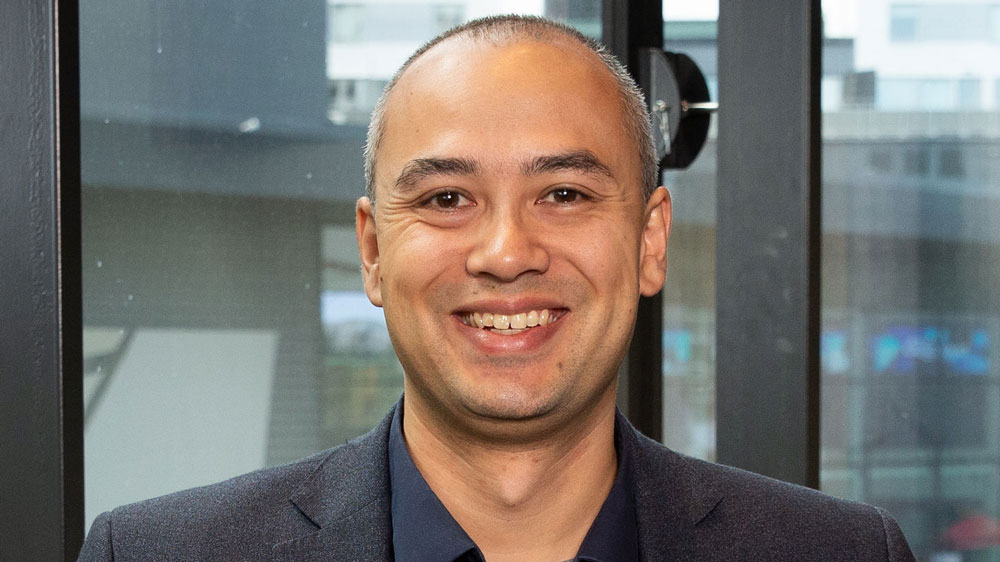 Ken Wahren, CEO for Autonomous Devices.
"Det har været virkeligt fantastisk, og hele processen har været fantastisk, så denne event fører folk sammen fra hele Europa og længere væk end det. Det er en rigtig god mulighed for os at netværke og blive lidt klogere på Vattenfall samt forstå, hvordan vores teknologier i realiteten kan anvendes i forbindelse med Vattenfalls udfordringer," siger Ken Wahren, CEO for Autonomous Devices.
Under det lukkede møde havde hver virksomhed en individuel workshopsession med Vattenfalls eksperter om de respektive emner for at drøfte Vattenfalls krav og behov, virksomhedsprodukt og kompetencer samt potentielt PoC-design og -ressourcer.
"Som nystartet virksomhed i den tidlige fase (early-stage startup) er vi hele tiden på udkig efter kommercielle miljøer, så vi har mulighed for at teste vores produkter, og Vattenfall vil være den perfekte partner til at stille sådanne faciliteter til rådighed for os," fortæller Ihsancan Özpoyraz, Managing Partner, Quant Co, en virksomhed, der leverer kunstig intelligens som en serviceydelse til energistyring i private hjem.
Resultaterne og næste skridt
Workshopperne resulterede i konkrete samarbejdsforslag, som skal bekræftes internt inden for de næste par uger. Partnerne kommer til at indgå i et fælles PoC, hvor de skal undersøge centrale forudsætninger (forretningsmæssige og tekniske) med Vattenfalls eksperter samt definere potentialet for en bredere udrulning i virksomheden og et kommercielt partnerskab ud over det indledende testprojekt.
Samarbejdspartnerne modtager ikke blot støtte til pilotprojektet, men kommer også til at arbejde direkte sammen med Vattenfalls Business Units, hvor de får adgang til know-how, infrastruktur samt support i løbet af hele processen.
I sidste ende har de etablerede samarbejder med udvalgte innovationspartnere som mål at fremskynde Vattenfalls rejse mod at gøre det muligt at leve fossilfrit inden for én generation.
19 potentielle partnere deltog i de endelige workshops om innovation via samarbejde
I år var green:field på udkig efter seks hovedemner, og de virksomheder, der deltog i udvælgelsesprocessen, var:
Flydende solcellesystemer (5 virksomheder)
Teknologier og løsninger til at bygge solenergianlæg på vand (søer, floder, havet). Eksempler på løsninger er flydende øer, fortøjningssystemer, flydende solcellepaneler.
Profloating B.V.
Isigenere
Oceans of Energy
Floating Solar
Seaflex
Robotteknologi til drift og vedligehold af havvindmøller (2 virksomheder)
Finde metoder til at være til stede med fjernadgang via robotteknologi – til inspektion og udførelse af grundlæggende drift og vedligehold på havvindmøller. Teknologien skal omfatte visuelle løsninger, følere og robotteknologi.
Autonomous Devices Limited
Terabee
Digitale brintløsninger (3 virksomheder)
Finde softwareløsninger, der styrer produktionen af brint fra vindkraft og vand afhængigt af faktorer såsom efterspørgsel, markedspriser og lagringsomkostninger.
Enercast GmbH
Mentat Innovations
7LYTIX GmbH
Intelligente termostater (5 virksomheder)
Løsninger, der hjælper private husholdninger med at styre deres varmeenheder og tilpasse varmen efter deres ønsker, samtidig med at de opnår energibesparelser. Teknologien kan omfatte følere, dataanalyse og Internet of Things (IoT) eller markedsklare intelligente termostater.
Quant Co
ELIQ AB
Vestemi Limited
Rockethome GmbH
Vilisto GmbH
"Oil-for-life"-løsninger til havvindmøller (2 virksomheder)
Finde løsninger, der øger levetiden på den smøreolie, der bruges i gearkassen på havvindmøller. Løsningerne kan omfatte måling af kvalitet, regenerering af olie samt nye bæredygtige, langtidsvirkende olier.
Optimering af CO2-fodaftryk
Værktøjer til nedbringelse af CO2-fodaftrykket i forbindelse med møder og konferencer (fra mindre møder til store konferencer), til hjælp med at spore forbedringer og til fremme af samrejse til og fra møder deltagerne imellem.