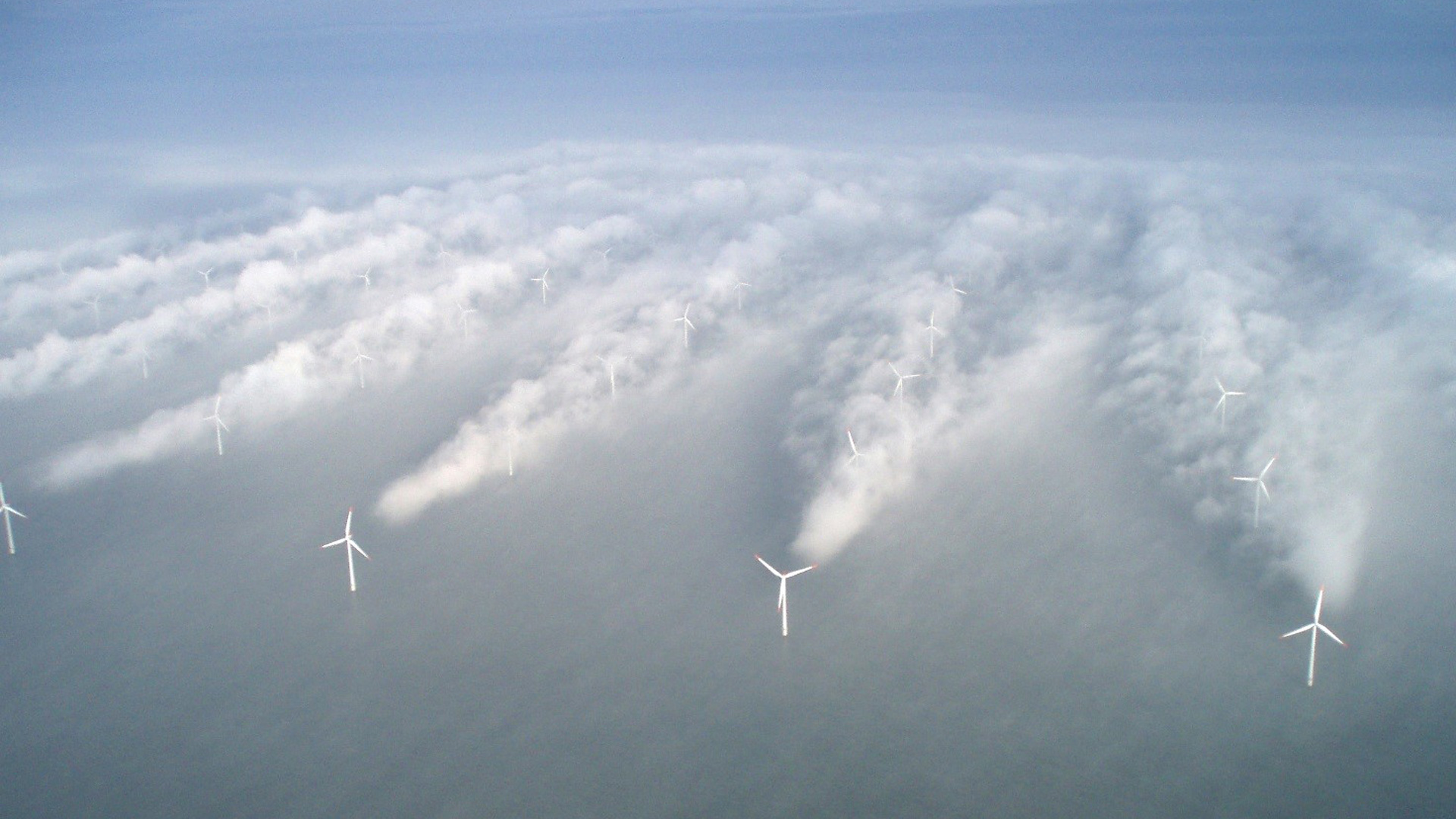 Matematik giver millionbesparelser på fremtidens havmølleparker
Et nyt matematiske værktøj gør det muligt at optimere både elproduktion og omkostninger på havmølleparker allerede i designfasen. Forskeren bag har netop modtaget Innovationsfondens Erhvervsforskerprisen 2019 og projektet er blandt finalisterne til en amerikansk pris i konkurrence med bl.a. Microsoft og IBM.
Design af havmølleparker byder på utroligt komplekse optimeringsudfordringer. Når en moderne vindmøllepark designes, skal der tages højde for et lang række forskellige faktorer som vindretning, vanddybde, erosionzoner, fundamentsomkostninger, fysiske forhindringer, kabeltyper, tab i kablerne og det at vindmøllerne ikke "skygger" for hinanden. Placeringen af hver enkelt mølle i en park er ekstremt vigtig for at undgå, at de så at sige "stjæler" energi fra møllerne bagved.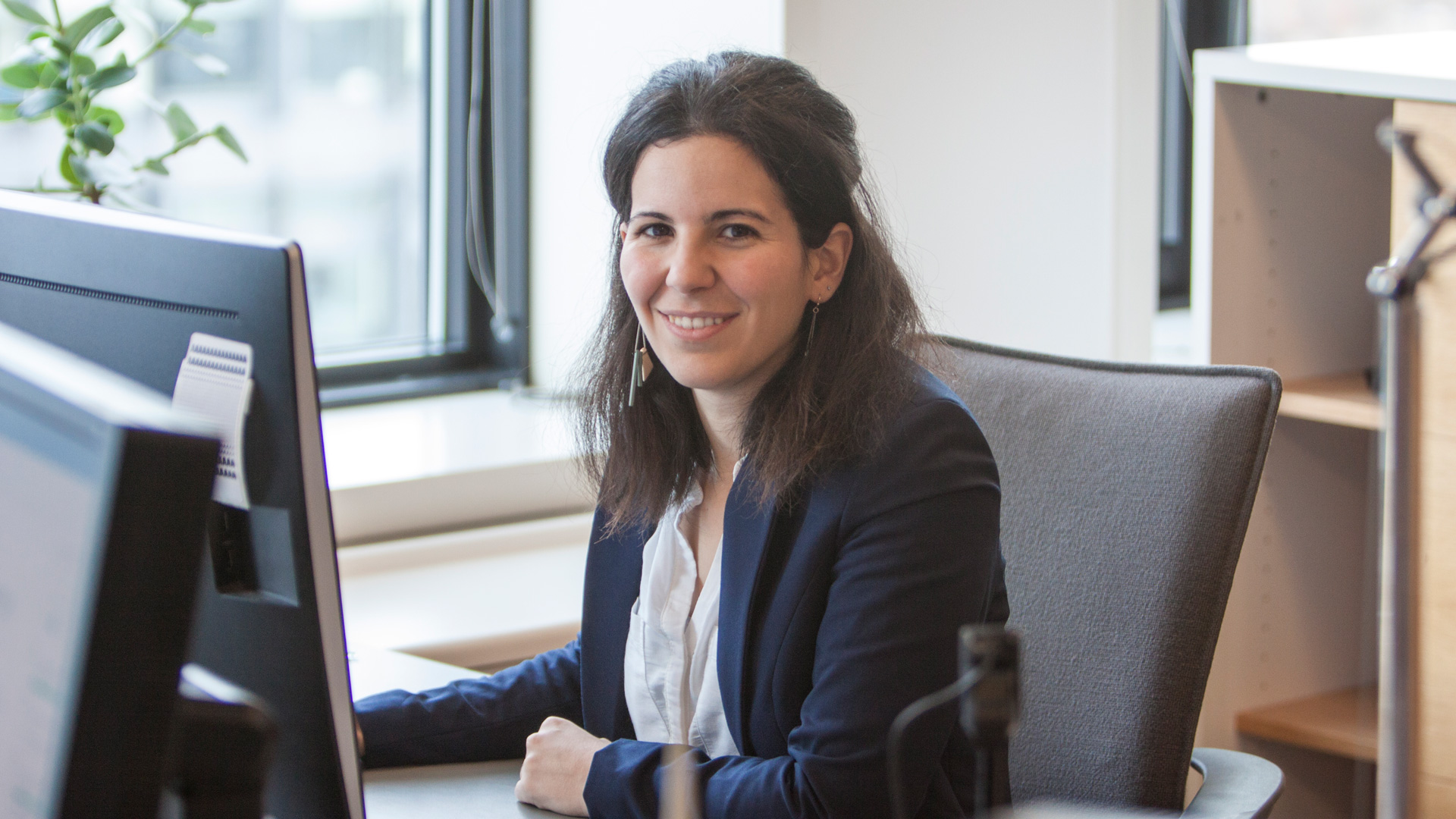 Martina Fischetti, Lead Engineer og PhD.
Processen med at designe vindmølleparker var tidligere møjsommelig og kunne tage uger. Nu ændrer et nyt system udviklet af Lead Engineer og Ph.D. Martina Fischetti fundamentalt såvel parkdesignet som processen.
Før virksomheden tog den slags værktøjer i brug, byggede vindmølleparkdesignet på en flertrinsproces, der var afhængig af standardværktøjer og af, hvor erfaren den enkelte ingeniør var. Et foreløbigt layout blev udarbejdet og tjekket for nogle faktorer. Hvis layoutet ikke var acceptabelt, blev mølleplaceringerne justeret manuelt, layoutet sendt videre til et andet team, der så tjekkede og justerede for andre faktorer og så videre. Processen involverede mange mennesker, den tog lang tid og resultatet var ikke optimalt.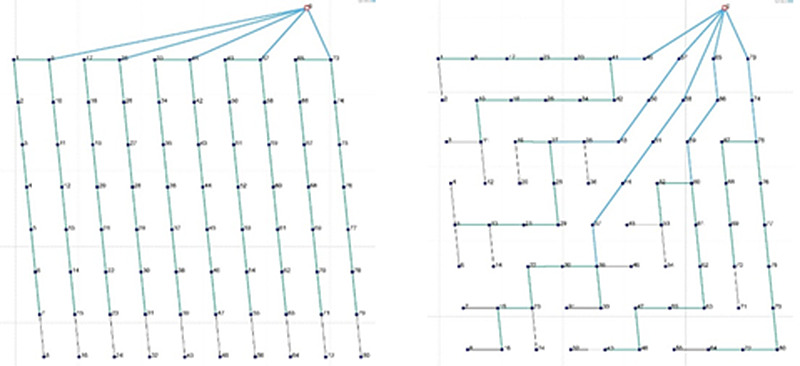 Horns Rev 1: Det oprindelige, manuelle kabellayout for parken, som det ser ud nu (tv) sammenlignet med et layout, som det ville have set ud med det nye værktøj (th). Det optimerede kabellayout er omkring 11 mio. kroner billigere end den manuelle løsning.
"Det nye værktøj strømliner processen, så alle faktorer behandles i softwaren samtidig, og hen over natten foretager programmet så tusindvis af simuleringer med alle faktorer indregnet og leverer et optimeret layout for placeringen af vindmøllerne og kabelføringen til ingeniørerne," siger Martina Fischetti og tilføjer:
"Ved at optimere møllelayoutet og kabelføringen kan vi reducere en parks omkostninger og øge produktionen. Vi kan på den måde opnå en gevinst på omkring 75 mio. kroner for hver vindmøllepark og dermed reducere prisen på vindenergi".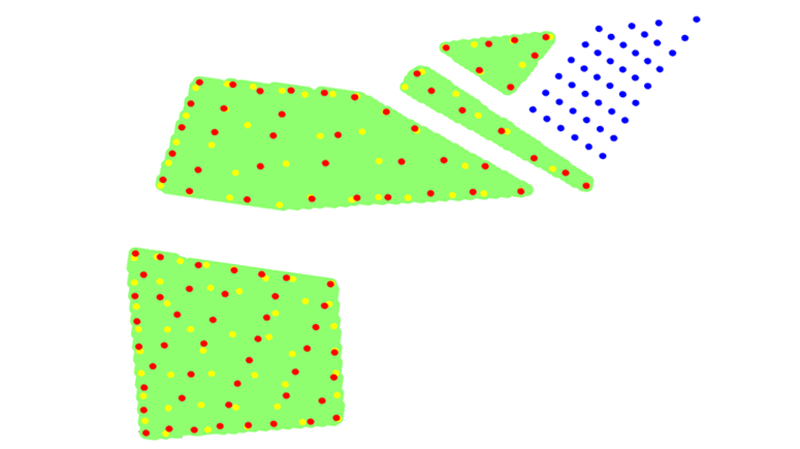 Foreløbigt layout* for Hollandse Kust Zuid 1+2 havmøllepark: Optimeret layout med anvendelse af optimeringsværktøjet (rød) og layoutet som det ville se ud med anvendelse af traditionelle metoder (gul). Det optimerede layout gav en gevinst på yderligere omkring 75 mio. kroner i parkens levetid, ved udelukkende at reducere vindskyggevirkningen imellem møllerne. De blå prikker er en allerede eksisterende park.
*Det endelige layout er fortroligt og kan ikke vises.
Softwaren har været anvendt til designet af havmølleparken Kriegers Flak i Østersøen, som Vattenfall vandt med en rekordlav pris, og til den hollandske park Hollandse Kust Zuid 1+2, som står til at blive den første havmøllepark i verden, der bliver bygget uden støtte.
Værktøjet er blevet udviklet af Martina Fischetti i et tæt samarbejde imellem DTU og Vattenfall. Og for dette arbejde har hun netop modtaget Innovationsfondens Erhvervsforskerpris for 2019. Projektet er desuden blandt finalisterne i den prestigefyldte internationale 2019 INFORMS Franz Edelman Award inden for "Operational Research and Analytics" i konkurrence med virksomheder som Microsoft og IBM.

"Jeg har ikke tidligere set disse teknikker brugt på den slags problemer, og de resultater, vi har opnået, er bemærkelsesværdige og bedre end de traditionelle systemer hver gang. Et yderligere uhyre spændende resultat er det momentum, værktøjet har givet til teamet. Det giver os tid til at eksperimentere og tænke ud af boksen. Vi kan afprøve nye ideer og alternative løsninger med det samme og ikke mindst kvantificere effekten af nye designvalg helt fra begyndelsen. Oven i det kan vi indgå i samarbejder med leverandører på en helt ny måde og drive innovation i et længere perspektiv," siger Thomas Hjort, Head of System Design i Business Unit Offshore Wind.
Alt i alt har det nye layout-optimeringsværktøj bidraget væsentligt til Vattenfalls konkurrencedygtighed i havmølleudbud ved at skabe bedre layouts, kvantificere effekten af nye designvalg og levere design inputs til alternative businesscases for hver vindmøllepark. Optimeringsværktøjet kan blive et væsentligt værktøj i Vattenfalls ambitiøse planer for ekspansion på vindområdet.
Ny måde at arbejde på
Martina Fischettis arbejde med optimeringsværktøjerne var inspirationen for Head of System Design,Thomas Hjort, til at fokusere på udviklingen af en større modelstruktur – Vattenfalls Front End Park Model (FEPM), hvor hendes optimeringsværktøjer er vigtige elementer. Det er denne modelstruktur, der er maskinhuset i Windfarm Designafdelingens mere standardiserede måde at arbejde på og giver dagligt indsigt i forskellige løsningers indvirkning på Vattenfalls forretning. Den udgør et vigtigt bindeled mellem teknologi og forretning. I dag drives og udvikles FEPM internt i BU Offshore af seks modeleksperter og deres team-lead Jesper Runge Kristoffersen i afdelingen System design.