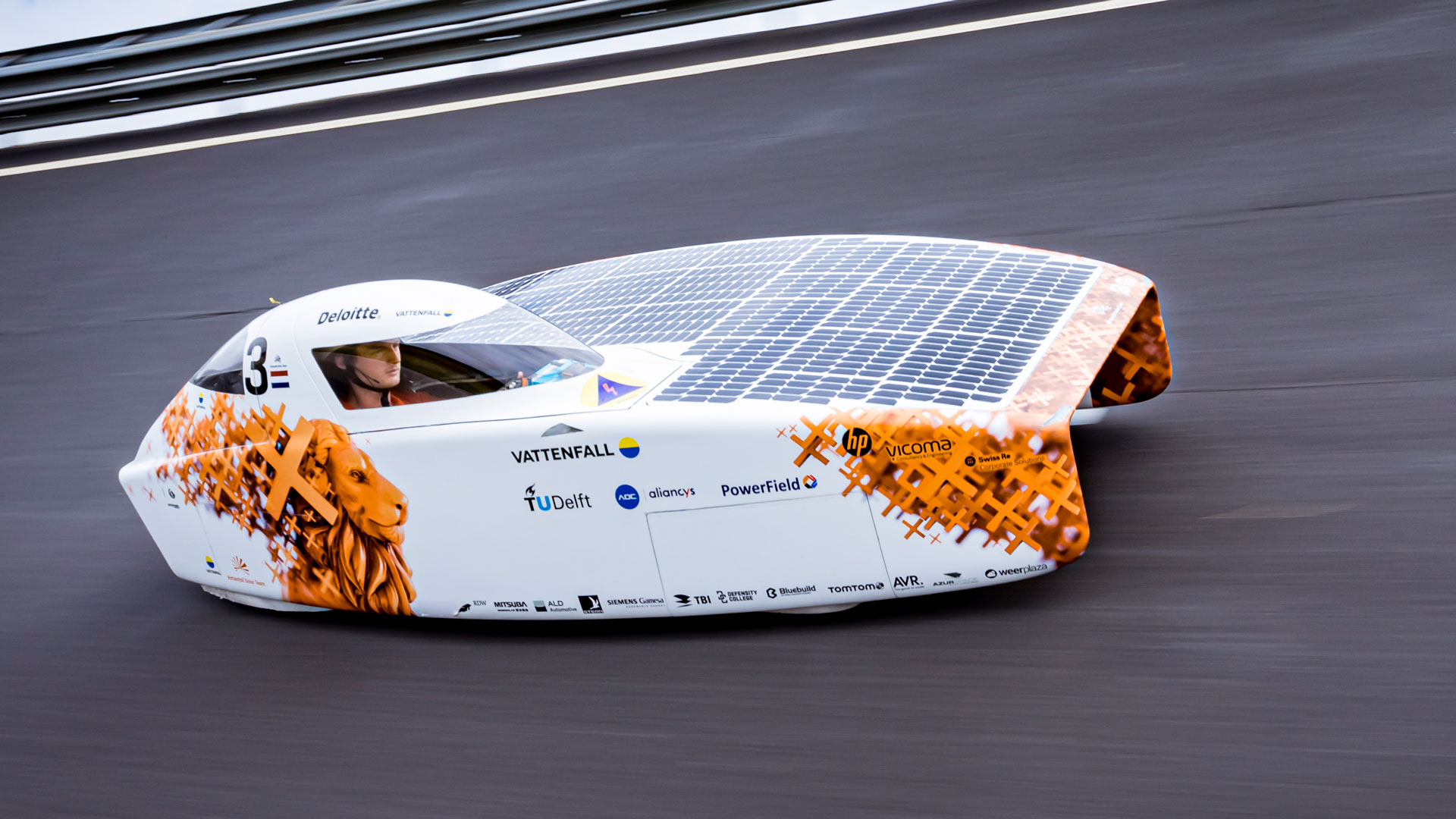 Solcellebilen NunaX: et vidunder skabt af dygtigt ingeniørarbejde
Søndag den 13. oktober starter Vattenfall Solar Team i Bridgestone World Solar Challenge i Australien som en af favoritterne. Chief Engineer Fères Hassan fortæller, hvordan teknikken i NunaX er blevet forbedret sammenlignet med den bil, som teamet sikrede sig førstepladsen med for to år siden: "Det bliver et meget spændende løb i år."
Vattenfall Solar Team og Bridgestone World Solar Challenge 2019 på 100 sek.
Racerløbet fra Darwin til Adelaide finder sted hvert andet år, men løbsorganisatoren evaluerer kun reglerne for, hvordan solcellebilerne må bygges, hvert fjerde år. "I 2017 havde alle teams lov til at gennemse hinandens biler for at lære af de innovative idéer. I år inkluderer de den viden og indsigt i bygningen af nye modeller," fortæller Fères Hassan. "Derfor ligner bilerne i stigende grad hinanden, så det, der betyder mest, er at justere detaljerne."
NunaX kan også bryste sig af en række innovative ændringer i forhold til detaljerne.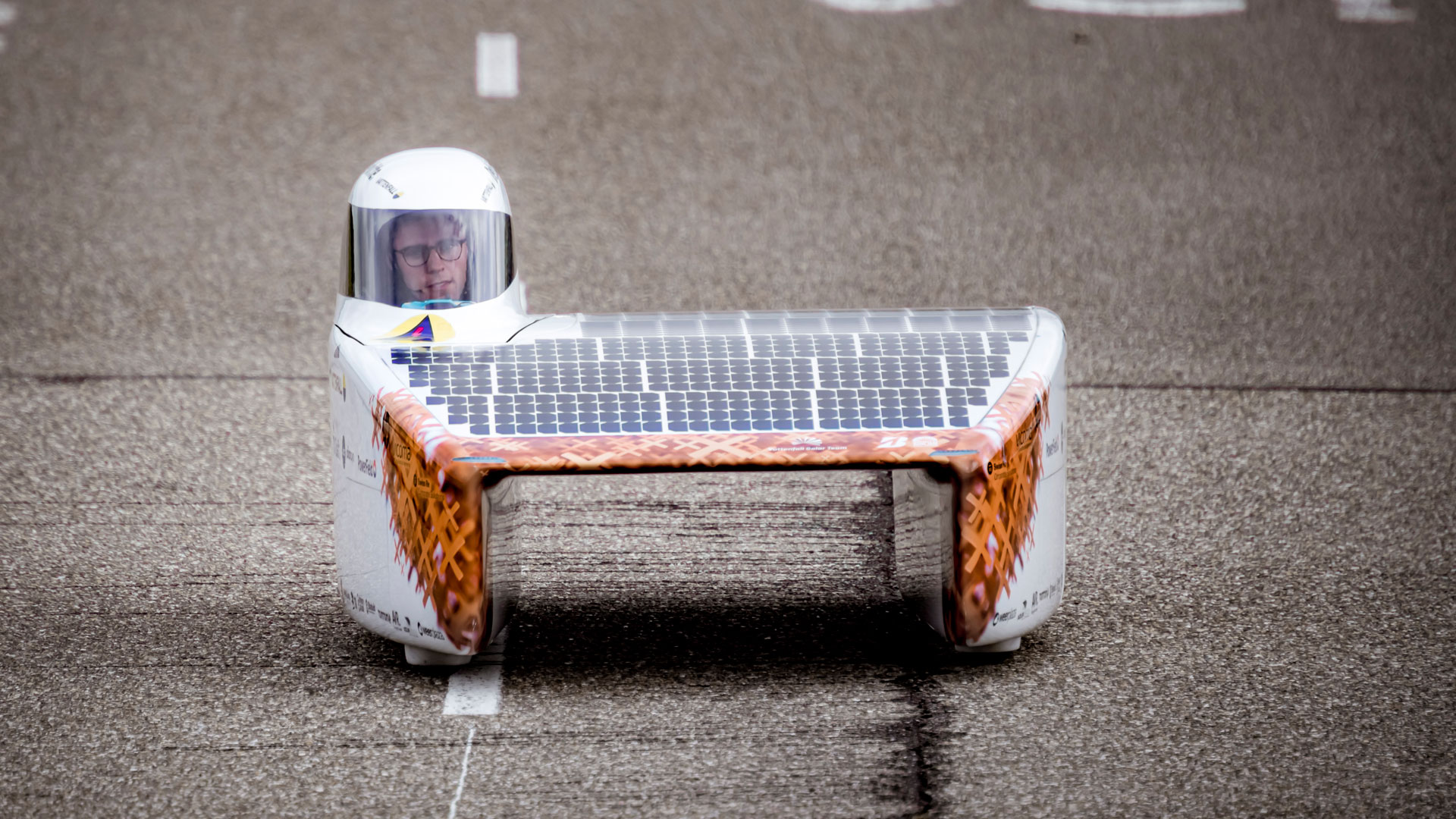 Test af NunaX. Kører Max van der Waals. Foto Jorrit Lousberg.
En let og stabil bil
De fleste af de fordele, der kan opnås i selve konstruktionen af en bil, ligger i aerodynamikken. Jo lettere og mindre bilen er, jo mere effektiv er den. "NunaX er endnu lettere end de foregående modeller, og for at sikre, at den er stabil på vejen, er det vigtigt, at bilens tyngdepunkt ligger så langt forude som muligt," forklarer Fères Hassan. "Der var stadigvæk en lille smule plads i det lille trekantede område mellem forhjulene, og efter måneders designtilretninger – med marginer på under en millimeter – lykkedes det os at nå frem til et radikalt nyt batteridesign, der flyttede bilens tyngdepunkt 10 centimeter fremad sammenlignet med Nuna9. Det var en enorm lettelse, da det viste sig, at alt passede perfekt."
Med vinden i ryggen
Ud over at solcellebilen er blevet lettere og mindre, er det udvendige af den også blevet forbedret på flere punkter. Eksempelvis ser hjulinddækningerne og overdækningen på førerens cockpit anderledes ud: Den ene side er gjort fladere, og den anden side er rund. Fères Hassan forklarer, hvorfor teamet har foretaget den lille ændring: "For to år siden havde førerne af bilen en masse problemer med vinden, specielt på ruten i den sydlige del af Australien. Nu har vi grebet den ulempe, teamet oplevede dengang, og har gjort den til en fordel. Med den asymmetriske form udnytter vi, at kombinationen af sidevind og bilens hastighed faktisk giver en rygvindseffekt. Det er lidt ligesom en sejlbåd fungerer. Man kan se et reelt fald i energiforbruget fra solcellepanelerne, fordi vinden leverer en del af energien."
Selvom overdækningens form er blevet tilpasset og vægten er blevet reduceret, er der ikke gået på kompromis med bilens sikkerhed. "De kulfibermaterialer, vi bruger til at bygge bilen, er rigtigt gode til at håndtere de kræfter, NunaX bliver udsat for under kørslen."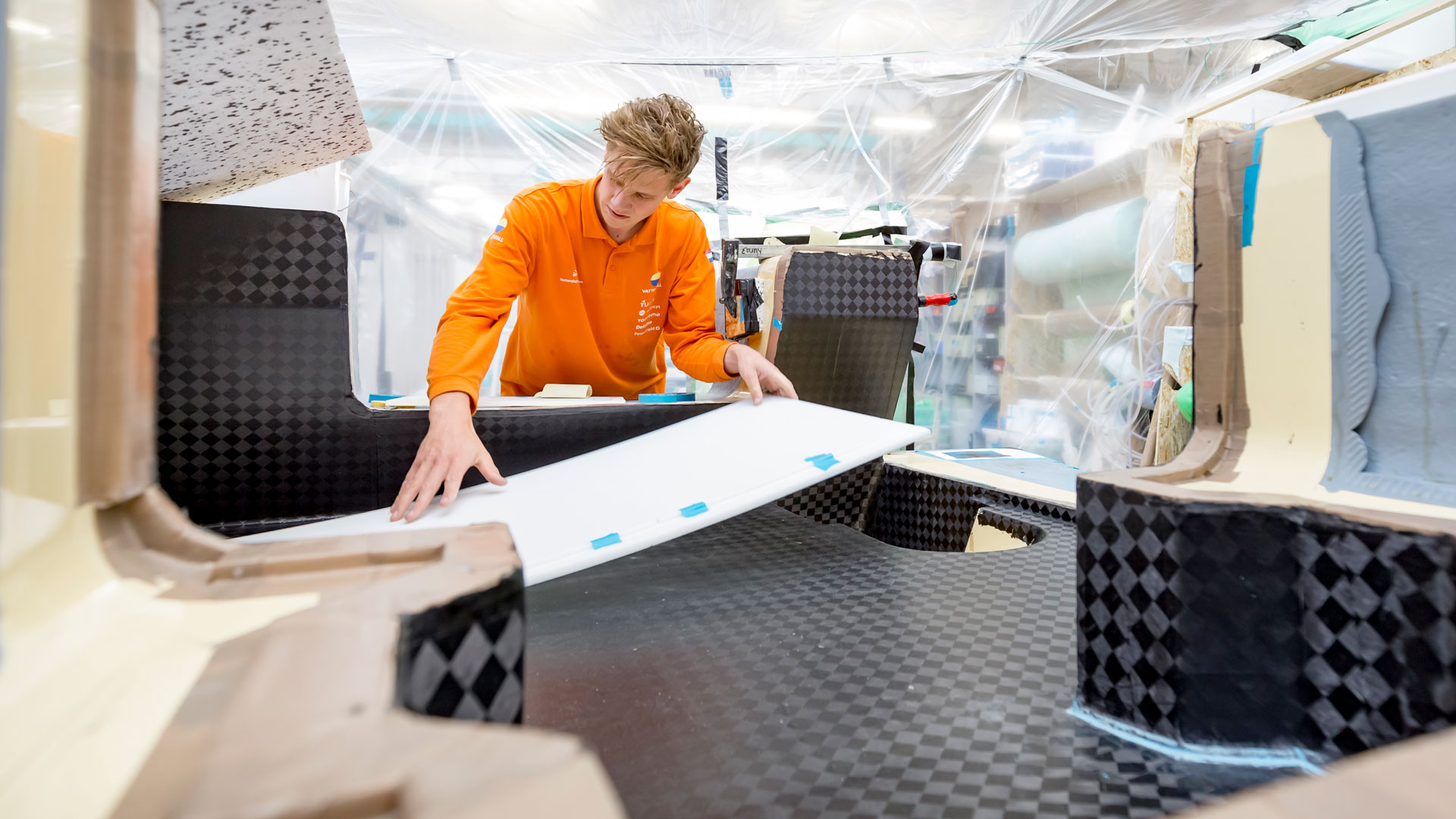 Fremstilling af kulfiberkarosseri. Foto Jorrit Lousberg.
Forbedret software
Bilens software er også blevet fuldstændig revideret for at gøre det muligt for bilen at køre fra Darwin til Adelaide så hurtigt og jævnt som muligt. "For at opnå det har vores softwareingeniør Pieter undersøgt og genskrevet i tusindvis af linjer kode, fordi vi bemærkede, at der under tidligere løb stadigvæk har været små problemer med softwaren," påpeger Fères Hassan som kommentar til det enorme arbejde. "Dataene i NunaX er nu mere pålidelige end nogensinde. En god sidegevinst er, at den skærm, hvor føreren læser alle dataene, har fået et bedre layout. På den måde kan førerne fokusere på det, der virkelig betyder noget: At køre NunaX så hurtigt og effektivt som muligt."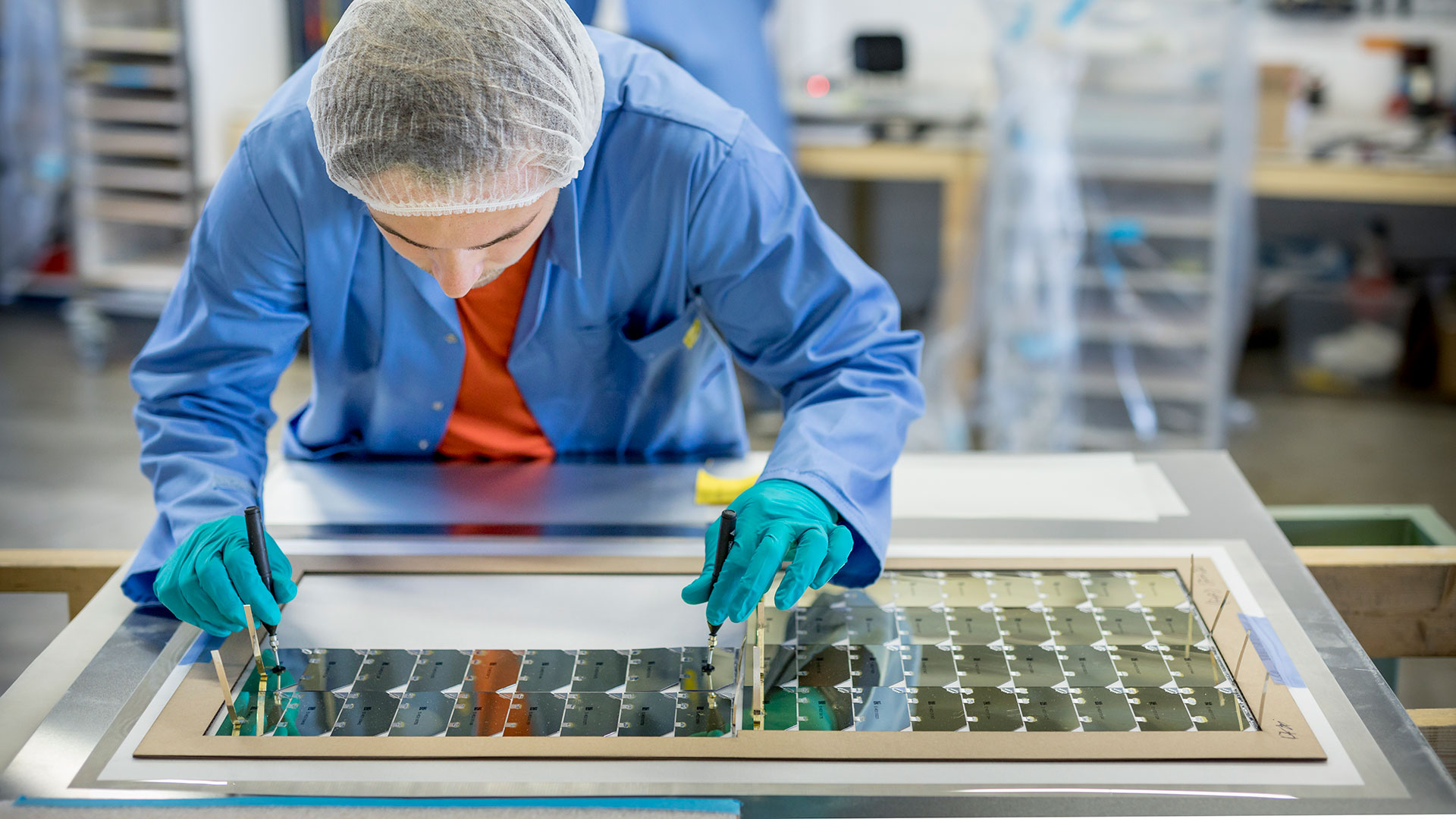 Fremstilling af solpaneler. NunaX teammedlem Daan van der Tuin. Foto Jorrit Lousberg.
Større lysindfald til solcellepanelerne
Den forbedrede aerodynamik, den nye placering af batteriet og intelligent software vil forhåbentlig give bilen den ønskede fordel i forhold til konkurrenterne, men i sidste ende er det solcellepanelerne på bilen, der skal levere den nødvendige energi. "NunaX har en smartere panelfordeling end Nuna9, så den kan gøre optimal brug af solen i Australien," fortæller Fères Hassan. Panelerne er også udstyret med en ekstra beskyttende overfladebehandling med en integreret prismestruktur. Det giver ekstra lysindfald, fordi det lys, der reflekteres fra solcellerne, indfanges og kan bruges igen. "Alt i alt er det måske små detaljer, men konkurrencen bliver stadigt større, så det bliver sandsynligvis de små detaljer, der kommer til at afgøre udfaldet," konkluderer Fères Hassan. "Også i år vil vi naturligvis gøre vores allerbedste for at slutte på førstepladsen, som et team. Når alt kommer til alt, så kan god kommunikation og teamwork også være dét, der afgør, om man vinder eller taber."