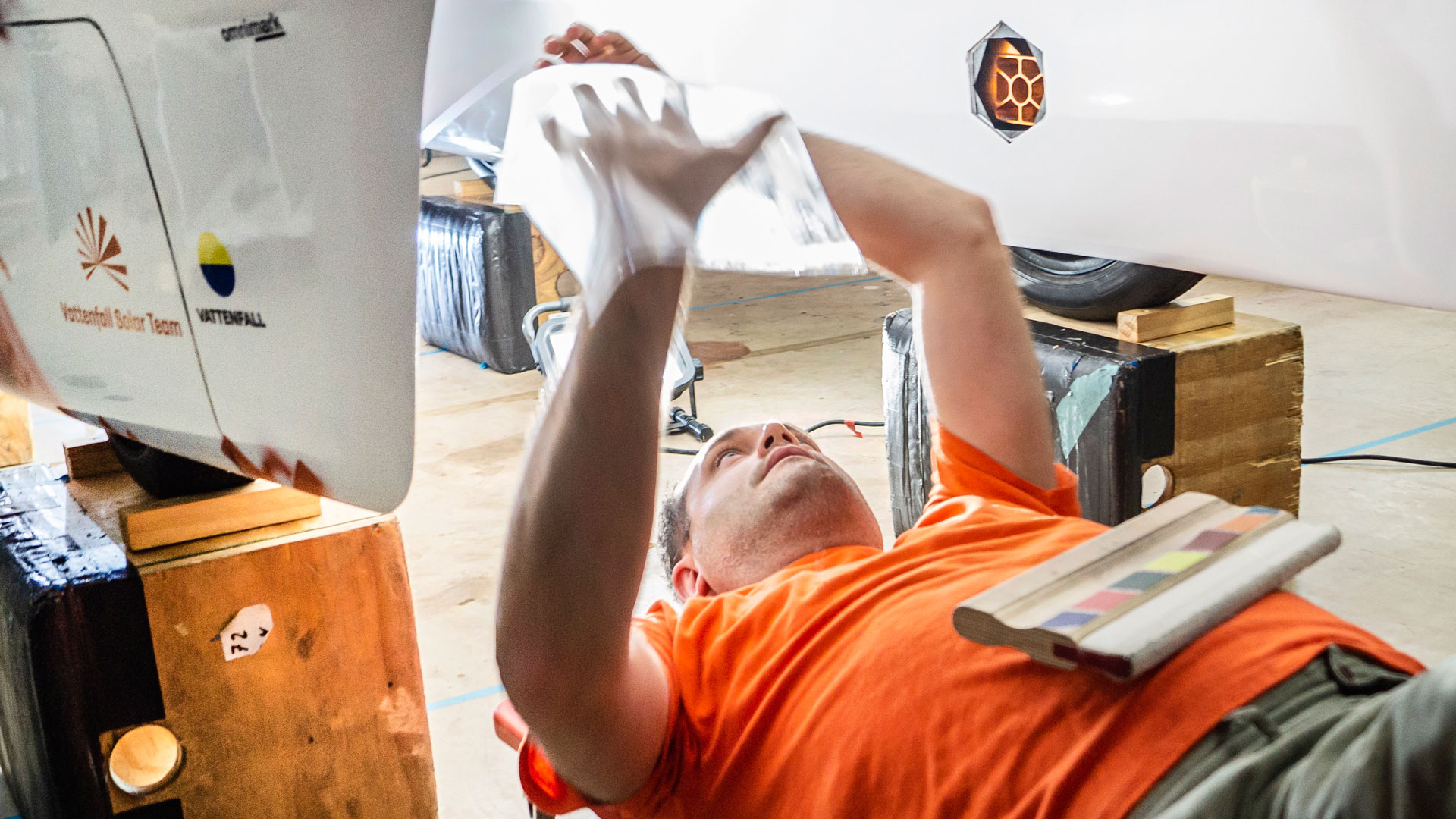 Vattenfall Solar Team afslører et hemmeligt våben: hajskind
Vattenfall Solar Team har forsynet deres bil med et hajskind som led i bestræbelserne på at vinde et ottende verdensmesterskab i racerløb for solcellebiler. Hajskindet er et tyndt filmlag med en meget fin ribbestruktur. De små ribber får luften til at flyde mere frit hen over bilen, så den bliver mere aerodynamisk. Laget fungerer som en ekstra hud, som gør NunaX endnu mere aerodynamisk and de tidligere udgaver af bilen. Teamet præsenterede det hemmelige våben i dag under eftersynet – den officielle inspektion af solcellebilen.
"Vi er meget stolte af, at vi har fået mulighed for at bruge hajskind", fortæller Max van der Waals (22 år), som er Vattenfall Solar Teams ekspert i aerodynamik. "Vi har deltaget i det her racerløb i 20 år, og det her er den første solcellebil, der gør brug af den specielle teknologi. Selv almindelige racerbiler får så godt som aldrig mulighed for at bruge det."
Bittesmå luftkanaler
Filmlaget består af småbitte ribber, der hver er på størrelse med et hårstrå, og de kanaliserer luften hen over og langs bilen så effektivt som muligt. Teknologien er inspireret af rigtigt hajskind, der sørger for, at hajen skærer gennem vandet, delvist takket være rillerne på skindet.
Hajskind er tidligere blevet anvendt på racerfly, olympiske bobslæder og under verdens mest prestigefyldte konkurrence for sejlbåde – America's Cup. Skindet kan genkendes ved det regnbueagtige skær, der skyldes lysbrydning.
Hajskindet er meget skrøbeligt og skal håndteres med forsigtighed. Max van der Waals tilføjer: "Vi lægger hajskindet på NunaX lige inden eftersynet, og derefter er der ingen, der har lov til at røre det. Under løbet bruger vi specielle materialer til at holde hajskindet rent."
Drevet af vinden
Hajskindet er ikke den eneste innovative detalje, Vattenfall Solar Team gør brug af for at gøre den 10. deltagelse i racerløbet til en succes. Ud over solenergien gør NunaX også brug af vindenergi. Dele af bilen er udformet, så de fungerer som et sejl, så bilen kan drage fordel af vinden.
Racerløbet
Om mindre end en uge, den 13. oktober, vil de teams, der deltager i Bridgestone World Solar Challenge, starte på det 3.000 kilometer lange flerdagesløb gennem den australske ødemark. Der deltager i alt 53 teams fra 24 lande. Heraf deltager 30 teams i Challenger-klassen og 23 i Cruiser-klassen. Målet med løbet er at flytte grænserne for teknologien og fremme anvendelsen af bæredygtig energi.
Fakta og nøgletal
Om bilen
Med sine blot 131,6 kg er NunaX den mindste og letteste Nuna, der nogensinde har deltaget i racerløbet for solcellebiler.
For at holde vægten nede er hver eneste del af bilen blevet nykonstrueret fra bunden. For nogle af delenes vedkommende blev materialet udskiftet med et andet, og på andre blev noget af materialet skrottet. I nogle tilfælde er forskellen kun to gram, men hvert eneste gram tæller.
Bilen er meget strømlinet – sidespejlet på en normal personbil har samme vindmodstand som NunaX.
Solcellepanelet består af gallium-solceller, der normalt benyttes i luftfartsindustrien. De er langt mere effektive end de silicium-solceller, der monteres på taget af bygninger.
I stedet for det sædvanlige lag af glas, der normalt bruges til at beskytte solcellerne, påfører teamet deres egen beskyttende overfladebehandling for at spare på vægten. Overfladebehandlingen indeholder prismer, så lys, der skinner på solcellerne, altid rammer vinkelret.
Om racerløbet
I oktober i år skal Vattenfall Solar Team fra det tekniske universitet i Delft deltage i Bridgestone World Solar Challenge i Australien – verdensmesterskabet i racerløb for solcellebiler – for tiende gang. Løbet finder sted hvert andet år.
Bridgestone World Solar Challenge er et racerløb over flere dage, på over 3.000 kilometer, og ruten går gennem den australske ødemark. Solcelleracerteams fra hele verden deltager og forsøger at nå frem til mållinjen så hurtigt som muligt.
Teamet fra universitetet i Delft har allerede vundet racerløbet i Australien syv gange. To gange er teamet kommet ind på andenpladsen. Teamet har også vundet Sasol Solar Challenge i Sydafrika tre gange.
Om teamet
Hvert andet år samles et nyt Vattenfall Solar Team, bestående af 16 ambitiøse studerende fra det tekniske universitet i Delft i Holland. De designer og bygger bilen, og derefter kører de racerløb i den.
Teammedlemmerne sætter deres studier på pause i mindst 18 måneder for at deltage i Bridgestone World Solar Challenge.
Teamet har været sponsoreret af Vattenfall helt fra begyndelsen. Vattenfall har som mål at gøre det muligt at leve fossilfrit inden for én generation, og Vattenfall Solar Team viser, at det er muligt.