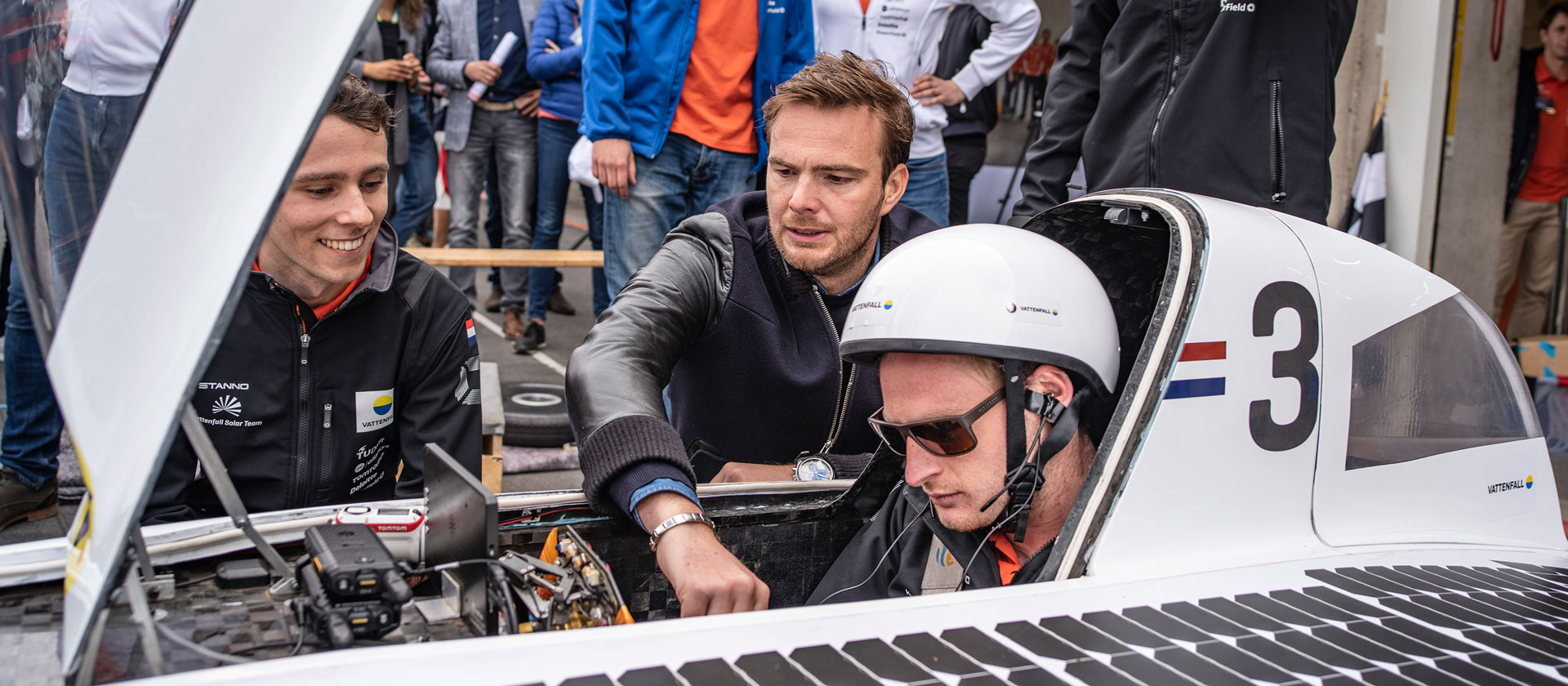 Vattenfall Solar Team tester førernes evner
Vattenfall Solar Team præsenterede i dag de tre førere, der til efteråret skal sidde bag rattet i solcellebilen NunaX under verdensmesterskaberne i racerløb for solcellebiler: Bridgestone World Solar Challenge.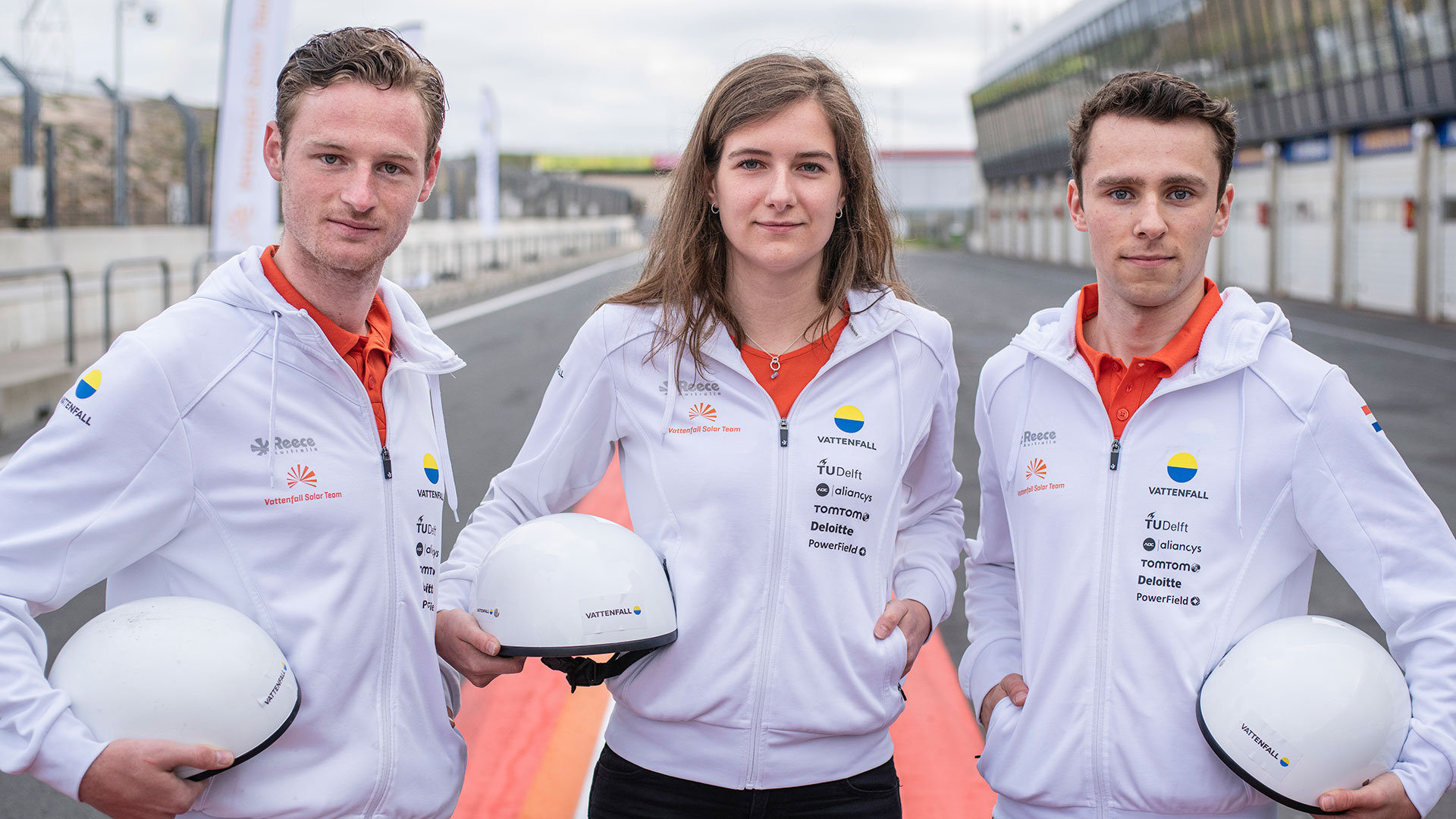 De tre kørere: Tom Salden, Maxime Croft og Max van der Waals.
På racerbanen Zandvoort i Holland kørte de tre helt nye førere i dag mod hinanden i deres første træningssession. Vinderen skal køre solcellebilen NunaX i kvalifikationsløbet om at få pole position i Australien.
Teamet består af 16 studerende, og der er tre førere. Disse tre studerende vil få mulighed for at køre Vattenfall Solar Teams skræddersyede solcellebil gennem det 3.000 kilometer lange løb gennem den australske ødemark. De kommer til at konkurrere mod omkring 52 andre teams fra hele verden, herunder fire teams fra Sverige, to teams fra Tyskland og tre teams fra Storbritannien. Det er et prestigefyldt, men vanskeligt, job. Førerne skal leve op til teamets historik med syv tidligere verdensmesterskaber, så der er pres på for at vinde igen i år.

Teamets seneste solcellebil, NunaX, er stadig ved at blive bygget færdig, så Nuna9 blev hentet frem specifikt til træningsracerløbet. De tre førere kørte hver én runde på banen i den solcellebil, det tidligere team vandt mesterskabet med, for at få den bedst mulige simulering af forholdene under kvalifikationsløbet.
Teamwork
Teamånd er en afgørende faktor under racerløbet for solcellebiler. Teammedlemmerne skal kunne stole på hinanden. Den lille, meget lette solcellebil skal køre ad offentlige veje, beskyttet af almindelige biler både foran og bagved. Bilen bag solcellebilen kaldes "Mission Control", og den vil være bemandet af studerende, som ved præcis, hvordan vejrforholdene er, og om trafiksituationen er sikker. Nuna-føreren er afhængig af instruktionerne fra kammeraterne i den bagvedkørende bil. "Racerløbet i Australien handler om teamwork", forklarer teamlederen Maud Diepeveen. "Føreren sidder bag rattet, men vedkommende udfører kun en del af alt arbejdet. De andre teammedlemmer, der sidder i konvojen af andre køretøjer, udarbejder strategien, holder øje med vejret og fjerner alle forhindringer samt tager sig af mange andre ting."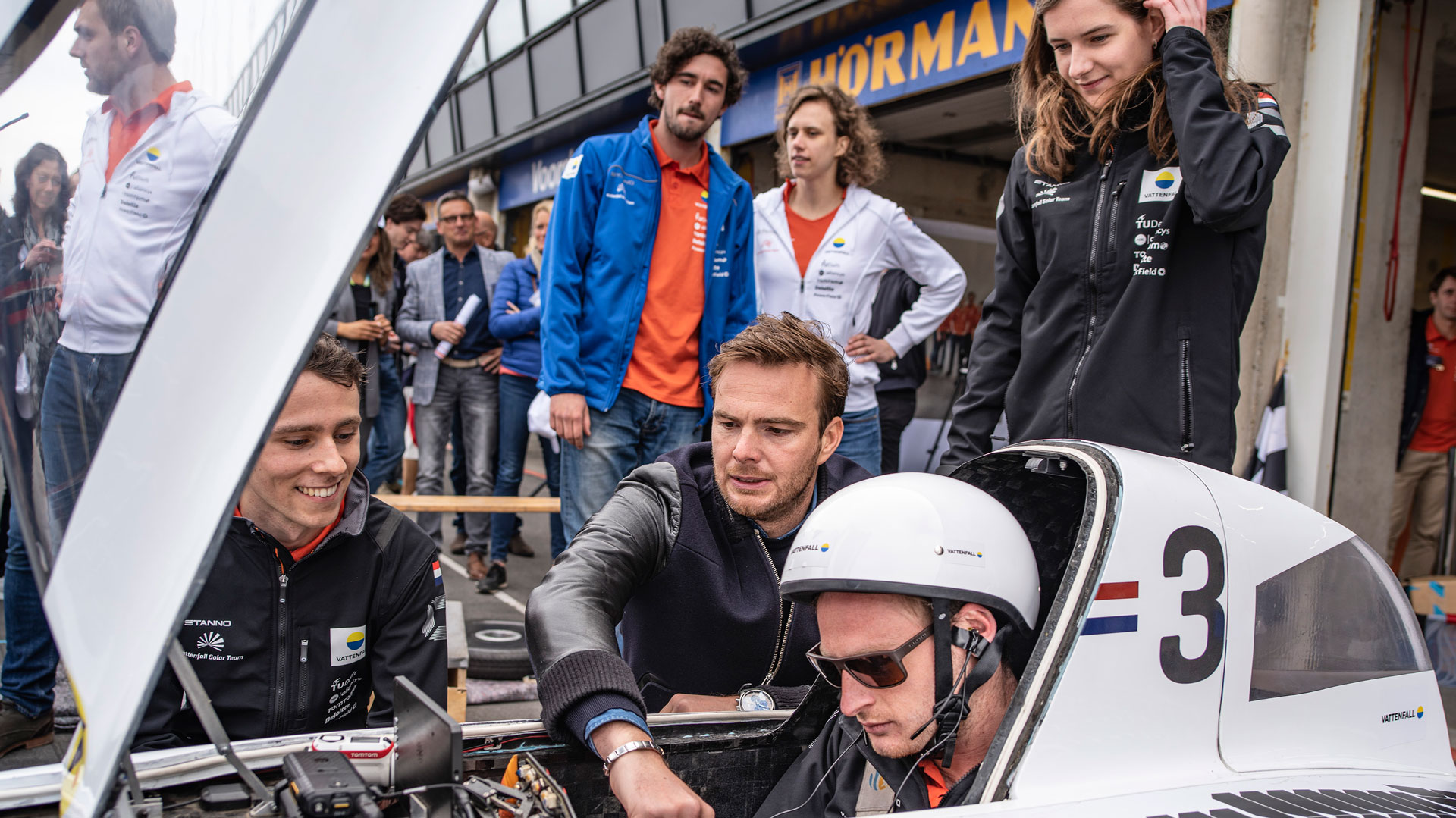 Giedo van der Garde giver nogle sidste instrukser.
Køreskole
Selvom de nye førere ikke har tidligere erfaring som racerkørere, behøver de ikke starte helt fra bunden. Som traditionen foreskriver, giver tidligere Nuna-førere de nye tips og gode råd. Der er endda en rigtig køreskole for teamet. Viden og erfaring bliver givet videre fra et team til det næste, der nu nærmer sig en hel generation, for Vattenfall Solar Teams allerførste solcellebil blev bygget og kørte racerløb i 2001.
Forudsætninger for førerne
Potentielle førere i Vattenfall Solar Team skal opfylde en række forudsætninger. "For det første skal man virkelig kunne lide det", forklarer Max van der Waals, en af førerne og teamets ekspert i aerodynamik. "Vi ser selvfølgelig også på førernes størrelse. Jo mindre, føreren er, jo mindre kan vi lave afskærmningen over bilens cockpit, og jo bedre bliver aerodynamikken." Vægten er også en vigtig faktor. Ifølge konkurrencereglerne skal førerne veje mindst 80 kg. De skal naturligvis helst ikke veje så meget som et gram mere. Max van der Waals siger: "Den eneste forudsætning er derfor, at man ikke vejer over 80 kg." Hvis en fører vejer under 80 kg, udlignes forskellen ved hjælp af sandsække.
Ny rekord
Det var første gang, en solcellebil fik registreret en officiel tid for en runde på banen, så den tid bliver optaget i bøgerne som en rekord.
Fakta og nøgletal
Vattenfall Solar Team består af 16 studerende fra det tekniske universitet i Delft.
I oktober i år skal Vattenfall Solar Team gennemføre Bridgestone World Solar Challenge i Australien for tiende gang. Første gang, teamet deltog, var i 2001.
Bridgestone World Solar Challenge er et racerløb over flere dage på over 3.000 kilometer, og ruten går gennem den australske ødemark. Solcelleracerteams fra hele verden deltager og forsøger at nå frem til mållinjen så hurtigt som muligt.
Teamet har allerede vundet racerløbet i Australien syv gange. To gange er teamet kommet ind på andenpladsen. Teamet har også vundet Sasol Solar Challenge i Sydafrika tre gange.
Teamet designer og bygger en helt ny solcellebil hvert andet år. I år har bilen fået navnet NunaX, og den vil blive præsenteret til sommer.
Der samles et nyt team, bestående af studerende fra det tekniske universitet i Delft, hvert år, og de bygger bilen og kører racerløb i den.
Teamet har været sponsoreret af Vattenfall helt fra begyndelsen. Vattenfall har som formål at gøre det muligt at leve fossilfrit inden for én generation, og Vattenfall Solar Team viser, at det er muligt.