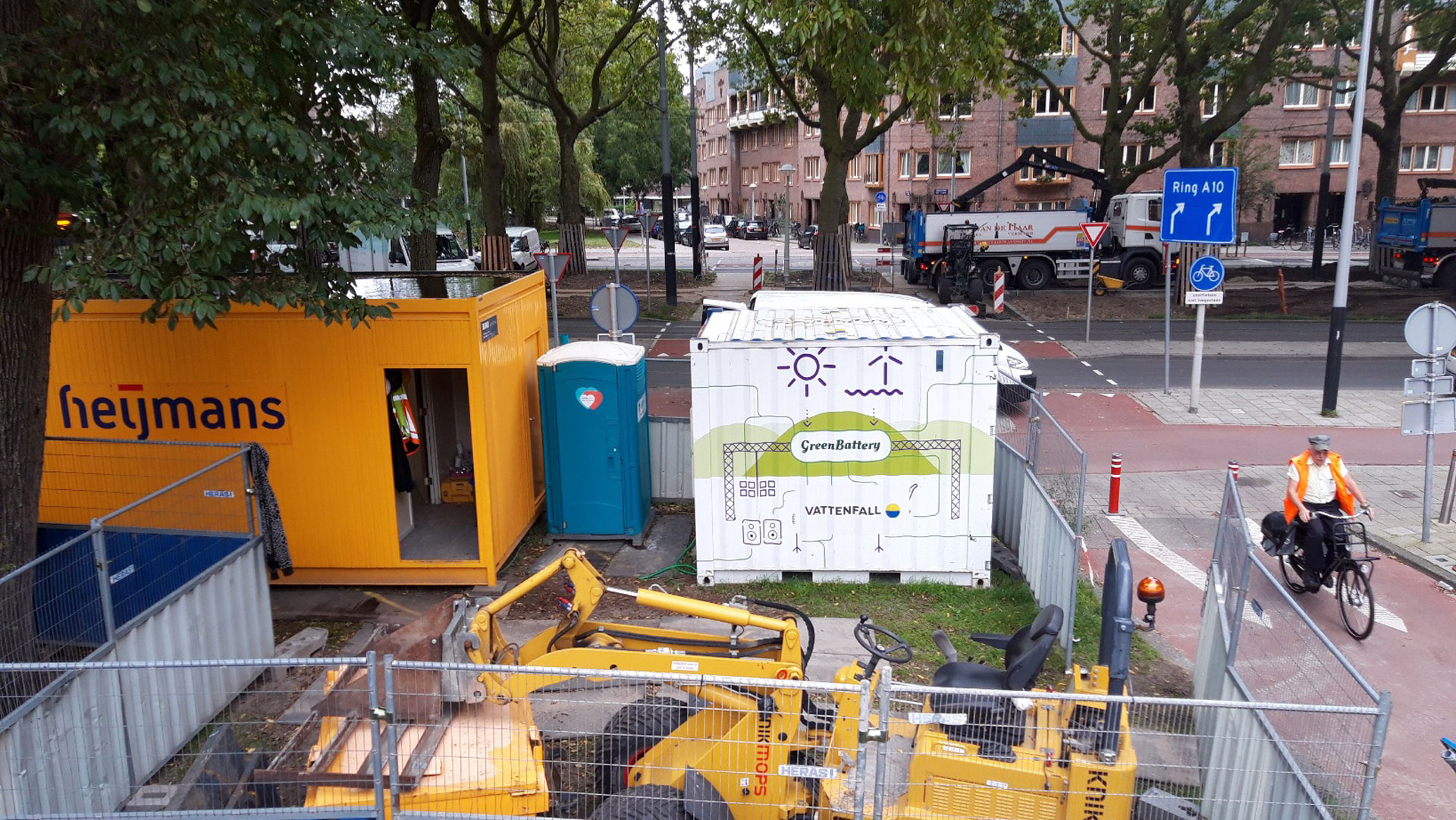 Batterier gør arbejdet nemmere og mere bæredygtigt hos hollandske Heijmans
I Holland bruger bygge- og anlægsselskabet Heijmans GreenBattery i stedet for dieselgeneratorer på vejen frem mod et CO2-frit byggemiljø.
Indtil i år var musikfestivaler det primære forretningsområde for det hollandske firma GreenBattery. Det satte corona på effektiv vis en stopper for, så virksomheden har fundet nye kunder i byggebranchen. Heijmans, der er en hollandsk virksomhed med aktiviteter inden for fast ejendom, bygge- og anlægsarbejde samt infrastruktur, bruger nu batterier, der er opladet med el fra vedvarende kilder, i stedet for dieselgeneratorer.
"Vi vil gerne arbejde bæredygtigt, og vi inkluderer altid potentielle besparelser på CO2-udledningerne i vores planer. Derfor er det et logisk valg for os at anvende GreenBattery på byggepladserne," forklarer Lars Sies, som står i spidsen for region Noordwest hos Heijmans.
For Han Huiskamp fra GreenBattery er samarbejdet med Heijmans også en del af en udvikling, der bliver stadigt mere tydelig.
"Vi begyndte i festivalbranchen, men vi lagde mærke til, at det bliver mere og mere almindeligt, at der også bliver brugt batterier andre steder, eksempelvis på byggepladser og ved anlæggelse af veje. Vi leverer bæredygtig energi på steder, hvor der ikke er noget elnet. Normalt bliver den nødvendige el leveret af støjende dieselgeneratorer, hvorimod GreenBattery-løsningen er ren og lydsvag. Det har både medarbejderne og de lokale beboere glæde af. Og vi oplader batterierne på forhånd med hollandsk produceret grøn el fra sol- og vindenergi."
Løsninger med lav udledning
Heijmans fik idéen til at samarbejde med GreenBattery i forbindelse med udarbejdelsen af et projekttilbud. Projektet handler om vedligeholdelse af asfaltbelægning i lille skala.
"Batterierne var perfekte til behovet for el til håndværktøj og mekaniske skovle på byggepladsen. Vi var på udkig efter en løsning med lav CO2-udledning, der også var velafprøvet og pålidelig, og efter samarbejdspartnere, og vi fandt frem til GreenBattery og Vattenfall. Vi kan godt lide at samarbejde med aktører, der hele tiden nyudvikler, præcis ligesom vi gør, og som også giver os sikkerhed for, at vi kan få arbejdet gjort i samarbejde," fortæller Lars Sies.
Hurtigt skift
Til et asfaltprojekt i Amsterdam bruger Heijmans også en mindre batteritrailer to steder. Medarbejderen Martijn Schoorl er mere end tilfreds med energikilderne:
"Strømmen til lys, kaffemaskine og printer på byggepladsen kommer nu fra GreenBattery-traileren, og det fungerer rigtigt godt. Vi behøver ikke tænke over det, vi står ikke i lugten af diesel hele tiden længere og vi kan knap nok høre batteriet. Det er også virkelig godt, at vi hurtigt kan sørge for de rigtige tilslutninger. Tidligere kunne vi bruge helt op til et halvt år på at få tilladelser til elforsyning, men nu kan vi skifte meget hurtigt, hvis det er nødvendigt".
Gør en forskel
Når et GreenBattery er fuldt opladet med grøn el fra sol- og vindenergi, kan det forsyne byggepladsen med el i omkring to måneder. Det er en CO2-reduktion på over 80 % sammenlignet med eksempelvis en dieselgenerator. Hvis man dertil lægger de elektriske transportmidler, Heijmans' medarbejdere også bruger, er det et godt skridt frem mod at arbejde fossilfrit. "I Amsterdam tager det tid at finde en parkeringsplads, og det er også meget dyrt, så vi bruger vores elcykler eller vores elscooter så meget som muligt, når vi skal fra A til B," fortæller Martijn Schoorl. "På den måde kan vi i fællesskab gøre en forskel."