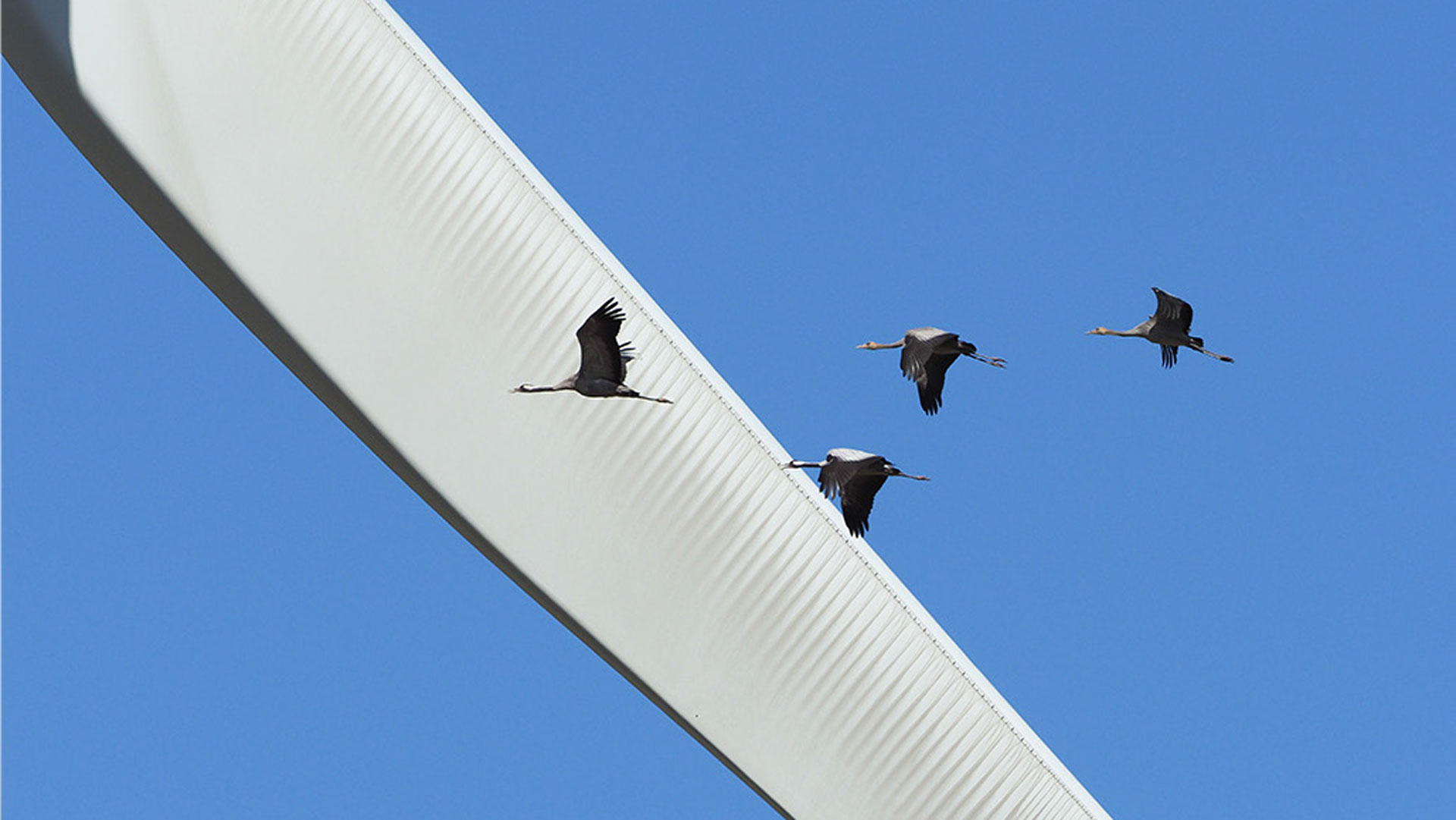 Ny undersøgelse af fugle ved Klim Vindmøllepark i Nordjylland viser, at fugle er langt bedre til at undgå møllevinger end hidtil antaget. Det positive resultat bekræfter større mulighed for sameksistensen mellem natur og vindmølleparker.
Om studiet:
Studiet i Klima Vindmøllepark og Natura 2000 naturområdet Vejlerne har dokumenteret antallet potentielt kolliderede fugle ved eftersøgning omkring møller, korrigeret for hvad ræve og lignende kan have fjernet
For både kortnæbbet gås og trane lå den beregnede undvigerespons over de to studieår på 99,9 procent ud af en bestand på henholdsvis 20-30.000 gæs og flere hundrede traner
Der blev ikke fundet hverken kortnæbbede gæs eller traner, hvor det med sikkerhed kunne konstateres, at de var døde som følge af kollision med vindmøllerne
Ud fra et forsigtighedshensyn er det i opgørelsen antaget at alle fugle eller rester af fugle fundet under møllerne kunne være kolliderede.
Ved at sammenholde det mulige antal kolliderede fugle med de registrerede i området, er den såkaldte undvigerespons beregnet ved hjælp af den internationalt anerkendte Band-model
Studiet er udført for Vattenfall af tre anerkendte konsulentvirksomheder, herunder lokale professionelle ornitologer
Den nye undersøgelse, som er fortaget for Vattenfall af tre erfarne konsulentvirksomheder i samarbejde med lokale ornitologer, viser, at over 99 procent af de kortnæbbede gæs og traner, som flyver i området, undgår vindmøllers vinger.
Klim Vindmøllepark ligger i umiddelbar nærhed af det internationale Natura 2000 fuglebeskyttelsesområde Vejlerne. Hver dag flyver tusindvis af fugle fra overnatningssteder i Vejlerne ud til de omkringliggende marker for at finde føde, og mange passerer dermed vindmølleparken.
"Området er et vigtigt naturområde og helt ekstraordinært, fordi 20-30.000 kortnæbbede gæs og flere hundrede traner, opholder sig der. Tusindvis af fugle passerer vindmølleparken både morgen og aften i vinterhalvåret, og det er derfor et meget positivt resultat, at fuglene i så stort omfang flyver uden om eller over møllerne. Stort set ingen rammer møllerne, og antallet er væsentligt lavere end hidtil antaget," forklarer Jesper Kyed Larsen, Bioscience Lead i Vattenfall Environment & Sustainability.
Undersøgelsen er bl.a. udført for at påvise, at Klim Vindmøllepark overholder miljøtilladelsens bestemmelser om, at kollisioner ikke må overstige 75 procent af den aktuelle bæredygtige dødelighed for bestandene af kortnæbbede gæs og traner.
Den er udført i to perioder, henholdsvis et og tre år efter opførelsen af vindmølleparken i 2015, og er Danmarks hidtil mest grundige undersøgelse af, hvordan gæs og traner håndterer de snurrende vinger i en vindmøllepark. Fokus har været på både at opgøre, hvor mange fugle, der kolliderer med vingerne, samt hvor mange fugle der flyver i området.
I såvel første som tredje år er der i tre perioder på godt og vel en måned hver tredje dag tjekket rundt om 11 møller for at se, om der var døde fugle, fjer eller andre rester af fugle. Antallet af fugle i undersøgelsesområdet er også kortlagt ved hjælp af laserkikkerter, teleskoper og radar, så man systematisk har kunne måle afstand, flyvehøjder og efterfølgende skabe et 3D spor på hver fugl.
Med et stigende behov for at opsætte vindmøller som en del af kampen mod klimaforandringer er forskningsresultatet positivt, fordi det giver mulighed for at natur og vindmøller kan sameksistere.
"Resultatet bekræfter, at fuglene har en forbavsende god evne til at flyve uden om eller over møllerne. Det er ikke kun positivt, fordi næsten ingen fugle omkommer ved kollisioner, men også fordi det betyder, at opstilling af vindmøller ikke behøver at være i konflikt med naturområder . Denne nye viden bør tages i betragtning i forbindelse med planlægning for nye vindmølleparker", siger Jesper Kyed Larsen.
Resultatet af studiet vil blive publiceret i Dansk Ornitologisk Forenings videnskabelige tidsskrift med et såkaldt "peer review", så det er fagligt konsolideret.