Vattenfall, IKEA ja kahdeksan muuta suurta kansainvälistä yritystä yhdistävät voimansa aloitteessa, jolla pyritään edistämään sähköautoihin siirtymistä.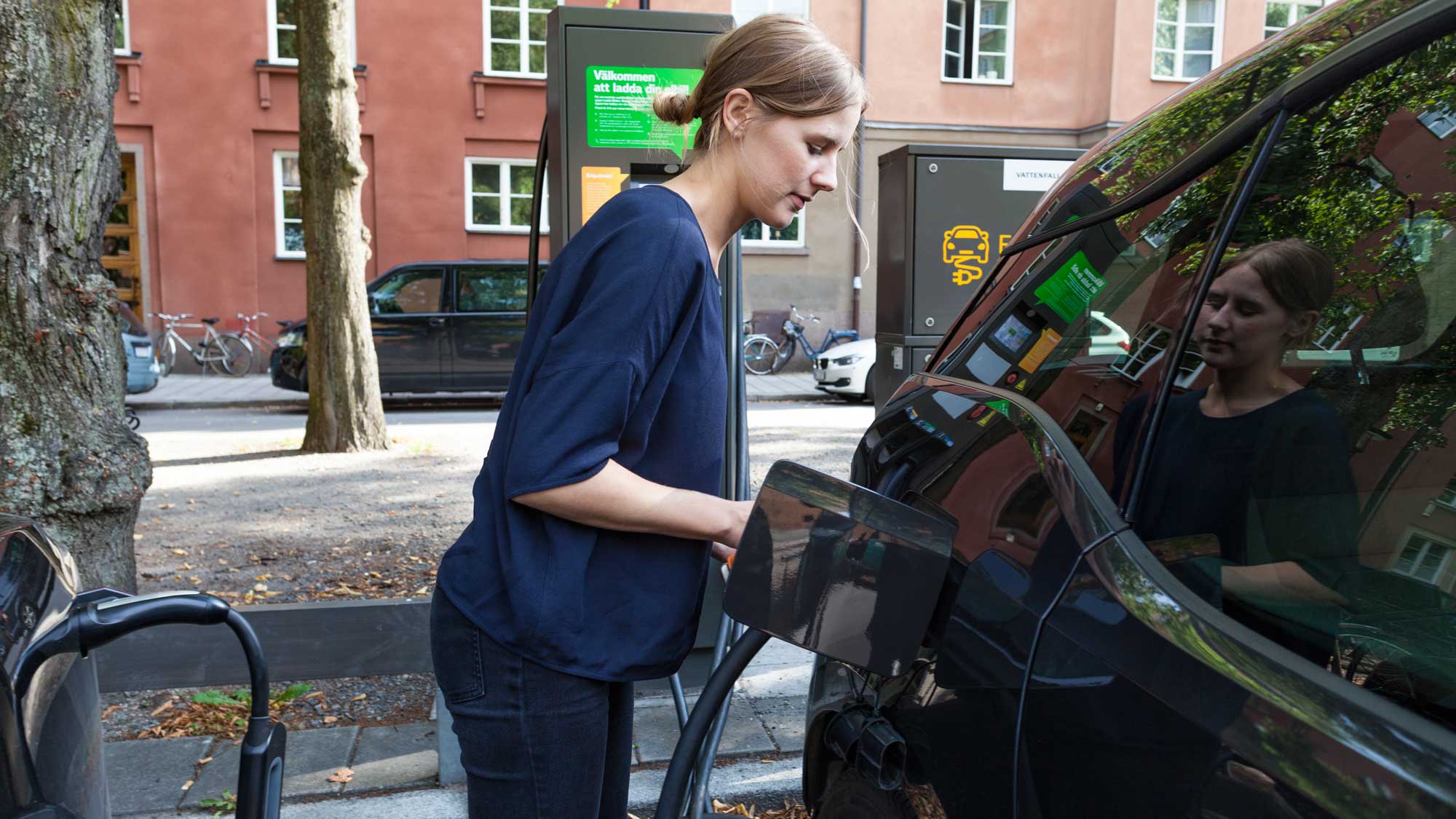 Valokuvaaja: Maria Cruseman
EV100-aloitteella pyritään tekemään sähköautoista "uusi normaali" maailmanlaajuisen, voittoa tavoittelemattoman The Climate Group -organisaation tuella. Aloite käynnistettiin tiistaina, 19. syyskuuta, kansainvälisen ilmastoviikon aikana New Yorkissa.
"Ilmastonmuutos on yksi suurimmista haasteistamme, ja liitymme mielellämme EV100-hankkeeseen, koska sähköautoilla voi olla merkittävä rooli hiilipäästöjen vähentämisessä. Koko 3 500 auton autokantamme vaihtaminen sähköautoihin tulevien viiden vuoden aikana, yhteistyö asiakkaidemme kanssa latausinfrastruktuurin rakentamisessa ja Pohjois-Euroopan suurimman latausverkon rakentaminen ovat kolme esimerkkiä toimista, joihin olemme ryhtyneet edistääksemme asiakkaidemme ja kansalaisten kestävää ja ilmaston kannalta parempaa elämää", sanoo Vattenfallin toimitus- ja konsernijohtaja Magnus Hall.
Luonnollinen askel kohti fossiilisista polttoaineista luopumista
EV100-aloitteeseen liittyvät yritykset vaihtavat fossiilisilla polttoaineilla toimivat ajoneuvokantansa sähköllä toimiviin, asentavat latausinfrastruktuurin ja käyttävät yhteistä ääntään vaikuttaakseen työntekijöihin, asiakkaisiin ja palveluntuottajiin.
Katso video, jossa Vattenfallin E-mobility-toiminnoista vastaava johtaja kommentoi EV100-aloitetta
"Vattenfallille EV100 on luonnollinen askel pyrkimyksessämme luopua fossiilisista polttoaineista yhden sukupolven kuluessa. Haluamme toimia esimerkkinä muille ja tehdä sähköautoista "uuden normaalin". Jo helmikuussa ilmoitimme oman ajoneuvokantamme uusimisesta viiden vuoden kuluessa. EV 100 -aloitteen myötä laajennamme sitoumustamme entisestään", kertoo Vattenfallin E-mobility-toiminnoista vastaava johtaja Tomas Björnsson.
Neljä painopistealuetta
EV100-hankkeeseen liittyvät yhtiöt pyrkivät edistämään sähköautojen kehittämistä neljällä alueella kohti vuotta 2030; ensinnäkin omien ajoneuvokantojen osalta; toiseksi huoltosopimuksille asetettavien vaatimusten osalta; kolmanneksi kannustamalla työntekijöitä sähköautoilla ajamiseen tarjoamalla latauspaikkoja jne. ja neljänneksi kannustamalla asiakkaita sähköautoilla ajamiseen samalla tavalla.
Vattenfall työskentelee määrätietoisesti kaikilla näillä alueilla. Yrityksen henkilöautot ovat hyvää vauhtia vaihtumassa täysin sähköllä toimiviin tai hybridimalleihin nykyisten leasingsopimusten päättyessä. Kartoitamme myös toimistojemme ja tilojemme latausinfrastruktuurin tarvetta. Lisäksi meillä on latausverkkomme, jota rakennamme yhdessä asiakkaidemme ja kumppaneidemme kanssa.
Vahva viesti
Kymmenen ensimmäistä yhtiötä, jotka liittyvät nyt The Climate Groupin EV100-aloitteeseen ovat, Vattenfallin ja IKEAn lisäksi, elintarvikekonserni Unilever, tietokonevalmistaja HP, kalifornialainen energiayhtiö PG & E, saksalainen Deutsche Post DHL, autovuokraamoyhtiö LeasePlan, saksalainen vähittäis- ja tukkukaupparyhmä Metro AG ja Heathrown lentokenttä.
"Onnittelemme Vattenfallia siitä, että se on yksi ensimmäisistä EV100-aloitteeseen liittyneistä yhtiöistä. Kuljetustoiminta on edelleen alue, jolla hiilipäästöt kasvavat nopeimmin, sillä siirtymä sähköautojen käyttöön ei tapahdu tarpeeksi nopeasti, ja massajärjestelmämuutos vaatii hallituksen tukemanakin enemmän asiakaskysyntää", sanoi The Climate Groupin toimitusjohtaja Helen Clarkson.
"Yhdistämällä voimamme muiden monikansallisten yhtiöiden kanssa voimme edistää sähköisen liikkuvuuden kehitystä ja sähköautojen myyntiä ja lähettää erittäin vahvan viestin markkinoille", Tomas Björnsson sanoo.
Lue lisää
Vattenfallin sähköautoista (englanniksi)