Investment plan
Vattenfall's investment strategy reflects our goal to enable fossil-free living within one generation.
We continue to make substantial growth investments with a clear focus on increasing our renewable production, reducing CO2 emissions in district heating and strengthening our electricity networks.
Total investments
Total planned net investments for 2021 and 2022 amount to SEK 57 billion. Gross investments amount to SEK 78 billion, where the difference is mainly attributable to partnering assumptions for Hollandse Kust Zuid 1–4 and the Norfolk projects as well as develop-to-sell assumptions for certain wind and solar projects. The figures that follow are all presented net.
Growth investments
Growth investments account for nearly 60% (SEK 32 billion) of the total capex budget. Approximately SEK 21 billion of investments are planned for the development and construction of new wind farms, most of which are offshore. Sizeable development projects included in the plan are the Norfolk projects (up to 3,600 MW), the Vesterhav projects in Denmark (350 MW) and Windplan Blauw (58 MW). Development costs for potential wind power projects further ahead in the future are also included. Partnering or divestment of projects post-construction are evaluated on a case-by-case basis.
Other major growth areas include the development of electricity grids and district heating networks, with investments of approximately SEK 7 billion. This mainly entails connecting new customers and areas to our networks. In the heat business this includes projects such as a new heat storage facility at the Reuter site in Berlin and measures related to the targeted coal exit in the city. It also includes projects in the Netherlands such as Amsterdam South Connection, which will enable considerable growth in district heating in the region, and the planned Green Heat Diemen project southeast of Amsterdam, where we are studying the opportunities for a biomass-fired heat-only boiler (100 MW heat). Major investments are being made in the distribution operations in response to increased capacity requirements, a high number of new connection requests and new renewable production. Further growth activities amount to nearly SEK 2 billion and include investments in e-vehicle charging stations, solar and battery projects, heat and energy solutions, the Dutch service company Feenstra and HYBRIT.
Maintenance and replacement investments
Vattenfall is also investing heavily in maintenance, modernisation and replacement of facilities. Planned maintenance and replacement investments amount to approximately SEK 24 billion during the coming two years. These consist largely of replacements of heat assets, for example a new biofuel-fired combined heat and power (CHP) plant in Uppsala (112 MW heat) and development costs for new gas turbines with heat recovery boilers in Berlin Charlottenburg (160 MW heat).
We plan to invest SEK 10 billion in the electricity grids in Sweden and Berlin to secure the quality of supply and reinforce the grids. Planned investments in the Berlin grid, which has been offered for sale, amount to SEK 4 billion. Further, we are investing approximately SEK 2 billion to safeguard the safe operation of our Swedish nuclear plants by completing safety measures at Ringhals and Forsmark.
Investments in dam safety as well as in maintenance and refurbishment of the Nordic hydro power fleet will amount to approximately SEK 2 billion.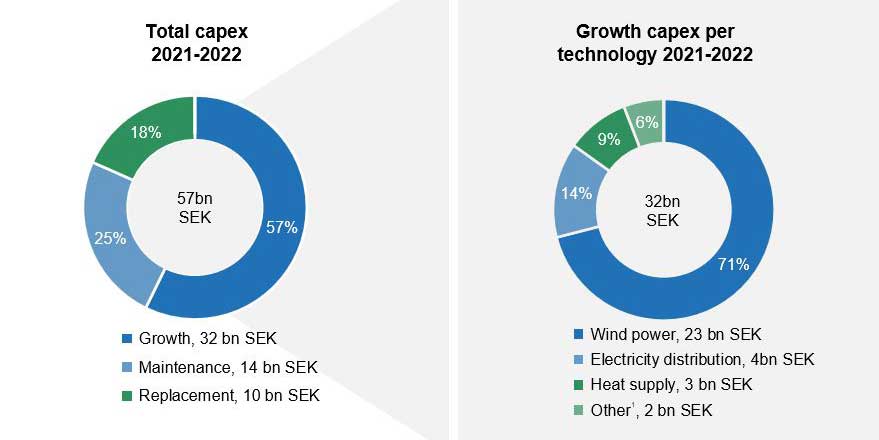 Mainly charging solutions, solar and battery projects, decentralised solutions and the Hybrit project
Major investment projects – decided on and in progress1
| | | | | | |
| --- | --- | --- | --- | --- | --- |
| Project | Country | Type | Capacity | Completion | Total investment |
| Kriegers Flak | Denmark | Wind offshore | 605 MW | 2021/2022 | 7,600 MDKK |
| Hollandse Kust Zuid 1–4 | Netherlands | Wind offshore | 1,500 MW | 2023/2024 | 2,600 MEUR |
| South Kyle | United Kingdom | Wind onshore | 240 MW | 2023 | 250 MGBP |
| Jaap Rodenburg | Netherlands | Wind onshore | 38 MW | 2021 | 48 MEUR |
| A16 Klaverspoor | Netherlands | Wind onshore | 34 MW | 2022 | 46 MEUR |
| Moerdijk | Netherlands | Wind onshore | 27 MW | 2021 | 38 MEUR |
| Haringvliet Renewable Park | Netherlands | Wind onshore, solar, battery | 72 MW | 2021 | 58 MEUR |
| Heat storage Reuter | Germany | Heat storage | 2,750 MWh | 2023 | 50 MEUR |
| Uppsala Carpe Futurum | Sweden | Biofuel | 112 MWth | 2022 | 1,843 MSEK |
| Amsterdam South Connection | Netherlands | Heat grid | n.a. | 2021 | 91 MEUR |
All numbers in the table reflect the status as per 31 December 2020.
See also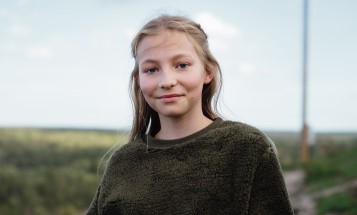 We have decided to make the biggest leap yet to reduce the impact of climate change.