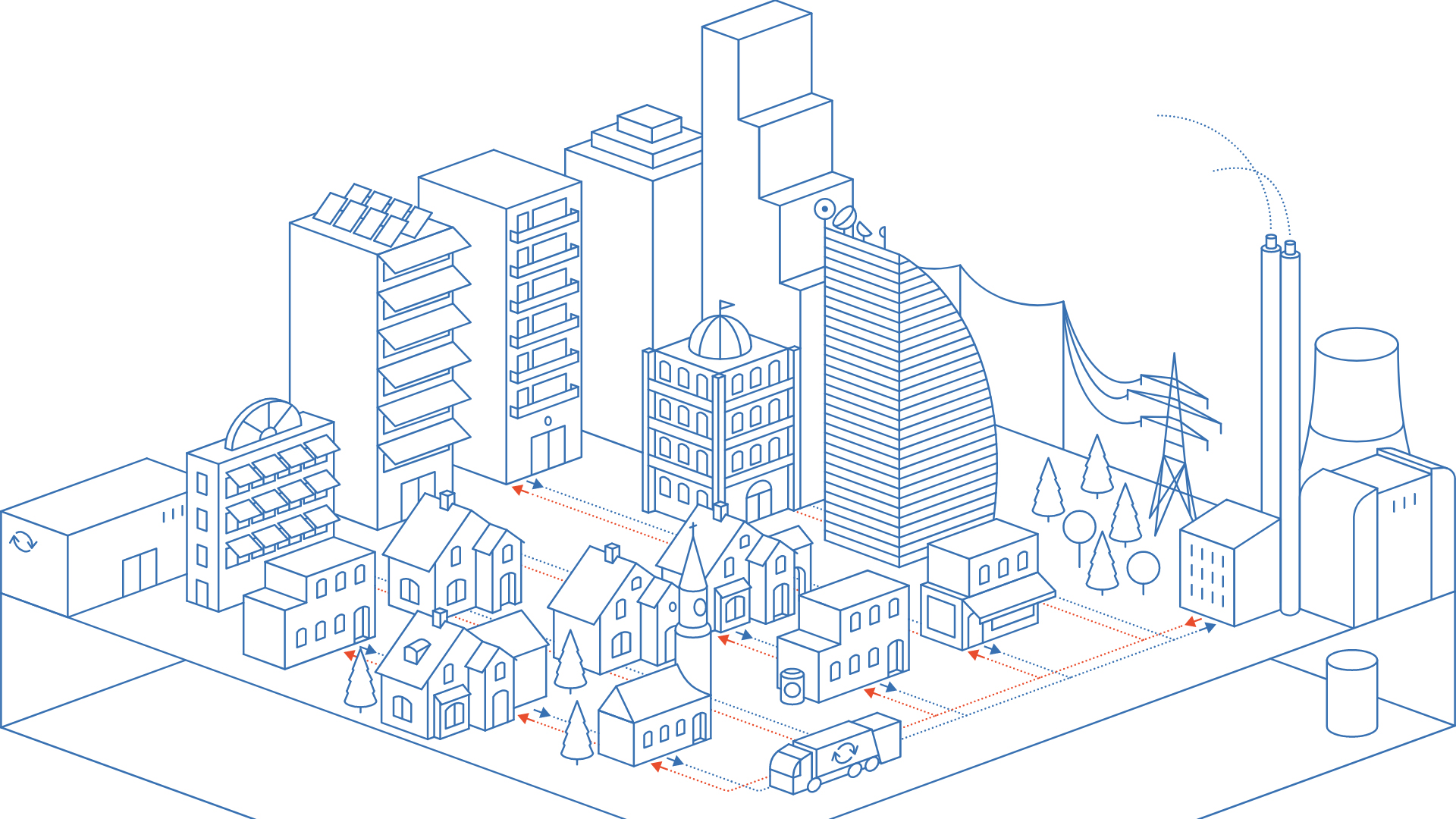 Warmtenet in en rond Amsterdam: 'Je hebt alle bronnen nodig'
In Amsterdam, Diemen en Almere ligt Vattenfalls grootste warmtenet van Nederland. Waar nu nog een gascentrale de hoofdleverancier van die warmte is, wordt gekeken of E-boilers, biomassa, geothermie, aquathermie en restwarmte uit datacenters die plek in de toekomst kunnen overnemen. Bart Dehue, programmamanager duurzame warmte, en Michelle Poorte, projectmanager Heat Projects, van Heat Nederland vertellen wat de stand van zaken is en waarom deze nieuwe warmtebronnen noodzakelijk zijn.
In Amsterdam en omgeving heeft Vattenfall op dit moment twee warmtenetten: een in het noordwesten en een in het zuidoosten. De Amsterdam South Connection – waar op dit moment aan gewerkt wordt – gaat die twee netten verbinden. Dat warmtenet verduurzamen, is een behoorlijke uitdaging, vertelt Bart Dehue. "De laatste tijd gaat veel aandacht uit naar de ontwikkeling van een mogelijke biomassacentrale voor dit warmtenet, maar naast de biomassacentrale zijn we hard bezig met de ontwikkeling van andere duurzame bronnen waar we graag meer over vertellen."
Diemen ideale plek voor E-boiler
Er staat al een E-boiler van Vattenfall in Duitsland bij Berlijn van 120 MW, maar nog geen in Nederland. De E-boiler zet stroom om in warmte die we kunnen leveren aan huishoudens en bedrijven of die we kunnen opslaan in de al in Diemen aanwezige warmtebuffer. "Begin oktober is de vergunning verleend voor een boiler met een vermogen van maximaal 200 megawatt", vertelt Michelle Poorte. "Wat het vermogen exact wordt, bepalen we voor het eind van het jaar. Dat is namelijk afhankelijk van de technische haalbaarheid en de duurzaamheidsimpact die de boiler op het stadswarmtenet heeft." Met die impact bedoelt ze hoe groter de E-boiler, des te meer duurzame warmte kan worden geproduceerd. De E-boiler gaat alleen aan als de elektriciteitsmix duurzaam is (energie uit zon en wind) en een lage prijs heeft. Als je hem op andere momenten zou inzetten, is dat slecht voor de duurzaamheid van het warmtenet, want dan moet er bijvoorbeeld een gascentrale harder draaien om de extra elektriciteit voor de E-boiler op te wekken.
"De plek in Diemen is ideaal om de E-boiler neer te zetten, omdat deze dicht bij de aansluiting op het elektriciteits- en warmtenet zit. En de warmteoverschotten kunnen we opslaan in de warmtebuffer", aldus Michelle Poorte.
Resultaten onderzoek geothermie verwacht in 2021
Waar de vergunning voor de E-boiler intussen is verleend, is het nog wachten op een vergunning om bij Diemen en/of Almere warmte uit die diepe bodem te halen, zogenaamde geothermie. De gemeente Almere heeft hierbij een belangrijke regiefunctie, ook in de communicatie en afstemming met haar bewoners, en is daarom mede vergunningsaanvrager. "We gaan samen met de gemeente en energiebedrijf HVC de mogelijkheden onderzoeken. HVC heeft veel ervaring met het boren van putten voor geothermie, dus we zijn blij dat zij ook deelnemen aan het consortium", licht Bart Dehue de huidige stand van zaken toe. "De eerste stap is nu het verkrijgen van de opsporingsvergunning. Die geeft het exclusieve recht om in deze omgeving de mogelijkheden voor aardwarmte nader te onderzoeken. Belangrijke input hiervoor is het seismisch onderzoeksprogramma SCAN van de Rijksoverheid waarin de eigenschappen van de diepe ondergrond – tot wel 6 kilometer – in kaart worden gebracht om te bekijken of er een geschikte laag zit om aardwarmte te winnen." De resultaten van het onderzoek worden in de loop van volgend jaar verwacht.
Restwarmte datacenters gebruiken in het warmtenet
In Diemen zijn intussen ook de eerste onderzoeken gestart naar het gebruik van restwarmte uit koelwater van bestaande en nog te bouwen datacenters voor het warmtenet. Amsterdam is een van de grootste datacenterhubs ter wereld, dus er is heel wat restwarmte beschikbaar. "De uitdaging is dat – tot nu toe – de temperatuur van de restwarmte van datacenters rond de 30 graden Celsius ligt. Voor grootschalige toepassing in het warmtenet moet die temperatuur vaak 90 graden Celsius of meer zijn. Dat betekent dus dat daar nog warmtepompen nodig zijn om de temperatuur van het water te verhogen", aldus Bart Dehue.
Michelle Poorte vult aan: "We zijn nu in gesprek met een datacenterontwikkelaar om te bekijken hoe we de systemen passend kunnen maken. Nieuwe koelsystemen zouden toegepast kunnen worden om een hogere restwarmtetemperatuur te bewerkstelligen. Daardoor is er minder elektriciteit nodig om de warmte naar de juiste temperatuur op te krikken en wordt de warmte dus duurzamer."
Aquathermie
Net als voor de restwarmte van koelwater in de datacenters zijn voor het water uit oppervlaktewater warmtepompen nodig om het op te warmen naar voor woningen en bedrijven geschikte temperaturen. Het potentieel van aquathermie is in principe erg groot omdat er in Amsterdam en omgeving enorm veel water beschikbaar is. "Het nadeel is echter dat oppervlaktewater ook relatief koud is en er dus nog relatief veel elektriciteit nodig is om de temperatuur naar een bruikbaar niveau te verhogen. Maar het kan zeker een rol spelen in de energiemix voor het warmtenet", vertelt Bart Dehue.
Michelle Poorte besluit: 'Het zou fantastisch zijn als al deze verschillende soorten van energieopwekking straks samenkomen in één warmtenet; ze zijn namelijk allemaal nodig om het hele warmtesysteem te verduurzamen. Wel moeten we natuurlijk kritisch blijven kijken naar hoe we de verschillende bronnen inzetten om fossielvrij leven binnen één generatie mogelijk te maken."
En biomassa dan?
De laatste tijd is er veel aandacht voor de geplande biomassacentrale in Diemen. Er zijn veel vragen geweest over de inzet van biomassa. Vattenfall is ervan overtuigd dat duurzame biomassa onder strenge voorwaarden een verantwoorde bijdrage kan leveren aan de energietransitie. In Zweden heeft Vattenfall ook al veel ervaring met warmte uit duurzame biomassa. In reactie op alle vragen heeft de Nederlandse overheid aangegeven met een duurzaamheidskader te komen voor biomassa, dat beschrijft onder welke voorwaarden biomassa een breed gedragen bijdrage aan onze klimaatdoelen kan leveren. In oktober heeft de regering hier een brief over geschreven aan de Tweede Kamer en in december volgt nog aanvullende informatie. Op basis hiervan gaat Vattenfall opnieuw in gesprek met betrokkenen voordat we een definitief besluit nemen over de realisatie van een biomassacentrale in Diemen.