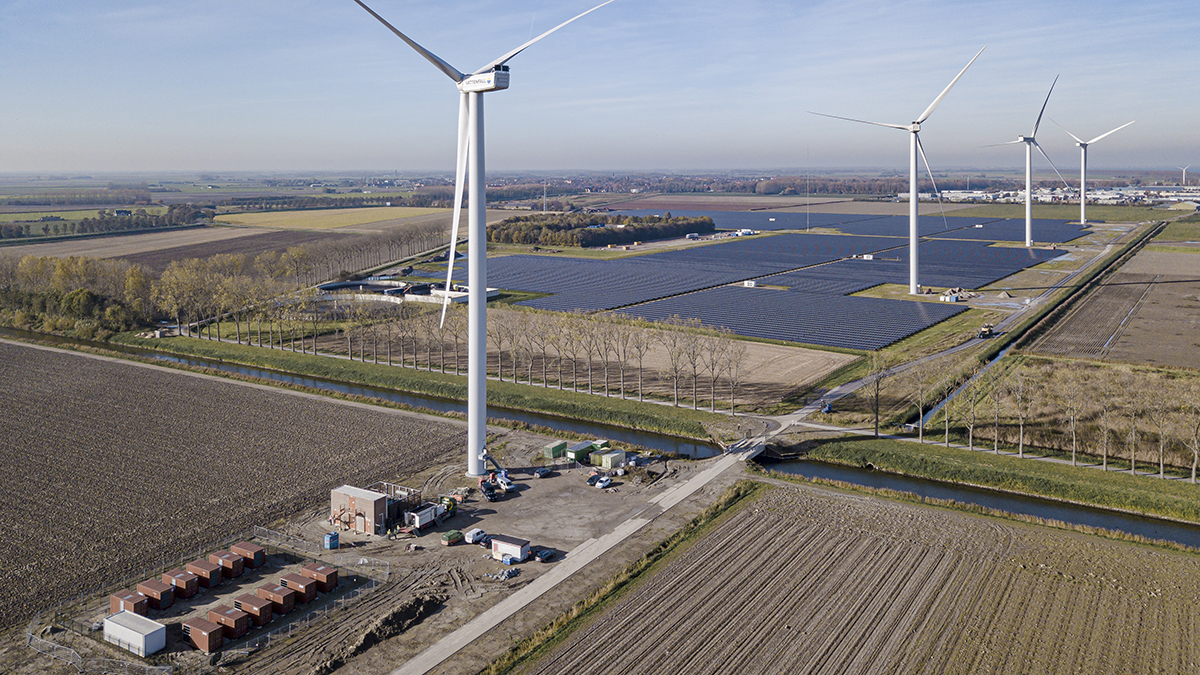 Efficiënt netgebruik met combinatie zon en wind
Hoe kunnen we het bestaande en toekomstige net efficiënter inzetten? Het eerste artikel van een blogserie van Enexis Groep gaat over de combinatie van zon en wind in één park. Lara Depla van Vattenfall vertelt in dit artikel over de combinatie van zon, wind en batterijen bij Vattenfalls hybride energiepark Haringvliet Zuid.
Energie opwekken en verbruiken gaat anno 2021 een stuk duurzamer dan voorheen. Zo wordt bijvoorbeeld op veel plekken aardgas door elektriciteit vervangen en wekken we meer duurzame energie op. Deze veranderingen vragen echter om een flinke aanpassing binnen de benodigde infrastructuur. Omdat het energienet op dit tempo snel vol raakt, breiden we het net niet alleen in rap tempo uit, maar kijken we met onze partners ook naar innovatieve oplossingen.
Zon en wind op één aansluiting
Iedereen kent wel zonneparken én windmolens. Wanneer je deze twee energieproducenten op één locatie combineert, ga je een stuk efficiënter met de capaciteit van het net om. Bovendien bespaar je er veel – schaarse – fysieke ruimte mee. De totale capaciteit van een aansluiting wordt bij opwekinstallaties voor zon of wind maar beperkt benut, het waait immers niet altijd en er is niet constant zon. Toch moet de aansluiting de piekbelasting aankunnen. Door deze twee opwekkers te combineren op één aansluiting, wordt de beschikbare netcapaciteit op zo'n plek veel beter benut. Zo kan voor dezelfde hoeveelheid capaciteit twee tot drie keer meer energie worden opgewekt.
Ruimtelijk gezien is hiervoor een open plek van minimaal tien hectare nodig, met voldoende afstand tot woningen. In de praktijk blijkt een ideale locatie vaak melkveehouderij- of landbouwgrond te zijn. Veel agrariërs zetten een deel van hun bedrijf om in een zonne-akker, of stoppen zelfs helemaal met het bedrijf. Deze grond komt dan vrij voor duurzame oplossingen als dit. Uiteraard moet het gebied ook binnen het beleidsplan van de gemeente passen.
Enexis netbeheer als adviseur
Raoul Bernards, strategisch Consultant Energietransitie bij Enexis Netbeheer, licht de rol van de netbeheerder bij deze combinatieparken toe. "Om een dergelijke oplossing te realiseren kunnen de RES-regio's vanuit het niets iets nieuws opzetten. Maar het kan ook zo zijn dat er al een wind- of zonnepark staat. Dit kan dan uitgebreid worden tot een combinatie van beiden. Het is onze taak hierbij om te zorgen dat we de denkrichtingen en adviezen geven aan gemeentes, zodat zij bij vergunningsaanvragen kunnen signaleren welke partijen eens met elkaar moeten gaan praten. We zien ook vaak dat marktpartijen zelf al onderzoek doen en mogelijkheden tot samenwerking vinden. Dan kunnen wij als netbeheerder aanhaken om te verhelderen wat de opties zijn."
Energiepark Haringvliet
Een project waarbij dit perfect wordt geïllustreerd – buiten het verzorgingsgebied van Enexis Netbeheer, maar in samenwerking met netbeheerder Stedin – is het Energiepark Haringvliet Zuid, een hybride energiepark ontwikkeld door Vattenfall. Het park dat zes windmolens, 115.000 zonnepanelen en twaalf zeecontainers met batterijen bevat, wordt naar verwachting in september geopend. Lara Depla, Renewable Hybrid Park Developer bij Vattenfall, vertelt: "Voor gemeentes en provincies heeft een park als dit een ruimtebesparende functie: je combineert namelijk de ruimte die je normaal voor twee projecten nodig hebt, zowel boven- als ondergronds. Daarmee bespaar je logischerwijs ook in de kosten. Daarnaast heeft het nog een ander maatschappelijk voordeel. Omdat je meerdere technologieën combineert op één locatie, is de impact en het participatieproces overzichtelijker en meer behapbaar voor de lokale gemeenschap, dan wanneer er meerdere projecten op meerdere locaties binnen een gemeente worden ontwikkeld. We vinden het belangrijk dat de omgeving participeert, zowel qua medezeggenschap in de keuzes die gemaakt worden tijdens het ontwerp, de bouw en exploitatie, als qua participatie op financieel vlak wanneer hier lokaal behoefte aan is. We kijken ook of lokale ondernemers een rol kunnen spelen bij (een deel van) de bouwwerkzaamheden en het onderhoud. Zo snijdt het mes aan twee kanten."
Bron: Enexis Groep. Foto: Jorrit Lousberg