Drones maken inspecties van hoogspanningslijnen, waterkrachtcentrales en kernreactoren eenvoudiger en veiliger.
Vattenfall Research & Development test op grote schaal hoe drones en digitale inspectietechnieken bij de verschillende business area's van Vattenfall kunnen worden ingezet. Slimme drones kunnen storingen opsporen en dat kan van groot belang zijn bij Vattenfalls onderhouds- en veiligheidswerkzaamheden bij bijvoorbeeld waterkracht en kernenergie.
Het gezoem van kleine rotoren in de open lucht boven onderhoudswerkzaamheden en inspecties bij verschillende Operations van Vattenfall zal steeds vaker te horen zijn. Drones kunnen bijvoorbeeld inspecties van moeilijk bereikbare installatie-onderdelen vereenvoudigen en daarmee kan het risico op arbeidsletsel verminderd worden. Ze kunnen ook worden ingezet om over rivieren te vliegen om de aangroei van het ijs in kaart te brengen of gegevens te verzamelen voor de bouw van 3D-modellen. Op de plekken waar tests met drones zijn uitgevoerd, zijn de resultaten goed en het personeel is positief over de techniek.
"Het aantal aanvragen naar inspecties neemt continu toe. De kwaliteit van inspecties verbetert aanzienlijk met drones en het bespaart tijd en kosten. Bovendien is het veiliger voor het personeel en dat is minstens zo belangrijk", zegt Anders Lindström die verantwoordelijk is voor Digital Inspections binnen Vattenfall R&D, waar op dit moment een opleiding voor dronepiloten in ontwikkeling is.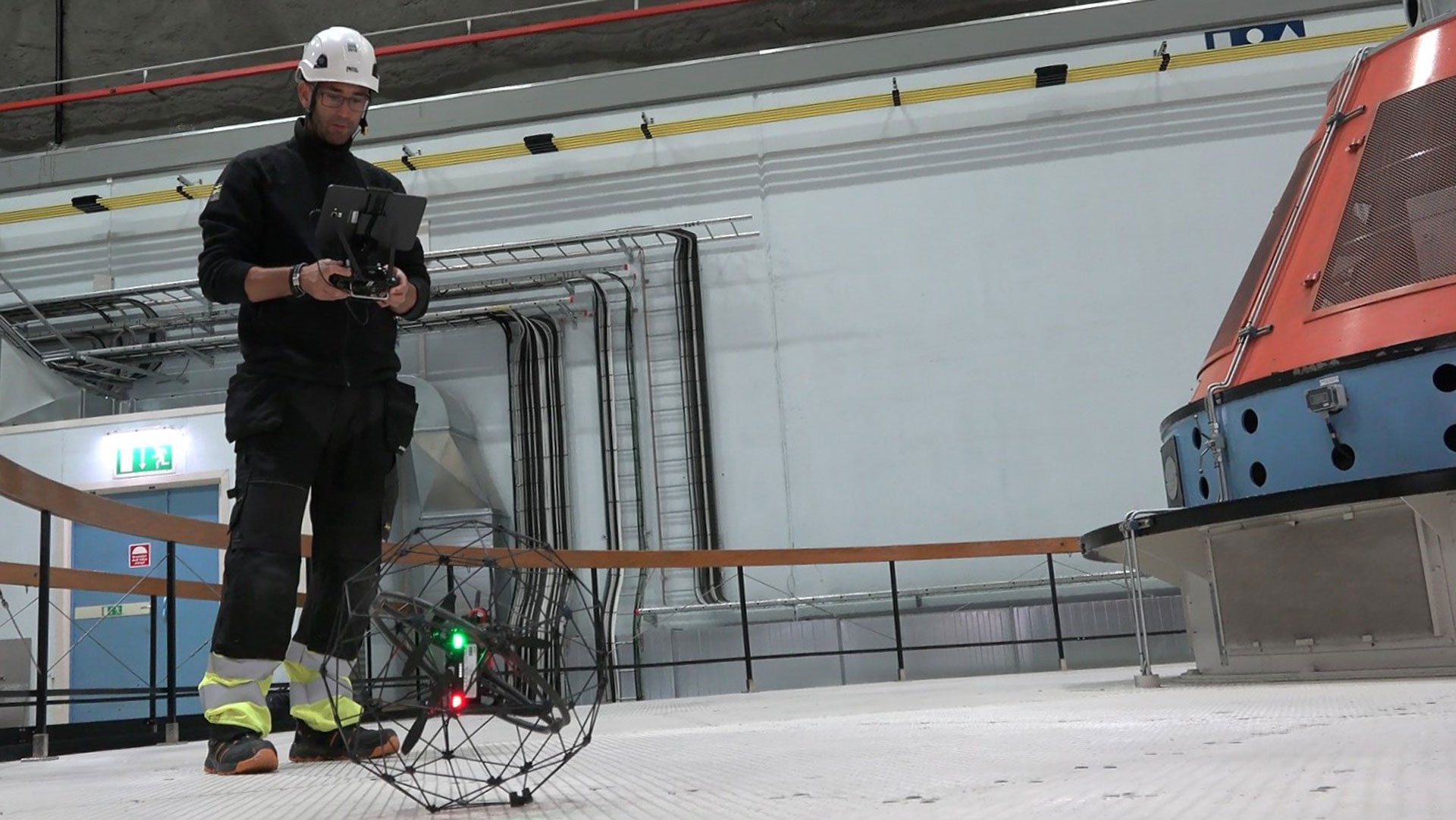 Effectievere inspecties
De toepassingsgebieden en taken voor drones worden steeds verder uitgebreid. Vattenfall R&D werkt al vijf jaar met drones en sensoren. In het begin was dat met buitenvluchten voorzien van zogenoemde fotogrammetrie: omzetting van tweedimensionale beelden naar 3D om modellen van dammen te maken. De techniek is volwassen geworden en is nu klaar om bij Operations te worden ingezet.
"We houden de drone- en sensortechnologie in de gaten en experimenteren met de nieuwe techniek. Eerder moesten steigers worden opgebouwd om bijvoorbeeld dammen te inspecteren en dat was een tijdrovend proces. Nu is het mogelijk om met een drone snel een structuur te bekijken. Als er geen schade wordt vastgesteld, dan is het goed. Als er reparaties nodig zijn, dan kan worden besloten om steigers neer te zetten voor uitgebreide onderhoudswerkzaamheden. We willen het inspectieproces effectiever maken", legt Anders Lindström uit.
'Onmogelijke' plekken worden bereikbaar
Vliegende drones kennen veel toepassingsgebieden: denk aan het opmeten van gegevens voor 3D-modellen voor complete waterkrachtcentrales en dammen die vervolgens tot echte modellen kunnen worden omgebouwd, het inspecteren van kustlijnen, het binnenvliegen van dammen, het vliegen langs elektriciteitsnetten om breuken in de leidingen op te sporen, het binnenvliegen van stadsverwarmingsketels om installatie-onderdelen te inspecteren. Het gaat dus om plekken waar mensen moeilijk komen zonder dat er uitgebreide veiligheidsmaatregelen genomen moeten worden.
"Met de drone kunnen plekken worden bereikt waar mensen eerder niet konden komen. De trend op dit moment is een ontwikkeling met slimme dronesystemen voorzien van artificial intelligence, waarbij drones schades kunnen ontdekken en beoordelen", zegt Anders Lindström.
Waterkrachtcentrales zijn niet geheel statisch tijdens de seizoenen. Vanwege de temperatuurverschillen tussen de water- en de luchtzijde, beweegt de top van de dam gedurende het jaar. Omdat dammen een lange levensduur moeten hebben, is het belangrijk om alle balken op schades te inspecteren. Het inspecteren van de binnenkant van een dam is echter moeilijk en tijdrovend en wordt daarom periodiek gepland.
Tests laten groot potentieel zien
Met drones kunnen deze inspecties vaker en op een betere basis voor de specifieke dam worden uitgevoerd. De resultaten van de inspecties met drones kunnen vervolgens worden gebruikt om met computermodellen de berekening van de veiligheidsfactoren van de dam te updaten. In 2019 is een van betonnen van de waterkrachtcentrales een testinspectie uitgevoerd en daaruit bleek hoeveel mogelijkheden de techniek biedt.
Joakim Smedlund, dronepiloot, legt uit hoe moeilijk het is om een dam binnen te vliegen. "De ruimte in de dam was heel beperkt en onderweg waren veel hindernissen, zoals pijlers en buizen. We moesten ons echt concentreren om ervoor te zorgen dat de drones niet tegen iets aan botsten."
Ook buiten kunnen drones waardevolle informatie opleveren. Als ze boven de waterkrachtreservoirs zweven, kunnen ze een overzicht geven op een manier die met een verrekijker vanaf de wal of de dam niet mogelijk zou zijn. Ze kunnen ook snel overzicht bieden over de toestand van het ijs stroomopwaarts. Dat is bijvoorbeeld belangrijk om te voorkomen dat ijs in de watervang van de krachtcentrale komt en de schade veroorzaakt, waardoor de productie gestopt moet worden.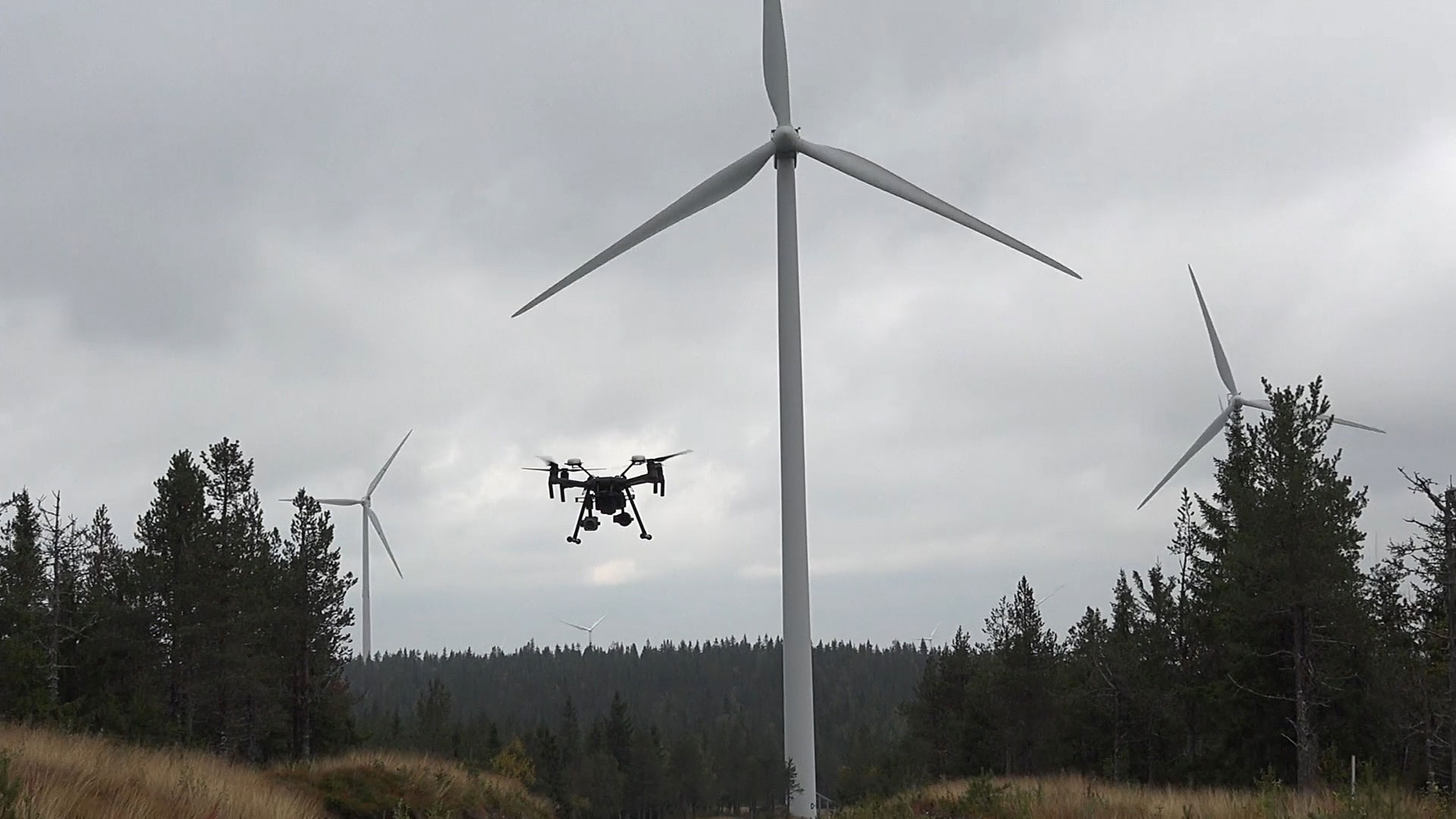 Vluchten in de kernreactor ...
Vorig jaar werd een unieke en succesvolle vlucht uitgevoerd met een drone in de watervang van de reactor van Ringhals 3. Inspectie van de afdichtingsplaten in de muur van de watervang is niet eenvoudig, want met een traditionele methode is het een veeleisende bezigheid met een camera op een lange stok. In het voorjaar wordt deze inspectie ook bij Ringhals 4 uitgevoerd.
.... en in de ketel van de stadsverwarming
Inspectie van de ketels van de stadsverwarming gebeurt normaal via steigers die in de stookplaats zijn ingebouwd waarbij het personeel aan de binnenkant van de ketel omhoog kan klimmen om afzettingen, schades en luchtlekken te controleren. In Uppsala werd een test uitgevoerd waarbij een 30 meter hoge waterkrachtkoppelingseenheid met behulp van een drone van binnen werd geïnspecteerd. De test was succesvol en de inspectie van de eenheid werd na een aantal uur afgerond. Bij een traditionele inspectie had dat een aantal weken geduurd.
Met het toenemende aantal windmolens bij Vattenfall neemt ook de vraag naar inspecties van turbinebladen en onderdelen van de fundamenten toe. Normaal wordt de inspectie van turbinebladen door speciaal opgeleid personeel gedaan dat met een lijn neerdaalt om naar tekenen van slijtage te zoeken. Op dit moment bestaan er meerdere oplossingen op de markt waarbij drones en artifical intelligence worden gebruikt om dit soort inspecties uit te voeren. Zo kan het personeel tijd vrijmaken om zich te richten op andere inspecties en reparaties.
"Op de plekken waar we met drones hebben getest, is de veiligheid en kwaliteit verbeterd en worden de inspecties effectiever uitgevoerd. Een ding is zeker: digitale inspectietechniek is aan een opmars bezig", zegt Anders Lindström.