De noodvoorraad wordt gebruikt om het tekort aan beschermingsmiddelen tijdens de coronacrisis te verhelpen.
Vrijdag 27 maart vertrok een transport van Vattenfall in Norrköping naar de centrale noodlocatie van de Nationale Gezondheids- en Welzijnsraad in Zweden. In de volgepakte vrachtwagen zaten ongeveer 200 dozen met in iedere doos 2.000 mondkapjes. In totaal dus 400.000 stuks.
"De mondkapjes zijn een aantal jaren geleden aangeschaft na de vogelgriepepidemie en lagen in ons magazijn in Norrköping. Omdat het tekort aan medisch materiaal een veelbesproken onderwerp was, kwamen wij tot de conclusie dat de mondkapjes beter ergens anders gebruikt konden worden. Peter Ekvall nam contact op met de instanties om te vragen of ze interesse hadden", vertelt Kristian Karn, Maintenance Manager bij Vattenfall Services.
Met zo'n voorraad mondkapjes moesten er wel wat telefoontjes worden gepleegd voordat de logistiek op touw kon worden gezet. Het zoeken naar de juiste ontvanger werd vooral gedaan door Peter Ekvall, Business Area Head bij Vattenfall Services.
Op 27 maart in de ochtend kon de voorraad, na bemiddeling van het Rode Kruis, worden opgehaald. Van daaruit zullen de mondkapjes worden verdeeld naar de regio's in de gezondheidszorg die het het hardst nodig hebben.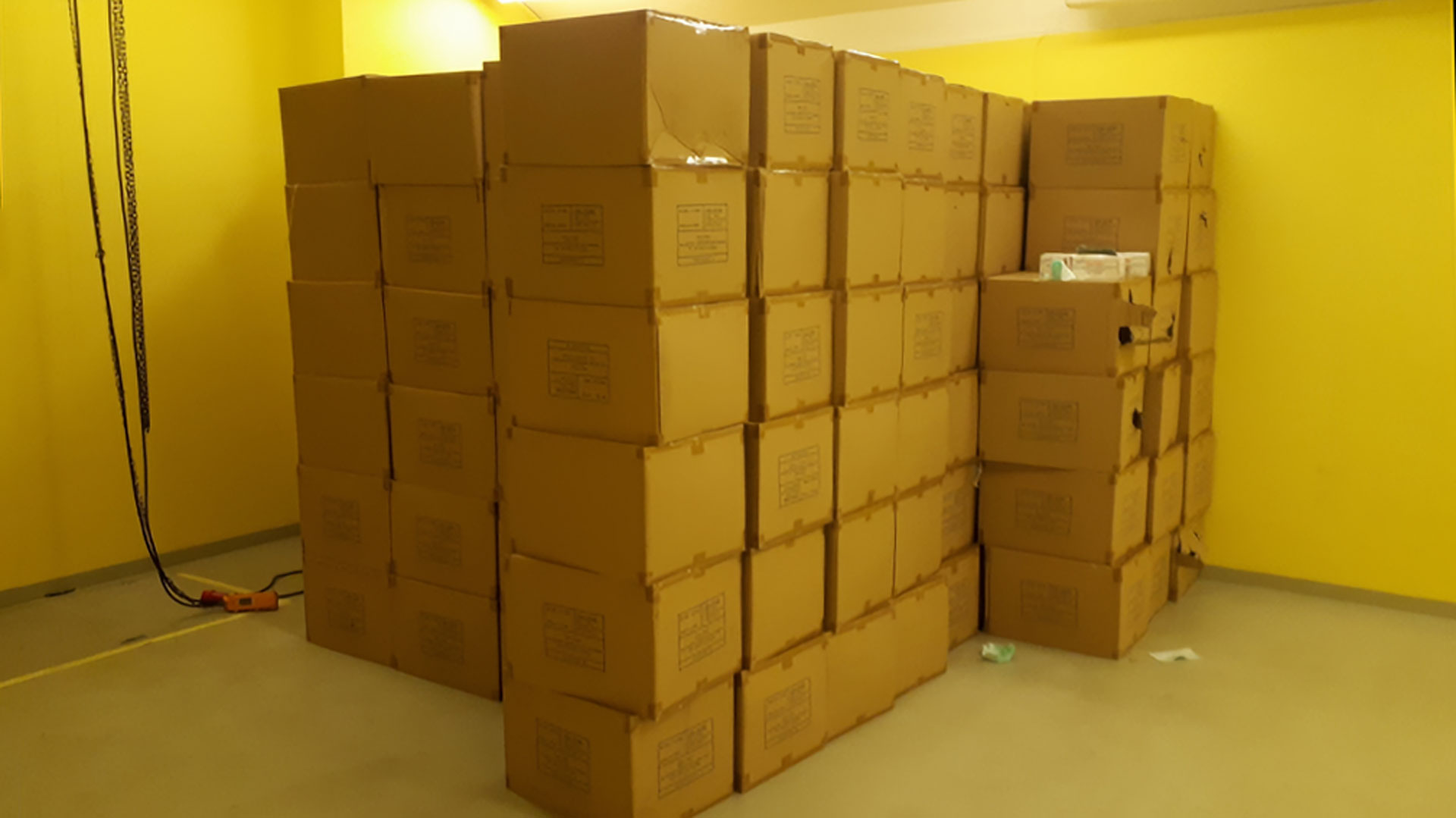 In het magazijn van Vattenfall in Norrköping, Zweden, stonden 200 dozen met mondkapjes
Ringhals doneert handgel en overheadfolie aan gemeente
Er zijn meerdere voorbeelden hoe Operations van Vattenfall een bijdrage hebben geleverd. In Ringhals lagen 5.000 bladen overheadfolie verstopt die aan het ziekenhuis in Varberg zijn gedoneerd. De folies worden gebruikt om gezichtsbescherming voor het ziekenhuispersoneel van te maken. Ringhals heeft ook 60 verpakkingen handgel aan de zorginstellingen in de gemeente gedoneerd. Bovendien heeft het chemische laboratorium van de elektriciteitscentrale handgel gemaakt waar de gemeente indien nodig gebruik van kan maken.
"We gebruiken gedenatureerde ethanol die tot 70 procent wordt verdund, voegen een beetje glycerol als weekmaker toe en een paar druppels Yes afwasmiddel, moeilijker is het niet", zegt Rikard Hellström, Chemistry Group Manager bij Ringhals 1 en 2. Hij kreeg samen met Glenn Svärd, Planning Engineer of Chemistry Work Management bij Ringhals 2, de opdracht om zelf handgel te maken. De handgel wordt ook intern door het personeel van Ringhals gebruikt.