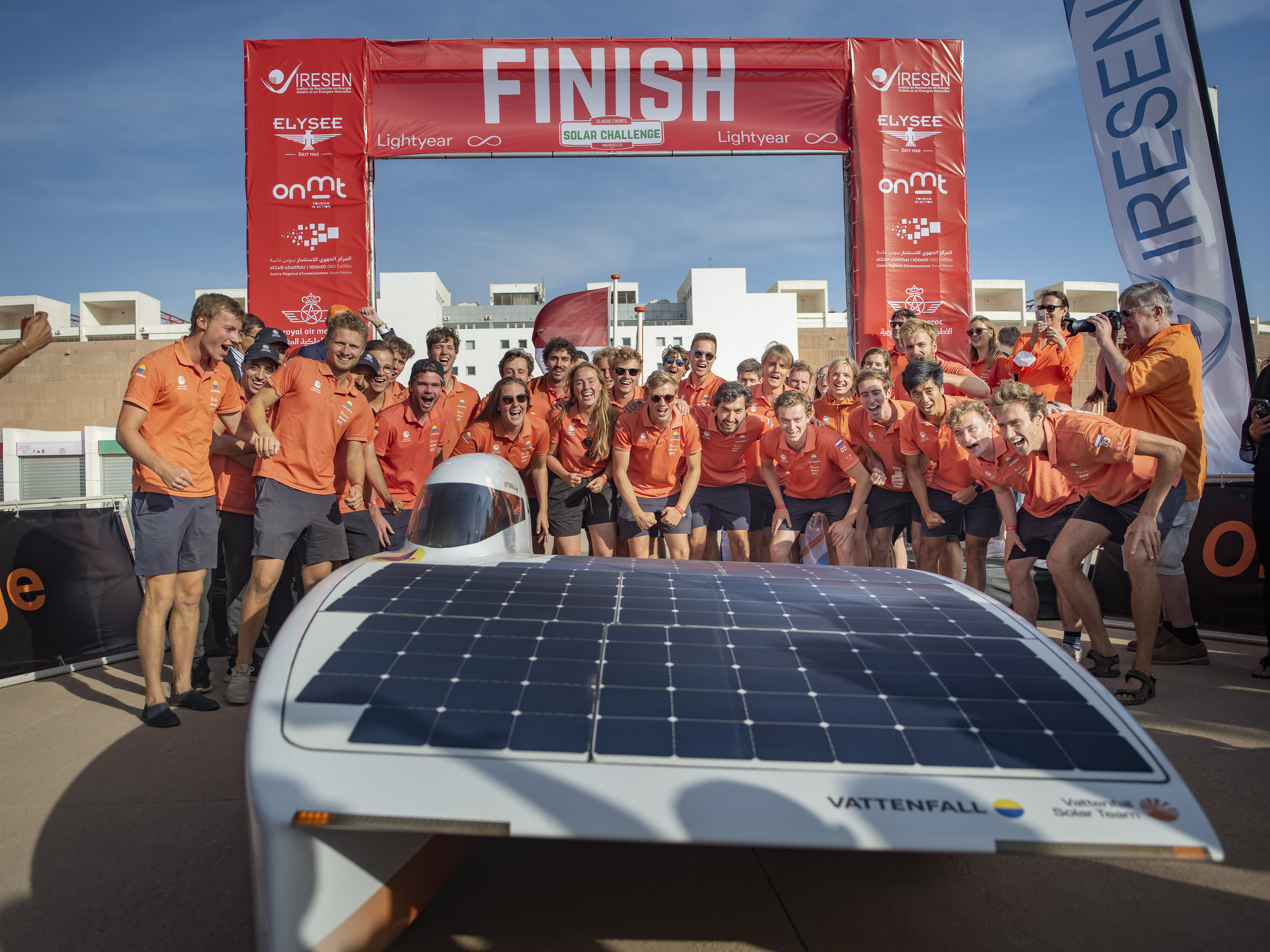 Derde plek voor Vattenfall Solar Team na enerverende woestijnrace
Het Vattenfall Solar Team heeft beslag gelegd op de derde plek in de Solar Challenge Morocco. De race voerde door de Sahara met zijn kamelen en eindeloze zandduinen en werd gekenmerkt door chaotisch verkeer, zandstormen en buikgriep. Team captain Christiaan Wiers toont zich tevreden met de derde plek. "We hebben het maximale gehaald uit het team en de auto. Ik ben supertrots op dit team en we kunnen alleen maar tevreden zijn met het resultaat."
De vijfde en laatste etappe gaat voor de meeste teams moeizaam van start. Veel deelnemers hebben flink last van buikgriep en een groot deel van het Vattenfall Solar Team is 's ochtends nog altijd geveld. Negen van de zeventien teamleden zijn zo ziek dat ze niet in staat zijn om deel te nemen aan de laatste etappe. Ze worden direct doorgereden naar de finish in Agadir. Ondanks de tegenslag zegt race manager Tibbe Lukassen dat het uitgedunde team gaat proberen de race af te sluiten op een manier die het Vattenfall Solar Team waardig is.
Nuna11 even op kop van de racedag
Al snel blijkt dat Tibbe geen loze belofte heeft gedaan. Binnen afzienbare tijd wordt Agoria ingehaald en niet veel later ook Twente en lijkt het team in de koppositie op weg naar een mooie revanche voor de tegenslagen van de afgelopen dagen. Maar even later moet Nuna11 er toch aan geloven. De auto wordt aan de kant van de weg gezet om een technische storing te verhelpen. Machteloos moet het team toezien hoe ze worden gepasseerd door de concurrentie. Nuna11 slaagt er in het vervolg niet meer in om de andere teams terug te pakken en eindigt de etappe op een derde plek. Coureur Dries Borstlap, die de auto over de eindstreep rijdt, kijkt desondanks tevreden terug. "We deden vandaag mee om de etappewinst en konden ons meten met de andere teams. Dat geeft veel voldoening."
Overstekende kamelen en geiten, stuifduinen, windhozen en de buikgriep
De race in Marokko werd dit jaar voor het eerst gehouden, als alternatief voor de World Solar Challenge in Australië die vanwege coronabeperkingen niet kon doorgaan. De race kende een enerverend verloop. Met regelmaat moest Nuna11 vol in de remmen voor een overstekende kameel of geit, of moest de zonneracer uitwijken voor een stuifduin van Saharazand op de weg. Een windhoos legde een deel van het bivak plat waardoor de teamleden in de volgauto's sliepen en de buikgriep schakelde vervolgens een groot deel van het team uit voor het slotdeel van de race.
De route door Marokko bleek een ware uitputtingsslag voor de teams. De auto's, vaak ontworpen voor de race door het vlakke Australië, hadden grote moeite met de steile hellingen in het Atlasgebergte. Ook zorgde de zware bewolking op de eerste dag voor de nodige problemen, door gebrek aan energie-inkomsten via de zonnepanelen. De helft van de deelnemers bleek niet in staat om alle etappes binnen de gestelde tijdslimieten af te ronden. Dat lukte het Vattenfall Solar Team gelukkig wel.
Christiaan Wiers kijkt direct na de race terug: "De afgelopen dagen zijn zo snel gegaan. Het was in een flits voorbij. Anderhalf jaar lang hebben we keihard gewerkt voor deze race en er alles voor opzij gezet. Het was een ongelooflijke ervaring. Nu eerst een paar biertjes drinken."