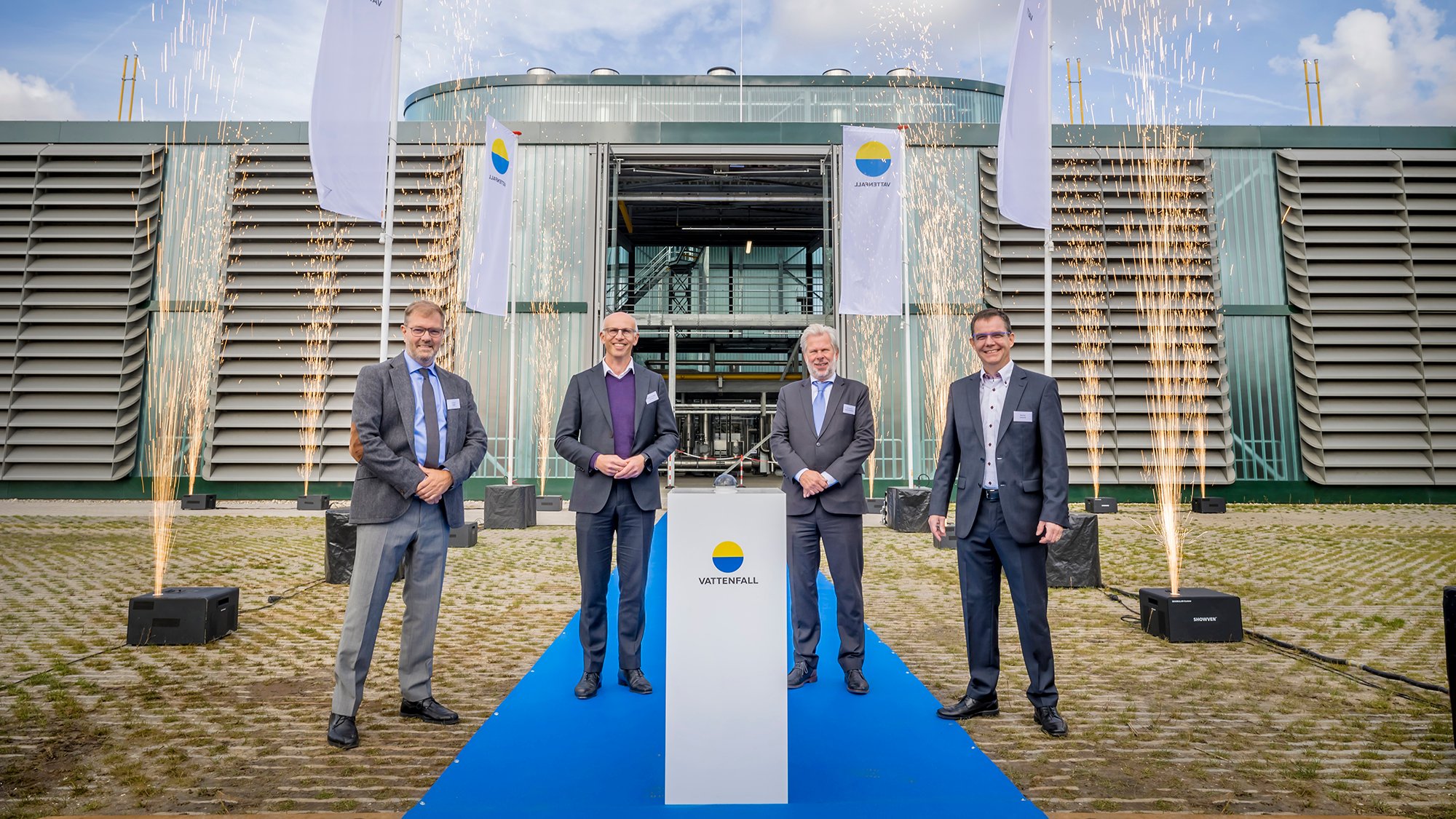 Met opening hulpwarmtecentrale Amsterdam Driehoek voltooit Vattenfall Amsterdam South Connection
Vattenfall heeft vandaag de hulpwarmtecentrale 'Amsterdam Driehoek' met warmtebuffer in Amsterdam Nieuw-West officieel geopend. De hulpwarmtecentrale is het sluitstuk van de 'Amsterdam South Connection' waarin de stadswarmtenetten in Amsterdam-Oost en -West met elkaar worden verbonden. Hierdoor komt meer duurzame stadswarmte beschikbaar voor inwoners.
De verbinding is tot stand gebracht door de aanleg van een warmtetransportleiding door Amsterdam-Zuid en Amsterdam Nieuw-West. Naast het verbinden van deze twee stadswarmtenetten is nu ook de hulpwarmtecentrale Amsterdam Driehoek gereedgekomen. Deze hulpwarmtecentrale met warmtebuffer slaat stadswarmte op als de warmtevraag laag is en geeft warmte af wanneer dit nodig is. De hulpwarmtecentrale is gelegen aan de Johan Huizingalaan en is te zien vanaf de A4 en de spoorlijn Schiphol - Amsterdam Centraal.
Back-up stadswarmte
De hulpwarmtecentrale is ook in staat om zelf warmte te genereren. Dit gebeurt naar verwachting slechts een aantal uren of dagen per jaar wanneer er onvoldoende stadswarmte beschikbaar is door bijvoorbeeld extreme kou of onderhoudswerkzaamheden. Op deze manier draagt de nieuwe centrale bij aan een duurzaam en betrouwbaar stadswarmtenet.
De hulpwarmtecentrale Amsterdam Driehoek werd feestelijk geopend door Henk Jagersma, stedelijk directeur van het cluster Ruimte en Economie bij de gemeente Amsterdam, en Alexander van Ofwegen, CFO Vattenfall NL en directeur Vattenfall Warmte & Productie NL.
Zie ook: Amsterdam South Connection - Vattenfall NL
Foto Jorrit Lousberg, v.l.n.r. John Kuijs (Projectmanager EQUANS), Alexander van Ofwegen (directeur Vattenfall Warmte & Productie NL, tevens CFO VF-NL), Henk Jagersma (stedelijk directeur van het cluster Ruimte en Economie Gemeente A'dam) en Roel Hinz (Projectmanager Vattenfall)