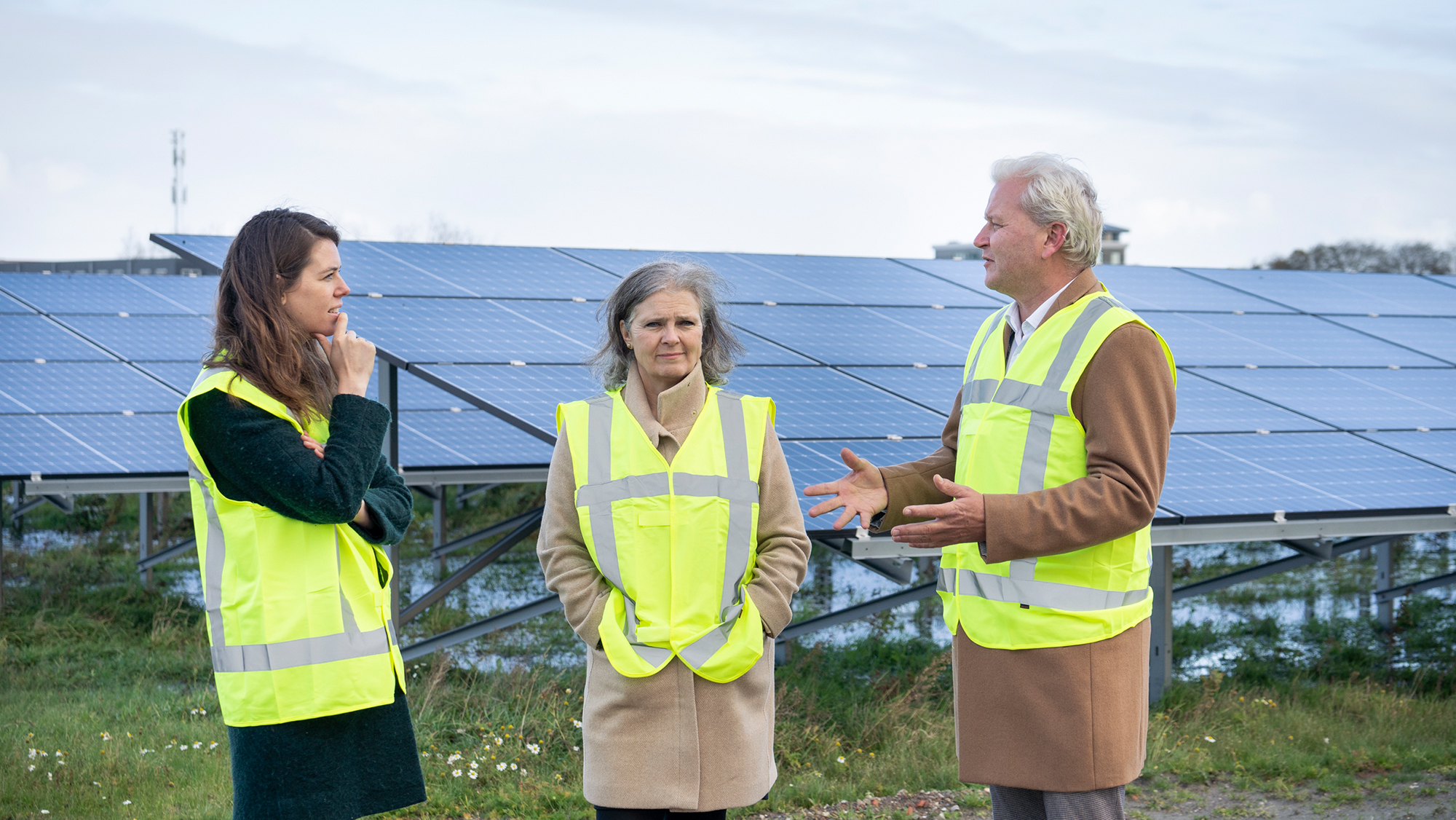 Zonneweide Kooypunt klaar: ruim 30.000 zonnepanelen in en vóór Den Helder
Vandaag is zonneweide Kooypunt geopend. Het park werd de afgelopen maanden samen met Port of Den Helder ontwikkeld en is goed voor 13.000 megawattuur groene stroom – goed voor zo'n 3.500 huishoudens. De landelijke inpassing maakt het park tot een speciaal project.
Annemarie Schouten, Hoofd Zonontwikkeling bij Vattenfall Nederland, is trots: "Met dit zonnepark kunnen we bijdragen aan de duurzaamheidsambities van Port of Den Helder. Vattenfall wil het mogelijk maken om fossielvrij te leven binnen één generatie, en daarvoor zijn samenwerkingen als deze heel belangrijk. Met de bouw van dit park realiseren we Helderse stroom voor de Noordkop."
Jacoba Polderhij, algemeen directeur NV Port of Den Helder: "Wij werken als Port of Den Helder naar verduurzaming van onze haven en onze bedrijventerreinen. In het beheer en het ontwikkelen van onze haven is dat een cruciale factor om scheepvaart en nieuwe vestigingen aan te kunnen trekken. We zijn heel blij dat we met Vattenfall bijdragen aan verduurzaming van onze samenleving en in het bijzonder de Kop van Noord-Holland."
Ruim 30.000 zonnepanelen
Tussen de Mastenmakersweg, de Rijksweg (N9) en het spoor zijn op de bijna 15 hectare grond meer dan 30.000 zonnepanelen verrezen. De zonneweide heeft een geïnstalleerd vermogen van 12,5 MW en produceert jaarlijks ongeveer 13.000 MWh stroom, wat overeenkomt met het energieverbruik van zo'n 3.500 Nederlandse huishoudens. Een mooie stap voorwaarts in de missie van Vattenfall om fossielvrij leven mogelijk te maken binnen één generatie.
Zonnepark met open karakter
Het bijzondere aan dit zonnepark is de landelijke inpassing. Er werd een aarden wal aangelegd om het park aan het zicht te onttrekken en het park wordt begrensd door sloten in plaats van hekwerk. Hierdoor krijgt zonnepark Kooypunt een open karakter, zonder al te grote inbreuk te maken op het landschap.
Oog voor lokale ondernemers
Voor de werkzaamheden tijdens de bouw heeft Vattenfall zo veel mogelijk samengewerkt met lokale partijen. Ook kunnen lokale ondernemers GVO-certificaten afnemen, waarmee de onderneming kan worden vergroend. Helderse stroom dus voor bedrijven uit de Noordkop.
Foto: V.l.n.r. Annemarie Schouten, hoofd Zon Vattenfall Nederland, Jacoba Bolderheij, algemeen directeur NV Port of Den Helder, en Kees Visser, wethouder Den Helder. © Vattenfalll/Niek Stam