Sjöfågel bättre på att undvika vindkraftverk än man trott
Kollisionsrisken är mindre än hälften så stor som väntat visar undersökning gjord vid Vattenfalls vindkraftpark Thanet.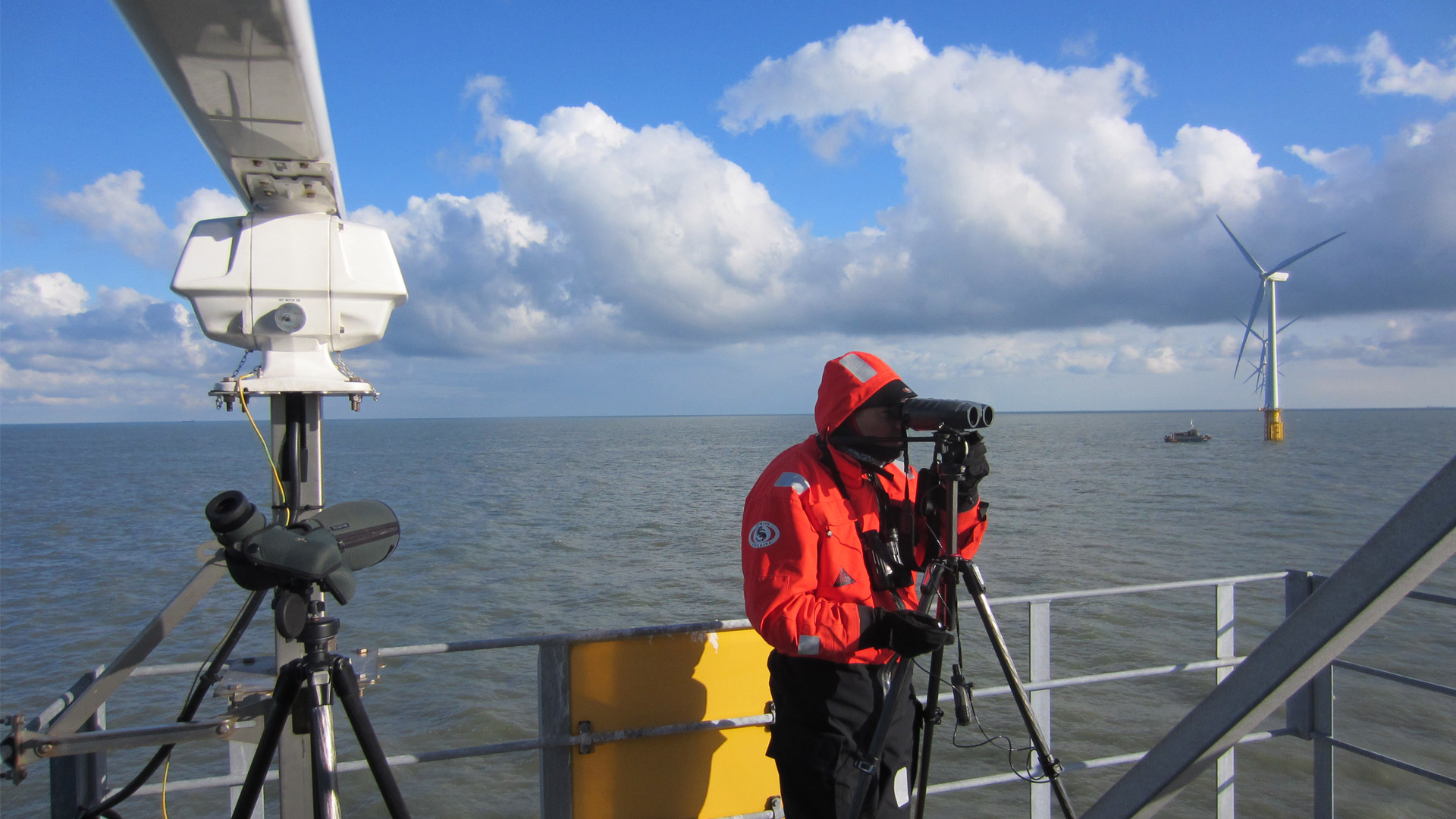 LAWR-radar, teleskop och observatör använder avståndsmätare på ett vindkraftverk vid Vattenfalls havsbaserade vindkraftpark Thanet.
ORJIP-programmet (Offshore Renewables Joint Industry Programme) har offentliggjort resultaten från världens hittills mest omfattande undersökning av sjöfåglarnas beteende och kollisionsrisker vid havsbaserade vindkraftparker och som genomfördes med Vattenfalls Thanet-park i Storbritannien som bas. Slutsatserna visar att sjöfåglar är betydligt bättre på att undvika att kollidera med vindkraftverk till havs än vad man tidigare har trott.
Studien genomfördes med hjälp av Storbritanniens och Nordeuropas ledande ornitologer och miljörådgivare. Ett avancerat övervakningssystem följde sjöfåglarnas rörelser under två års tid.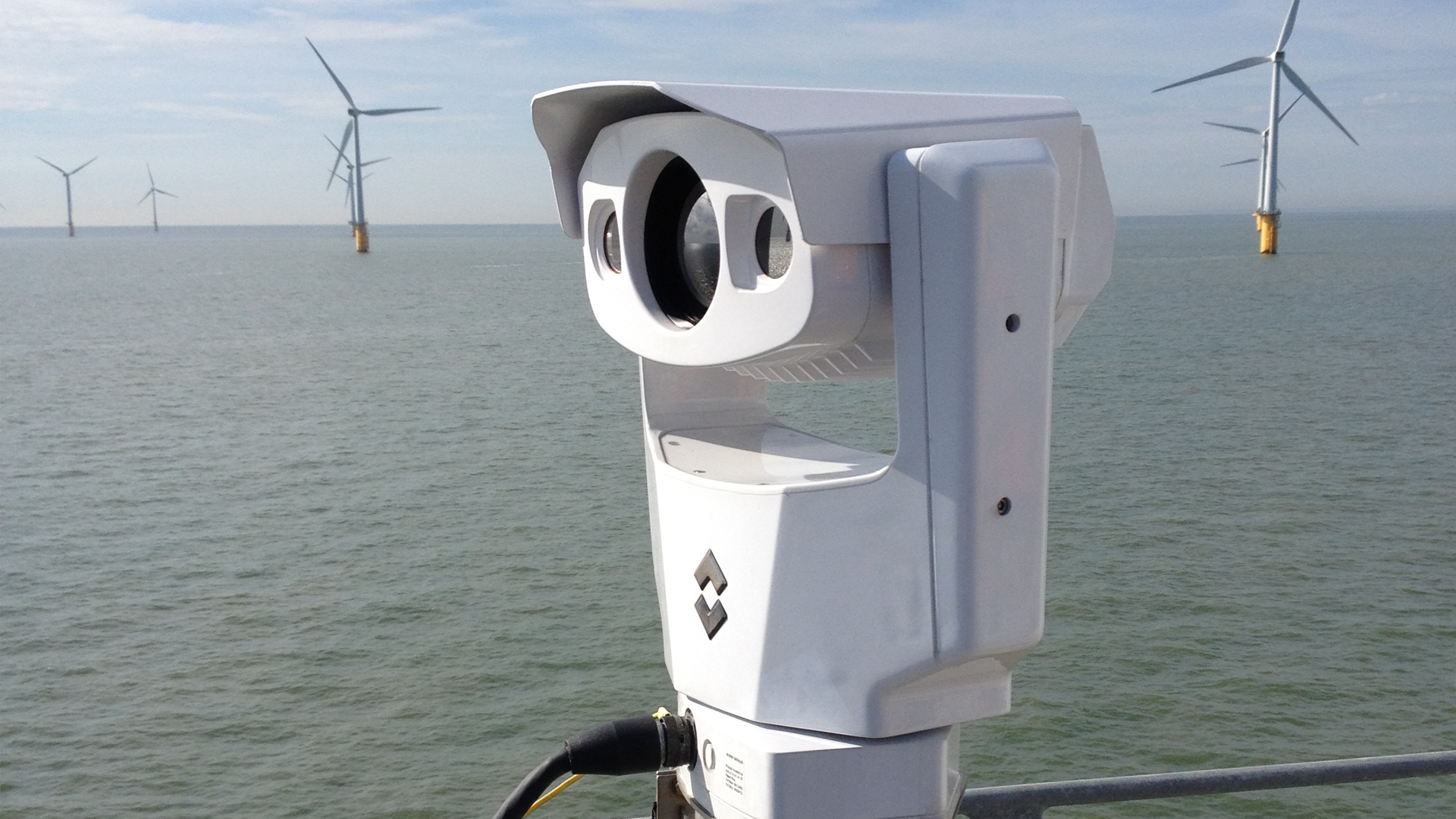 Värmekamera monterad på ett av de havsbaserade vindkraftverken.
Undvikande beteende och ändrade flygvägar
Analyser av över 600 000 videoklipp visade att kollisionsrisken för sjöfåglar är mindre än hälften så stor än vad man tidigare trott eftersom fåglarna uppvisar ett undvikande beteende och ändrar sina flygvägar för att undvika kraftverken.
Studien utformades för att ta fram robust och empirisk bevisning kring det undvikande beteendet för att förbättra kollisionsriskmodellerna. Detta innebär att man med större säkerhet kan bedöma hur havsbaserade vindkraftparker faktiskt påverkar sjöfåglarna och vilka riskdämpande åtgärder som behöver vidtas.
– Studien är ett viktigt steg framåt i vår förståelse av hur sjöfåglar undviker havsbaserade vindkraftverk, och resultaten kommer dessutom vid en avgörande tidpunkt då man håller på att konstruera och utveckla nästa generations vindkraftverk. Forskningen hjälper oss i planeringen för att få vår havsbaserade vindkraftsverksamhet att växa såväl snabbt som hållbart, säger Piers Guy, Vattenfalls landschef i Storbritannien.
Om ORJIP
ORJIP (Offshore Renewables Joint Industry Programme) är ett gemensamt branschprojekt mellan Marine Scotland, The Crown Estate, The Crown Estate Scotland och utvecklare av havsbaserad vindkraft, bland andra Vattenfall, och som leds av det brittiska Carbon Trust-institutet.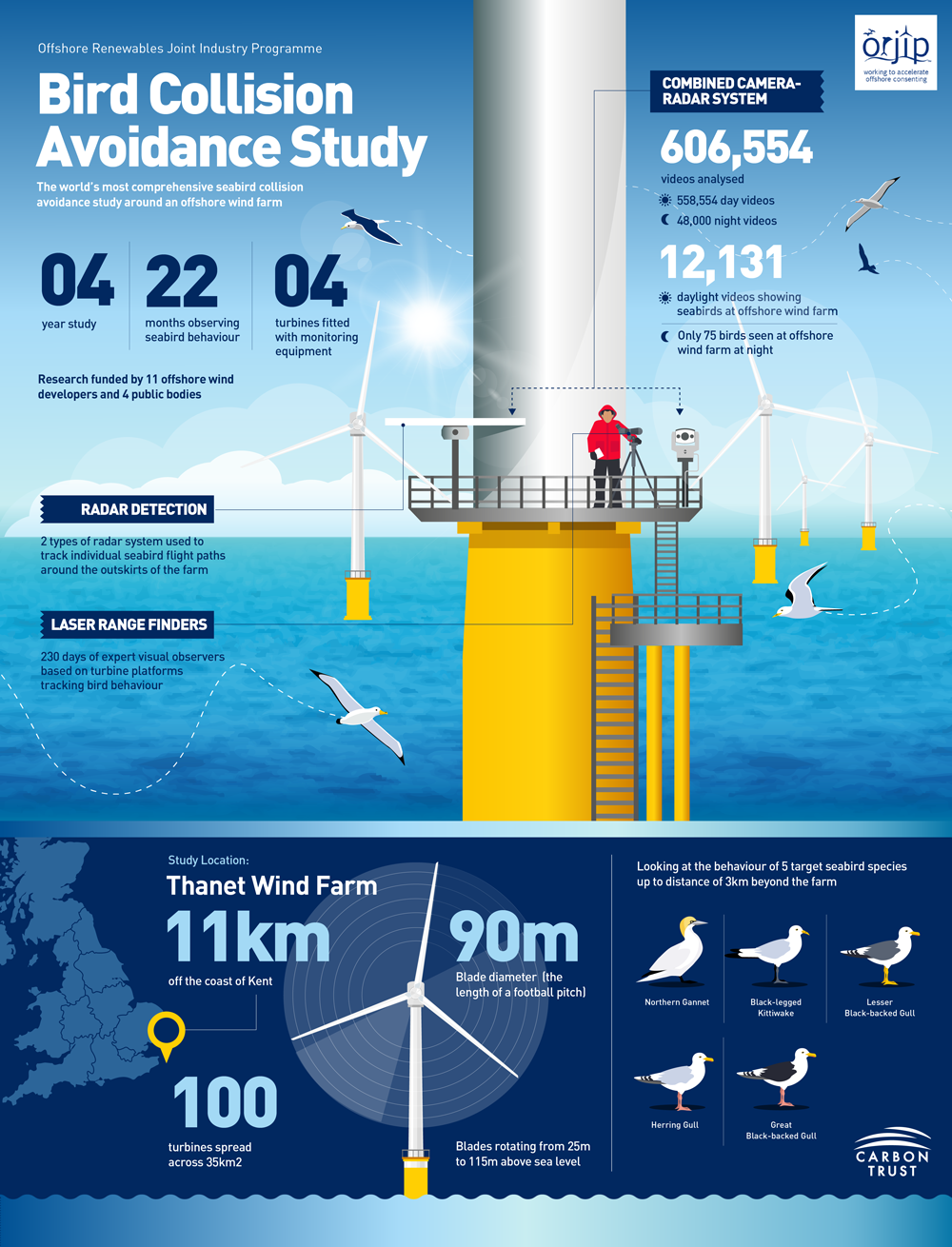 Foto/illustration:
ORJIP Offshore Wind