Arbetsplatscoaching i WANO:s regi
Hur ska chefer på bästa sätt coacha sina medarbetare? Och hur kan Ringhals ta fram en målbild och en strategi för att systematiskt lära genom arbetsplatscoaching?
Det var några av frågorna som Ringhals i början av mars fick hjälp av tre internationella experter från WANO att närma sig svaren på. Under fem dagar genomfördes en så kallad Technical Support Mission (TSM), i form av en utbildning i ämnet "Manger in the field" där teori, praktik och diskussioner varvades.
– Jag tycker att vi fick goda råd om hur vi kan gå vidare för att nu forma vårt sätt att arbeta med arbetsplatscoaching, säger Henrik Torgny som var värd för besöket. Utbildningen gav dessutom deltagarna fördjupad kunskap om metoder och chans att öva i praktiken.
Hjälp till lärande och utveckling
Första dagen ägnades åt teori. WANO-representanterna gav ett 20-tal chefer från Ringhals, Forsmark och SKB tips och råd om hur en bra arbetsplatscoaching går till.
– Som chef är det viktigt att förmedla att observationen inte är en utvärdering, betonade WANO-experterna. Det är istället en hjälp till lärande och utveckling för att man ska kunna göra ett säkrare och bättre jobb. Återkopplingen ska ske direkt i samband med observationen och bygga på öppna frågor.
Observationer i fält
Under tre dagar praktiserade deltagarna arbetsplatscoaching gruppvis ute i anläggningen. Eftermiddagarna ägnades sedan åt att gemensamt diskutera reflektioner och insikter samt ge förslag på hur Ringhals framtida arbete med arbetsplatscoaching bör utformas.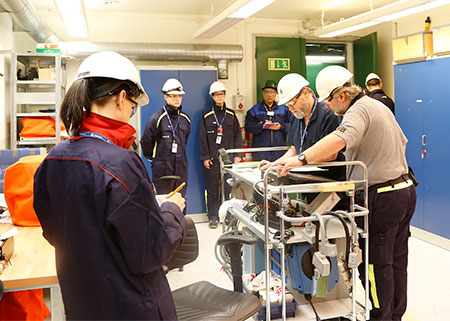 Magdalena Åkesson, chef för driftstödet på Ringhals 2, (närmast i bild) observerade arbetsmoment som utfördes av Lars-Åke Wernersson och Benny Petersson. Här sker förberedelser inför översyn av en 6 kV-brytare på Ringhals 2. Efteråt samlades de tre för en genomgång, där hon förmedlade sina intryck och öppnade upp för en gemensam diskussion.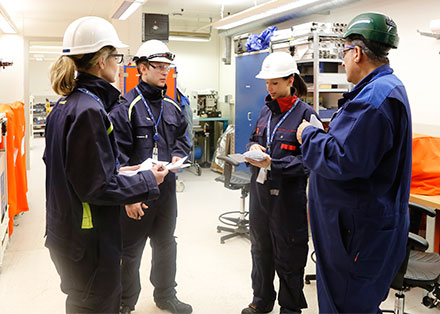 Övriga deltagare i gruppen agerade observatörer under Magdalenas arbetsplatscoaching. Nästa steg innebar att hon själv fick återkoppling på sitt sätt att observera och ge feedback. Här ses Magdalena omgiven av Martina Rundqvist Boman från Forsmark3 och Jerry Westerstedt från SKB, samt Frédéric Valéro från WANO.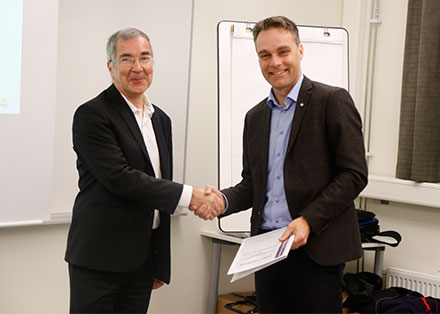 TSM-besöket avslutades formellt genom att WANO-teamet presenterade resultatet av veckans arbete.
– Vi har mött stort intresse och engagemang, och det är de bästa verktygen för att nå framgång, sa teamledare Jean-Marc Willemenot när slutrapporten överlämnades till Ringhals VD Björn Linde.
WANO – World Association of Nuclear Operators
TSM – Technical Support Mission, ett samlingsnamn för stödtjänster från WANO, exempelvis experthjälp, utbildning eller en benchmark för att samla in kunskap på begäran av kärnkraftverket.