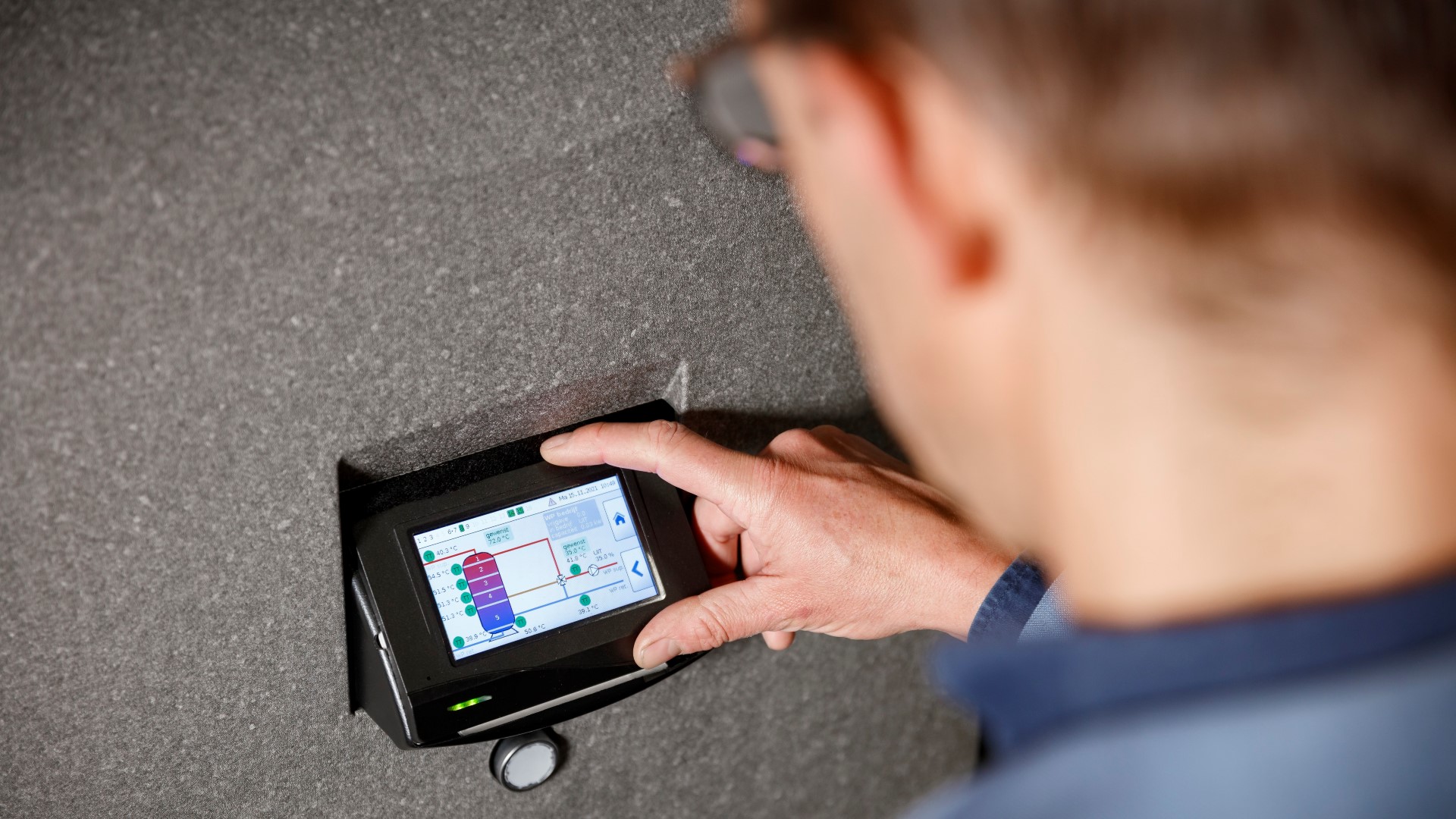 News
January 31, 2022
4 min
Meet the man who might have solved the UK's heating problem
Earlier this month, we unveiled our high temperature heat pump, which is due to be rolled out in the Netherlands in quarter two of this year. This could be one of the solutions to decarbonising UK homes too - because like the UK, many Dutch homes use gas boilers for heating and hot water. So of course, a lot of businesses, organisations and homeowners have been in touch to find out more about what this could mean for them.
We spoke with Wouter Wolfswinkel, Programme Manager at Vattenfall Customers & Solutions in the Netherlands, who came up with this innovative idea alongside Ramon de Graaff from Feenstra. Here, Wouter helps us to understand more about how the high temperature heat pump works, the roll out in the Netherlands and what this technology could mean for the UK.
This is a potentially game-changing development, how did it come about?
In recent years it has become clear that heating homes without natural gas will be a big challenge for our Dutch customers, as it will for households in the UK. Using traditional heat pumps in a lot of Dutch and British homes could be expensive due to the extensive insulation required, which adds a significant cost on top of the heat pump itself. To overcome that problem, we started to look at alternative technology around three years ago, and knew we had to find an electric solution that would work in a similar way to a gas central heating boiler.
What type of homes will this technology work in?
In the UK, Vattenfall's heat business is currently working to develop and build heat networks, which capture waste heat from heat commercial and industrial processes and use it to supply new developments in cities. However, the high temperature heat pump will more be suited to suburban and rural homes - properties which would otherwise require additional insulation, underfloor heating or the radiators adapted to be compatible with a regular low temperature heat pump.
In the Netherlands, more than three million homes could benefit from this type of technology, with installation taking just two days per home.
How likely is a UK roll out of this technology?
Vattenfall is rolling this technology out in the Netherlands first, from quarter two of this year. There are many similarities between the Netherlands and the UK markets in both the share of gas boilers and the type of housing stock. We hope to be able to learn more in the Netherlands first and then develop the technical and commercial proposition for other markets.
What does the technology look like and how does it work?
The high temperature heat pump sits outside the property (it looks like a traditional heat pump or air conditioning unit) but it is smaller than most traditional heat pump units. It can be fitted in the garden, on a solid flat roof or on the wall.
An air source heat pump works like a fridge operating in reverse to provide home heating. The high temperature heat pump works more or less in the same way as a traditional heat pump, but where a traditional heat pump uses a synthetic refrigerant, the high temperature heat pump uses CO2.
The high temperature heat pump produces very water high temperatures (between 65 and 95 degrees Celsius), whereas traditional heat pumps heat water up to a maximum of 50 degrees Celsius. The heat pump works alongside a buffer, which is a 230-litre water tank that stands around 1m 50cm high. The buffer is stratified, meaning it separates the hot water (which sits at the top of the buffer to supply the property) from the cold water at the bottom, which is fed through the heat pump. Besides decoupling the heat pump from the radiator system and providing domestic hot water, the main purpose of the buffer tank is to provide peak power delivery to the house.
The buffer also contains the tap water station and the control computer and so requires an internal floor area of ​​approximately 1m 50 x 1m. The total weight of the buffer is more than 300 kilos, so a solid floor is required, normally where the gas heated water tank used to be. This is one of the reasons why this type of heat pump is suited to rural or suburban properties, where there may be more space available.
How does the high temperature heat pump compare with other heating systems in terms of cost and efficiency?
When looking at system and installation costs, the high temperature heat pump costs a similar amount to a traditional heat pump. The main benefit is the avoidance of up-front costs on insulation and radiators. In addition, the indoor elements of the system will last for up to thirty years. Like a gas boiler, the outdoor unit has a lifespan of between 12 and 15 years and will need to be replaced. The high temperature heat pump is almost three times as efficient as a condensing gas boiler, but less efficient than a traditional heat pump. Finally, even though it is not necessary to make improvements to the insulation, it is recommended to take these measures during future maintenance of the house, if possible, as reducing energy losses always makes sense.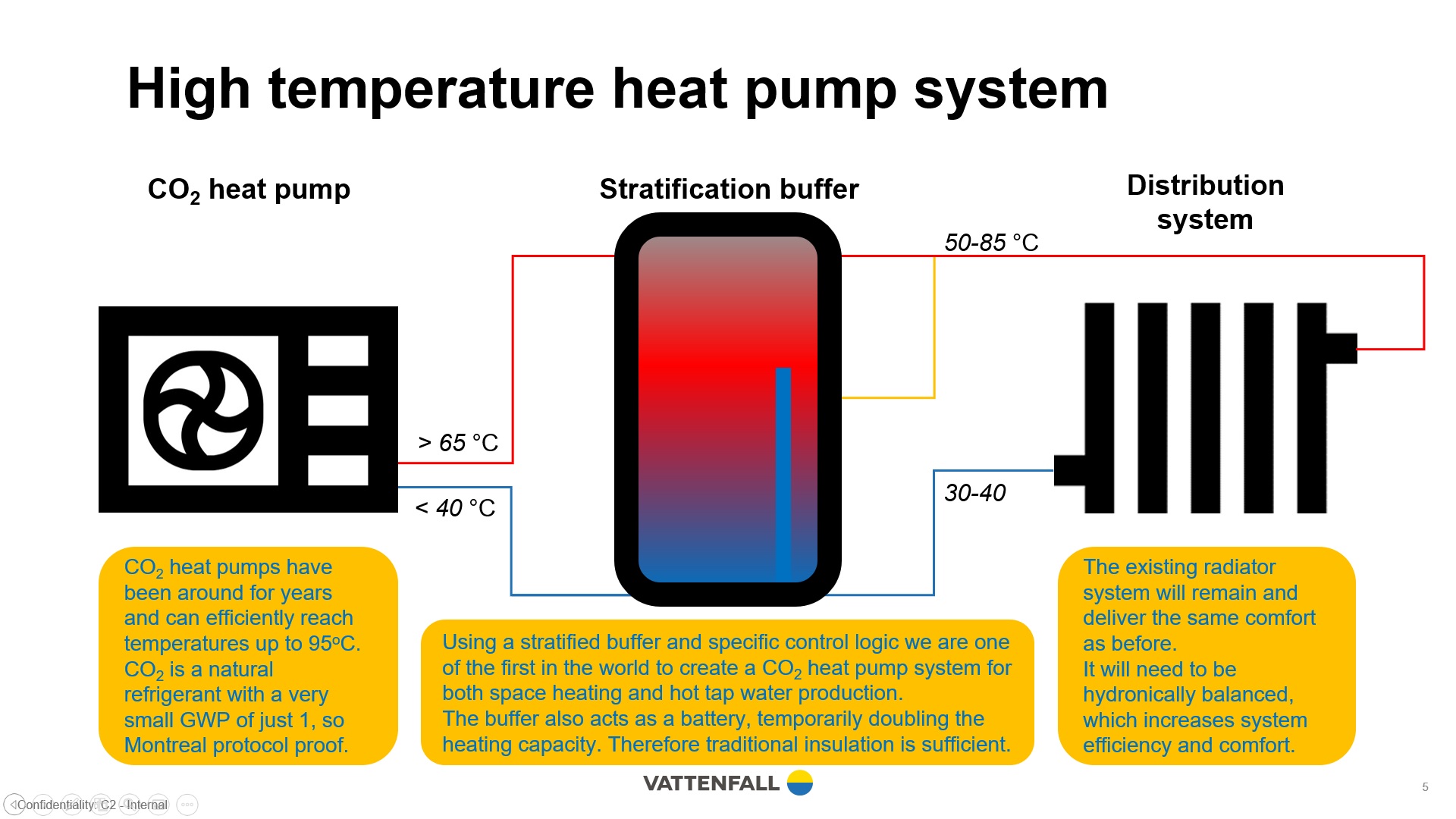 Vattenfall Heat UK
Vattenfall Heat UK creates partnerships with like-minded property developers and local authorities who share our vision for a fossil free future do deliver heat networks at scale. Find out more.