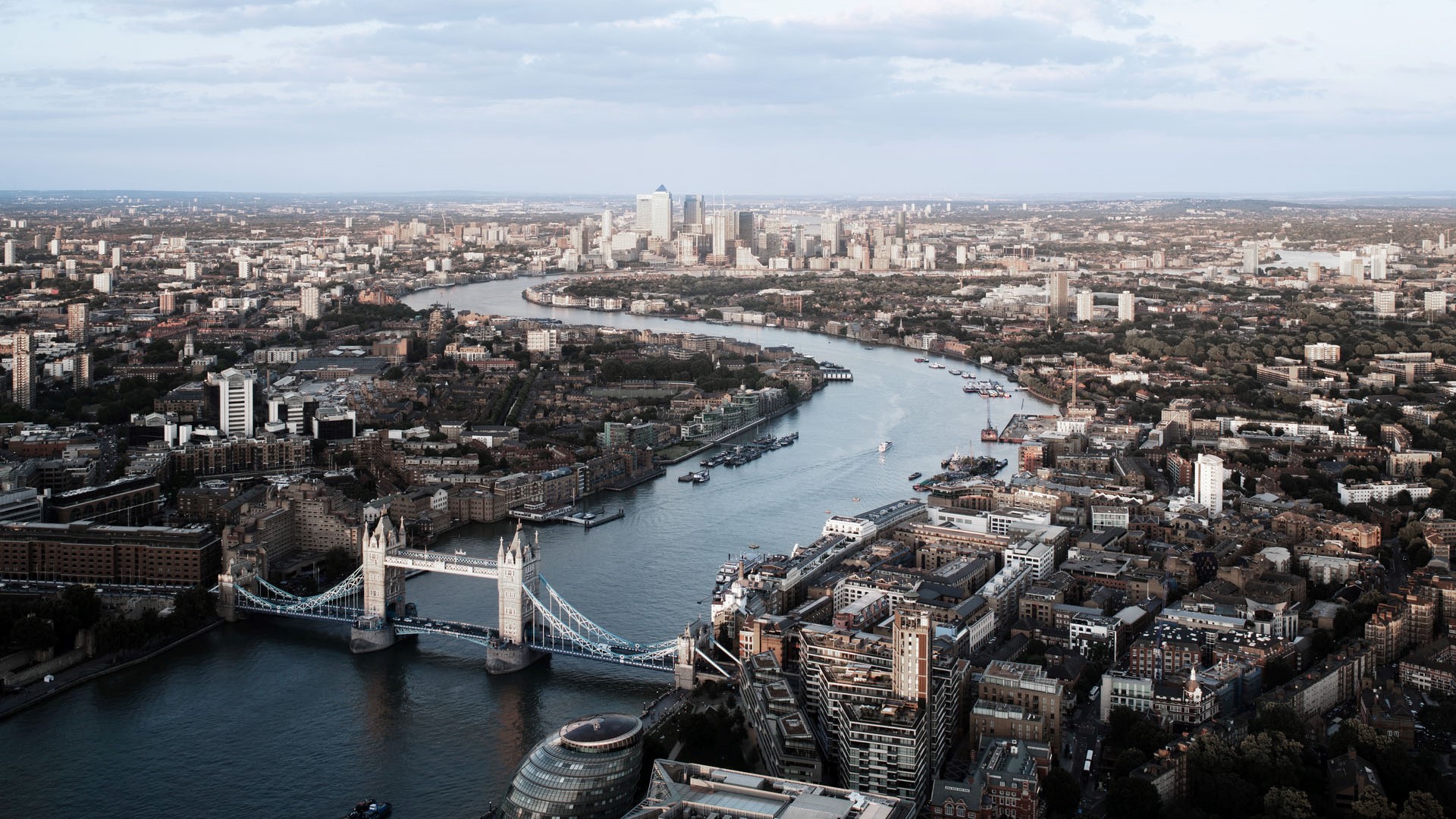 Vattenfall launches ambitious plan to heat London's buildings without fossil fuels
Article updated on 29/11/2021.
Up to half a million homes1, businesses, and public buildings in London could connect to a city-wide heat network by the 2040s, saving 4.8 million tonnes of carbon emissions over a 20 year period2
Vattenfall will begin the construction of a new heat network in south east London in 2022 with energy from waste partner, Cory
The first customers will have their properties heated by the heat network in 2024
Large scale heat networks can be built in multiple cities and are the cheapest form of low carbon heating in urban areas
On 21st September 2021, one of Europe's leading energy and heat suppliers, Vattenfall, will launch their ambitious plan to decarbonise London's buildings.
The planned heat network will be installed in phases as additional homes and low and zero-carbon heat sources join the network, which will serve 75,000 homes by the 2030s.
By the 2040s Vattenfall believes the network could be expanded to cover thirty-miles and serve heat to the equivalent of more than half a million homes across east London1.
Heating is responsible for a third of UK greenhouse gas emissions and over 25 million3 homes are still using fossil fuels to keep warm.
Modelling suggests Vattenfall's heat network, which would be the largest in the UK, could reduce emissions by up to 90% in comparison to individual gas boilers fitted in every home4. Over a 20 Year period, a heat network serving the equivalent of 500,000 homes could save 4.8 million tonnes of CO2 emissions.
The catalyst for the project was funding support through the Government's Heat Networks Investment Project (HNIP), awarded to Cory earlier this year. Construction for this first phase is set to start in early 2022 and will extract heat from Cory's Energy from Waste Facility at Belvedere, supplying the first homes by 2024.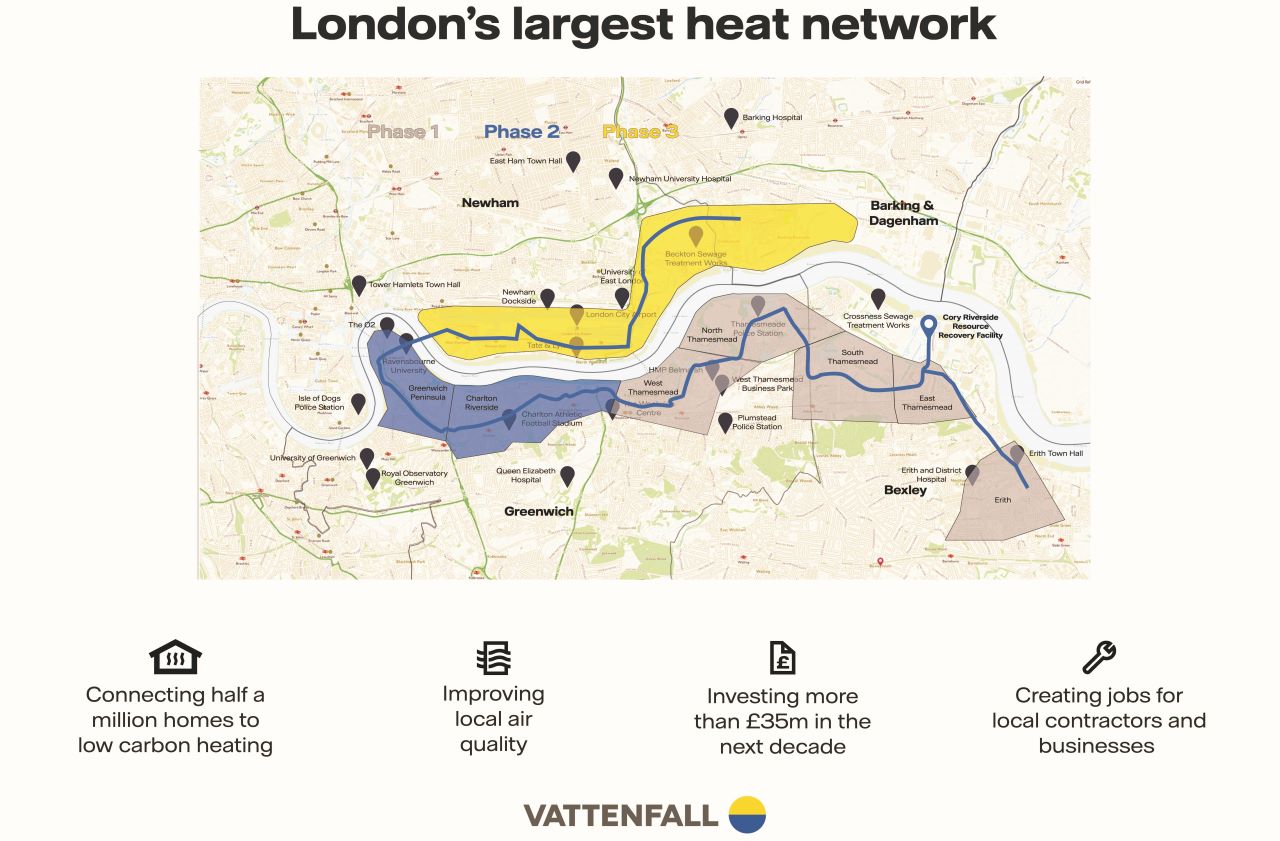 A second EfW facility – adjacent to the existing one and part of Cory's Riverside Energy Park which received planning permission from the Government in April 2020 – will supply an additional 10,500 homes by the next decade.
Mike Reynolds, Managing Director at Vattenfall Heat UK said:
"We've got to think big when it comes to removing emissions from heating, on a scale which works for global cities like London. District heating presents the best option for consumers in urban areas. It's the cheapest source of low-carbon heat, it's reliable and it's resilient against energy shocks.
"Most of London's 3.5 million homes, and thousands of commercial buildings, are heated using fossil fuels. Yet there are abundant other sources of cleaner heat, such as the ground, water or waste heat from industrial processes.
"Vattenfall's European expertise, delivering heat to 1.9 million customers in Berlin, Uppsala and Amsterdam, proves that these types of projects are possible across cities and will work well in urban areas in the UK. By partnering with organisations like Cory we can build these networks at the scale needed to bring down the costs to building owners and consumers, making district heating the most cost-effective way to decarbonise heat in urban areas."
Dougie Sutherland, Chief Executive at Cory, said:
"Cory is a company that embraces innovation and is committed to tackling the net zero challenge head on. One of the ways we do this is through partnership and sharing expertise. Our heat network project with Vattenfall is a prime example of how a collaboration can help the UK to address an urgent issue – the decarbonisation of heat.
"As Cory celebrates its 125th anniversary this year, we look forward to supplying spare heat from our operations to kickstart a heat revolution in one of the world's major cities."
The Tower Bridge event will showcase the diverse and talented team behind the UK's largest heat network, where invited guests can ask questions to find out more about renewable energy generation, heat network delivery and why this is the best solution for the end customer.
Notes to editors:
1. Equivalent heat usage of 500,000 homes: projected 250,000 homes with remainder of buildings comprising commercial space and public buildings such as schools, council buildings etc. Source: Vattenfall
2. Source: Vattenfall internal carbon intensity modelling:
25,000 homes on a low carbon heat network anchored to an EfW plant would save 240,000 tonnes of CO2 over 20 years compared to the same number of properties using individual gas boilers. 240,000 tonnes/25,000 homes = 52 tonnes per home. 52 x 500,000 = 4.8 million tonnes CO2 saved.
3. Source: Energy Systems Catapult
4. Source: Vattenfall internal carbon intensity modelling. 90% carbon reduction compared to individual gas boilers based on 25,000 connected to a heat network supplied by an EfW plant.
Click here for more information about Vattenfall Heat UK.