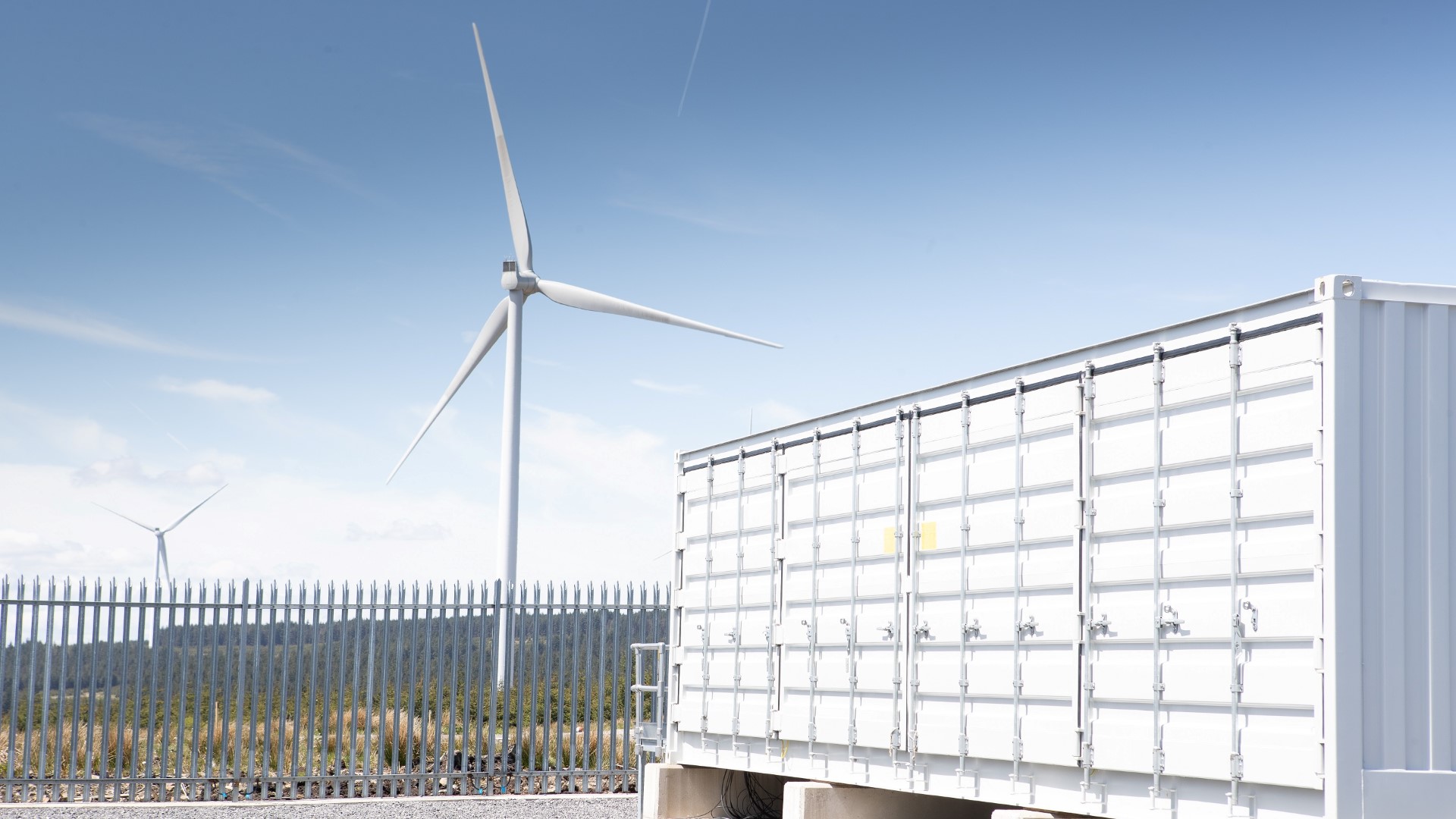 Battery powers up to help keep UK lights on
Vattenfall's battery@pyc – UK's largest co-located installation - to provide reliability service to National Grid
Vattenfall, the Swedish energy group, earlier this week started the commercial operation of a Welsh battery storage scheme, believed to be the UK's largest co-located with an onshore wind farm.
The 22MW battery@pyc, which shares electrical infrastructure with the Pen y Cymoedd onshore wind farm, will help National Grid maintain frequency levels and reliability of electricity supply on the GB transmission network with a service known as Enhanced Frequency Response.
Battery@pyc is made up of six shipping container sized units, five of which house 500 i3 BMW manufactured battery packs.
Gunnar Groebler, Vattenfall's Head of Business Area Wind, said: "Vattenfall is on the road to a smart, digitalised future, free from fossil fuels within just one generation. I can think of few other energy installations that better demonstrates what that future looks like than battery@pyc."
Claus Wattendrup, Head of Business Unit Solar & Batteries, said: "This is Vattenfall's largest battery installation to date, where we make use of synergies at our existing wind farms sites – such as at Pen y Cymoedd or the Princess Alexia Wind Farm in the Netherlands. Hybrid renewable parks will play a larger role in the future and we are leading this development."
Nick Entwistle, Vattenfall's battery@pyc construction Project Manager, said: "Installing a battery of this scale, co-located with a wind farm, has been a fascinating electrical engineering challenge, a challenge that has made best use of Vattenfall's expertise and ingenuity. We also had expert back up; we couldn't have done it without Belectric, EDS, Quad Consult and Electric Power Solutions."
Natural Resources Wales (NRW), who manage the land at the Pen y Cymoedd wind farm site on behalf of the Welsh Government, hailed its partnership with Vattenfall as this important milestone was reached.
James Laing, Natural Resources Wales said: "The environment is our most valuable natural asset and sustainable initiatives like this that offer creative solutions to energy problems puts NRW at the forefront of Welsh Government's low carbon economy, climate change and green growth programmes."
Battery@pyc will use new lithium-ion batteries with a capacity of 33 kilowatt hours (kWh) supplied by BMW and adapted for a stationary application.
The 76-turbine Pen y Cymoedd onshore wind farm is capable of meeting the equivalent electricity needs of more than 15% of households in Wales every year. It also boosts delivery of Wales's climate change ambitions, displacing in an average year more than 300,000 tonnes of CO2 from fossil fuelled generation.
What is Enhanced Frequency Response?
Frequency response helps keep the electricity grid system at a frequency of 50Hz. Frequency response is provided by different energy generators and storage technologies, but Enhanced Frequency Response is a faster form of frequency response.
Enhanced Frequency Response is defined by National Grid Electricity Transmission as being a service that achieves 100% active power output at 1 second (or less) of registering a frequency deviation. This is in contrast with existing frequency response services of Primary which have timescales of 10 seconds, and Secondary which has timescales of 30 seconds. This is a new service that is being developed to improve management of the system frequency pre-fault, i.e. to maintain the system frequency closer to 50Hz under normal operation.