Fossil-free hydrogen
We are actively involved in the development of innovative solutions to decarbonise industry as well our own operations through fossil-free hydrogen.
Besides direct electrification (by using batteries instead of conventional vehicle engines or by replacing a gas boiler with an electric boiler) Vattenfall considers indirect electrification through fossil-free hydrogen an important solution to decarbonise the value chains of heavy emitting industries, for example steel, refinery, chemicals, agriculture and transports. It also has the potential to reduce CO2 emissions when used as an alternative to gas in the heating sector. Vattenfall wishes to act as a catalyst for this development.
The potential of hydrogen to decarbonise different industries and sectors is big since it can be used as a carrier of energy when replacing fossil fuels like gas or oil, as well as a catalyst in industrial processes by replacing fossil materials like coking coal. Of course it is crucial that the hydrogen used is fossil-free itself, by using fossil-free electricity to split water into hydrogen and oxygen through electrolysis.
We are driving the development of hydrogen applications as a pioneer in several projects. For example, in the HYBRIT joint venture with Swedish mining company LKAB and steel manufacturer SSAB where focus lies on decarbonising the steel manufacturing value chain with fossil-free steel available on the commercial markets by 2026. Other examples are mentioned below.
More renewable energy is needed
As one of the leading producers of electricity from fossil-free energy sources, especially from offshore wind, we are able to supply large quantities of fossil-free electricity for the production of hydrogen. In the future, we see a very close link between hydrogen production and our power generation, for example to produce hydrogen at our future offshore wind sites.
Today, fossil-free hydrogen cannot yet be produced economically. It is therefore important to develop this technology further on an industrial scale. The conditions must be created for this. Both the European and national hydrogen strategies are good foundations for this. Germany, for example, wants to become the leading supplier of hydrogen solutions with 10 GW of electrolysis capacity by 2040, while the UK is aiming for 5 GW of low carbon hydrogen production capacity by 2030. Sweden aims for 3 GW by 2030 and 8 GW by 2040. Vattenfall makes a significant contribution to this with our projects and initiatives in Europe.
When can hydrogen be named fossil-free?
Hydrogen is produced by splitting water into its components hydrogen and oxygen. This is done by the chemical process of electrolysis by means of electricity. If this electricity comes exclusively from fossil-free energy sources, we are talking about fossil-free hydrogen.
Examples of our hydrogen initiatives:
Fossil-free steel
Vattenfall is launching HYBRIT, the world's first pilot plant for the production of fossil-free steel, together with partners SSAB and LKAB.
Biofuel production
Vattenfall and Preem are investigating large-scale production of fossil-free hydrogen in Sweden and whether the need for fossil-free hydrogen from electrolysis can be met.
Aviation electrofuel
Vattenfall, SAS and Shell investigate the production of synthetic sustainable aviation fuel (SAF) on a large scale in Sweden.
Memberships
As a member of the Hydrogen Europe Association and European Clean Hydrogen Alliance, Vattenfall actively supports national and international institutes focused on hydrogen technology development.
Related content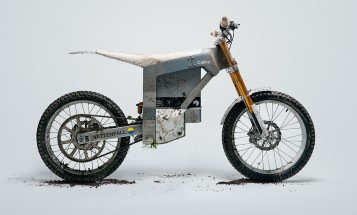 Vattenfall and the manufacturer CAKE aim to develop a fossil-free motorcycle.