For enhver, der er besat af netværk, må det være en drøm at være online med 1.000 vindmøller i fem lande og styre deres mindste bevægelser. Men for otte vindteknikere er det daglig rutine, og overvågningscentret i Vattenfalls vindcenter i Esbjerg styrer virksomhedens samlede flåde af vindmøller 24 timer i døgnet, syv dage om ugen.
For 50 år siden var Esbjerg Havn i Vestjylland i Danmark hjemsted for flere hundrede fiskerfartøjer. Nu dominerer vindmøllevinger, -naceller og -tårne de store havneområder, hvor de venter på at blive afskibet til nye produktionssteder i jagten på mere vedvarende energi. Vattenfall har været en del af denne udvikling siden 2006 – fra et mindre kontorlokale bemandet med blot otte personer til et travlt og pulserende internationalt kontor med 74 medarbejdere fra seks lande. De er involveret i projekter såsom DanTysk, Sandbank og snart det nye Horns Rev 3 samt i den daglige drift og vedligehold af eksisterende land- og havbaserede vindmølleparker. En sand bikube af viden om vindenergi.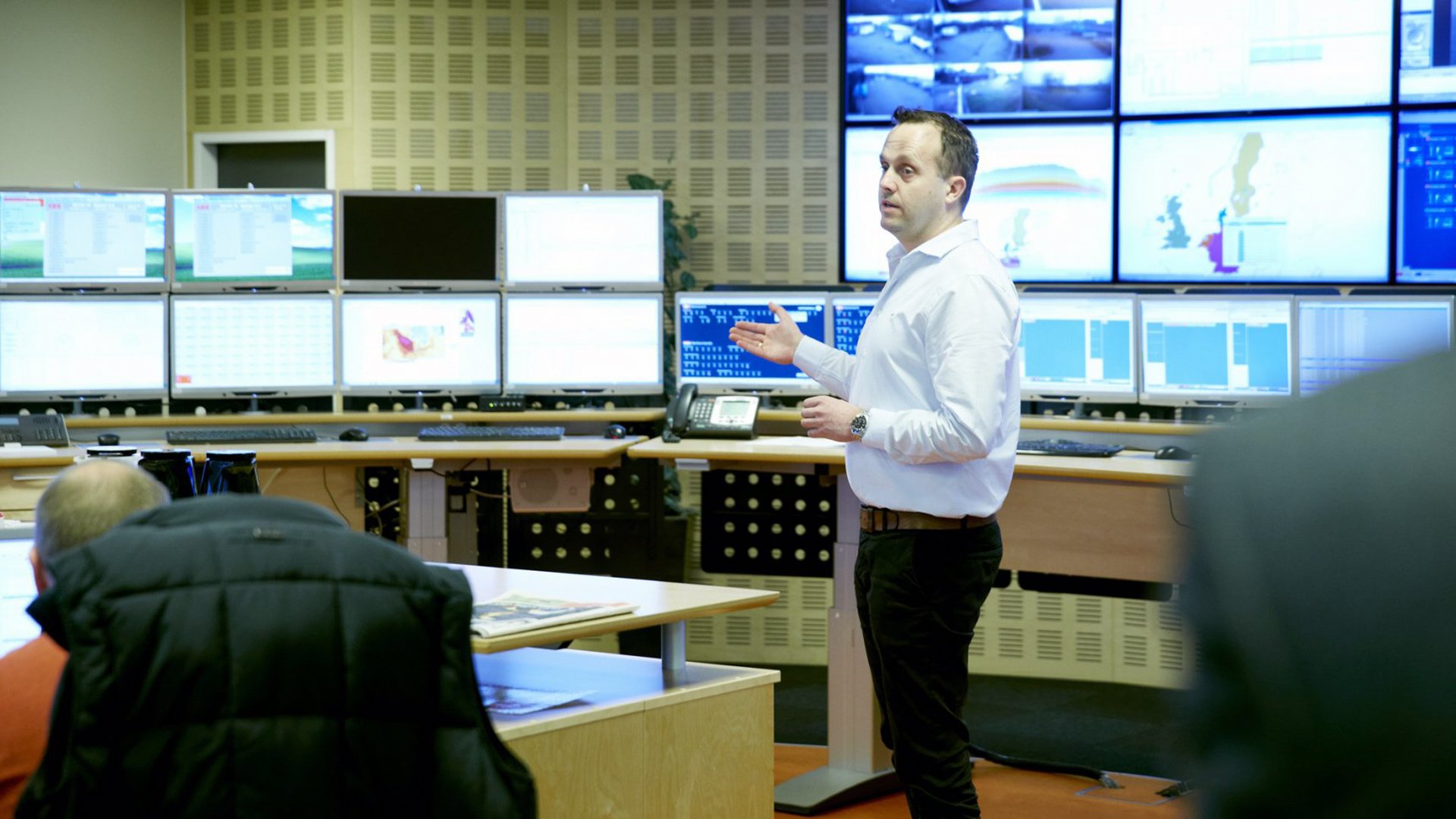 Jan Jørgensen. Foto: Mogens Holmgaard.
Øjet, der aldrig sover
På første sal af bygningen i et kontor med udsigt ud over havneområdet arbejder Jan Jørgensen, der er ansvarlig for otte personer og et af de største overvågningscentre for vindmøller i Nordeuropa. Centret har tilbudt døgnovervågning siden 2008 og holder nu øje med Vattenfalls produktion af vindenergi, som er mere end fordoblet siden dengang. For ham er det at være en del af udbygningen af Vattenfalls vindaktiviteter et arbejde, der er både spændende og udfordrende.
"Vi arbejder døgnet rundt med at overvåge både land- og havbaserede vindmølleparker, hvor vi indsamler data og stiller dem til rådighed for virksomheden. Den kontinuerlige udvikling af Vattenfalls vindaktiviteter betyder, at der hele tiden tilføres nye opgaver til vores arbejde."
Siden 2002 har Vattenfall investeret omkring fem mia. euro i vindenergi, og nu forsyner overvågningscentret børserne i Amsterdam, Hamborg og Stockholm med vitale, detaljerede data om antallet af Vattenfall-vindmøller, der er til rådighed, samt antallet af vindmøller, der er ude af drift på grund af fejl eller service.
Første forsvarslinje
Man kunne kalde overvågningscentret for Vattenfalls første forsvarslinje i den evige kamp for at holde vindmøllerne snurrende. I de svenske fjelde og i den stormomsuste, 32 meter dybe Nordsø trodser Vattenfalls vindmøller naturens kræfter – det er disse miljøer, som overvågningscentret skal kunne håndtere.
"Ud over sikkerhed er tilgængelighed alfa og omega, og når de lokale medarbejdere tager hjem, overtager vi styringen. Hvis et eller andet får en vindmølle til at stoppe, forsøger vi øjeblikkeligt at få den op at køre igen. I 2014 gennemførte vi 2.139 genstarter af vindmøller, som af en eller anden grund var stoppet uden for normal arbejdstid. Derfor kunne vindmøllerne producere ca. 15 mio. kWh, som ellers ville være gået tabt," forklarer Jan Jørgensen.
Sikkerhed på afstand
Vattenfalls vindmøller er spredt over store afstande, og arbejdet i dem kan være et ensomt og farligt job, selv når der arbejdes to og to. Med Jan Jørgensens team er det muligt at sikre, at oplysninger om de personer, der arbejder i vindmøllerne, samles på ét centralt sted – de kalder det "people tracking".
"Serviceteknikerne ringer til os, når de går ind i en vindmølle, og fortæller os, hvad de skal lave. Når de er færdige og forlader vindmøllen, ringer de til os igen. Det er en vigtig forbedring af sikkerheden, der først blev indført i de landbaserede vindmøller i Danmark og Sverige, men nu overvejes det at koble parker i Holland og Storbritannien på systemet."
Alle vil have softwaren
Alle overvågningscentrets opgaver kører ved hjælp af software, der er udviklet af Vattenfall. Et team af softwareudviklere i det såkaldte SCADA-team på Vattenfalls kontor i Fredericia har udviklet overvågningssystemet helt fra bunden. Og adskillige eksterne virksomheder har forsøgt at købe systemet.
"Svaret er altid nej," siger Jan. "Vores system behandler input fra ca. 50 meget forskellige typer vindmøller, hvilket gør det unikt. Sidste år blev der indsamlet ca. 74.000 alarmer og hændelser i systemet, som blev kategoriseret efter f.eks. nedetid på grund af service og fejl, fejltyper osv. Det er en utrolig guldmine af data, som vi stiller til rådighed i forbindelse med optimering af eksisterende vindmøller og som erfaringsgrundlag for dem, der planlægger og bygger nye vindmølleparker."
Sætter Esbjerg på landkortet
Ifølge Head of Generation Wind Nordic, Bent Johansen, som har ansvaret for kontoret i Esbjerg, har Vattenfalls dedikerede investeringer i vindenergi ikke kun været vigtige for virksomheden selv.
"Vattenfall har også været med til at sætte Esbjerg på landkortet som den energimetropol, byen gerne vil være. Vi er de største inden for drift og vedligehold i Esbjerg og skaber en masse arbejde hos underleverandører såsom skibs- og helikoptertjenester, reservedelsleverandører og hos den lokale grovsmed."
---
Fakta (2014)
Samlet installeret effekt i drift: 1,825 GW.
Landbaseret effekt: 0,8 GW.
Havbaseret effekt: 1 GW.
Produktion: 4,7 TWh svarer til det gennemsnitlige elforbrug i 1,5 millioner europæiske husholdninger – eller forbruget i alle private husholdninger i Hamborg.