Falkeunger udklækket på toppen af Nuon-kraftværk
Den 21. april dukkede tre dunede falkeunger frem fra de æg, som Nuons populære vandrefalke havde lagt i reden højt oppe på kraftværket Hemweg i Amsterdam. De små falke bliver nu navngivet og ringmærket, og så har de 45 dage til at vokse og blive det hurtigste dyr i verden.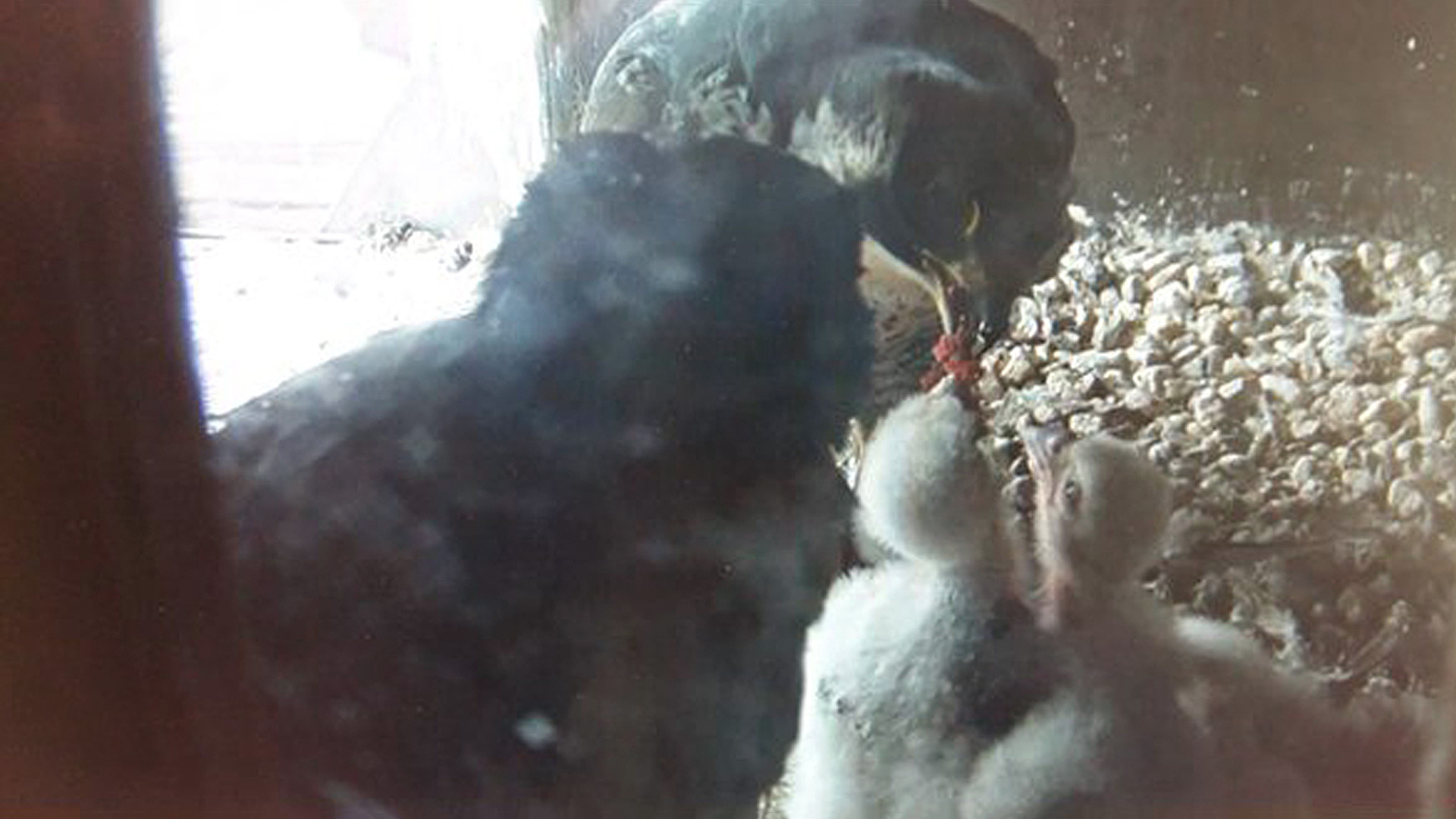 Falkeungernes udvikling kan følges live via webcam i redekassen højt oppe på den store Hemweg-bygning. Lige nu har vandrefalkeparret mange hektiske dage foran sig, hvor der skal sørges for mad til de hurtigt voksende unger. Desværre var der en af falkeungerne, der ikke klarede den, men snart vil indbyggerne i Amsterdam få en unik chance for at se to sunde falkeunger afprøve vingerne.
Når reden befinder sig i den betragtelige højde, er det selvsagt en farlig affære at forlade den for at øve sig i flyvningens kunst.
Falkeungerne får hjælp af forældrene til at øve flyvefærdighederne, så de i sidste ende kan lære at fange bytte. Men en falk skal kun øve sig et par gange, før den bliver til verdens hurtigste dyr, der kan flyve med en fart på over 300 km/t.
Ungerne bliver fodret indtil midten af august, men så trapper forældrene gradvist ned, så ungerne bliver motiveret til at finde deres egen føde.
Vær med til at navngive falkeungerne
Mens falkeungerne vokser og opbygger muskelkraft, har Nuon inviteret alle til at hjælpe med at navngive de to små. Forslag til navne indsendes via Nuons kanaler på de sociale medier. Den, der har indsendt de to vindernavne, bliver inviteret til at være med til ringmærkningen. Det bliver gjort den 11. maj af en professional falkoner, så det er på plads, før ungerne kan flyve ud på egen hånd.
Vandrefalken var på tæt på at være udryddet i 1970'erne på grund af miljøforureningen, men bestanden er kommet sig, siden giftstofferne blev forbudt. I 2003 var Nuons kraftværk Hemweg i Amsterdam det første sted, hvor der var vandrefalke med to unger i redekassen. Siden da er der anbragt flere redekasser på høje bygninger rundt i byen, så vandrefalkene kan yngle, blandt andet på banken ABN AMRO's hovedkvarter og på affaldsvirksomheden AEB Amsterdams bygning. På disse bygninger er der i alt udklækket ti æg. I redekassen på Hemweg er der indtil dato udklækket over 25 vandrefalke.